AFC North:

Rashard Mednenhall
July, 31, 2014
Jul 31
4:59
PM ET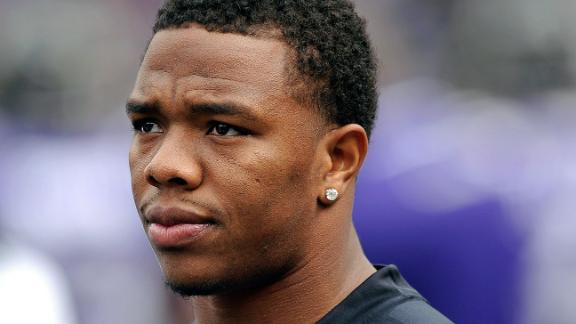 OWINGS MILLS, Md. -- In stark contrast to
Ray Rice
's awkward news conference in May, the
Baltimore Ravens
running back showed Thursday that he finally understood the weight of his actions from the alleged altercation with his then-fiancée in February.
He delivered the correct message, one the NFL failed to do last week with the two-game suspension, by not only apologizing to his wife, Janay Palmer, but also expressing a desire to become an advocate for domestic-violence causes.
Rice was compelling in his contrition, calling it the biggest mistake of his life. He stood in front of the microphone alone, without his wife standing by his side, and took full responsibility for the incident. Perhaps more importantly, Rice actually said the words "domestic violence," which weren't heard in his statement two months ago.
"My actions were inexcusable," Rice said. "That's something I have to live with the rest of my life."
Before anyone pats Rice on the back, this is what he should have said the first time when he broke his silence in May. Instead, Rice nervously fumbled through notes on his phone and apologized to team officials and his sponsors. That debacle of a news conference came across as damage control to his image.
His 17-minute news conference Thursday hit the right tones. He apologized to all women affected by domestic violence. He accepted the blame for losing the respect of fans. Rice came across as genuinely sorry.
"I let my wife down, I let my daughter down, I let my wife's parents down, I let the whole Baltimore community down," Rice said.
Rice's biggest misstep was not talking about what happened in the elevator. He was asked twice about it and declined to answer both times. His stance against domestic violence would have resonated stronger if he had explained his transgressions.
"I'll be honest: Like I said, I own my actions," Rice said. "I just don't want to keep reliving the incident. It doesn't bring any good to me. I'm just trying to move forward from it. I don't condone it. I take full responsibility for my actions. What happened that night is something that I'm going to pay for the rest of my life."
The only way Rice can move forward from this incident and show he's truly sincere is through his actions. It's not by his words. It's not by a hefty donation, which is merely a gesture. It's by proving this will remain a "one-time incident" and by supporting domestic-violence causes.
Thursday represented a small step forward for Rice. But it was an important one.
September, 24, 2012
9/24/12
11:50
AM ET
Revisiting the Pittsburgh Steelers' 34-31 loss at the Oakland Raiders:
The Steelers never envisioned they would have a dominant running game this season without
Rashard Mendenhall
. They did, however, think the combination of
Isaac Redman
and
Jonathan Dwyer
would keep defenses honest.

After three games, the Steelers' running game ranks among the worst in the NFL despite new offensive coordinator Todd Haley emphasizing it all offseason. Pittsburgh has gained 195 yards on the ground as a team and has been out-gained by 17 running backs, including the Ravens'
Ray Rice
(268) and the Bengals'
BenJarvus Green-Ellis
(204). The most disturbing part is the Steelers managed 54 yards rushing against an Oakland defense that allowed 263 yards only seven days earlier.
Who's to blame for the lack of production in the running game? Some point to the reshuffled offensive line. But this is essentially the same group (outside of left guard
Willie Colon
) who blocked for the 14th-ranked rushing attack last season. Others think it's Haley's scheme. He is the same coordinator who put together the league's top running game in 2010.
The biggest problem is Redman and Dwyer. I'm not blaming them. This is the fault of the Steelers' decision-makers who chose not to add an experienced running back this offseason (the team's salary cap also played a factor in this) and went with two backs who have never had to carry the load for more than one game. It's clear the Steelers can't make this same mistake next season. With Mendenhall being a free agent at the end of the season, Pittsburgh has to upgrade at the running back spot.
STAT THAT STICKS
: 19 -- Straight games that the Steelers had won when leading by 10 or more points after three quarters. That streak is now over.
OVERHEARD
: "I wasn't going to punt the football to them. We hadn't stopped them enough in the second half to do that." Coach Mike Tomlin in explaining why he went on fourth-and-one from the Steelers' 29 in the fourth quarter.
WHAT'S AHEAD
: The Steelers will try to heal up in an awfully early bye week. It would be a beneficial off week if linebacker
James Harrison
and safety
Troy Polamalu
can come back from injuries. After starting the season with two trips out west in the first three weeks, Pittsburgh only has to leave its time zone twice for the rest of the season and those are games at Tennessee and Dallas.
June, 18, 2012
6/18/12
12:30
PM ET
Pittsburgh Steelers
general manager Kevin Colbert told the
Pittsburgh Tribune-Review
that he anticipates nose tackle
Casey Hampton
and running back
Rashard Mendenhall
to miss the start of the regular season.
"My guess is they'll open the season on PUP (Physically Unable to Perform list)," Colbert said. "You've got to remember, both of those injuries happened late in the year."
While this is no surprise because both had surgeries to repair torn ACLs in January, Hampton said last week that he was
still targeting to play
in the season opener.
If a player is placed on PUP to start training camp and remains there to start the season, he is required to miss the first six weeks. He is able to return during a three-week window of Weeks 7-10.
If Hampton and Mendenhall are both sidelined to begin the season, it will be tougher for the Steelers to replace Hampton. In the three years before Hampton joined the Steelers, their run defense ranked 13th, 26th and 12th. In the first two seasons with Hampton, Pittsburgh's run defense ranked No. 1. In fact, in 11 years with Hampton, the Steelers' run defense has ranked in the top three in the league nine times.
Pittsburgh is expected to replace Hampton with either backup
Steve McLendon
or rookie fourth-round pick
Alameda Ta'amu
. Both will get tested in those first five games which features running backs: Denver's
Willis McGahee
,
New York Jets
'
Shonn Greene
, Oakland's
Darren McFadden
, Philadelphia's
LeSean McCoy
and Tennessee's
Chris Johnson
.