AFC North:

Ravens-Browns 111609
November, 17, 2009
11/17/09
1:41
AM ET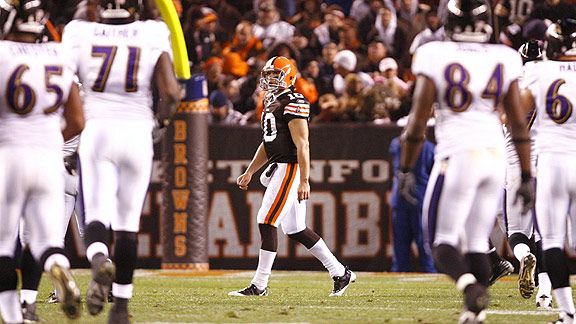 Matt Sullivan/Getty ImagesBrady Quinn struggled mightily as the Browns appear headed in the wrong direction.
CLEVELAND -- On one sideline Monday night you had hope.
The
Baltimore Ravens
are a talented team that has simply had its share of struggles. If not for a missed kick here, a blown coverage there, the Ravens would be better than their 5-4 record and considered a strong contender in the AFC.
On the other sideline you had the hopeless.
The
Cleveland Browns
are every bit as bad as their 1-8 record indicates. Maybe worse, if that's possible. They are a team lacking in talent, smarts, health and resilience. And at this point there is nothing left to do for the Browns but play out what's left of their miserable season.
Baltimore's 16-0 victory
Monday over Cleveland told only the immediate story -- even on an off night, the Ravens are considerably better than the lowly Browns.
These two teams couldn't be any more different.
Baltimore has a franchise quarterback in
Joe Flacco
. Cleveland is playing musical chairs at the league's most important position.
Baltimore has leaders in its locker room. Cleveland does not.
Baltimore is still fighting to make something of this year. Cleveland looks like a team willing to accept 13, 14 or maybe even 15 losses.
Perhaps the biggest irony is that the Ravens were once the Browns, before former Cleveland owner Art Modell skipped town and took his franchise to Baltimore. But since 1999, the Browns have drowned in the abyss of losing and despair, and a decade later they're headed for one of their worst seasons in franchise history.
"It's frustrating," said Browns quarterback
Brady Quinn
.
Things were much more relaxed in the Ravens' locker room Monday.
Baltimore didn't play very well, either, but the team had several building blocks to hang its hat on.
The Ravens' defense held an opponent scoreless for the first time this season. Baltimore registered four sacks and its offense rushed for 134 yards on 36 attempts.
Ray Rice
led the way with 89 rushing yards and a touchdown.
The victory also puts Baltimore right back in the playoff mix.
Currently the
Pittsburgh Steelers
(6-3) and
San Diego Chargers
(6-3) are one game ahead of the Ravens for the two AFC wild-card spots. The Ravens own the head-to-head tiebreaker over the Chargers and still have to play Pittsburgh twice this season.
"We're done with the first half of the season," Ravens running back
Le'Ron McClain
said. "Now we're trying to get this second half. So we're 1-0 in my eyes in the second season."
The Browns had two weeks to prepare for the start of their "second season," but it looked much like the first.
Quinn couldn't move the offense. He finished 13-of-31 for 99 yards and an abysmal 23.5 passer rating.
According to ESPN Stats & Information, Quinn was 0-for-7 on throws beyond 10 yards. Cleveland has little hope for improving offensively if the team cannot go downfield. The Browns registered just 160 total yards behind very timid play calling.
Adding to an awful night was an injury on the final play of the game to return specialist
Josh Cribbs
, who is arguably the team's best player. Cribbs took a shot at the end of the game from Ravens defensive end
Dwan Edwards
that required Cribbs to
be carted off the field
.
Browns coach Eric Mangini said Cribbs had movement and feeling in all parts of his body afterward.
"The reason we took him off was more of a precautionary measure than anything else," Mangini said.
According to Mangini, there is progress taking place with the Browns. But if the in-game performance is the biggest indicator, Cleveland fans probably don't have much hope for progression this season.
But Baltimore
is
looking ahead.
It's an uphill climb, but Baltimore likely needs at least five more wins in the final seven games to have a legitimate shot at the postseason. That road continues this Sunday with another high-profile game against the undefeated
Indianapolis Colts
(9-0).
"I'm already thinking about it," an excited Ravens linebacker
Ray Lewis
said. "Why not?"
At least the hopeful Ravens have something to look forward to.
November, 16, 2009
11/16/09
11:38
PM ET


CLEVELAND -- Despite a high-scoring offense and a new franchise quarterback in
Joe Flacco
, the
Baltimore Ravens
proved Monday night that they can still win ugly.
In a game that looked it involved the 2000 Ravens and not the 2009 Ravens, Baltimore pitched a shutout defensively and scraped together enough points to take
a 16-0 victory
over the
Cleveland Browns
. The win improved the Ravens to 5-4 and keeps Baltimore in the playoff hunt in a crowded AFC field. The Browns, meanwhile, fell to 1-8 in what's already a lost season.
Baltimore, which started slow, really needed this win.
The Ravens likely have to get to 10 wins to have a shot at the postseason in January and have an important pair of upcoming home games. It starts with the undefeated
Indianapolis Colts
(9-0) on Nov. 22 and then the
Pittsburgh Steelers
(6-3) on Nov. 29.
Baltimore will have to play a lot better than it did Monday to beat those two AFC contenders. But a win over the Browns Monday counts the same in the standings.
November, 16, 2009
11/16/09
11:00
PM ET
CLEVELAND --
Baltimore Ravens
defensive end/linebacker
Terrell Suggs
has a sprained knee and his return is doubtful.
We will try to have an update on Suggs after the game.
November, 16, 2009
11/16/09
10:54
PM ET
CLEVELAND -- Browns starting quarterback
Brady Quinn
went from a non-eventful first half to an eventful third quarter. But the exciting plays Quinn was involved in weren't good ones for the Browns.
Quinn has two interceptions in the third quarter that led to nine second-half points. Baltimore currently leads 16-0.
Both of Quinn's throws were off and landed into the hands of Ravens' defensive backs. The first was thrown to Baltimore safety
Dawan Landry
in stride and the second was deflected and interception by
Chris Carr
.
Cleveland's play calling continues to be conservative despite trailing by double-digits in the second half. Fans are starting to exit the stadium and the ones still here are restless.
November, 16, 2009
11/16/09
10:27
PM ET
CLEVELAND -- The scoring drought is over.
Mercifully.
Baltimore Ravens
tailback
Ray Rice
rushed for a 13-yard touchdown to take a 7-0 lead over the
Cleveland Browns
. Both teams played an ugly first half of scoreless football.
There was some confusion on defense from the Browns as players were out of position on the scoring play. Head coach Eric Mangini and defensive coordinator Rob Ryan were discussing what happened to try to get some answers.
On Cleveland's next offensive play, quarterback
Brady Quinn
threw a pick-six to Ravens safety
Dawan Landry
to give Baltimore a 13-0 lead. The extra point attempt failed for Baltimore.
November, 16, 2009
11/16/09
10:03
PM ET
CLEVELAND -- The Browns and
Baltimore Ravens
remain scoreless at intermission.
Here are some halftime observations:


The Browns are playing better than expected defensively. They are getting to the quarterback with two sacks and putting Baltimore in tough situations. It's clear at this juncture that Cleveland's defense is the stronger half of this team.
I'm surprised the Ravens could not establish themselves as the dominant team early in this game. Baltimore looks flat, particularly on offense. This is a must-win game for the Ravens, but the undermanned Browns are playing with more zeal behind their home crowd.
It's hard to get a read on Cleveland starting quarterback Brady Quinn. He made a few good throws in addition to some awful throws. I would classify his performance so far as "average" and "nothing spectacular." The offensive play calling is still very conservative with Quinn under center. He is 6 of 12 for 63 yards.
The Ravens are going to Willis McGahee and Le'Ron McClain more than they have in recent weeks. Baltimore's coaching staff must feel this is the type of physical, division game late in the year that those two can do the most damage. The pair have combined for six carries to 16 yards and an addition 17 yards receiving from McClain.
Oddity of the night: The Ravens were penalized twice for having 12 men on the field in the first half. That's not very sharp. Overall this wasn't a very exciting half of football. There is no flow to this game and a lot of penalties on both sides.
November, 16, 2009
11/16/09
9:33
PM ET
CLEVELAND -- It was just announced in the press box that
Baltimore Ravens
reserve defensive back
Haruki Nakamura
has a broken right ankle.
Nakamura suffered the injury on the opening play of the game between the Ravens and
Cleveland Browns
. He was carted off the field.
This type of injury confirms that Nakamura will be out for the remainder of the 2009 season.
November, 16, 2009
11/16/09
9:16
PM ET
CLEVELAND --
Baltimore Ravens
kicker Steve Hauschka has struggled to make the big kicks this year, and it's one of the reasons the team is 4-4.
Hauschka missed another field goal for the second straight week. The kick would have given the Ravens a 3-0 lead over the
Cleveland Browns
in the first quarter. His missed attempt was for 36 yards.
Baltimore worked out kickers
Billy Cundiff
and
Mike Nugent
last week but continued to back Hauschka. The kicker also missed a potential game-winning kick against the
Minnesota Vikings
earlier this year.
It will be interesting to see if Hauschka bounces back in this game.
November, 16, 2009
11/16/09
8:46
PM ET
CLEVELAND -- It didn't take long for the first injury in the game between the
Cleveland Browns
and
Baltimore Ravens
.
On the opening kickoff, Baltimore's reserve defensive back
Haruki Nakamura
suffered a severe right leg injury and was carted off the field. The injury halted play for several minutes.
Nakamura is one of the team's top special teams players, but based on his reaction he could be lost for the season.
November, 16, 2009
11/16/09
7:27
PM ET
November, 16, 2009
11/16/09
1:30
PM ET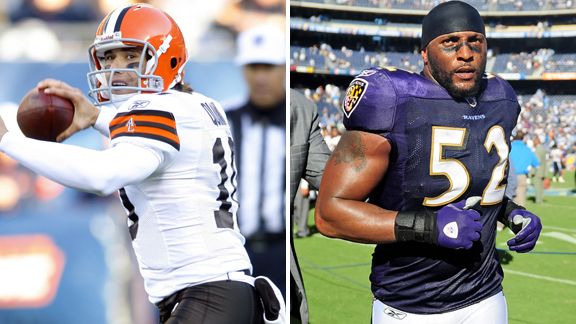 US PresswireBrady Quinn and Ray Lewis will square off in Cleveland Monday night.
Football is only halfway complete in the AFC North for Week 10.
Here are four keys for Monday night's matchup between the
Baltimore Ravens
(4-4) and
Cleveland Browns
(1-7):
1. Where is Cleveland's energy level?
On paper, the Ravens have enough talent to make this game a laugher. But much of that will depend on Cleveland's energy level at home. The Browns are the well-rested team. They are coming off a bye and haven't played a game in two weeks. But it will be interesting to see if Cleveland has enough zeal to play hard in this game. Considering their record, the Browns have nothing to play for other than pride and perhaps ruining another rival's season in the Ravens. Will that be enough for the Browns to show up?
2. It's Brady Quinn's time to shine
As we mentioned in our
weekend feature
, if Quinn wants to be the long-term quarterback of the Browns, this is the time to show it. It may be his final opportunity as poor play earlier this season and trade rumors are already getting warmed up in preparation for the offseason. Quinn was born in Columbus, Ohio, and realized one of his dreams by being drafted by the Browns, a team he rooted for growing up. But the past three years have been mostly a nightmare of riding the pine, injuries and poor play. He can work to erase all of that with a great performance Monday and the rest of the regular season.
3. Can Baltimore improve the pass defense?
Two weeks ago against the
Denver Broncos
, the Ravens finally showed glimpses of how good they can be defending the pass and rushing the passer. But Baltimore reverted back to its prior struggles in a loss to the
Cincinnati Bengals
, making many wonder once again if this is a problem that's able to be corrected this year. Every team has weaknesses. But Baltimore's inability to defend the pass has stuck out so much that nearly every opponent is testing the Ravens in that area before doing anything else. The Browns may not have the personnel to attack Baltimore through the air, but rest assured, Cleveland will take some shots with nothing to lose.
4. Must-win for Baltimore
This is very much a must-win for the Ravens, so they too must play the part of a desperate team. Baltimore cannot afford to fall to 4-5 with seven games left with such a crowded field in the AFC. The Ravens didn't seem very urgent in last week's loss to the Bengals. Look for Baltimore to play with much more energy and try to make a statement early against the Browns, who have lost a lot of games this year by wide margins.