August, 24, 2012
8/24/12
11:00
AM ET
On the same night when an NFL executive said he sees progress from the replacement officials,
Cincinnati Bengals
coach Marvin Lewis would disagree with one call.

Lewis
In Thursday night's game against Green Bay, Bengals safety
Taylor Mays
was flagged for hitting a defenseless receiver when replays clearly showed it was not a helmet-to-helmet hit. "It was shoulder-to-shoulder. It was exactly shoulder-to-shoulder," Lewis said in quotes distributed by the team after the game. "Unfortunately, the guy that made the call's explanation was not correct."
Lewis should know the rules. He is part of the NFL's competition committee. But, like most coaches who don't want to receive a call from the league office, Lewis wasn't too harsh on referee Paul Layne and the crew of replacement officials.
"They are getting better," Lewis said. "Hopefully, it will get closer and closer to what we need. His understanding was that the player was a defenseless receiver. He was, but you are allowed to hit a defenseless receiver shoulder-to-shoulder. There is no such thing as a defenseless player unless he is hit in the head with your head. It was a misinterpretation of the rule. I know they are working hard. The league is working hard to get this stuff corrected. They are working overtime on it actually. It'll get better and better."
It appears that everyone on the field, except the officials, believe the flag shouldn't have been thrown. Mays, who has been working to avoid hits to the head after sustaining a concussion two weeks ago, said he thought it was a clean hit. Even Packers tight end
Tom Crabtree
, who was hit by Mays, agreed that it was the wrong call.
In another AFC North city Thursday night, NFL vice president of football operations Ray Anderson said he's noticed improvement from the replacement officials. He was attending the Jaguars-Ravens game in Baltimore.
"We expected going in, just like the players going through the preseason, that every week they would get better," Anderson told the
Baltimore Sun
. "The first week, we had some rough spots and we got better from the first week to the second week and we expect to get better this week, too, and on and on. This is the third week and it seems to me they've had a pretty solid first half. Uneventful, that's exactly what you want. That's the improvement we expect."
March, 16, 2011
3/16/11
1:40
PM ET
The
Pittsburgh Steelers
were
last season's poster children
for the NFL's increased policing of big hits. As the league's most physical defense, Pittsburgh players were getting fined or suffered questionable flags regularly during their run to Super Bowl XLV.
[+] Enlarge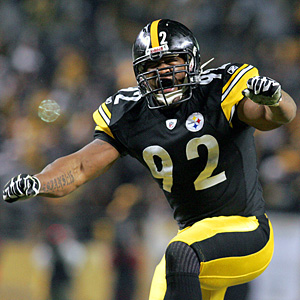 Charles LeClaire/US PresswirePittsburgh linebacker James Harrison received more than $100,000 in fines from the NFL last season.
On Wednesday, NFL vice president Ray Anderson said in a conference call that the league
will be even more stern
in disciplining players next season, especially repeat offenders. That is not good news for Pittsburgh.
But will the Steelers soften their stance? Pittsburgh's biggest strength is its physicality and aggressiveness. It's a major part of the team's identity and storied history.
The Steelers led the league in run defense by a wide margin last season and intimidated quarterbacks with an NFL-best 48 sacks. But according to Anderson, many of those big hits that resulted in fines and personal fouls could lead to suspensions in 2011, which would hurt Pittsburgh in subsequent games.
The Steelers were not shy about venting their frustration. In February they seemed to enjoy using the league's biggest platform -- the Super Bowl -- to call out the NFL. Linebacker
James Harrison
, last season's most-fined player, suggested the league
provide pillows
on the field for players he tackled. Harrison's teammates joined in the fray throughout Super Bowl week, complaining how the league has softened.
Unless the Steelers themselves decide to play softer, we could be heading for another collision course. It's hard to change a team's identity overnight. So expect more controversy, fines and verbal jousting between Pittsburgh and the NFL in 2011.
November, 5, 2010
11/05/10
10:40
AM ET
Troy Polamalu is not a big talker. But when the Pittsburgh Steelers' do-it-all safety speaks it's usually with a purpose, as Polamalu is one of the NFL's most thoughtful players.
Furthermore, Polamalu's suggestion this week of adding a governing body to regulate fines is one of the most intelligent ideas I've heard all year.

Polamalu
Many will highlight Polamalu "ripping" NFL commissioner Roger Goodell by saying he has too much power. But Polamalu didn't take a jab without offering a solution, which should be the focal point.
"There needs to be some type of separation of power, like our government," Polamalu said. "I don't think it should be based totally on what two or three people may say that are totally away from the game. It should be some of the players that are currently playing."
There's a select few that impact the lives of many in the NFL. That's not how democracy works in America. Why should it be different for America's most popular sport?
Polamalu was sticking up for Steelers teammate James Harrison, who was fined another $20,000 for his hit on New Orleans Saints quarterback Drew Brees. Harrison has been fined a total of $100,000 this year, proving it's much cheaper to play offense in the NFL.
The league is handing out excessive fines this season because a small, yet powerful group -- led by Goodell and NFL vice president Ray Anderson -- decided as much for more than 1,600 players.
Will Goodell relent some of that power by creating an independent governing body to monitor fines in the future? I don't see it. But it doesn't mean Polamalu's idea isn't a good one.
October, 23, 2008
10/23/08
8:00
AM ET
Posted by ESPN.com's James Walker
Here are the most interesting stories Thursday in the AFC North:
Morning take: Suggs often speaks freely, as do a lot of Ravens, and we enjoy being around such a fun group of personalities. But occasionally there will be times when things may be boisterous or overstated, and we believe this was one of those cases.
Morning take: This is a big story that continues to dominate the headlines in Cleveland. Meanwhile the Jacksonville Jaguars, Sunday's opponent, quietly await.
Morning take: The NFL gets most things right, and this is another example. This was a great, proactive move by the league and the Steelers to clear the air.
Morning take: Of all the things Ocho Cinco has said recently, this is among the most ridiculous. The Bengals need to worry about earning one win as oppose to finishing the year 8-1.

AFC NORTH SCOREBOARD
Thursday, 8/21
Saturday, 8/23
Sunday, 8/24