August, 1, 2011
8/01/11
10:40
AM ET
The
Cleveland Browns
were projected to target high-profile defensive ends
Ray Edwards
and
Charles Johnson
in free agency.
Instead, they settled on
re-signing
Jayme Mitchell
.

Is this the right move for the Browns?
Mitchell, 27, has been a mystery player in Cleveland. The Browns' front office is very, very high on Mitchell and acquired him in a trade last season with the
Minnesota Vikings
.
But Mitchell didn't see the field at all for the Browns in 2010. Former Cleveland coach Eric Mangini wasn't as impressed as the front office and deactivated Mitchell for 12 games. Now, Mangini is replaced by rookie head coach Pat Shurmur, who says Mitchell is the favorite to start.
Barring injury, it looks like Cleveland's starting defensive ends are Mitchell and rookie second-round pick
Jabaal Sheard
. This is arguably the most important position in a 4-3 defense, and Cleveland is putting a lot of stock into two unproven players.
Mitchell has just five career sacks and one in the past three years. Cleveland's front office, led by president Mike Holmgren and general manager Tom Heckert, has done a good job so far. But their abundance of confidence in Mitchell is risky.
May, 25, 2011
5/25/11
3:50
PM ET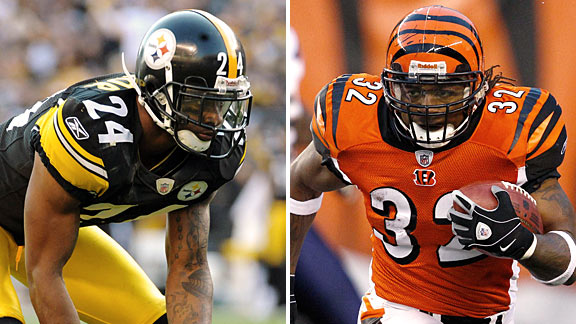 US PresswireSteelers cornerback Ike Taylor, left, and Bengals tailback Cedric Benson are pending free agents.
The lockout has reached 71 days and counting, which continues to push back NFL free agency. This also means the league is bracing itself for an unprecedented whirlwind of player movement this summer once a new collective bargaining agreement is reached.
With that said, here are seven questions and answers to get you up to speed on free agency in the AFC North:
Question No. 1:
Will the
Cincinnati Bengals
re-sign tailback
Cedric Benson
?

Benson
Answer:
Yes, all signs are pointing toward Benson returning. With back-to-back 1,000-yard seasons, Benson has been a good fit in Cincinnati. He had issues last season with former offensive coordinator Bob Bratkowski, who was fired, and now Benson is excited about returning to the Bengals. As a 28-year-old running back, there will not be a huge market for Benson. Therefore, Cincinnati wouldn't have to overpay to keep Benson. With a rookie quarterback (
Andy Dalton
)
likely starting this upcoming season
, new offensive coordinator Jay Gruden says he wants to run the ball early and often, which has to be music to Benson's ears.
Question No. 2:
Will the
Pittsburgh Steelers
re-sign
Ike Taylor
?

Taylor
Answer:
This is a tough one. Although I wouldn't be surprised either way, my sense is Taylor will not return to Pittsburgh in 2011. He's 31 and the Steelers would rather avoid the going rate for good cornerbacks on the open market, which is currently $8-10 million per year. Taylor says
he wants that market value
, and he has a much better chance of getting it somewhere else. Taylor already has two Super Bowl rings and this is his final chance to land a big contract. So no one should fault him for leaving. The Steelers will spend money on their front seven but do not value cornerbacks all that much, as evidenced by their recent draft history.
Question No. 3:
Will
Nnamdi Asomugha
land in the AFC North?

Asomugha
Answer:
The overall answer is no. I do not expect Asomugha to land in the AFC North. But if any team in the division has a fighting chance to get Asomugha, it's the
Baltimore Ravens
. Asomugha has a history with new Ravens defensive coordinator Chuck Pagano, who coached Asomugha for two seasons (2005-2006) with the
Oakland Raiders
. Oakland led the NFL in pass defense in 2006, as Pagano helped Asomugha develop into a star. That connection, along with Baltimore being a contender, could put the Ravens on Asomugha's radar. But money could get in the way as Asomugha is slated to become one of the league's highest-paid players. This summer, Baltimore also is expected to make Pro Bowl defensive lineman
Haloti Ngata
one of the highest paid at his position, and it's difficult to envision the Ravens fitting in both contracts.
Question No. 4:
Will the Browns be aggressive in free agency?

Edwards
Answer:
Yes. The Browns have deep pockets and a lot of needs, which is usually a formula for teams to make significant moves in free agency. The Browns will have plenty of cap space -- if there is a cap -- so look for them to land at least one or two key additions.
We mentioned
two potential
targets recently
in defensive end
Ray Edwards
and safety
Donte Whitner
. Cleveland won't be able to compete with Pittsburgh and Baltimore until it closes the talent gap, so the Browns need impact players. Perhaps the biggest challenge for the Browns is competing with other aggressive teams and convincing free agents why they should join a rebuilding team this season.
Question No. 5:
Which players are on the chopping block?

McGahee
Answer:
There are several interesting names to keep an eye on in the division. The two near-certainties are Bengals receiver
Chad Ochocinco
and Ravens running back
Willis McGahee
. Both likely will be cut whenever a new collective bargaining agreement is reached because of their declining production and high salaries. Both are scheduled to make $6 million next season, and the Ravens and Bengals will be eager to slash that off their books and allocate those resources elsewhere. Also,
Cleveland Browns
quarterback
Jake Delhomme
and Bengals defensive ends
Robert Geathers
and
Antwan Odom
could be additional salary casualties in the AFC North.
Question No. 6:
So where will Ochocinco end up?

Ochocinco
Answer:
The Bengals don't want Ochocinco, but there should be several teams interested in his services. Ochocinco, 33, is no longer a Pro Bowl-type receiver. But he can still be a solid threat and fits best on a contending team as a complementary weapon. In my opinion, the best fits for Ochocinco are the
New York Jets
and
New England Patriots
. Jets cornerback
Darrelle Revis
has
publicly campaigned
to get Ochocinco to New York, and Ochocinco himself has said he would love to play for the Patriots; he has a good relationship with coach Bill Belichick. Both teams are expected to be contenders next season.
Question No. 7:
Will the Bengals trade quarterback
Carson Palmer
?

Palmer
Answer:
That decision is up to Bengals owner Mike Brown, and I don't see him changing his mind to make a move. From Day 1, Brown has been consistent in saying he has no intention of trading Palmer, who threatened to retire. There was a small ray of hope after the draft, once the Bengals landed Dalton, that Brown could have a change of heart. But
he ended that speculation
this week. I think it's a mistake for the Bengals to not at least field offers for Palmer and determine if
the value is there
. Palmer seems serious about his trade demands and it wouldn't do Cincinnati much good to have Palmer sitting at home in California. Multiple draft picks in 2012 could help the future of the Bengals franchise, but it appears Brown is more worried about setting a precedent for other unhappy players to leave. For now, it looks like the ball is back in Palmer's court to either return to Cincinnati or retire.
May, 23, 2011
5/23/11
3:00
PM ET
Since it appears the NFL lockout will go well into the summer, the AFC North blog has decided to gradually begin looking at potential free-agent targets within the division. In doing so we provide a disclaimer that teams cannot discuss players during the lockout. Therefore, we are speculating on potential matches.
[+] Enlarge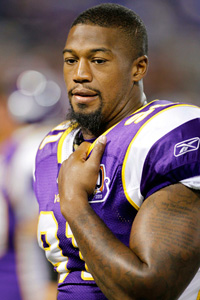 Bruce Kluckhohn/US PresswireVikings end Ray Edwards could be a great addition to Cleveland's revamped defensive line.
Last week we examined
safety
Donte Whitner
's chances to land with his hometown
Cleveland Browns
. This week we stay in Cleveland to take a look at another pending free agent:
Ray Edwards
.
The starting defensive end has been solid for the
Minnesota Vikings
. Edwards recorded 16.5 sacks over the past two seasons in Minnesota, despite sharing the spotlight with talented Vikings defensive end
Jared Allen
.
Now Edwards, 26, will be looking to cash in and should be one of the top free agents this summer. Cleveland certainly has the money to spend and a big need on the defensive line. The Browns will switch to a 4-3 scheme this season and recently spent their first two draft picks on defensive tackle
Phil Taylor
and defensive end
Jabaal Sheard
.
Could Edwards be the final piece to Cleveland's rebuilt defensive line? The Browns started the offseason with little on their front four. But a group with Edwards, Sheard, Taylor and
Ahtyba Rubin
would be a young and talented nucleus to build around for years to come.
Edwards is an Ohio native (Cincinnati), which also helps. Often, the Browns have difficulties convincing free agents to come to Cleveland when teams in more attractive cities provide similar contracts. Another factor: would Edwards be willing to play for a rebuilding team that's still at least two years away from contending?