AFC North:

Ray Lewis to retire
January, 5, 2013
1/05/13
8:40
PM ET
Baltimore fans will have to say goodbye to
Ray Lewis
on Sunday.
With the Bengals losing at Houston, there is no chance for the Ravens to host another game in the postseason (the fourth-seeded Ravens would be the lowest remaining seed if they win). That means Sunday's wild-card game against the Colts will officially be the last time Lewis will play a game in Baltimore. Lewis announced this week that he would retire at the end of the season.
"That moment to walk out of that tunnel Sunday, every, every, every person that was a Ravens fan -- 1996 and to this day -- we will all enjoy that moment," Lewis said of his final home game. "We will all savor in that moment, and I can't tell you how I will feel when that moment comes. I can only tell you it will be probably one of the glorious moments of my life."
The Ravens have won their last 12 home games with Lewis in the lineup. Their last loss with Lewis at M&T Bank Stadium came against the Steelers in December 2010.
In his 17 NFL seasons, Lewis is 80-36-1 (including playoffs) in Baltimore. At M&T Bank Stadium, which opened in 1998, Lewis has a 73-28 record, a .722 winning percentage.
January, 4, 2013
1/04/13
3:14
PM ET
After
Ray Lewis
announced that he would retire at the end of the season, the next question was what kind of impact would the Ravens linebacker make. Lewis hasn't played in a game since tearing his triceps on Oct. 14.
But coach John Harbaugh clarified Lewis' status for Sunday's wild-card game, saying he expects Lewis not to be limited for the final game (or games) of his Hall of Fame career.
"Ray's an incredible rehab guy, and he probably could have played, but it would have been a big risk," Harbaugh said Friday. "We felt like we could get our positioning in the playoffs, and then bring Ray back when the injury had the best chance to be completely healed, which is 12 weeks after the injury. He's ready to go. He's going to play in this game. He should be full speed."
That's been the amazing aspect of Lewis' career. He's played 17 seasons and he's been an every-down linebacker for each one. It remains to be seen how many snaps Lewis will get Sunday. But when he's on the field, you can apparently expect him to be at full speed.
January, 4, 2013
1/04/13
11:00
AM ET
Here are selected comments from ESPN analysts on Ravens linebacker
Ray Lewis
, who announced Wednesday that he will retire at the end of the year:

Lewis
Trent Dilfer
, who won a Super Bowl with Lewis: "He was the best defensive player on the field every game he played in. Off the field he was the best. He had this unique ability to resonate with every single person in the locker room. And that's hard to do. In the NFL, unfortunately, sometimes the guy who is most productive has the loudest voice and that messaging is wrong. Well, that's not the case with Ray. He is the most productive player but his messaging within the locker room is always right. There's an intensity to him. That intensity is authentic. It's genuine and it's always directed at making the football organization better. ... When I say he's the best, really in my experience in the National Football League, I've never seen a person better than him at those three layers: preparation, leadership and play."
Mark Schlereth
, a three-time Super Bowl champion: "I know he has lost a step. I know he's not the player that he once was. I still look at him as a great player and emotional leader, and all the different things that he brings to an organization. ... There's just something about Ray Lewis. You expect Sundays to see 52 out there - pregame, getting everybody going. Then during the course of the game just flying around making plays. I was actually shocked to hear this announcement."
Jason Taylor
, a former NFL defensive player of the year: "It's always shocking when a great player leaves the game. Unfortunately, it happens to everybody. We understand that. It is a tough emotional time. The timing of it is interesting. He will provide an emotional boost for the team. He's not completely healthy, but he is still Ray Lewis. He is still going to bring energy. He's still going to bring leadership. He's going to bring passion. That place will be electric on Sunday."
Tom Jackson
, former NFL linebacker: "One of the top five guys, maybe, to play the position. ... When you look at his career, what he was able to accomplish over the years, the longevity, the excellence, you start doing a shell game with those top five guys to play the game, Ray Lewis is somewhere in there. ... As a player, his skill set was outstanding, but emotionally, in terms of inspiring guys around him to be a better player in your own right, I think there is no one who has ever been better at that than Ray Lewis."
January, 3, 2013
1/03/13
12:08
PM ET
There were some who didn't believe
Ray Lewis
when he announced Wednesday he would retire at the end of the season. Based on the fact he has set his sights on a new career, it looks like he isn't going to change his decision to call it quits.

Lewis
Lewis is
nearing a multi-year contract
with ESPN, according to a SI.com report. He is expected to have a significant role on "Monday Night Countdown," the web site reported. An ESPN spokesperson declined comment when contacted Thursday morning.
No one should be shocked by Lewis going into television. Everyone would be surprised if Lewis
didn't
go into television. He's been preparing for life after football for years with his numerous commercials and has had stints as a television analyst in the offseason.
Being a great player doesn't necessarily mean being a great television personality.
Emmitt Smith
is the NFL's all-time leading rusher but he couldn't successfully make the transition from the field to the studio.
Lewis, though, loves the spotlight and is used to holding the attention of audiences. He spent last offseason giving motivational speeches to college teams. Lewis also will bring insight. With his extensive film work, he has become the quarterback of the defense.
The only question I have is: Will Lewis still do his famous pre-game dance before going on-air?
January, 2, 2013
1/02/13
6:30
PM ET
While everyone
knows my stance
on where
Ray Lewis
ranks all-time among defensive players, ESPN's John Clayton has a different take on the Ravens middle linebacker. Clayton ranks Lewis No. 5 on
his all-time list
, just below Dick Butkus.
Here is what Clayton had to say about his decision:
Every time I watched Lewis, he reminded me of Butkus. Because Lewis was faster, maybe he should be ranked ahead of Butkus among the greatest defensive players ever, but out of respect to NFL history, I rank Butkus ahead of Lewis.
According to the results of the
SportsNation poll
(as of 6:30 p.m. ET), fans don't agree with Clayton or myself. Lewis is currently ranked second all-time with 113,667 votes, which trails only
Lawrence Taylor
(127,413).
January, 2, 2013
1/02/13
5:28
PM ET
By
ESPN.com staff
| ESPN.com
Ravens linebacker Ray Lewis is one of the most popular players in the NFL. He has been referred to as "the Godfather of the NFL" because he talks and texts with so many players.
So, when Lewis announced that
he will retire at the end of the season
, it wasn't a surprise that it sparked comments from all across the football world. Here are a selected few from Twitter:
January, 2, 2013
1/02/13
4:46
PM ET
It's tough to play 17 years in the NFL. It's even tougher to play all 17 years with one team.
That's why it is noteworthy how Ravens linebacker
Ray Lewis
is leaving the game. An injury didn't force him to call it quits. The Ravens didn't cut him. Lewis went out on his own terms, which is how it should be with everything he has done for the team, the city of Baltimore and the league.
Few thought Lewis would return after he tore his triceps on Oct. 14. But come Sunday, 11 weeks after having surgery on his right arm, Lewis will be coming out of the tunnel to do his final pregame dance at M&T Bank Stadium.
By announcing his retirement Wednesday, Lewis also avoids putting the Ravens in a rough spot this offseason. The Ravens will need salary-cap room, especially if they are going to put the franchise tag on quarterback
Joe Flacco
, and they might have been forced to part ways with Lewis, who was scheduled to make $5.4 million in 2013.
Now, the end of Lewis' career won't be marred by the ugly side of the business. He came into the NFL as a Raven and will leave as one. That's how it should be.
"I've played the game at a very, very high level and a very rough pace," Lewis said. "But for me to be where I am standing as a man now and to make my own declaration and say it's time for me to go on, then I make this last run with my team. I give them everything I've got. That's one thing I shared with them in that meeting: 'I am going to give you everything that I've got, because this is our last one.' And wherever it ends, it ends. But I didn't come back for it to end in the first round."
January, 2, 2013
1/02/13
4:14
PM ET
The Ravens now know they won't have one future Hall of Fame player next season after linebacker
Ray Lewis
announced his retirement Wednesday. Could this be the last home game for another one as well?
Reed
An end of an era could be looming for the Ravens if safety
Ed Reed
joins Lewis in not returning to Baltimore. Like Lewis, Reed isn't the same player from five years ago. Unlike Lewis, Reed has no plans to retire (at least not this offseason).
Reed will be an unrestricted free agent at the end of this season. It's unknown whether he'll be back because Reed has tried unsuccessfully to get a new deal with the Ravens for the past two seasons.
The Ravens probably won't be willing to pay Reed the $7.2 million that he received this season. Like the Ravens did with Lewis a few years ago, Baltimore could allow Reed to test the free-agent market, knowing its offer is the best one that he'll get.
But there is a chance that Reed will sign with another team. That would mean the Ravens would go into 2013 without Lewis or Reed, two players who have defined this defense and this franchise. Lewis and Reed may go down as the best players to play their positions.
Suddenly, Sunday has become more than a playoff game. It could be the day when Baltimore says goodbye to two Hall of Fame players.
January, 2, 2013
1/02/13
2:37
PM ET
Ravens linebacker
Ray Lewis
, who announced that he will retire at the end of the season, will leave this game with a lot of titles.
Twelve-time Pro Bowl player. Seven-time All-Pro. Two-time NFL Defensive Player of the Year. Super Bowl MVP.
Here's another one that should be added to the list: greatest defensive player in NFL history.
Some will argue for
Lawrence Taylor
, Dick Butkus,
Reggie White
or
Ronnie Lott
. What makes Lewis stand above all of them is how he dominated in every facet. While Taylor changed the game in the 1980s, Lewis did the same in this generation with his range, strength, speed and intelligence.
"Everything that starts has an end. It's just life," Lewis told reporters Wednesday. "And for me, today I told my team that this will be my last ride. I told them I just felt so much peace at where I am with my decision because of everything I've done in this league. I've done it, man."

When it came to the running game, Lewis was fast enough to chase down running backs and physical enough to make them pay when he did. In Lewis' first 16 seasons, Baltimore never allowed more than 3.9 yards per carry.
When it came to the passing game, he was explosive enough to rush the passer and athletic enough to cover running backs and tight ends. He's the only player in NFL history to amass 40 sacks and 30 interceptions.
Lewis isn't simply the best defensive player because of his play. What made Lewis special was how he elevated those around him and consistently made the Ravens the most feared defense. Since 1999, in the 11 seasons in which Lewis has played at least 12 games, the Ravens' defense ranked in the top 10 every year, including eight times in the top three. Teams have signed Lewis' teammates to big contracts (
Duane Starks
, Ed Hartwell,
Sam Adams
,
Bart Scott
) in trying to build their defenses, but few have ever played as they did beside him.
It's more than stats that make Lewis the best ever. It's the jaw-dropping memories.
In 1999, Lewis ran down San Diego slot receiver
Eric Metcalf
from behind from the far side of the field after Metcalf caught a 20-yard pass over the middle in full stride. In the 2000 playoffs, Lewis grabbed a bobbled pass to
Eddie George
, ripped his leg away from the Titans running back and ran in the interception for the score. In 2008, Lewis ran to the hole and hit
Rashard Mendenhall
so hard that he fractured the shoulder of the Steelers running back. In 2009, Lewis closed out a win in San Diego with a spectacular fourth-down tackle in which he ran through the line and hit
Darren Sproles
as soon as he took the handoff.
Lewis beat teams because he was stronger than them. He beat teams because he was faster. And, by the time he reached 30, he beat them by using his head, studying film to the point where he called out the offense's play before the ball was snapped.
Lewis' impact on the game stretches beyond the field. He's been the main reason that four of his defensive coordinators went on to become head coaches: Marvin Lewis, Mike Nolan, Rex Ryan and Chuck Pagano.
[+] Enlarge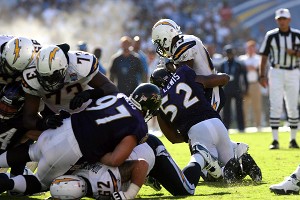 AP Photo/Tom HauckPlays like this hit on Darren Sproles helped define Ray Lewis' career.
What makes Lewis' career reach an epic level is its duration. Mike Singletary retired after 12 seasons with the Bears, before his play declined. The Steelers' Jack Lambert walked away after 11 years because of a severe toe injury. The Bears' Butkus stopped after nine seasons because of knee injuries.
Lewis has been shedding blocks from 300-pound linemen and chasing down 20-something running backs for 17 seasons and 228 games. He's made more tackles (2,050) than many have played snaps for a career. Sure, Lewis wasn't the same linebacker this year that he was five or 10 years ago. But the Ravens wouldn't want anyone else manning the middle of their defense.
"I can't picture Baltimore without him," running back
Ray Rice
said. "Baltimore is Ray Lewis."
The Ravens should just put Lewis in the Ring of Honor on Sunday, which is likely his final game in Baltimore. They need to make his No. 52 the first one the franchise will retire. They need to build a statue of Lewis right next to Johnny Unitas' statue outside M&T Bank Stadium.
Lewis' influence goes beyond the Baltimore Inner Harbor. For nearly two decades, defense in the NFL has been synonymous with Lewis. Relentless in the NFL has also been defined by Lewis.
He is coming back 11 weeks removed from a torn triceps, an injury that many believed would end his season. Lewis, though, is coming back for the playoffs and going out on his own terms.
Lewis came into the league as the 26th overall pick in 1996, sliding down the first round because he was considered undersized. Seventeen years later, he leaves the game with a legacy that is larger than life.
January, 2, 2013
1/02/13
12:49
PM ET
There will always be a debate about whether
Ray Lewis
was the greatest defensive player in NFL history. Where there should be no argument is this: He's the greatest leader in league history.
Lewis is able to tap into his team's pulse like no one else. Now it's time for the team to pay him back the only way that's fitting -- by winning a Super Bowl.
The odds are certainly against it. The Ravens are extremely banged-up. They backed into the playoffs by losing four of their last five games.
But now the Ravens have a rallying point unlike any other team in the postseason: Win one for Ray. Win one for the greatest defensive player of his generation. Win one for the player who has defined the Ravens in Baltimore.
Over his 17-year career, Lewis has put this team and franchise on his back. How many times did the Ravens win with Lewis' defense when they didn't have a quarterback? How many times did they win with a Lewis tackle like the one in San Diego a few years ago? How many times did they win because of one of his interceptions or deflected passes?
But it's more than what Lewis has done on the field. No one has been able to motivate a team like Lewis. And he's a motivator to the end, announcing his retirement just days before the start of the playoffs.
Lewis has put together a Hall of Fame career. His teammates can give him a storybook ending.
January, 2, 2013
1/02/13
12:14
PM ET
These playoffs will be the final games in
Ray Lewis
' legendary career.
Lewis announced Wednesday
that he will retire at the end of the season. That likely means Sunday's AFC wild-card game will be the Ravens middle linebacker's final game in Baltimore.
According to the team, Lewis told teammates today "this will be my last ride."
I will post more about this breaking news soon.