September, 25, 2011
9/25/11
8:30
PM ET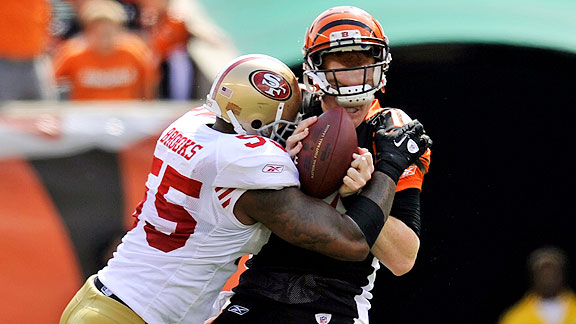 Jamie Sabau/Getty Images
CINCINNATI --
Who Dey?
No, the Bengals' rallying cry today was:
Where Dey?
The Bengals played before 43,363 at Paul Brown Stadium, their smallest crowd for a home opener in 30 years. And the Bengals failed to convince football fans in Cincinnati to change their minds in a
13-8
-- wait, a yawn -- loss to the
San Francisco 49ers
.
It's hard to generate a buzz in the community when the home team fails to score a touchdown. It's difficult to build excitement when the team produces more punts (seven) than offensive points (six).
This was the Bengals' chance to make a strong first impression in front of the home crowd with their young quarterback and wide receiver. Instead, they threw away the opportunity more times than
Andy Dalton
threw a fourth-quarter pass to the 49ers (which was twice).
A solid on-field performance was required after such an embarrassing week off of it. Starting wide receiver
Jerome Simpson
had
a drug bust at his home
, and running back
Cedric Benson
received a three-game suspension from the NFL, which he plans to appeal.
But the Bengals' mistake-filled loss in front of more than 20,000 empty seats only added to their miserable week.
[+] Enlarge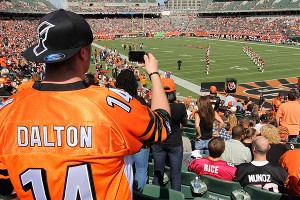 AP Photo/Tom UhlmanA Bengals fan takes a photo just before Sunday's game against the 49ers. The Cincinnati crowd was sparse in the upper deck.
"We can't control fans coming to watch our game," Bengals middle linebacker
Rey Maualuga
said.
Actually, Rey, you can. It's about winning. It's about finishing games. It's about responding to adversity like the rest of the AFC North.
The Steelers rebounded from a rout in Baltimore by shutting out Seattle. The Ravens shook off a deflating loss at Tennessee by stomping St. Louis. And the Browns moved past a fourth-quarter breakdown against Cincinnati to reel off two wins.
The Bengals, though, looked like a young team that had gone through a week filled with distractions -- something coach Marvin Lewis wouldn't agree with.
"It had nothing to do with it," he said. "I don't think any of that can keep us from converting a third down."
Third downs have become a nagging problem. The Bengals converted once on 10 chances a week after going 1-for-11 on third downs.
The real trouble spot is finishing games. A week after Cincinnati couldn't complete the comeback in Denver, it was like a repeat alongside the Ohio River.
There were three plays in the fourth quarter that caused the Bengals to drop to 1-2 on the season:
The biggest error by the defense came with about five minutes left when they didn't cover tight end Vernon Davis -- the only player on the 49ers offense that consistently hurt Cincinnati -- which resulted in a 20-yard pass into the red zone and led to a 7-yard touchdown run by Kendall Hunter to put the 49ers ahead 10-6.

One play after the touchdown, Dalton threw a bad pass right to Carlos Rogers even though the San Francisco cornerback had better position on the sidelines than intended receiver Andre Caldwell. The 49ers turned Dalton's first career interception into a field goal, extending the lead to 13-6.

On the Bengals' final drive, Dalton connected with tight end Jermaine Gresham for 22 and 17 yards to move into San Francisco territory with under two minutes left. But Gresham didn't look for the throw to his back shoulder on the third pass of that series, and it was intercepted by San Francisco's Reggie Smith.
"We're almost there," Maualuga said. "We don't happen to have that finish that we're looking for. We have all the qualities of having a good team. We're just not finishing."
Dalton was nearly perfect on the opening drive of the game, completing 5 of 6 passes for 61 yards. After that, he was 12-for-26 for 96 yards and two interceptions.
"We started fast, which is what you come out to do," Dalton said. "We were flat after that. We couldn't do the things we wanted to do."
Dalton didn't resemble the rookie quarterback who threw for 332 yards at Denver last Sunday.
"In the fourth quarter, Andy did some things we [knew we] might go through at some point," Lewis said. "But he will come back out of it and be fine."
Other issues can't be as easily dismissed. The Bengals allowed Simpson to play, and he managed one pass for 6 yards.
Still, his status for future games is uncertain because the investigation involving 2.5 pounds of marijuana shipped to his house is ongoing. Simpson was not made available to reporters in the locker room.
"Whatever course of action is taken when the time comes will be dealt with accordingly," Lewis said.
Meanwhile, Benson is appealing his three-game suspension from the NFL on Tuesday and has filed an unfair labor practice charge with the National Labor Relations Board against the NFLPA, saying he shouldn't be subject to discipline for conduct that occurred during the lockout. He had been arrested in July for allegedly punching a former roommate in downtown Austin and later served five days in a Texas jail.
"There were some things in the Collective Bargaining Agreement that we were not made aware of, which is really no surprise," Benson said. "That falls on the PA [Players Association]. You would think that they are here to support you and have your back. That's what a union does. I guess in my case that it's different."
These aren't exactly the headlines that the Bengals want to see when they're trying to win back fans. It's been an ongoing problem when you lead the NFL in arrests since 2000 and your starting quarterback takes an early retirement in the offseason.
Players acknowledged noticing the empty seats. It would be hard not to. Only about one-quarter of the upper deck had fans in it.
"We're going to keep playing hard if it's one person out there or 70,000," cornerback
Leon Hall
said. "There's a lot of things to get excited about with this team. I have a good feeling about this team."
The challenge for the Bengals now is to make their fan base believe that.
April, 8, 2009
4/08/09
12:00
PM ET
Posted by ESPN.com's James Walker
As the NFL draft nears, AFC North teams are narrowing their list of prospects to take with their first-round picks. This week we look at those players and how each would fit with their teams.
Let's look at potential prospects for the Baltimore Ravens, who own the No. 26 overall pick:

1. Darrius Heyward-Bey, WR, Maryland
As the weeks go by, it looks more and more like Heyward-Bey to Baltimore won't happen. Somewhat of a sleeper after the college football season, Heyward-Bey's stock improved significantly since lighting up the combine and looking solid in his individual workouts. He could go as high as the middle of the first round. But Heyward-Bey would be a great fit in offensive coordinator Cam Cameron's offense. He would be the missing deep threat the team needs and could contribute right away as the starter, opposite Derrick Mason, or the No. 3 receiver behind Mason and Mark Clayton.
2. Hakeem Nicks, WR, North Carolina
Another ACC product, Nicks also would be a solid fit in purple and black to complement Clayton and Mason. The Ravens need bigger receivers and Nicks -- at 6-foot-1, 212 pounds -- would fit the bill. Nicks has good speed but not the blazing speed Heyward-Bey possesses. But Nicks' strength and ball skills gives him the ability to compete for deep balls and make plays over the middle. There is some concern of Nicks reportedly gaining up to 14 pounds after a hamstring injury. But this could work in Baltimore's favor if his stock drops toward the end of the first round.
3. Rey Maualuga, ILB, USC
The Ravens were active, but spent their money very wisely in free agency. Tight end and cornerback were areas of need, but the recent signings of tight end L.J. Smith and cornerbacks Domonique Foxworth and Chris Carr plugged those holes. This leaves the chance of Baltimore taking the best available player, such as USC's Maualuga if he's available. He is a big hitter, which fits right in with Baltimore's style. The departure of Bart Scott also leaves a void for someone to step in.
Next up Thursday: The Pittsburgh Steelers
March, 27, 2009
3/27/09
11:00
AM ET
Posted by ESPN.com's James Walker
The draft board has been altered since we last looked at prospects before last month's NFL combine.
So with a month left before the NFL draft, let's check in once again with ESPN draft experts Mel Kiper Jr. and Todd McShay to get their latest picks for AFC North teams.

Pick: No. 5
Mel Kiper Jr.: B.J. Raji, DT, Boston College
Todd McShay: Brian Orakpo, DE/OLB, Texas
Analysis: Both of these picks would bring toughness and a mean streak to the Browns. But in a 3-4 defense, the versatile Orakpo may be the more valuable of the two players. New Cleveland coach Eric Mangini likes defenders who can rush the passer from both the outside linebacker spot and in a three-point stance at defensive end. It doesn't mean Orakpo will be the better pro, but he gives the coaching staff more options, which could be the deciding factor if choosing between these two players.

Pick: No. 6
Kiper: Michael Crabtree, WR, Texas Tech
McShay: Eugene Monroe, OT, Virginia
Analysis: The Bengals would be elated if Monroe fell into their lap at No. 6. Cincinnati needs protection for quarterback Carson Palmer from the tackle position and Monroe looks NFL ready. The Crabtree pick by Kiper is surprising considering the signing of receiver Laveranues Coles to replace T.J. Houshmandzadeh. Perhaps the Bengals will look to trade No. 1 receiver Chad Ocho Cinco in the next month, which Kiper may be anticipating with this pick.

Pick: No. 26
Kiper: Rey Maualuga, ILB, USC
McShay: Vontae Davis, CB, Illinois
Analysis: Kiper presents an interesting pick with Maualuga. If the USC linebacker falls to the end of the first round, he could be the best player on Baltimore's board, while also having the potential to fill a void left by linebacker Bart Scott's departure to the New York Jets in free agency. With the signings of Domonique Foxworth and Chris Carr, cornerbacks such as Davis are no longer a pressing need. A big-play receiver could be a better option.

Pick: No. 32
Kiper: Darius Butler, CB, Connecticut
McShay: Alphonso Smith, CB, Wake Forest
Analysis: Both experts agree that cornerback is the way to go for Pittsburgh. Kiper likes the small-school prospect in Butler, while McShay feels Smith from Wake Forest and the ACC is the better pick. I tend to like Cal center Alex Mack in this spot. He could play guard or center for the Steelers and may project to be a leader of the team's weakest unit for years to come. But cornerback insurance wouldn't be a bad option either, considering the departure of starter Bryant McFadden to the Arizona Cardinals.
February, 22, 2009
2/22/09
3:00
PM ET
Posted by ESPN.com's James Walker
Could USC linebacker Rey Maualuga be a good fit in the AFC North?

Maualuga thinks so, mainly because he believes he could play well in a 3-4 defense.


| | |
| --- | --- |
| | |
| | Jeff Golden/Getty Images |
| | Rey Maualuga isn't concerned whether the team which drafts him runs a 4-3 or a 3-4 defense. |
"It really don't matter to me," Maualuga said at the NFL combine when asked about the 3-4 scheme. "I played the whole season with a hybrid,
Clay Matthews
, being a standup outside linebacker and a hand-down defensive end. So I'm familiar with both schemes. So whichever team I get picked to go to, whether it's a 4-3 or 3-4, I think I will fit in really well."
This could be music to the ears of three teams in the AFC North. The Cleveland Browns, Baltimore Ravens and Pittsburgh Steelers all run a 3-4 defense.
Maualuga recorded 79 tackles and two interceptions in 2008. The hard-hitting linebacker also said he wouldn't mind being reunited with former teammate Keith Rivers, now a linebacker with the Cincinnati Bengals.
"He's a great guy, a guy I do see myself playing alongside," Maualuga said.
The Rivers-Maualuga duo played three years together in college and dominated the Pac-10.
The Bengals, who play a 4-3, have other needs to address with the No. 6 pick. But adding another linebacker at some point to an improving defense wouldn't be a bad idea.