October, 21, 2012
10/21/12
4:09
PM ET
Thoughts on the
Cleveland Browns
'
17-13 loss
at the
Indianapolis Colts
:
What it means
: It was a disappointing start to the Jimmy Haslam era. The Browns lost their 11th straight road game, which ties the franchise record (1974-76). This road losing streak is the longest active one in the NFL. Cleveland (1-6) becomes the first team to lose six games this season.


Failing to convert in the fourth quarter
: The Browns couldn't extend drives in the final quarter. They failed on four third downs and two fourth downs. The biggest blunder on third down was a dropped 41-yard pass by rookie receiver
Josh Gordon
that would have gone for a touchdown.
Giving up on the run
: The expected game plan was attacking the Colts and the 29th-ranked run defense. But the Browns gave up on the run too fast, handing it off 16 times while throwing 40 passes. Rookie running back
Trent Richardson
(ribs) didn't play in the second half after getting drilled on a third-and-one with four minutes left in the second quarter. Unlike last week, the Browns didn't give the ball to backup
Montario Hardesty
. Richardson finished with eight yards on eight carries, and quarterback
Brandon Weeden
finished as the leading rusher (13 yards) after three quarters.
Wasted turnover
: Blitzing cornerback
Sheldon Brown
came on the blind side to hit
Andrew Luck
, forcing a fumble and recovering it in the fourth quarter. Down 17-13, Cleveland didn't convert as Gordon dropped a deep third-down pass at the goal line. The Browns chose to punt on fourth-and-1 at the Colts' 41 with 6:31 remaining.
Greg Little shows off hands
: Little has been rightfully criticized for dropping the ball in his first two seasons in the NFL. But he made the best grab of his career on the Browns' opening possession. Leaping over a Colts defender in the back of the end zone, Little tapped the ball in the air and caught it while getting both feet inbounds.
Not so special teams
: The Browns matched the Colts' game-opening touchdown drive with a 16-play, 90-yard series. But Cleveland failed to tie the game because holder
Reggie Hodges
mishandled the snap on the point-after attempt. Last season, the Browns struggled with the long snaps.
Luck or RG3?
: The Browns had to be confused whether they were playing Luck, the draft's top pick, or
Robert Griffin
III, the No. 2 overall selection. Luck showed off his athleticism by scoring the Colts' first two touchdowns on runs. He reached the end zone on runs of 3 and 5 yards.
Weeden watch
: In the first matchup of rookie quarterbacks this season, Weeden more than held his own against Luck. Weeden looked decisive on his throws, completing 25 of 41 passes for 264 yards with two touchdowns and no interceptions.
What's next
: The Browns return home to play the
San Diego Chargers
, who are coming off a bye.
August, 30, 2012
8/30/12
11:06
PM ET
Nearly all the AFC North teams played it safe in Thursday night's preseason finales.
Ben Roethlisberger
,
Joe Flacco
and
Brandon Weeden
all sat out and watched the backup quarterbacks play.
The only starter who played, the Bengals'
Andy Dalton
, left in the first quarter with an injury but it's not considered serious. Dalton said his hand went "a little numb" after getting hit in the arm but it's "no problem at all." Bengals coach Marvin Lewis said, "Andy's fine. He'll be fine for Baltimore. He would have gone right back in this game if it had been the regular season." So, crisis averted.
If you couldn't watch all four division teams play simultaneously, you're in luck. I had my eye on each one and here are some observations:
BENGALS AT COLTS


In the
20-16 loss at Indianapolis
, Dalton was hurt on the opening drive after getting sandwiched. Offensive tackles
Andrew Whitworth
and
Dennis Roland
both got beaten for sacks on the play. It hasn't been a great preseason for Whitworth, who is the second-best left tackle in the division.
The Bengals didn't play their top two running backs,
BenJarvus Green-Ellis
and
Bernard Scott
, because both are recovering from injuries and are getting ready for the regular-season opener. For once, Cincinnati's run game didn't suffer.
Brian Leonard
ran hard and broke tackles for 27 yards on three carries.
Cedric Peerman
, who makes more of an impact on special teams, looked good on a 13-yard run up the middle.
No one wants to see Dalton hurt. The Bengals, though, have to feel comfortable with backup
Bruce Gradkowski
. He finished 12 of 19 for 95 yards and led his fourth touchdown drive of the preseason.
Rookie wide receiver
Marvin Jones
displayed some resiliency in the second quarter. On the same drive in which he dropped a touchdown pass, he came back to catch a back-shoulder throw from Gradkowski and ran into the end zone. Jones is making a push for some playing time this year.
BEARS AT BROWNS


In the
28-20 loss to Chicago
,
Colt McCoy
watched his strong preseason take a nosedive. In his first start this summer, McCoy was 2 of 5 for 16 yards for a 9.1 quarterback rating. That's going to put a dent into McCoy's 119.1 rating from the first three games. McCoy was also intercepted on a high pass that was thrown with no pressure around him. The Browns will let everyone know what they plan to do with McCoy on Friday.
The Browns have a concern at linebacker after rookie
James-Michael Johnson
left with an oblique injury. With
Chris Gocong
out for the season with an Achilles injury and
Scott Fujita
facing a three-game suspension from the NFL, Cleveland planned to depend on Johnson and
Kaluka Maiava
. The Browns might need Fujita to win his appeal to avoid going deeper on the depth chart. Johnson was having a strong performance before getting injured on an open-field tackle.
Backup running back
Montario Hardesty
had trouble getting back to the line of scrimmage because he got little help from his blockers. He finished with 24 yards on six carries and he didn't fumble for the first time since the preseason opener.
Brandon Jackson
fared much better, gaining 48 yards on seven carries.
Cornerback
James Dockery
was flagged twice for pass interference in the second quarter. The second one eventually led to a touchdown. Rookie cornerback
Trevin Wade
was physical and had good coverage in allowing the first touchdown of the game.
As if the Browns needed something else to worry about, they have to iron some things out on special teams.
Reggie Hodges
got his second punt blocked this preseason.
RAVENS AT RAMS


In a
31-17 loss at St. Louis
,
Sergio Kindle
hurt his chances of surviving Friday's cutdown. He hit quarterback
Sam Bradford
a full second late, drawing a roughing-the-passer penalty to help the Rams convert third-and-22. Kindle, a 2010 second-round pick, was on the bubble entering this game.
Continuing Thursday night's trend of rookies getting hurt, second-round pick
Courtney Upshaw
will have an MRI for his strained shoulder, according to coach John Harbaugh. Upshaw has been backing up
Albert McClellan
at outside linebacker.
Veteran linebacker
Brendon Ayanbadejo
had his worst game with the Ravens. Working with the first-team defense because most of the starters sat, Ayanbadejo struggled against the run and got lost in coverage. It was so bad that he
apologized for his performance
on Twitter.
What I like the most about
Tyrod Taylor
, who started in place of Flacco, is his ability to make plays with his legs. Even though he focused more on being a pocket passer, Taylor wasn't hesitant to take off for a 22-yard scramble. He did get stripped from behind earlier in the game, but it was the result of a third-string lineman (
Cord Howard
) getting beat by a former first-round pick (
Robert Quinn
).
Looking at
Curtis Painter
's up-and-down performance, I'm not sure he convinced the Ravens to keep three quarterbacks. He threw two touchdowns and was intercepted three times. One interception was returned 76 yards for a touchdown.
Justin Tucker
missed his first kick of the preseason, but it's difficult to be critical of him. It was a 57-yard attempt. He later hit a 49-yarder in the third quarter.
PANTHERS AT STEELERS


If this was
Charlie Batch
's last game with the Steelers, he made it a memorable one, or at least as memorable as the preseason gets. In the
17-16 victory
over Carolina, he completed 11 of 14 passes for 102 yards. Batch showed great touch in leading Emmauel Sanders out of double coverage for a 37-yard touchdown. The new rule regarding injured reserve helps Batch's chances of sticking around Pittsburgh for an 11th season, but there's no guarantee that he'll make the cut.
For the second consecutive week, a Steelers draft pick went down with a serious knee injury. With two minutes left in the third quarter, linebacker
Sean Spence
hyperextended his knee while chasing quarterback
Jimmy Clausen
. Spence's knee bent awkwardly underneath him, and the third-round pick needed to be carted off the field. Spence was expected to make an impact on special teams this season and could have received playing time if there were injuries at inside linebacker. Unlike
David DeCastro
's knee injury, this one happened on the natural grass of Heinz Field.
This isn't a newsflash, but rookie running back-receiver-returner
Chris Rainey
is a game-changer. He twice scored on punt returns in one quarter, only to have both brought back because of penalties. This would've given him the touchdown trifecta. The fifth-round pick had scored on a 41-yard run and a 57-yard catch this summer.
Nose tackle
Casey Hampton
made his preseason debut after having ACL surgery in January. His presence was felt immediately as he got off a block from guard
Mike Pollak
and made a tackle. Hampton's return was good to see for the Steelers, even though
Steve McLendon
has played well enough to start.
Jonathan Dwyer
solidfied himself as the primary backup to
Isaac Redman
, and the Steelers could need him based on Redman's durability. Dwyer was physical (even delivered a stiff-arm) and showed good feet to elude tacklers. He finished with 63 yards on 13 carries, a 4.8-yard average.
June, 14, 2012
6/14/12
8:00
AM ET
Like
Ed Reed
,
Joe Flacco
is missing the final two days of Ravens mandatory minicamp. Unlike Reed, the Baltimore quarterback was excused by the team.
Flacco rushed home to New Jersey on Wednesday when his wife Dana went into labor. "Joe got the call this morning, and obviously the labor had started and Joe was high-tailing up the road," coach John Harbaugh said, via the
team's website
. "I wish them nothing but the best."
Flacco said they chose not to find out whether the baby will be a boy or a girl.
Hensley's slant
: Flacco and
Ben Roethlisberger
have taken this competition between rivals to the extreme. Flacco got married last year and Roethlisberger soon did the same. Now, they're both going to be fathers. All joking aside, the AFC North blog wishes the Flacco family the best.
BENGALS
:
Andy Dalton
hasn't been afraid to throw the ball deep during the offseason camps, according to the
Cincinnati Enquirer
. He threw a pass that traveled more than 70 yards in the air last Monday, and he hit
A.J. Green
in double coverage on a throw that went 55 yards. Quarterbacks coach Ken Zampese is among those who don't have any major concerns over Dalton's arm strength, but he told the paper that he could see where others outside the building could. Dalton left a number of passes short last year.
Hensley's slant
: Green is going to help any quarterback look good when they throw the ball downfield. According to ESPN Stats & Information, Green had 12 receptions of at least 30 yards in 2011, the fourth-most in the NFL. The rest of the Bengals' receivers had eight such receptions.
BROWNS
: Punter
Reggie Hodges
told the
Cleveland Plain Dealer
that he has fully recovered from an Achilles injury that sidelined him all of last season. In 2010, Hodges averaged 43.9 yards per punt. His replacement last year,
Brad Maynard
, averaged 40.5 yards per punt.
Hensley's slant
: The Browns punted the ball 89 times last season, which was the eighth-most in the NFL. With the addition of running back
Trent Richardson
and quarterback
Brandon Weeden
, Cleveland is hoping to use its punter less this season.
STEELERS
: The
Pittsburgh Steelers
haven't made a big deal of
Mike Wallace
's absence until Wednesday. That's when team president Art Rooney II delivered a message to his Pro Bowl receiver who has yet to sign his restricted free-agent tender. "He should be here," Rooney told the
Pittsburgh Post-Gazette
.
Hensley's slant
: What the Post-Gazette failed to ask Rooney was whether or not the Steelers plan to reduce his $2.7 million tender to to $577,500 if Wallace doesn't sign it by Friday. It's assumed that Pittsburgh won't do so, but no one from the organization has confirmed this publicly.
August, 3, 2011
8/03/11
6:00
PM ET
Here are the latest happenings Wednesday evening in the AFC North:
August, 2, 2011
8/02/11
1:00
PM ET
BEREA, Ohio -- The injuries are adding up at
Cleveland Browns
training camp. This time, it was the punter who was hurt and eventually carted off the field.
Reggie Hodges
, who had a great year for the Browns last season, suffered what Cleveland coach Pat Shurmur described as a left foot injury. It was a freak injury during a punt drill where there was no contact, and Hodges crumbled to the ground before he had a chance to kick the ball.
The injury looked pretty bad, as Hodges needed help off the field and couldn't put weight on his left leg.
"He just reached up and the punt was about head high," Browns coach Pat Shurmur said. "He did something he's done a million times. We will just have to see."
Hodges joins other injured Browns, which include guard
Eric Steinbach
(knee), tight end Ben Watson (head) and receivers
Mohamed Massaquoi
(ankle) and
Josh Cribbs
(knee). Cleveland is in the process of installing a new offense and defense and needs as many key players on the practice field as possible.
Here are some additional notes from Browns camp:
April, 26, 2011
4/26/11
11:30
AM ET
BEREA, Ohio -- As the first player showed at the
Cleveland Browns
training facility Tuesday, team president Mike Holmgren drove into a parking lot filled with media and had to veer around the mob to get to his parking space.
This was is an unprecedented and strange day for the Browns -- and the NFL in general. The lockout was temporarily lifted. But without a collective bargaining agreement in place, Browns players showed up for work with a lot of unknowns.
Browns tight end Ben Watson, former Pro Bowl kick returner
Josh Cribbs
and punter
Reggie Hodges
arrived at the facility shortly after 10 a.m. Tuesday. But players said security cut off certain parts of the building and withheld them from working out.
"It's really disappointing," Cribbs said. "I came here in workout clothes. I came to the Browns facility to try to work out. I want to get back to work. We have a long road ahead."
Browns players also were not given playbooks or allowed to have any contact with coaches and the front office. An appeal to Monday's ruling is expected, which will create further uncertainty.
A case can be made that the Browns are one of the teams most hurt by the lockout. This offseason Cleveland has to install new West Coast offense, a new 4-3 defense and has a rookie head coach (Pat Shurmur) and inexperienced quarterback (
Colt McCoy
).
"We don't know what's going to happen," Watson said of the next move. "There's a lot more legal stuff to go on. But we got a lot of work to do."
November, 1, 2010
11/01/10
12:00
PM ET
Here are some notes and observations from Week 8 in the AFC North:
[+] Enlarge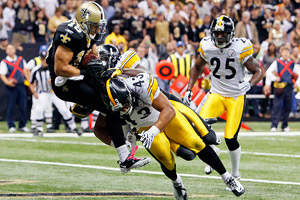 AP Photo/Patrick SemanskyWhile they had bright moments, Troy Polamalu and the Pittsburgh defense struggled against Drew Brees and the Saints on Sunday.
Even Troy Polamalu occasionally has bad games. The Pittsburgh Steelers' do-it-all safety had his worst game in years during Sunday's 20-10 loss to the New Orleans Saints. Polamalu and Saints Pro Bowl quarterback Drew Brees were involved in a chess match, and Brees won most of those matchups by catching Polamalu out of position several times for big gains. Polamalu struggled to get a read on Brees and was a step or two late on big plays. Polamalu also missed tackles he usually makes in what was a rare, subpar performance by his standards.

The Superdome was the loudest stadium I've heard all season. The raucous atmosphere definitely bothered Pittsburgh (5-2), which had won its first three road games this season. The communication on offense was shaky because of the crowd noise, and the defense eventually succumbed to the pressure of trying to carry the team for four quarters.
"We better get used to these kind of environments; it comes with the territory when you're trying to be world champs," Steelers coach Mike Tomlin said. "We've got to play good people in their place and play better than that moving forward."
August, 17, 2010
8/17/10
12:56
PM ET
The
Cleveland Browns
' special teams suffered a blow Tuesday as punter
Dave Zastudil
(knee) was
put on injured reserve
, which ends his 2010 season.
Zastudil had offseason surgery, but his right knee was not responding well this summer. He spent last week in Colorado getting it checked out.
Zastudil has been the Browns' punter for the past four years and now
Reggie Hodges
is punting in his place.