November, 27, 2013
Nov 27
10:00
AM ET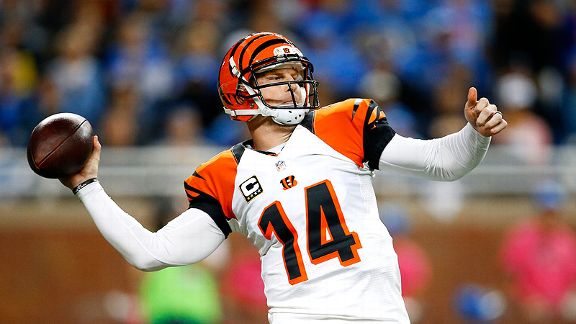 AP Photo/Rick OsentoskiThe Cincinnati Bengals are counting on Andy Dalton to return to the form that helped lead the team to a 4-1 record in October.
CINCINNATI -- Earlier this week,
Cincinnati Bengals
players like cornerback
Chris Crocker
were adamant in pointing out the urgency they need to play with throughout the
month of December
.
"It's all about winning in December," Crocker said. "Let's win out and see where the chips lay. Why can't we win out? I don't see why we can't."
If you ask some Bengals fans and most NFL analysts, they'll give you one big reason why they don't believe Cincinnati will be able to go 5-0 to close out the regular season: No. 14.
That's right. To some, the primary obstacle in the way of end-of-season perfection for the Bengals is
Andy Dalton
, the player who has quarterbacked the franchise into the playoffs each of the past two seasons, and who constantly is trying to prove himself to those who consider him just another member of a mostly failed 2011 quarterback draft class.
For that reason, as the Bengals gear up for a stretch run that could give them a first-round bye and home-field advantage in the playoffs, an important question has to be asked.
Can December Andy mimic October Andy?
As we've written countless times in the past month, October Andy was indeed a dandy. Through the first four games of that month, Dalton threw for 1,243 yards and 11 touchdowns. He also completed 67.9 percent of his passes, won four games, had a passer rating higher than 116.0 and a QBR above 83.0. He was, quite simply, brilliant. His play was so sharp back then that on the final day of the month, hours before the Bengals were set to take on the Dolphins in a road Thursday night game, he was named the AFC's Offensive Player of the Month.
And, yes, even though, comparatively speaking, he didn't look as good overall against the Dolphins and ended up taking the game-winning sack for a safety in overtime, Dalton still had a rather special performance in the 22-20 loss. Aside from not completing a touchdown pass and getting intercepted three times, he threw for 338 yards, marking the fourth straight game he had gone over the 300-yard passing mark.
Overall, October Andy was Good Andy.
But now here comes December with all of its postseason potency. If Cincinnati hopes to set itself up for the type of playoff seeding Crocker believes it deserves, then it will have to play its best ball across the next five weeks. That's especially the case for Dalton and a Bengals offense that has looked rather anemic in the past three games.
One look at Dalton's previous December stats and it doesn't appear the third-year star should have any problem showcasing even a sliver of the success that made him and his team so good about two months ago.
After a rocky December as a rookie in 2011, Dalton was among the difference-makers last season when the desperate Bengals were in need of a strong final month just to secure a playoff berth. One year after going 2-2 in the month, Dalton went 4-1 during December 2012. The lone loss came after the
Dallas Cowboys
made a field goal in the final seconds to win 20-19.
While the level of desperation may be different this December, the Bengals are looking for Dalton to thrive under similar pressure-packed moments during this one. This time around, the pressure on Dalton mainly stems from the fact that so many are fed up with his play from the past three games. In them, he's thrown eight interceptions and been sacked 10 times. Across the latter two of those games, he's completed fewer than 50 percent of his passes and hasn't posted a QBR higher than 18.0.
Weather factored heavily in Dalton's inability to move the ball in those two games. Windy conditions at Baltimore and windy and rainy conditions against the Browns sent some of his passes sailing and forced others into the hands of defensive backs.
Although weather shouldn't be a concern this weekend in San Diego (the forecast calls for partly cloudy skies and a delightful high of 71 degrees Sunday), it could be the rest of the season. Farmer's Almanac projects cold, damp conditions for all of December in the Ohio Valley. It should be noted that after Sunday's game, the Bengals are home three of the next four weeks. Their only remaining road game is at Pittsburgh.
Throughout his career, Dalton has performed better in warmer games. In games with temperatures 50 degrees or higher, he has a 20-14 record, an 85.1 passer rating and a 52.5 QBR. In games with temperatures at 49 and lower, he has a 5-5 record, a 75.4 passer rating and a 32.9 QBR. Dalton's last three sub-49-degree wins came last December, though; a sign that perhaps he's turning a corner in cold-weather contests.
Whatever the conditions and whomever their opponents are, when it comes to the next five weeks, the Bengals can only hope that Dalton turns into the same man who torched through this October.
September, 1, 2013
Sep 1
4:08
PM ET
The
Cincinnati Bengals
announced their practice squad, and half will be made up of their own draft picks.
The last three picks from this year's draft -- wide receiver Cobi Hamilton (sixth round), offensive tackle Reid Fragel (seventh) and center T.J. Johnson (seventh) -- were added along with running back
Dan Herron
, a sixth-round pick from a year ago.
The Bengals signed three others: linebacker J.K. Schaffer, who led the team in tackles this preseason; cornerback
Chris Lewis-Harris
; and cornerback-returner Onterio McCalebb.
Cincinnati has one spot remaining on its roster spot and could try to bring back defensive end
Dontay Moch
if he isn't picked up by another team.
May, 2, 2013
May 2
4:00
PM ET
Everyone gets excited when compensatory picks are announced in March, but many forget the players who are added because of them. The AFC North teams had seven compensatory picks in the draft and here are the results:
BALTIMORE RAVENS
Fourth round
: Kyle Juszczyk, Harvard fullback
Fifth round
: Ricky Wagner, Wisconsin offensive lineman
Sixth round
: Ryan Jensen, Colorado State-Pueblo
Seventh round
:
Marc Anthony
, California cornerback
Thoughts
: The Ravens received compensatory picks in the fourth and fifth rounds after losing guard
Ben Grubbs
and linebacker
Jarret Johnson
in free agency last season. The only comp pick who has a chance to play right away is Juszcyk. He will make an immediate impact on special teams and eventually help out on the offense as more of a H-back.
CINCINNATI BENGALS
Seventh round
: Reid Fragel, Ohio State offensive tackle
Seventh round
:
T.J. Johnson
, South Carolina center
Thoughts
: The Bengals netted two compensatory picks after losing five unrestricted free agents last year (receiver
Andre Caldwell
, guard
Nate Livings
, guard
Mike McGlynn
, defensive end
Frostee Rucker
and receiver
Jerome Simpson
) and signing three (cornerback
Jason Allen
, defensive lineman
Jamaal Anderson
, and running back
BenJarvus Green-Ellis
). Fragel is great value for the seventh round. A converted blocking tight end, he could develop into a solid right tackle or guard.
PITTSBURGH STEELERS
Sixth round
:
Vince Williams
, Florida State inside linebacker
Thoughts
: This was a gift compensatory pick. The Steelers received it for cornerback
William Gay
signing with the Cardinals last year. Arizona cut him this offseason, and the Steelers got him back. Williams has a chance to make an impact down the line. He was a late-round pick because he's run stopper and is only a two-down player. But, with
Larry Foote
aging and
Sean Spence
unlikely to play again, Williams has a future in Pittsburgh.
NOTE
: The
Cleveland Browns
didn't receive any compensatory picks this year.
April, 29, 2013
Apr 29
2:00
PM ET
Let's break down the
Cincinnati Bengals
' 2013 draft:

FIRST-ROUND SPOTLIGHT
: Not saying this has been bad, but the Bengals have been predictable in past drafts. Drafting tight end
Jermaine Gresham
(2010) and wide receiver
A.J. Green
(2011) in the first rounds were not surprises. Even last year, many thought the Bengals would take cornerback and a guard. But no one had the Bengals selecting Notre Dame tight end Tyler Eifert falling to No. 21. The Bengals didn't need a tight end. Eifert, though, will stretch the field more than Gresham and adds another target in the red zone. If Georgia linebacker
Jarvis Jones
hadn't slipped to the
Pittsburgh Steelers
, they may have taken Eifert at No. 17.
IN HINDSIGHT
: The Bengals' biggest need was strong safety and they didn't add one until the third round, when the selected Georgia's
Shawn Williams
. Cincinnati could have taken a higher-rated safety in the second round. With their second pick of the second round, the Bengals opted to draft Southern Methodist defensive end
Margus Hunt
over South Carolina safety
D.J. Swearinger
. Hunt was drafted at No. 53, and Swearinger went to the
Houston Texans
four spots later. It will interesting to track the careers for Swearinger and Williams.
BEST VALUE
: That being said, the best value was Hunt in terms of the Bengals' draft board. According to the team's website, Hunt was among the top 21 players on the Bengals' draft board and fell to No. 53. The 6-foot-8, 277 pound lineman was among the strongest and fastest defensive linemen at the NFL combine. In terms of value, some have compared this situation to 2010 when the Bengals got defensive end
Carlos Dunlap
at the 54th overall pick.
TOP LATE-ROUND PICKUP
: Offensive tackle
Reid Fragel
, Ohio State. Projected to go as high as the third round, Fragel lasted until the seventh. He's developmental prospect who played three seasons at tight end in college before switching to offensive tackle last season. Fragel put on nearly 30 pounds since the end of his junior season, so he's still growing into the position. Strong and smart, Fragel could turn into a late-round success story.
SOMEONE WHO DIDN'T LIKE THIS DRAFT
:
Bernard Scott
. He has to wonder whether he should have re-signed with Cincinnati 17 days ago. The Bengals took the first running back in the draft, selecting North Carolina's
Giovani Bernard
with the 37th overall pick. Bernard is a fast back who will complement
BenJarvus Green-Ellis
and will be critical on third downs because of his pass-catching ability.
Cedric Peerman
, one of the team's top special teams player, is expected to be the No. 3 back. There's a chance that the Bengals could put Scott, who tore his ACL last October, on the physically unable to perform (PUP) list to keep him around in case the Bengals need a back midway through the season.
April, 27, 2013
Apr 27
7:55
PM ET
A quick recap of what the teams in the division did in the final two rounds ...

CINCINNATI BENGALS
: Nebraska RB
Rex Burkhead
(sixth round) is smart, competitive and versatile (can line up in wildcat). There are questions about durability considering his injury history. ... Arkansas WR
Cobi Hamilton
(sixth round) is a big possession receiver and strong blocker. He has to prove he can get separation. ... Ohio State OT
Reid Fragel
(seventh round) moved from tight end to the offensive line last year, so he needs to work on his technique. He plays with an edge. ... South Carolina C
T.J. Johnson
(seventh round) uses his size well in the run game but looks heavy-footed in pass protection.

CLEVELAND BROWNS
: Yes, the Browns did actually draft some players on Day 3. Notre Dame S
Jamoris Slaughter
(sixth round) is about 90 percent recovered from a ruptured Achilles tendon, which caused him to fall from being a third-round prospect. He is known as a leader with good football IQ. ... East Central Oklahoma DE
Armonty Bryant
(seventh round) is a character risk after being arrested for selling marijuana to undercover police. On the field, he finished with a school-record 26.5 sacks. ... Chadron State guard
Garrett Gilkey
(seventh round) is a Division II tackle who will move to guard. He's added 70 pounds since high school.

BALTIMORE RAVENS
: Notre Dame DE
Kapron Lewis-Moore
(sixth round) tore his ACL in the BCS championship game and may sit out this season. He's a blue-collar prospect who has had trouble staying healthy. ... Colorado State-Pueblo guard
Ryan Jensen
(sixth round) is a small-school four-year starter at tackle who will move inside in the NFL. He plays with a mean streak. ... Elon WR
Aaron Mellette
(seventh round) has good size (6-feet-2) and doesn't shy away from contact. He was outclassed against big-school defenders at the Senior Bowl. ... California CB
Marc Anthony
(seventh round) is a physical press corner who doesn't have the closing speed to match up with faster receivers.

PITTSBURGH STEELERS
: Penn State's
Justin Brown
(sixth round) is the second wide receiver drafted by the Steelers this week. Brown brings size (6-3) but not game-breaking speed. ... Florida State ILB
Vince Williams
(sixth round) is a two-down player who can stop the run. He will provide depth because the Steelers don't expect
Sean Spence
(knee injury) to play this season. ... Samford DT
Nicholas Williams
(seventh round) is a raw prospect who is a former basketball standout. He has upside as a pass-rusher.
April, 9, 2013
Apr 9
12:05
PM ET
By
ESPN.com staff
| ESPN.com
Baltimore Ravens
Do the Ravens view Clemson receiver DeAndre Hopkins as the next Anquan Boldin? Indeed, those are big shoes to fill. But the Ravens appear to be intrigued by Hopkins, and met with him at the NFL scouting combine in February. The Baltimore Sun reports that the team
has "maintained interest"
since that meeting.
Ravens receiver Jacoby Jones said he's struggled with the foxtrot in preparing for a "Dancing with the Stars" routine. But that hasn't gotten him down. After all, Jones is coming off a 2012 that he called the
best year of his life
.
Perhaps you've heard that Ravens quarterback Joe Flacco is going to portray Johnny Unitas in football scenes for an upcoming movie called "Unitas We Stand." And perhaps you've also heard that there's a Unitas family feud brewing over the selection of Flacco. Unitas' son, Joe,
wrote a letter
to the Baltimore Sun about the situation.
Cincinnati Bengals
Former Cowboys running back Felix Jones
had a tryout
with the Bengals on Monday.
The Cincinnati Enquirer
continues its series
on potential Bengals NFL draft prospects with a look at Ohio State offensive lineman Reid Fragel.
With Andy Dalton and the Bengals set to begin offseason workouts next Monday, the quarterback tells the Enquirer that his squad
has "all the potential in the world
."
Cleveland Browns
The Browns are
willing to take a chance
on receiver David Nelson, who is coming off an ACL injury that ended his 2012 season in the opening week. Nelson, who signed a one-year deal with the Browns on Monday, was second on the Bills in receptions in 2010 and 2011.
The Browns
are playing host
to some of the NFL draft's top prospects this week.
Pittsburgh Steelers
Kendall Simmons, the Steelers' No. 1 pick in 2002 out of Auburn,
shares his memories
of draft day with the team's website.
Mike Stanger of Bleacher Report gives his thoughts as to why the Steelers
will not draft
former star Georgia linebacker Alec Ogletree.
Also from Bleacher Report, the latest Steelers
draft buzz
.