May, 10, 2011
5/10/11
6:00
PM ET
I recall a moment
with newly retired
guard
Alan Faneca
in August 2008 while covering a preseason game between the
New York Jets
and
Cleveland Browns
.

Faneca
It was a crazy day because the Jets had just signed quarterback
Brett Favre
. Despite being an AFC North writer based in Cleveland, my entire purpose at the preseason game was to document Favre's arrival to the Jets.
In the process of doing that, I interviewed Faneca after the game
to get his take
on all the attention that Favre was bringing to the team.
"It was definitely a different game day than normal," Faneca said. "You wake up, and everybody is talking about you on the news. Being a night game, you have nothing to do but watch what's on the TV in the room and you get caught up to date."
After our Favre chat, I asked Faneca how he was fitting in with the Jets. He said it would take him some time getting used to a new environment. At heart, Faneca was a Pittsburgh Steeler, and that was his first game in a different uniform.
That offseason, Faneca was disappointed the Steelers didn't offer him a contract extension. At the time, Pittsburgh did not want to overspend for an offensive lineman who was over 30, despite Faneca coming off another Pro Bowl season in 2007.
Faneca joined the Jets and made two more Pro Bowls. He also started all 16 games last season for the
Arizona Cardinals
and registered nine Pro Bowls total in his tremendous career.
Faneca was one of the most dominant and durable offensive linemen in the past decade and will be most remembered for his 10-year stint with the Steelers, with whom he won his only Super Bowl after the 2005 season. Faneca probably could have played another season or two but felt it was better to go out healthy and on his own terms, which was a good move.
April, 16, 2010
4/16/10
12:00
PM ET

Ward
I had an interesting discussion with football fans
on our AFC North Twitter
this morning about
Pittsburgh Steelers
receiver
Hines Ward
, who recently said he'd retire after this season
if he gets one more championship.
So I wanted to continue this discussion in the division blog: How would you feel if/when Ward retires?
In my opinion, Ward is the most polarizing athlete in the AFC North. In my six seasons covering teams within the division, I've never seen a player more beloved and respected by his fans and teammates who draws equally strong negative emotions from rivals and opposing fans.
You either love Ward for his all-out style or you hate him. Steeler Nation feels he's a throwback player, while many opponents believe he plays dirty.
But at 34, Ward will be hanging up the cleats soon. So what will your thoughts be when Ward retires?
January, 17, 2010
1/17/10
12:00
PM ET
Whether
Baltimore Ravens
safety
Ed Reed
retires is
up in the air at this point.
Because of health concerns, he said he's going to make a decision soon.

Reed
Reed has a nerve issue in his neck that is painful at times and potentially serious. He's been very smart in the way he plays, because Reed still performs at a Pro Bowl level without putting his neck at risk and trying to make the big hits.
In reporting on Reed the past two seasons, I've come to learn that Reed is a person of depth and very worldly. Football is not the only thing that defines him, and Reed wouldn't hold onto a NFL career because he can.
I think Reed could walk away from the game today and be fulfilled knowing he gave it all that he had. In fact, there's been growing speculation in Baltimore that Reed would retire earlier than expected.
Reed said he is "50-50" on his decision. Probably half of Reed's thinking is that he's still an elite player and wants to try to win a Super Bowl with the Ravens before he retires. The other half is thinking about the neck condition and his family.
How much Reed is putting his long-term health at risk by playing is something that only Reed and his doctors know. All the public knows is there is some degree of risk involved every time Reed, 31, steps on the field.
If Reed no longer feels it's worth the risk, no one can blame him. The NFL and Baltimore would greatly miss his rare combination of smarts and athleticism. But health and family always come first.
January, 17, 2010
1/17/10
8:00
AM ET
INDIANAPOLIS -- Pro Bowl safety
Ed Reed
isn't the only
Baltimore Ravens
player
contemplating retirement
.

Mason
Ravens No. 1 receiver
Derrick Mason
also said after Saturday night's 20-3 playoff loss to the
Indianapolis Colts
that he's undecided on his playing future. Mason, 36, will become a free agent in March.
"I got some months to think about it," Mason said. "I'm not in a rush. If I decide to play, obviously this would be a place that I'll come back to. All the pieces are in place. But I have to think about my two little ones [children]."
Mason led the Ravens with 1,028 receiving yards this past season. He briefly retired last summer following the passing of close friend and former teammate Steve McNair. Mason sighted the emotional trauma as a major reason he briefly called it quits and admitted he has to decide if his heart is still into playing.
"Mentally and emotionally is the toughest part," Mason said candidly. "Physically, I think I've proven that I haven't slowed down. That is not a worry to me. I've been blessed enough to stay healthy.
"So it's all about if I want to play, if mentally I'm still in it to play another year, or two, or three -- whatever it may be. So it's something that I'll evaluate."
December, 3, 2009
12/03/09
2:30
PM ET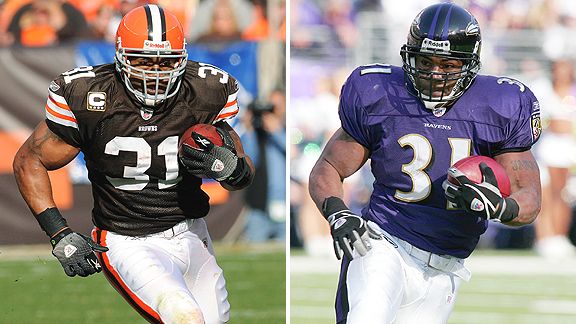 Getty ImagesJamal Lewis has over 10,000 career rushing yards, including a 2,066 yard season in 2003, but will it be enough to get him to Canton?
Cleveland Browns
running back
Jamal Lewis
, who plans to retire,
was put on injured reserve
Wednesday after suffering a concussion, ending his 10th and reportedly final season in the NFL.
With more than 10,000 career rushing yards and a Super Bowl championship with the
Baltimore Ravens
, is Lewis worthy of the Hall of Fame?
ESPN.com's AFC North blog checked in with several Hall of Fame voters Thursday to get an early gauge on Lewis' candidacy.
John McClain, Houston Chronicle:
"I'm always open to discussion. But considering all the other backs coming out with big numbers like Jerome Bettis,
LaDainian Tomlinson
, Curtis Martin,
Edgerrin James
, etc., I think he's a long shot."
Jim Trotter, Sports Illustrated:
"My initial reaction is no. But you have to keep an open mind when reviewing all candidates."
Mike Sando, ESPN.com:
"I think it's going to be tough for some of the very good running backs to break through what seems to be quite a backlog of great, and borderline great, candidates at multiple positions."
Ed Bouchette, Pittsburgh Post-Gazette:
"My immediate reaction would be no. But there's a reason we go through this whole voting process, so we can have time to look at what they did and where he came from. You can put me down for a wishy-washy [undecided]."
Joe Reedy, Cincinnati Enquirer:
"I think when you look at the year-by-year numbers, along with what he meant to the Ravens' Super Bowl run in 2000 and keeping the Browns' offense even remotely afloat the last two years, he has a legitimate candidacy. He was in only one Pro Bowl. But Lewis meant a lot to the Ravens' offense while he was there and his 2,066-yard season in 2003 and performance in the regular-season finale that year against Pittsburgh are what got the Ravens into the playoffs."
July, 17, 2009
7/17/09
4:00
PM ET
Posted by ESPN.com's James Walker
Brad from Atlanta had a great Derrick Mason-inspired idea for the latest edition of "Thought of the Day" in the AFC North. The question examines which player on each division team would hurt the most if he suddenly left.
Here were the best responses this week in our AFC North inbox:
Zach from West Des Moines, IA writes: Hey James! Keep up the great work on the blog! In response to your "Thought of the Day" this week, I'd thought I'd throw out four names to you. If I had to choose that guy on each team, I'd go with Carson Palmer for the Bengals. Like you said, Cincy couldn't deal without him last season. Ed Reed for the Ravens. Their pass defense would be nothing without him. My sleeper for the Steelers is Aaron Smith. When he went down two years ago, the run defense of my Steelers folded completely. This fact makes me nervous for the 2010 season. Moving on, for the Browns, I seriously have got nothing. Is there a guy? If I had to choose, Shaun Rogers?
Utsav from Baltimore writes: For my ravens, there is no question that losing a player such as Ed Reed would have a dramatic impact on our season. Though we have improved our secondary, we have the best ball-hawk in years. Losing Reed suddenly would then give offenses the opportunity to throw more deep balls without fear of an interception-just ask Tony Romo or Chad Pennington how different those games would have been without Reed playing safety. For a rival, I would say Carson Palmer. Just look at what happened last season. Now that he is healthy, the Bungels have become a playoff contender in most minds, which shows how important Palmer is to the team's success.
Eddie Kilroy from Brunswick, Ohio writes: Hey James! In response to the sudden retirement question, I believe I have a surprising pick on who would affect their team the most. I believe that if the Raven's Haloti Ngata were to retire tomorrow, the team would instantly turn into a 5-11 team next season. No offense to Ray Lewis or Ed Reed, who are GOING to be future HOFer's, but if the Raven's defense lose the big man on the line, there will be no way they could stop the run as well as they have in the past, ultimately leading to them sucking. Keep up the good work James.
Mike from Columbus, Ohio writes: Hey James, love the blog. I have bled Orange and Brown since my dad put a homemade mobile in my crib when I was a baby. And I would say that with the current state of the of my beloved Browns, it would appear that anyone could retire and not really hurt them. But I think the one player that would set this team back even further if he were to call it quits is Joe Thomas. This guy has made the pro bowl in his first two seasons and barring injury I think would continue to be a staple in Hawaii for years to come. Left tackles like him come along once every 10 years, and you are lucky if you can snatch them up. As for the other division teams I think the Steelers would be devastated if they lost James Harrison, this guy brings it all the time and never stops. I think the Bengals would be non-existent without Carson Palmer. I mean he is the only reason people are saying they might be the surprise team this year. And for the Ravens, I would call it a tie between Ed Reed and Terrell Suggs. Both of those guys in my mind are one of if not the best at their positions. Thanks. GO BROWNS!
Joe from Niagara Falls, NY writes: As a Bengals fan, we had the displeasure of watching last season without the one player we couldn't afford to lose, Carson Palmer. So the Bengals are easy. The Steelers would be lucky to win eight games without Big Ben. But they could survive a loss of James Harrison and still get pressure on the QB. The Ravens would take the biggest hit if they lost Ray Lewis. When Ray was out for most of 2002 and 2005, the Ravens really struggled to compete consistently. The Browns suck. They would go from a four win season in 2008 to a four win season in 2009 with the loss of Joe Thomas. This question doesn't apply to them because they don't have an elite player at a skill position.
Kevin from Chesapeake, Va. writes: My most irreplaceable player per team: 1) Cincinnati Bengals-- Carlson Palmer, already proven based on last season's four wins that the team goes nowhere without him. 2) Cleveland Browns--Braylon Edwards, the only legitimate WR left on the team. Without him the team becomes one dimensional and teams will certainly stack the line to stop the already suspect running attack. 3) Baltimore Ravens- Ray Lewis, without this emotional leader this team will undoubtedly falter, as was proven the last time he went down for an extended time. He demands more from this defense and gets it. 4) Pittsburgh Steelers--Troy Polamalu is the straw that stirs the drink. His versatility is unmatched and is what makes the defense supercharged. His absence for an extended time would be problematic for the overall efficiency of the defense.
Nick from Pittsburgh, Pa. writes: James, as a Steelers fan, this is a very interesting question. The Steelers have shown an uncanny ability to replace injured players. For every Joey Porter or Larry Foote that leaves, a James Harrison or Lawrence Timmons or LaMarr Woodley emerges. With Hines Ward declining, Santonio Holmes is filling his shoes. No one on the offensive line is skilled enough to leave a void. Even when Ben Roethlisberger went down, Charlie Batch and Byron Leftwich proved adequate replacements. The biggest void caused on the Steelers in recent memory was from the loss of DE Aaron Smith. When he is injured, the decline in production on the Steelers defense is immediately noticeable. However, because he is relatively unknown outside of the AFC North, it is not surprising that the effect of his absence is often overlooked.
Art from Denver, CO writes: James, for the Steelers and Ravens, I would definitely have to go with the QB. We have seen both teams be good but not get "all the way" without a good QB whereas they both seem to be able to plug in someone new into their defenses (i.e. they have a lot of depth) and still look good. Ben has obviously gotten the Steelers over the hump when it came to getting to and through the Super Bowl. And we all saw what a difference Flacco made to the Ravens last year. For the Bengals, I think the argument could be made for Carson Palmer. Last year gave us a pretty good look at that scenario, although with T.J. Houshmandzadeh this year, we will still have to see how good the offense can be. As for the Browns, I'm not sure there is just one player that you can single out. I'm not just picking on them because I'm a part of Steeler Nation, but I don't see any one player on their team that rises above all of the rest. I think that while they may have more trouble replacing certain players, they still wouldn't really be any worse off if they lost any particular person on the team right now.

AFC NORTH SCOREBOARD
Sunday, 12/15
Monday, 12/16