July, 27, 2014
Jul 27
6:35
PM ET
CINCINNATI -- A daily review of the hot topics coming out of
Cincinnati Bengals
training camp:
The most anticipated activity of the weekend, Sunday's previously scheduled Oklahoma drill, was scrapped at the last minute by head coach Marvin Lewis, in part due to an overabundance of caution. "We know who 35-40 of our players are going to be," he said to reporters after Sunday's practice. "Let's make sure those 35 or 40, we give them every opportunity to get to Baltimore in one piece." The Bengals open the regular season at the Ravens on Sept. 7. On Saturday, a few players and coaches expressed mixed feelings about the physically demanding, collision-focused drill. Linebacker Rey Maualuga said he wasn't sure what the exercise had to do with football. Lewis backed his sentiments slightly, adding Sunday afternoon that the Bengals "got the same thing out of" the Oklahoma-less practice.
Rookie running back Jeremy Hill was among the players who did wish to participate in the drill. He said he and some of his offensive teammates were getting tired of some of the trash talking their defensive counterparts were doing. "Those guys have been yapping all week," Hill said. "But that bravado is what allows them to play better. I'm glad we have a defense that plays with swagger and plays fast." Instead of mixing in the Oklahoma drills, the Bengals incorporated a few half-line and blitz pickup/receiver-blocking exercises that allowed the fully padded players to get some contact. On the blitz pickup drills Hill was part of, he won both times he was paired with linebacker Vincent Rey. Those were two noteworthy plays in an afternoon that also saw him run aggressively as he slipped in and out of holes on some of the first inside runs the Bengals have worked on in this training camp.
Another running back, Rex Burkhead, had what I'd consider the feel-good play of the day. After getting knocked down during one of the aforementioned interior 11-on-11 runs and getting trapped underneath the dogpile, he got right up, bounced outside and sprinted another 20 yards downfield. It was the type of hustle play that can turn heads and earn the kind of brownie points a player on the fringe of the 53-man roster needs. You can read more about Burkhead's knack for finishing practice plays off here.
The actual play of the day came late in the practice when backup cornerback R.J. Stanford disrupted what looked like a sure long first-down catch for receiver Cobi Hamilton. On the play, quarterback Andy Dalton waited for Hamilton to race past Stanford on the post route and lobbed a deep pass over the middle that had the right amount of air underneath it. As Hamilton got in position to catch it, Stanford jumped and swung his arm at the last moment, forcing a break-up as Hamilton hit the turf without what previously looked like an easy reception.
Cornerback Dre Kirkpatrick was the only addition to Cincinnati's group of injured. He didn't participate in the practice after coming out in the middle of Saturday's session due to an apparent hamstring injury. It's not expected to be a serious ailment that will keep him out for too long. Corner Leon Hall was back into the mix in most coverage drills as fellow veteran Terence Newman received a day off from that part of the practice. The Bengals are slowly trying to ease Hall back into full action after his Achilles tear last year. Rookie Darqueze Dennard has benefited from more reps as a result.
July, 22, 2014
Jul 22
12:05
PM ET
CINCINNATI -- Many of the plays
Cincinnati Bengals
offensive coordinator Hue Jackson cued on the projection screen during unit meetings back in May and June ended with one player receiving a compliment: running back
Rex Burkhead
.
"That joker," fellow back
Giovani Bernard
said, "he's a good player."
Bernard apparently considers Burkhead to be so good, Bernard has made it his mission to copy one aspect of Burkhead's game in particular. That's right, Cincinnati's do-everything starting running back who was in the running for the NFL's Rookie of the Year Award last season wants to emulate the backup who might not even make the team this training camp.
"It's just his effort," Bernard said. "You can't teach that. That's something you kind of have to have in yourself."
[+] Enlarge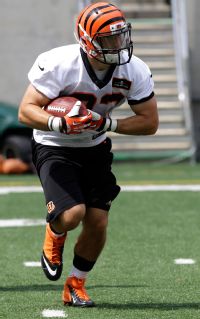 AP Photo/Al BehrmanRunning back Rex Burkhead has the type of attitude Bengals coaches love to see.
Routinely in practices you will see Burkhead finish runs or catches 30, 40, even 50 yards beyond where the whistle blew and the play ended. That is the effort Bernard has been slightly envious of. It is the same effort Jackson has been quick to point out when he re-watches practice film, and it is the effort other coaches referenced when they brought up the mantra of the minicamp and organized team activity portion of the offseason: "finish."
Back in June when organized team activities were winding down, receivers coach James Urban told ESPN.com just how much "finishing" had been stressed as the team started implementing Jackson's new offensive scheme.
"There was a lot of talk about finish," Urban said. "Talking about doing things down the field. Most of these guys have been with me, been with us, for the last four years or so. So they know what to expect, and we've done great things. So how do you get their attention? We get their attention by overemphasizing finishing, overemphasizing getting off the ball and getting out of the huddle and getting set."
Jackson said Burkhead was a great example of that.
"I can always in the meetings point to something he's doing that's giving us a chance to have success," Jackson said. "It's every day. There's not a day that goes by. And that's what matters to me: that guys are playing hard, finishing and taking care of business. He does that, there's no question about that."
There is also no question that as he enters his second season, Burkhead finds himself mired in one of the more intriguing position battles of the Bengals' training camp which begins Thursday. He's fighting for the team's third or fourth running back spot with
BenJarvus Green-Ellis
,
Cedric Peerman
,
James Wilder Jr
. and
Nikita Whitlock
. The universal belief is that the Bengals likely will end up using Bernard and rookie
Jeremy Hill
as their top two running backs, and that Peerman's more expansive special teams background and experience makes him an ideal candidate for the No. 3 spot. That would mean Burkhead and Green-Ellis will be dueling for the other roster spot as Wilder and Whitlock likely duke it out for a possible practice-squad job.
Burkhead has played the various scenarios in his head. He has a strong understanding of what is at stake for him right now. He knows he's not the fastest back on the team, and he knows he might not be the most powerful. But he still believes he has what it takes to stick with the club.
"I love the competition," Burkhead said. "I feel like it brings out the best in me and helps me improve as a player. So whenever my opportunity comes, I'll be ready for it because I've already been practicing at that level. This competition, it makes us all better. It makes the team better and that's what wins you championships, is having that high level of competitiveness around you."
Burkhead didn't contribute statistically to the Bengals' division championship last season. Declared inactive for all but one game, he was primarily a practice body. But he was a practice body that still commanded attention.
"This game, it's tough. It's tough to win, it's tough to score. It comes down to inches," Burkhead said. "That's what finishing plays is. Hopefully I can set that example, and if I can help someone do that, too, that's what I'm going to do."
So far, he's at least rubbed off on Bernard.
"It's effort like that that Coach Hue really sees and that he wants the whole offense to follow," Bernard said.
Burkhead, 24, wasn't the only one Jackson singled out regularly in his practice-film review sessions with the offense. Veterans like 32-year-old Pro Bowl offensive tackle
Andrew Whitworth
showcased some of what Jackson has been pleading for since he took over as offensive coordinator in January.
Bernard said Jackson showed a couple of times where Whitworth was running downfield on routine practice plays to block for receivers.
"If all the linemen could do that, if all the running backs could do that, if all the receivers could do that, the quarterbacks could do that, that'll show and it'll prove to everybody how much better we really are," Bernard said.
As camp opens, stay on the lookout for how well effort translates to roster spots and offensive identity.
May, 24, 2013
5/24/13
12:00
PM ET
»
NFC Eight in the Box
:
East
|
West
|
North
|
South
»
AFC
:
East
|
West
|
North
|
South
How does each AFC North team look at running back, and what still needs to be done?

Baltimore Ravens
:
Ray Rice
is only 26, but he has taken a lot of hits. Although he put together a fantastic season, as usual, in 2012, he looked worn down late in the year and during the Ravens' Super Bowl run. He has four straight regular seasons with more than 250 carries and has caught at least 61 passes in each of those seasons. Even though he is still extremely potent, Baltimore might be wise to deflect a few more early-down carries toward
Bernard Pierce
to extend Rice's effectiveness. Pierce isn't close to the receiver Rice is and is still learning pass protection. However, he was very impressive late in the season, and you could argue he was running more effectively than Rice in the postseason. A bigger back than Rice, Pierce averaged 4.9 yards per carry as a rookie and could make a big impact in games in which Baltimore has the lead.
Bobby Rainey
enters his second season as well. He is a shorter back with a thick build, good balance and good feet. Expect him to take a step forward in his second season, but he helps the Ravens mostly on special teams.

Cincinnati Bengals
:
BenJarvus Green-Ellis
will open training camp as the Bengals' top running back. But don't expect him to keep that distinction for long, as
Giovani Bernard
is sure to pass him. Green-Ellis gets what is blocked, has some power to drag tacklers and is reliable with his ball security. What you see is what you get with Green-Ellis -- and it isn't good enough. Bernard is an exciting prospect with loads of big-play ability. He can run inside with quick feet and more power than you might suspect, but is also very dangerous on the perimeter with his long speed and elusiveness in the open field. Green-Ellis will surely be superior to Bernard in pass protection to start the season, but Bernard is far more dangerous as a receiving option. Cincinnati also brought back
Bernard Scott
before the draft, but with the selection of Bernard, Scott's roster spot is far from certain. The Bengals also drafted
Rex Burkhead
, who does everything well and is an underrated prospect overall. In time, I expect Burkhead to be a fine complement to Bernard as Cincinnati's second running back.

Cleveland Browns
:
Trent Richardson
battled numerous injuries during his rookie campaign, and that is the only concern I have about this 21-year-old. New offensive coordinator Norv Turner has an outstanding history of utilizing a true feature back, and Richardson fits that mold with his rare blend of vision, power, lateral agility and speed to go along with excellent receiving skills. There isn't much on Cleveland's depth chart behind Richardson, so maybe the Browns will keep their eyes out for a veteran who gets released. For now,
Montario Hardesty
is No. 2. Injuries have been a big problem for him, but he does have a fair amount of ability. Also in the mix are
Dion Lewis
,
Brandon Jackson
and
Chris Ogbonnaya
. Jackson is bigger and runs with much more power than Lewis, but he isn't as quick. Both do their best work on third down. Ogbonnaya is a big runner with some power, but he lacks any particular skill to wow you. A scatback with big-play ability would be a welcome addition here.

Pittsburgh Steelers
: The Steelers used this year's second-round pick on
Le'Veon Bell
, as they felt their running backs from 2012 were not getting the job done. Bell is very young, has good size and is quite established in the passing game, which is something Pittsburgh wasn't getting from
Isaac Redman
or
Jonathan Dwyer
. Redman and Dwyer are similar players. They both have good size and initiate contact. They get what is blocked, but not much more, and lack dynamic qualities. They are backups in the NFL. Last year, the Steelers drafted
Chris Rainey
to help as a returner and add a running back/wide receiver hybrid to their offense. Rainey didn't work out, but Pittsburgh signed
LaRod Stephens-Howling
this offseason for the same reasons.
Baron Batch
is also in the equation. His most notable contributions come on special teams, but he is a serviceable runner, receiver and blocker. The Steelers were in talks with
Ahmad Bradshaw
before the draft. With the selection of Bell, you would think that ship had sailed, but you never know. Bradshaw will end up somewhere this season. It is also likely that either Redman or Dwyer will be gone before the season.
May, 14, 2013
5/14/13
8:15
AM ET
It's another offseason week on the AFC North blog, and it's another edition of the wake-up call ...
RAVENS
: Dennis Pitta signed his restricted free-agent tender, which guarantees the tight end will remain with the Ravens for the 2013 season, according to the
team's official website
. The Ravens put a second-round tender on Pitta worth $2.023 million this season. Unlike two Steelers restricted free agents (wide receiver Emmanuel Sanders and nose tackle Steve McLendon), Pitta wasn't signed to an offer sheet by another team. Pitta, a fourth-round pick in 2009, can now attend offseason workouts with the team. He set career highs in 2012 with 61 receptions for 669 yards and seven touchdowns. The Ravens are looking to sign Pitta to a long-term deal, but he may opt to test free agency next offseason.
BENGALS
: In addition to being impressed with second-round pick Giovani Bernard's ability to catch and run between the tackles, running backs coach Hue Jackson was "pleasantly surprised" after getting an up-close look at sixth-round pick Rex Burkhead out of Nebraska. "Not that I didn't know he had ability, but watching him in person, you get to see a guy in a whole different light," Jackson told the
team's official website
. "He has extremely quick feet, has really good hands, is very smart, and catches on extremely well. He's just another good player for our room. There's competition all over the backfield and that's what makes it fun and that you know you've got a chance to be pretty good."
STEELERS
: It's been a crazy ride for safety Ross Ventrone to get back to playing for his hometown Steelers. After signing with New England as an undrafted rookie in 2010, he bounced from the practice squad and active roster on nearly a weekly basis. In total, he was involved in 29 transactions in two years. "It was a good experience for me going through the adversity," Ventrone told the
Steelers' official website
. "It got me ready. I felt like it helped me. I always had to be ready because I didn't know if I would be activated." After sitting out last season, he signed with the Steelers in January.
BROWNS
: In what have become weekly updates on Brandon Weeden's status, general manager Mike Lombardi said the team is in wait-and-see mode with the quarterback. "Everything's an evaluation," Lombardi told the Pro Football Hall of Fame's luncheon club, via
The Plain Dealer
. "It's only his second year in the league. He's got a great opportunity to demonstrate his talent. (Offensive coordinator) Norv (Turner) has been around some really good quarterbacks. Norv and (coach Rob Chudzinski) have been able to modify their system to utilize the talent level of the player. That's what great coaches do."
May, 1, 2013
5/01/13
8:15
AM ET
Now that the draft is over, the AFC North blog is getting back to its usual routine. The weekly column will be posted around noon today and the chat will kick off at 2 p.m. As always, it's time to start with the wake-up call ...
RAVENS
: Bryant McKinnie, who started every playoff game at left tackle for the Ravens, is continuing a two-day visit with the San Diego Chargers today after meeting and taking a physical for the Miami Dolphins. Asked how his visit with the Chargers was going, McKinnie told
The Baltimore Sun
in a text message: "It's cool." A source told The Sun that contract talks have yet to begin between the Chargers and McKinnie. If the Chargers did sign McKinnie, they would replace one former Ravens left tackle (Jared Gaither) with another. The Ravens still have interest in McKinnie but have penciled in Kelechi Osemele as their left tackle for right now.
BENGALS
: Running back Rex Burkhead spent Monday at the White House just two days after the Bengals selected him in the sixth round of the NFL draft. Burkhead met with President Barack Obama in an effort to spread awareness for pediatric brain cancer, according to the
team's official website
. He befriended 7-year-old Jack Hoffman nearly two years ago early in Hoffman's battle with brain cancer. "He told me he'd be on the lookout and wished me the best of luck," Burkhead said of his talk with the President. "Hopefully I'll be back if we win the Super Bowl. I wish I told him that, but there just wasn't enough time."
STEELERS
: Second-round pick Le'Veon Bell was the Steelers' top-rated running back in the draft, according to offensive coordinator Todd Haley. Running backs coach Kirby Wilson looked at tape of some of Bell's toughest games. "The games where the back isn't necessarily getting those big holes, so you can see what he's really capable of doing on his own," Haley said, via
The Pittsburgh Post-Gazette
. "Because, as we know, in the NFL the holes are a lot smaller. This is a big guy that can play like a big back, and yet also can get outside some and catch the ball." The Steelers view Bell as a three-down back.
BROWNS
: Third-round pick Leon McFadden, a cornerback from San Diego State, already had a connection with the Browns even before he was drafted by the team. The quarterbacks coach at San Diego State is Brian Sipe, who quarterbacked the Browns from 1974 to 1983. "He's very talented," Sipe told the
Akron Beacon Journal
. "I had to train my quarterbacks to be able to throw against him, or I should say, stay away from him in practice." McFadden is expected to compete for the Browns' starting cornerback job opposite Joe Haden.
April, 27, 2013
4/27/13
7:55
PM ET
A quick recap of what the teams in the division did in the final two rounds ...

CINCINNATI BENGALS
: Nebraska RB
Rex Burkhead
(sixth round) is smart, competitive and versatile (can line up in wildcat). There are questions about durability considering his injury history. ... Arkansas WR
Cobi Hamilton
(sixth round) is a big possession receiver and strong blocker. He has to prove he can get separation. ... Ohio State OT
Reid Fragel
(seventh round) moved from tight end to the offensive line last year, so he needs to work on his technique. He plays with an edge. ... South Carolina C
T.J. Johnson
(seventh round) uses his size well in the run game but looks heavy-footed in pass protection.

CLEVELAND BROWNS
: Yes, the Browns did actually draft some players on Day 3. Notre Dame S
Jamoris Slaughter
(sixth round) is about 90 percent recovered from a ruptured Achilles tendon, which caused him to fall from being a third-round prospect. He is known as a leader with good football IQ. ... East Central Oklahoma DE
Armonty Bryant
(seventh round) is a character risk after being arrested for selling marijuana to undercover police. On the field, he finished with a school-record 26.5 sacks. ... Chadron State guard
Garrett Gilkey
(seventh round) is a Division II tackle who will move to guard. He's added 70 pounds since high school.

BALTIMORE RAVENS
: Notre Dame DE
Kapron Lewis-Moore
(sixth round) tore his ACL in the BCS championship game and may sit out this season. He's a blue-collar prospect who has had trouble staying healthy. ... Colorado State-Pueblo guard
Ryan Jensen
(sixth round) is a small-school four-year starter at tackle who will move inside in the NFL. He plays with a mean streak. ... Elon WR
Aaron Mellette
(seventh round) has good size (6-feet-2) and doesn't shy away from contact. He was outclassed against big-school defenders at the Senior Bowl. ... California CB
Marc Anthony
(seventh round) is a physical press corner who doesn't have the closing speed to match up with faster receivers.

PITTSBURGH STEELERS
: Penn State's
Justin Brown
(sixth round) is the second wide receiver drafted by the Steelers this week. Brown brings size (6-3) but not game-breaking speed. ... Florida State ILB
Vince Williams
(sixth round) is a two-down player who can stop the run. He will provide depth because the Steelers don't expect
Sean Spence
(knee injury) to play this season. ... Samford DT
Nicholas Williams
(seventh round) is a raw prospect who is a former basketball standout. He has upside as a pass-rusher.