AFC North:

Richard Marshall
July, 25, 2011
7/25/11
1:58
PM ET
»
NFC
:
East
|
West
|
North
|
South
»
AFC
:
East
|
West
|
North
|
South
»
Unrestricted FAs
Readiness factor:
The Steelers should be fine. Coming off a Super Bowl appearance, they are well-rested and running the same offense and defense as in recent seasons. For years the Steelers have thrived on continuity, and that should come in handy this fall. Pittsburgh will not be a major player in free agency, so that's not an issue. Like the Ravens, if the Steelers had to line up and play a game next week, they could.

Biggest challenge:
The Steelers were fine up until recently, when receiver Hines Ward and linebacker James Harrison both made headlines in separate incidents.
Ward was arrested
for driving under the influence in Georgia, and
Harrison made controversial remarks
about many people, including NFL commissioner Roger Goodell, Steelers quarterback
Ben Roethlisberger
and running back
Rashard Mendenhall
. Pittsburgh, which has been a model organization for years, has had its share of controversies the past three seasons. This is another example of the team having to band together and
handle its issues internally
before they get worse.
Who's the kicker?
Pittsburgh will need to find a kicker for the 2011 season.
Shaun Suisham
is a free agent after filling in last season for
Jeff Reed
, who was cut. Reed was one of the few kickers who did well in Heinz Field, which is one of the hardest stadiums to kick in. The Steelers didn't draft a kicker, which means they have a short time to search for a solution in free agency.
Key players without contracts for 2011:
Starting cornerback
Ike Taylor
is the only big name for the Steelers. He is an unrestricted free agent and is looking for market value, which could price him out of Pittsburgh. The Steelers have several younger and cheaper alternatives at cornerback, such as
Carlos Rogers
and
Richard Marshall
. Offensive lineman
Willie Colon
is another interesting name. He's been a versatile starter for Pittsburgh at guard and tackle. Tailback
Mewelde Moore
will probably test the market as the Steelers look to get more carries for backup
Isaac Redman
this season.
June, 17, 2011
6/17/11
1:30
PM ET
In our final "Hope and Concern" segment, we take a look at the reigning AFC champion
Pittsburgh Steelers
.

Biggest reason for hope: Veteran talent and experience
The Steelers are built to win now. They have been to two Super Bowls in the past three years and should be a contender once again in 2011. Quarterback
Ben Roethlisberger
is distraction-free this year, the Steelers don't have many big-name free agents and Pittsburgh's extended offseason may actually keep this team healthy and well rested. Continuity is extremely important during this unique year and Pittsburgh has it perhaps more than any NFL team. The Steelers should be able to hit the ground running and contend for another division title whenever the season starts.
Biggest reason for concern: Cornerback
Pittsburgh doesn't have many big-name free agents, but the situation involving cornerback
Ike Taylor
could be problematic. The team's No. 1 corner
is seeking market value
, which could price Taylor out of Pittsburgh. Solid starting cornerbacks are getting paid $8-$10 million per season. Taylor, 31, may be able to get that number (or close to it) elsewhere, but it doesn't appear to be a price tag the Steelers are willing to match. Losing Taylor would leave a big hole in the defense. The Steelers drafted a pair of rookie corners in
Curtis Brown
and
Cortez Allen
, but signing a veteran starter is the safest bet. Free agents such as
Richard Marshall
and
Carlos Rogers
could
be viable options
to replace Taylor.
For a recap, check out our "Hope and Concern" blogs for the
Ravens
,
Bengals
and Browns.
June, 9, 2011
6/09/11
1:30
PM ET
Earlier this week, the AFC North blog broke down a list of
top free-agent cornerbacks
. Two players we identified were
Richard Marshall
and
Carlos Rogers
, who could be intriguing options for the
Pittsburgh Steelers
if they do not re-sign veteran
Ike Taylor
.
Rogers

Marshall
On Thursday we caught up with Matt Williamson of Scouts Inc. to get his take Marshall and Rogers.
Matt, let's start by getting your general thoughts on both corners and whether they fit in Pittsburgh.
Matt Williamson:
Rogers and Marshall are probably the best two guys out there who would be cheaper corners. They're Steelers type of signings. They came into the league as high picks and Pittsburgh didn't end up getting them. But now they're coming off their first contract and still have a good pedigree. You can see why they were high picks. They're not busts at this level. The problem with both of those guys is neither had a very good year. I think both are better players than they showed last year. I'm sure some of that was playing on a bad team, especially with Carolina. Their offense always went three-and-out and Marshall was on the field a ton.
Could down years by Marshall and Rogers play to the Steelers' advantage in negotiations?
Williamson:
Yes. The Steelers probably liked both guys coming out of college, they're not far removed and coming off down years. But all of a sudden they come to Pittsburgh and have
LaMarr Woodley
and
James Harrison
coming off the edge and their job gets a lot easier. So I think that could play very much to Pittsburgh's advantage and something they could be strongly considering.
What are some of the differences between the two corners?
Williamson:
Rogers drops a lot of interceptions, which would fit right in with how the Steelers have been with Taylor. I would say Rogers is probably a little bit better in terms of man coverage, where Marshall is a little bit better off as a zone guy, which the Steelers are going to do more of. But there's not a ton of huge differences. I think they're both in the same boat. Rogers had the better year of the two. Marshall struggled and he took a lot of penalties, too, and Rogers is better in that regard.
There is Williamson's take. Now we want yours. Would Marshall and/or Rogers be viable replacements if Taylor leaves Pittsburgh in free agency? Share your thoughts in the comments section below.
June, 7, 2011
6/07/11
11:00
AM ET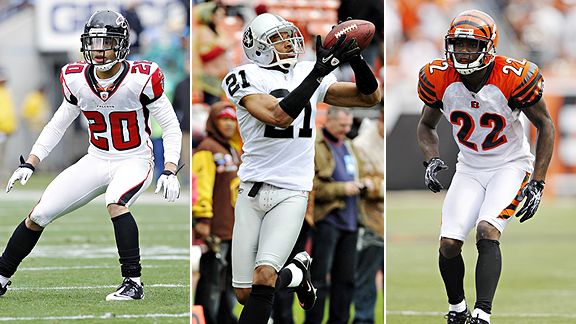 Getty ImagesBrent Grimes, Nnamdi Asomugha and Johnathan Joseph would be the cream of this year's free-agent crop of corners.
To some degree, every team in the AFC North could be looking at free-agent cornerbacks. The glamour position has several solid players who could hit the open market this summer.
Although a new collective bargaining agreement could change who's restricted and unrestricted, here is the AFC North blog's ranking of top available corners:
1. Nnamdi Asomugha
Skinny:
Asomugha is far and away the top cornerback on the market. Quarterbacks stopped throwing his way years ago. Therefore, Asomugha will immediately cut off half the field for whichever teams signs him. But it will come at a very steep cost.
2. Brent Grimes
Skinny:
Grimes worked very hard as an undrafted free agent to become a Pro Bowler in 2010. He's recorded 11 picks in the past two years. Expect the Falcons to do all they can to make sure Grimes remains in Atlanta.
3. Johnathan Joseph
Skinny:
Joseph is 27 and entering his prime. He is one of the best young coverage corners in the league and has good hands to create turnovers. It's doubtful the Bengals would be willing to pay $8-$10 million per year to keep Joseph.
4. Ike Taylor
Skinny:
Taylor has been consistent in Pittsburgh and now wants market value. He may price himself out of Pittsburgh this summer by chasing a big-money deal. At 31, this is probably Taylor's last chance to get a big contract. So you can't blame him if he doesn't accept a hometown discount.
5. Antonio Cromartie
Skinny:
Cromartie is long, good in coverage and very athletic. He could thrive in the right system but may struggle in others. Poor tackling prevents Cromartie from being one of the NFL's best at his position.
6. Richard Marshall
Skinny:
Marshall has playmaking ability, and I think in the right system he could be a great under-the-radar signing. He's a solid tackler (88 in 2009 and 2010) and good with the ball in his hands. I think Marshall could be a potential fit in Pittsburgh if Taylor leaves the Steelers.
7. Carlos Rogers
Skinny:
Rogers is a solid player who has never been able to put it all together and become a great corner. Rogers, 29, is comparable to Taylor in that both corners have poor hands. Rogers has just six interceptions the past five seasons.
8. Josh Wilson
Skinny:
Wilson was solid for the Ravens last year after taking over for
Fabian Washington
. Baltimore drafted
Jimmy Smith
in the first round, increasing the chances that Wilson will be allowed to test the open market. He could be a decent No. 2 corner.
September, 23, 2010
9/23/10
5:11
PM ET
Here are the latest happenings Thursday evening in the AFC North:
March, 6, 2010
3/06/10
12:00
PM ET
Sure, this is an AFC North blog. But to get a full scope of NFL free agency, you have to look in-depth at the other seven divisions to see who's available.
So after scanning through players with help from my colleagues at ESPN.com's blog network, here are five restricted free agents that could garner interest in the AFC North:

Morrison
LB Kirk Morrison
Team/tender:
Oakland Raiders
, third round
2009 stats:
133 tackles, two sacks
Analysis:
The past several years I've watched Oakland in person against the AFC North about a half-dozen times, and Morrison usually stands out. He led the Raiders in tackles the past five seasons. So I'm baffled why he has just a third-round tender. Morrison would be a good pickup for a team like the
Cleveland Browns
, who needs help at linebacker. Browns defensive coordinator Rob Ryan also coached in Oakland and knows Morrison well.

Sims
OG Rob Sims
Team/tender:
Seattle Seahawks
, fourth round
2009 stats:
14 starts
Analysis:
Seattle's offensive line wasn't very good, but Sims is a starting NFL guard who is available for just a fourth-round pick. Keep in mind, Sims is a Macedonia, Ohio native who once played under Mike Holmgren in Seattle. The Browns' president has 11 draft picks at his disposal. So losing a fourth rounder for a starting guard may be worth the risk. Keep an eye on this one.

Marshall
CB Richard Marshall
Teams/tender:
Carolina Panthers
, second round
2009 stats:
88 tackles, four interceptions
Analysis:
At least three teams -- Cleveland, the
Baltimore Ravens
and
Pittsburgh Steelers
-- need help in the secondary. Marshall could be a solid No. 2 cornerback and an upgrade for either of those teams. According to
NFC South blogger Pat Yasinskas
, Carolina is being frugal and could let Marshall walk if he receives a decent offer. But second-round picks are valuable, so teams will have to weigh that, as well.

Scheffler
TE Tony Scheffler
Team/tender:
Denver Broncos
, second round
2009 stats:
31 receptions, 416 yards, two TDs
Analysis:
Three AFC North teams are looking for help at tight end. The Browns and
Cincinnati Bengals
are looking for starters, while the Ravens need depth to pair with veteran
Todd Heap
. Scheffler has the skills and athleticism to help, but as I mentioned with Marshall, teams covet second-round picks.
AFC West blogger Bill Williamson
believes the Broncos may be willing to deal Scheffler for less, which could increase interest.

Bigby
S Atari Bigby
Team/tender:
Green Bay Packers
, second round
2009 stats:
49 tackles, four interceptions
Analysis:
Bigby is prone to injuries, but most hard-hitting safeties get banged up from time to time. The Bengals are reportedly interested in bringing veteran safety Roy Williams back. Williams' style is fairly similar to Bigby's, so that could rule out the Bengals. The Browns also are interested in safeties but remain a strong target for Tennessee prospect
Eric Berry
with the No. 7 overall pick.
AFC NORTH SCOREBOARD
Sunday, 11/23
Monday, 11/24