December, 30, 2010
12/30/10
4:54
PM ET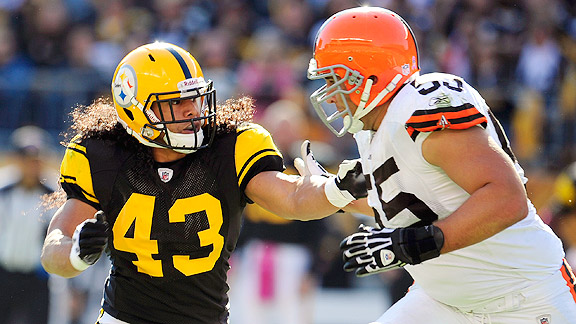 Icon SMITroy Polamalu, left, and the Steelers have dominated the Browns for the past 12 seasons.
BEREA, Ohio -- For more than a decade, it's been the same old story in Cleveland.
The
Steelers
come to town, the city gets hyped for the rivalry and then Browns fans are disappointed after another Pittsburgh win. Rewind. Recycle. Repeat.
Sure, the Browns split last season's series (including a rare win at home). But including playoffs, Pittsburgh has won an astounding 20 of the past 24 meetings with the Browns, including a 28-10 victory this year at Heinz Field. Cleveland (5-10) has a long way to go to close the gap as the playoff-bound Steelers (11-4) once again are heavily favored in Sunday's regular-season finale at Browns Stadium.
This once-intense rivalry has been surpassed in the division by Pittsburgh's heated battles with the
Baltimore Ravens
-- and it's not even close. But there is hope for the Browns.
The AFC North blog offers five ways Cleveland can help rekindle this rivalry that dates to 1950:
1. Browns must take the rivalry more seriously
Don't believe the spin coming out of Cleveland. The Browns have not taken this game as seriously as Pittsburgh has recently.
In Cleveland's first game back in its return to the NFL in 1999, the Steelers pounded the Browns in Cleveland, 43-0. That set the tone for this stellar run by the Steelers the past 12 seasons.
"Ah, man, [we take it] very serious," Steelers receiver
Mike Wallace
said of games against the Browns. "We know that they don't like us there in Cleveland, and we don't like them very much over here either. So it's a big-time game."
"I was just telling someone the other day, it's just such a unique game in a lot of aspects," Steelers coach Mike Tomlin said. " The close proximity -- I can't say I've been involved in a bus trip in any NFL city that I've been in. It's just not the nature of our business." (Pittsburgh and Cleveland are only 130 miles apart, roughly a 2 1/2-hour bus ride. Each team takes a bus to these games.)
Added Tomlin: "Of course, the history of the two organizations and the success that they've had in the history make it a unique matchup." (Pittsburgh leads the all-time series, 61-56, including two playoff wins.)
I've spent a lot of time in both locker rooms the past three years, and there is a significant difference in culture and expectation. Cleveland hopes to win this game, but Pittsburgh expects to win -- and win big.
The expectation level for both organizations is a world apart, and until that changes, the Browns will not close the gap on the Steelers. For example, Pittsburgh went 9-7 last year and you would think it was 0-16 by how upset the players were. Two assistant coaches also were let go after the Steelers' nine-win season.
How would the Browns react if they were 9-7? Think about that.
2. Cleveland must find a quarterback it can count on
Pittsburgh has an advantage over Cleveland in most personnel areas. But the most important position is quarterback, and that's been one of the biggest disparities the past several years.
On one side, the Steelers have two-time Super Bowl-winning quarterback
Ben Roethlisberger
. On the other, the Browns have had a revolving door that includes
Brady Quinn
,
Derek Anderson
,
Charlie Frye
, etc.
[+] Enlarge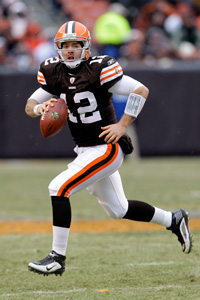 AP Photo/Tony DejakThe Browns hope rookie QB Colt McCoy develops into a worthy rival for Pittsburgh's Ben Roethlisberger.
Cleveland might have found its counter in rookie quarterback
Colt McCoy
. The 2010 third-round pick has had only one awful game in seven starts.
In the first meeting with Pittsburgh, many expected McCoy to fail in his first NFL game. But McCoy looked poised at Heinz Field, throwing for a season-high 281 yards, one touchdown and two interceptions. He also completed 69.7 percent of his passes against the NFL's No. 2 defense. Afterward, the Steelers said they were impressed with the rookie.
"I watched the tape when we played earlier in the season, [and] I watched myself and thought, 'Man, I've come a long ways from that. I'm playing a lot better.'" McCoy said this week.
3. Develop continuity
The Browns are expected
to get rid of another head coach
(Eric Mangini) and make their fifth head-coaching hire in 12 years. With a new coach usually comes different players, and there has been a lot of roster turnover in Cleveland.
With so many people coming in and out of the organization, the importance of beating Pittsburgh can get lost. Meanwhile, the Steelers are a model for consistency. Pittsburgh has
three
head coaches since 1969.
It makes good coaching and personnel decisions that provide stability, and it's understood that beating Cleveland is expected every year.
There are some career Browns such as kicker
Phil Dawson
, receiver
Josh Cribbs
and left tackle
Joe Thomas
who have a firm understanding of the rivalry. But too much turnover in Cleveland has made it difficult for that message to sink in with all 53 players.
4. Cleveland must win


A rivalry isn't strong unless both teams are winners. This has been one of the more lopsided division matchups in the league for the past decade.
The Browns have nine seasons with 10 or more losses and only two winning seasons since 1999. Mangini is 2-9 against AFC North opponents since joining the Browns in 2009. In their win against Pittsburgh last season, the Browns found a winning formula by making the game low-scoring and not making many mistakes. They likely will look to win that way Sunday. Cleveland isn't good enough now to sweep the Steelers, but winning more home games against Pittsburgh would start to develop confidence and momentum.
"We've had success against them a lot of different ways in the past. Some of it's scheme," Mangini explained. "Josh has done a good job against them in the past with some of the Wildcat stuff. ... Now being able to do it consistently, that's the important thing and that's the challenging thing."
5. The Browns must become a contender
This final step is perhaps the most difficult. Not only must the Browns beat Pittsburgh consistently to make it a rivalry, but Cleveland must win marquee games. This is what makes the Steelers-Ravens rivalry special. When those teams play, first place in the AFC North and playoff implications are in play. Ravens-Steelers games get national exposure because both organizations are consistently good.
The Browns have a long way to go for this final step, as evidenced by their one playoff appearance in the past 12 seasons. But if Cleveland is going to turn the franchise around, it must get by Pittsburgh -- and lately that's been nearly impossible.
November, 28, 2010
11/28/10
10:28
PM ET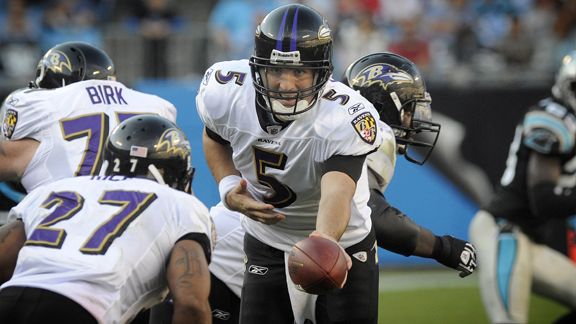 Sam Sharpe/US PresswireQuarterback Joe Flacco and the Ravens will go for a season sweep against the Steelers next week.
BALTIMORE -- Ravens Pro Bowl tailback
Ray Rice
could barely contain himself.
Following
Baltimore's 17-10 victory
over the
Tampa Bay Buccaneers
on Sunday, the always-energetic Rice was already looking forward to next Sunday's AFC North showdown against the
Pittsburgh Steelers
.
"It all boils down to this," Rice said. "When you have the Steelers coming in here, it's all set up to be a big game. The records are what they are, we're both 8-3, and it's no excuses."
The Ravens, who are playing great football, beat the Steelers at Heinz Field last month while
Ben Roethlisberger
served his four-game suspension. If the Ravens are truly the best team in the division, they must prove it by pulling off a rare season sweep over Pittsburgh. Since 2000, the Ravens have swept the Steelers only once, in 2006.
For the Steelers (8-3), it's fair to say they weren't at full strength in their first meeting with Baltimore. But if Pittsburgh is really the dominant team in the AFC North, it must do what no opponent has done at M&T Bank Stadium this season: win. The Ravens are 5-0 at home.
May the smartest and most physical team win.
"We just don't like them, but we respect them," Ravens defensive end/linebacker
Terrell Suggs
said of Pittsburgh. "It's going to be championship football."
The Steelers are winning, but they didn't look impressive in their overtime victory over the lowly
Buffalo Bills
(2-9) on Sunday. Pittsburgh survived 10 penalties, a fumble and a
dropped touchdown pass by Buffalo's
Steve Johnson
in the extra period.
Meanwhile, the Ravens believe they have momentum. "We wanted to take care of business to get to this game," said Rice, who rushed for 85 yards on 20 carries against Tampa Bay. "The season was set up the way it was supposed to be. I'm just glad we took care of business against everybody else for it to be set up like this."
Here are other observations from Baltimore's win over the Bucs:
Ravens' D peaking at the right time:
Baltimore's defense is playing its best football of the season. The Ravens rattled Bucs quarterback
Josh Freeman
, who completed 17 of 37 passes for just 162 yards. He padded his stats with a touchdown late in the fourth quarter as the Bucs tried to rally. Baltimore also held Tampa Bay tailback
LeGarrette Blount
to 55 yards rushing. Since giving up a late touchdown in the loss to the
Atlanta Falcons
on Nov. 11, the Ravens have played inspired on defense. They've allowed only 23 points in their past two games.
Derrick Mason gets it going:
There was a lot of discussion in Baltimore last week about Mason's heated sideline altercation with Ravens quarterback
Joe Flacco
. Both players said they quickly moved past their differences and proved it against the Bucs. Flacco made a concerted effort to get Mason involved. The veteran receiver led Baltimore with eight receptions for 87 yards and a touchdown. He was targeted 13 times and was effective.
"We've got so many guys that are able to catch the ball that defenses just have to try to pick and choose what they're going to stop," Mason said. "They were playing me one-on-one or off-coverage a lot, so Joe looked my way today."
Injury concerns:
Two key players to watch for the Ravens this week will be Ravens starting left tackle
Michael Oher
(knee sprain) and safety
Dawan Landry
(concussion). Both players were hurt in the second half and didn't return, but each believes he'll be ready to play against the Steelers.
Offense has tale of two halves:
Baltimore's offense was explosive in the first half and stalled in the second half. The Ravens scored 17 points in the second quarter points to give them a lead they would never relinquish. Flacco put up good numbers, throwing for 289 yards, two touchdowns and one interception. He had a passer rating of 103.2. But with the defense performing well, Baltimore appeared content to playing it safe in the second half and didn't do too much on offense. The Ravens' offense will need four strong quarters against Pittsburgh. "The second quarter was huge for us," Flacco said. "Without that, we weren't able to accomplish too much."
October, 3, 2010
10/03/10
8:00
AM ET
Week 4 is highlighted by two AFC North rivalries Sunday. Here are the most interesting stories in the division:
Morning take: Baltimore was a trendy Super Bowl pick by many (I picked Indianapolis), but the Ravens haven't played up to expectations so far. This game is a great measuring stick.
Morning take: Both are ideal examples of how intelligence, ability, leadership and good health can last in the NFL. Lewis and Farrior are among the few players with all these traits in one package.
Morning take: Cleveland's secondary struggled covering Baltimore's Anquan Boldin last week. That could bode well for Cincinnati, but the offense has yet to put together four quarters.
Morning take: With a division rival at home, this game could be an upset candidate. If not, it could be another month before Cleveland gets its first win.
September, 28, 2010
9/28/10
2:00
PM ET
Oh my!
That was my initial reaction when the AFC North reigned supreme at the top of
ESPN.com's latest Power Rankings
. The undefeated
Pittsburgh Steelers
, arguably the NFL's biggest surprise at 3-0, were voted by our panel as the league's best team, despite quarterback
Ben Roethlisberger
's four-game suspension.
Let's take a closer look at all the rankings in the division.

Pittsburgh Steelers (3-0)
Cumulative ranking:
No. 1
Walker's ranking:
No. 4
Analysis:
I don't want to sound like a broken record, but I've remained a couple of steps behind ESPN.com's panel on the Steelers' vote. I really like this team's toughness and character, and once Roethlisberger returns Oct. 17, the Steelers will be a complete team. But I don't agree that Pittsburgh, right now, is the best team in the NFL. I voted Pittsburgh No. 4 behind the
Indianapolis Colts
,
New Orleans Saints
and
Green Bay Packers
. I don't believe Pittsburgh can beat all of those clubs right now without Roethlisberger. But apparently I'm on my own Power Rankings island with that one. ESPN.com senior writer John Clayton and AFC South blogger Paul Kuharsky both voted the Steelers as the NFL's best team, while NFC West blogger Mike Sando voted Pittsburgh No. 2.

Baltimore Ravens (2-1)
Cumulative ranking:
No. 8
Walker's ranking
: No. 5
Analysis:
Baltimore,
ESPN.com's preseason pick
to win the Super Bowl, is not playing up to its potential through the first three games. But the Ravens remain in solid position, one game behind Pittsburgh leading into
this week's AFC North showdown
. The panel is all over the place with this team, which is indicative of Baltimore's inconsistent play. Clayton, who watched the Ravens in person against the Bengals, voted Baltimore the lowest at No. 12. Kuharsky had the Ravens the highest at No. 4. I rated the Ravens No. 5, one spot below Pittsburgh.

Cincinnati Bengals (2-1)
Cumulative ranking:
No. 12
Walker's ranking:
No. 12
Analysis:
Despite beating the
Carolina Panthers
, 20-7, the Bengals fell one spot to No. 12 in this week's Power Rankings. Cincinnati's offense -- and particularly quarterback
Carson Palmer
-- isn't playing well and
it's starting to become a concern
. The weapons are there this year at receiver and tight end. So it's natural for the quarterback to get most of the blame. But the defense looks like the top 4 unit it was in 2009, and that's been enough so far for Cincinnati to win games.

Cleveland Browns (0-3)
Cumulative ranking:
No. 30
Walker's ranking:
No. 29
Analysis:
The Browns stayed put at No. 30 for the second straight week. Cleveland isn't the worst team in the league, but it has a long way to go to turn its season around. The Browns have been in every game this year. But when it comes time to make a big play or get a big stop in the second half or fourth quarter, the Browns fail to do so every week. Cleveland has a rivalry game Sunday against Cincinnati at home, where the Browns have played the Bengals tough in recent years. Could this be Cleveland's first win?
June, 27, 2009
6/27/09
4:00
PM ET
Posted by ESPN.com's James Walker
As we wrap up one of the most interesting "Thought of the Day" topics in AFC North blog history, I wanted to thank everyone who participated. The question is: If your favorite team can't win a Super Bowl this year, which AFC North rival would you want to win a championship instead?
Here is the last batch of entries along with an AFC North final say:
Austin Blunt from Charleston, S.C., writes: James, for the "Thought of the Day" segment, as a Ravens fan I'd have to say I'd like the Bengals to win the Super Bowl. This is mainly by process of elimination. The Steelers are out of the question; I respect them, yes, but hate them too much. The Browns are out because the Ravens and Browns have an interesting rivalry since the Ravens used to play in Cleveland. That leaves Cincy, and Carson Palmer is a likable representation of the AFC North.
Trey from Baltimore, Md., writes: I can't believe I'm saying this, but if a team were to win the Super Bowl besides my beloved Ravens, I would say it would have to be the Steelers. All trash-talking aside, the Ravens and Steelers have had the best rivalry in the AFC North and arguably in the NFL. These teams love to hate each other, and they have the two best defenses in the game along with two really good offenses. Everyone knows that whenever these teams meet it is going to be a GREAT game. So although I'm pulling for the Ravens to win their second Lombardi trophy, if it couldn't be them I would go with the Steelers. Go Ravens!!
Adam from Cincinnati writes: For the "Thought of the Day" I have to go with the Browns. Only because Ravens have one, Steelers have some, and I couldn't stand to hear "Who Dey" during the season, the offseason after the Super Bowl win and the entire next season. Most annoying chant I believe ever. By the way, I'm a Ravens fan in Ohio. Yes, there are some.
Steelers fan Jim from Zanesville writes: James-Interesting question this week. I have to pick the Ravens for several reasons. Since I live in (Lombardi-less) Ohio, I would hear about it all year long if either the Bengals won (an "organization" I have no respect for) or the Browns. I also respect the Ravens' playing style. So in order of preference it would be Ravens, Browns, Bengals.
Matt from Pittsburgh writes: James, give me the Browns. My hatred for the Browns died in January of 2003, when they blew that huge lead to the Steelers in the wild-card round. As the Steelers secured the victory, my father, rather than celebrating Pittsburgh's comeback, began laughing hysterically and screeching, "The Browns suck! They suck! How do you lose that game? Only the Browns!" That's when I knew the rivalry was no more. Of the other two teams, I detest the Ravens both for reasons they should be proud of and reasons they should not, so I could never cheer for them. And the Bengals are a pitifully-run franchise infested with low-character personnel and a front office that signs onto every gimmick that passes through the pro sports scene. I delight in their misery. The Browns win my vote by elimination.
Michael from Uniontown, Pa., writes: JW- To start love the blog, read it every day. This choice is easy for me. If the Steelers weren't to win I would want the Ravens to win, even though I hate them due to our rivalry and would never want them to win over us. They are my second favorite team in the league. They play "Pittsburgh football" and that's what makes them good. They are a smash-mouth football team and have modeled their team after what we have mastered since the 70's...hard-nose football. If we didn't have the Steelers in town I feel most Pittsburgh fans would be Ravens fans due to their smash-mouth football style.
Allison from Mt. Airy, Md., writes: I was born and raised a true Steelers fan in MD. With that being said, I HATE watching the Ravens succeed in the least. They really are the Browns, so there is nothing but hate for them in the first place. But being surrounded by the obnoxious purple-wearing fans DAILY makes it that much worse. Between the Brownies and the Bungals, it really is a toss-up. The Steelers-Browns rivalry isn't what it was years ago, and Big Ben is practically undefeated against the Ohio teams in his career. But since the Bungals have had the most success in the past decade, I would have to go with the Browns.
Jon from Phoenix writes: Big time Bengal fan. I'd have to pull for the Browns. These two teams have been snake bitten for so long. It would be nice for either to catch a break...instead of a 65 yard pass interference penalty. I'm just saying.
Chris Koehler from Cleveland writes: As a (die-hard) Browns fan is his teens, I have really only been able remember about seven years or so of Browns football. Seeing one season in which we did not have a losing record against the AFC North in those seven or so years is unacceptable. Even when my Brownies had a decent (fluke) year in '07, they still only went .500 against the AFC North. That being said, I would like nothing other than to see every other team in our division beat in every game they play in. I don't think I could live with another super bowl champ from the AFC North other than the Browns. If I had to pick one, though, I would have to go with the Bungals because they have seemed to given the Browns the least problem recently. GO BROWNS.
Jim from Fremont, Ohio, writes: James- As a die-hard Browns fan that is a tough one. I hate the rest of the division and this is like asking which limb to cut off. I couldn't stand to see the Steelers get another one. The Bengals or I should say their fans don't deserve one because up until 5 years ago I could get any seat I wanted when the Browns played down there. So I guess I would say the Ravens, only because of general manager Ozzie Newsome.
AFC North final say
James Walker: Coming in I had no idea where this question would lead with our AFC North community. It turns out most voted for one of two reasons: Respect or pity. Readers who felt sorry for the Cincinnati Bengals or Cleveland Browns could stomach (to a degree) those teams winning instead of their own, while respect for the most competitive opponent led other fans for all four teams to vote for that particular rival. There is really no right or wrong answer, which makes this question so intriguing.
If you have any future "Thought of the Day" topics, send them to our AFC North inbox.
September, 11, 2008
9/11/08
2:00
PM ET
Posted by ESPN.com's James Walker
The rivalry between the Cleveland Browns and Pittsburgh Steelers is deep rooted and extremely intense. It has all the ingredients: history, proximity and a natural hatred.


The first game was played on Oct. 7, 1950, a 30-17 victory for the Browns. The two teams have played nearly every year since, with the exception of Cleveland losing its team from 1996-98.
The Browns have struggled since returning to the NFL in 1999 and the Steelers have taken advantage, winning nine straight and 15 of 16. A case can be made that the current one-sidedness has lessened this rivalry, but there's still legitimate heat between these two clubs. Plus, the overall series stands at 55-55 (not including postseason games), which shows an amazing amount of levelness over the past 58 years.
NFL fans will be treated to one of the league's best rivalries this Sunday.
+INTENSITY RATING: 4 (Update friends and loved ones about your last will and testament)