October, 24, 2014
10/24/14
8:00
AM ET
The streaking
Indianapolis Colts
will try to win their sixth game in a row on Sunday when they visit the
Pittsburgh Steelers
. Slowing down quarterback
Andrew Luck
will be the Steelers' priority, and they have to find a way to minimize his impact or score enough to keep pace with the 5-2 Colts. Beating Indianapolis would give Pittsburgh a 5-3 record at the halfway point of the season as well as a signature win.
ESPN Colts reporter Mike Wells and Steelers reporter Scott Brown take a closer look at the 4:25 p.m. ET game at Heinz Field.
Brown:
Mike, the Steelers' passing game has been torched by the likes of
Mike Glennon
and
Brian Hoyer
this season. The Steelers' pass rush has been average, and they are suspect in the secondary. That is not a good formula for stopping Luck. What is the best way to contain him, if that is possible?
Wells:
Blitzing Luck is the best way, but that appears to be a problem for the Steelers. Luck has done an exceptional job of spreading the ball around this season. He is not just focusing on receivers
Reggie Wayne
or
T.Y. Hilton
. Luck had back-to-back games where he completed passes to nine different receivers this season. His biggest problem, though, is interceptions: He is tied for third in the league in that category with seven. The Colts have survived Luck's miscues so far, but they won't be as fortunate once they get to the playoffs and face teams that can make them pay for their mistakes.
The Steelers are a tough team to figure out. One week they get blown out by Cleveland, and then they come back and use an incredible performance in the second quarter to beat Houston. What is Pittsburgh's identity?
Brown:
Mike, I can't figure out this team quarter to quarter, much less game to game. The defense certainly isn't the one that people are accustomed to seeing. There is no intimidation factor, no swagger, and the Steelers are really just trying to get by defensively as they retool a unit that is in transition. The Steelers have the potential to forge a personality as a dynamic offensive team, as they have the NFL's leading receiver in Antonio Brown, the second-leading rusher in
Le'Veon Bell
and, of course, quarterback
Ben Roethlisberger
. The Steelers have moved the ball this season, but they have too often bogged down in the red zone. Maybe scoring three touchdowns in the last three minutes of the second quarter Monday night against the Texans will serve as a springboard for the offense. It had better put up a lot of points against the Colts if the Steelers are to beat one of the NFL's hottest teams.
I normally don't associate the Colts with the kind of defense they played in absolutely stifling the Bengals on Sunday. Is Indianapolis' defense underrated?
Wells:
It is very underrated. I didn't think this defense had a chance once linebacker Robert Mathis, last season's sack leader, was lost for the season with a torn Achilles. The unit appeared to be headed for a rough season after it had only one sack over the first two games. But defensive coordinator Greg Manusky has taken a hold-nothing-back approach with his defense. With two cornerbacks who can blanket receivers,
Greg Toler
and
Vontae Davis
, Manusky is loading the box and constantly blitzing. That is why the Colts have 20 sacks and nine turnovers during their five-game winning streak. They have also held their past four opponents to 4-of-41 on third down. People might not have respected the Colts' defense before, but now teams have to take notice.
The Steelers have a history of being a good defensive team. They are 15th in the league in yards allowed a game. Are they on the decline defensively?
Brown:
That is a great question. The Steelers have to hope it doesn't get any worse defensively, or they could be in trouble. They have some promising young players to build around in rookie linebacker
Ryan Shazier
and rookie defensive end
Stephon Tuitt
. But the Steelers have serious questions at outside linebacker, especially if 2013 first-round pick
Jarvis Jones
doesn't develop into a pass-rushing force. Cornerback is also an issue, a position at which the organization has not drafted well or neglected, depending on your vantage point.
Cortez Allen
is the Steelers' best young cornerback, and he recently lost his starting job to
Brice McCain
. Allen has the physical ability to develop into a No. 1 cornerback, but the 2011 fourth-round pick has to become more consistent. It could get worse before it gets better on defense, given some of the holes that the Steelers have tried to spackle over by moves such as coaxing veteran outside linebacker
James Harrison
out of retirement.
The Colts seem like they have something going with
Trent Richardson
and
Ahmad Bradshaw
at running back. Richardson seems to be playing much better than he did last season. Is part of the reason that Bradshaw has eased the pressure on Richardson to carry the Colts' ground game?
Wells:
Richardson might never live up to the expectations as being the No. 3 overall pick in 2012, but he is running better than he did last season, when he eventually was demoted. He is running with more confidence and making better decisions. Having Bradshaw has been a blessing for Richardson because he doesn't have the burden of carrying the load in the backfield. Neither player has a problem sharing the work, and it helps that Bradshaw is familiar with sharing the load in the backfield. He went through it while with the
New York Giants
.
Brown looks like he could surpass the 1,499 receiving yards he had last season. What makes him so successful, and what type of challenges will he present to the Colts' secondary?
Brown:
I thought Brown would have a really tough time matching his production in 2013, when the fifth-year veteran set a Steelers record for receiving yards in a season. He has been even better this season and has scored five touchdowns after reaching the end zone eight times in 2013. Brown is an excellent route-runner, makes tough catches in traffic and is dazzling after the catch. The Colts will have to limit the damage Brown does after the catch, and I would imagine they will do everything they can to take him out of the game. But no team has succeeded in doing that, even though a reliable complement opposite Brown has yet to emerge.
February, 18, 2014
2/18/14
8:31
AM ET
INDIANAPOLIS --
Terrell Suggs
signed an
extension with Baltimore
on Monday that could keep him with the Ravens for the next five years. If Suggs does play out his contract, he'll become only the third defensive player drafted in the past 30 years to play at least 16 years with the same team, according to Elias Sports Bureau.
Mathis
Ronde Barber
(16 years) and
Ray Lewis
(17 years) accomplished the feat with Tampa Bay and Baltimore, respectively.
Suggs isn't the only defensive player with a chance to also play at least 16 years with the same team.
Indianapolis Colts
linebacker
Robert Mathis
is in line to do it, too.
Mathis was selected by the Colts in the 2003 draft. He's not showing any signs of slowing down now that he's in his comfort zone in coach Chuck Pagano's 3-4 defensive scheme.
Mathis, who will be 33 later this month, is coming off the best season of his 11-year career. He led the league in sacks with 19.5 and finished second in the NFL Defensive Player of the Year voting.
Mathis has two years remaining on his current contract. He and the Colts will have to agree to at least one more deal in order for him to join Lewis, Barber and possibly Suggs in elite company.
May, 8, 2012
5/08/12
2:30
PM ET
Baltimore Ravens
running back
Ray Rice
still hasn't signed his franchise tag and apparently doesn't plan to do so for a while. He is not alone.
Of the 21 players who received the franchise tag, 12 remain unsigned. Raiders safety
Tyvon Branch
signed his franchise tender Monday, becoming only the sixth player to do so. Three players (Eagles wide receiver
DeSean Jackson
, Colts defensive end
Robert Mathis
and Giants punter
Steve Weatherford
) did what all franchise players hope to do -- reach long-term deals with their teams.
Franchise players have until July 16 to sign new deals with their teams or they'll play the season under their tag. Here's the updates on the 21 players who received the franchise tag:
QB Drew Brees, Saints
: Remains unsigned. Reportedly no progress in talks for long-term deal.
RB Matt Forte, Bears
: Remains unsigned. Skipped first voluntary workouts.
RB Ray Rice, Ravens
: Remains unsigned. Missed start of voluntary workouts.
WR DeSean Jackson, Eagles
: Signed five-year, $47 million contract that includes $15 million guaranteed.
WR Wes Welker, Patriots
: Remains unsigned. Welker said he's "probably not going to" attend mandatory minicamp in June.
WR Dwayne Bowe, Chiefs
: Remains unsigned. Chiefs reportedly have no intentions of trading him.
TE Fred Davis, Redskin
s: Signed his franchise tender of $5.446 million on March 16.
DL Cliff Avril, Lions
: Remains unsigned. Sides reportedly are at an impasse in contract talks.
DE Calais Campbell, Cardinals
: Remains unsigned. Missed start of voluntary workouts.
DE-LB Robert Mathis, Colts
: Signed four-year, $36 million contract that includes $15 million signing bonus.
LB Anthony Spencer, Cowboys
: Signed his franchise tender of $8.856 million last month.
CB Brent Grimes, Falcons
: Signed his franchise tender of $10.281 million last month after reports surfaced that the Falcons were interested in trading for
Asante Samuel
.
S Tyvon Branch, Raiders
: Signed his franchise tender of $6.212 million on Monday.
S Dashon Goldson, 49ers
: Remains unsigned.
S Michael Griffin, Titans
: Remains unsigned. Plans to sign injury waiver and attend offseason workouts.
K Connor Barth, Buccaneers
: Remains unsigned. Didn't attend start of voluntary workouts.
K Phil Dawson, Browns
: Signed franchise tender of $3.81 million on March 13.
K Mike Nugent, Bengals
: Signed his franchise tender of $2.654 million last month.
K Matt Prater, Broncos
: Remains unsigned.
K Josh Scobee, Jaguars
: Remains unsigned. Talks have reportedly stalled between the two sides.
P Steve Weatherford, Giants
: Signed a five-year, $12.75 million contract.
September, 25, 2011
9/25/11
11:35
PM ET
Thoughts on the
Pittsburgh Steelers
' 23-20
win
at the
Indianapolis Colts
:


What it means
: It wasn't as easy as many expected, but Pittsburgh did just enough to improve to 2-1. The Steelers are in a three-team tie atop the AFC North with the Ravens and Browns.
Thumbs up
:
Ben Roethlisberger
once again showed why he is one of the best clutch quarterbacks. On the game-winning drive, he completed 3 of 4 passes for 39 yards and scrambled for 11 yards to get the Steelers in range for
Shaun Suisham
's 38-yard field goal with four seconds left in the game.
Thumbs down
: Pittsburgh struggled all game to protect Roethlisberger.
Dwight Freeney
and
Robert Mathis
both forced fumbles in the first half, which led to a field goal and a 47-yard fumble return for a touchdown.
First takeaway
: The Steelers defense finally forced a turnover this season, and it was a timely one.
James Harrison
stripped Colts backup quarterback
Curtis Painter
, and
Troy Polamalu
returned it for a 16-yard touchdown to take a short-lived 20-13 lead in the fourth quarter.
Banged-up line
: Pittsburgh had three starters on the offensive line leave the game, including the entire right side at one point. Right guard
Doug Legursky
and right tackle
Marcus Gilbert
both had shoulder injuries and were replaced by guard
Ramon Foster
and tackle
Trai Essex
. When left tackle
Jonathan Scott
was forced out late in the fourth quarter with a leg injury, Gilbert had to come back into the game.
What's next:
The Steelers play at Houston, which wraps up a stretch of three road games in the first four weeks of the season.
January, 15, 2010
1/15/10
1:00
PM ET
AFC
:
Jets-Chargers
:
Graham
|
Williamson
»
Colts-Ravens
:
Kuharsky
|
Walker
NFC
:
Cowboys-Vikings
:
Mosley
|
Seifert
»
Saints-Cardinals
:
Yasinskas
|
Sando
Three nuggets of knowledge about Saturday's playoff game between the Baltimore Ravens (10-7) and Indianapolis Colts (14-2):
[+] Enlarge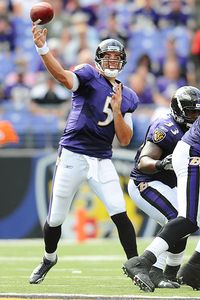 James Lang/US PresswireThe Ravens will need to protect quarterback Joe Flacco from Colts defensive ends Dwight Freeney and Robert Mathis.
1. Quick starters:
Recently, the Ravens have gone against a season-long trend of slow starts. Last week Baltimore jumped out to a 24-0 lead in the first quarter in a 33-14 wild-card win over the
New England Patriots
. In the past two weeks, the Ravens have outscored opponents 31-0 in the opening period. Baltimore needs another fast start against the well-rested Colts. Indianapolis hasn't played a meaningful game in nearly a month and rust may be an issue. If that's the case, Baltimore has a good opportunity to take advantage of that rust early on the road.
2. Loose ends:
The 18th-ranked defense of the Colts has some holes. But their biggest strength is their pass-rushing defensive ends
Dwight Freeney
and
Robert Mathis
. It will be up to Baltimore's young offensive tackles,
Jared Gaither
and rookie
Michael Oher
, to keep Indianapolis' bookends from letting loose on Ravens quarterback
Joe Flacco
. Oher did a particularly good job against Freeney in the Colts' 17-15 win on Nov. 22. Freeney was held without a sack in that game. Baltimore's running game also will be key in preventing Mathis and Freeney from getting up the field.
3. Secondary concern:
Baltimore's secondary will face another huge challenge against Indianapolis Pro Bowl quarterback
Peyton Manning
. Last week the unit held up well, picking off Patriots quarterback
Tom Brady
three times. But the Colts' passing game is even more dangerous. The Ravens need a consistent pass rush to help the secondary and make Manning uncomfortable moving outside the pocket, where he is less effective. Baltimore registered three sacks against New England.
January, 15, 2010
1/15/10
9:00
AM ET
Here are the most interesting stories in the AFC North:
Morning take: It doesn't appear Gaither will miss Saturday's playoff game against the Indianapolis Colts. But his performance through injury will be crucial against Colts defensive ends Dwight Freeney and Robert Mathis.
Morning take: I agree on both fronts.
Morning take: This isn't a surprise as new general manager Tom Heckert was officially hired this week. Heckert will bring in his own people soon.
Morning take: This is uncharacteristic of the Steelers to have so many comings and goings after the season. Change can be a good thing or bad thing depending on how it's handled.