AFC North:

Rodney Harrison
January, 26, 2012
1/26/12
1:45
PM ET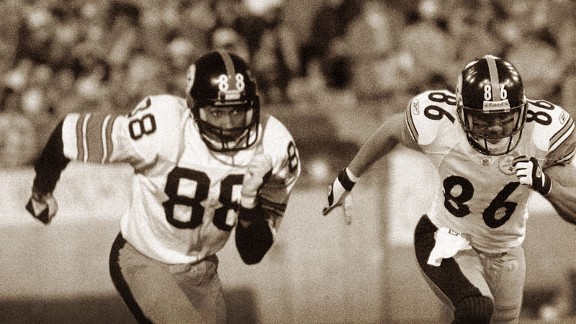 ESPN.com IllustrationImagine Hall of Famer Lynn Swann in a five-wide formation with Hines Ward.
MATCHUP GALLERY
ESPN.com is unveiling its "Any Era" team this week which features 20 current players with the toughness to play in any period of NFL history. The team was assembled by votes from 20 Hall of Fame players (here's
a full explanation
of the project).
Coming in at
No. 8 on the Any Era Team
is Steelers wide receiver
Hines Ward
. Is there really any other wide receiver that would define "Any Era" more than Ward? You can love him or hate him, but you don't ever want to be a defensive back on a running play with him on the field. ESPN's John Clayton put it best when he called Ward a "ruthless blocker" and "a tough player who just happens to catch the football."
When I asked Ward recently about his toughest moment, he immediately talked about his third season when he knocked helmets with Chargers safety
Rodney Harrison
. "I put the best and hardest hit on this guy. I thought I crushed him," Ward said. "He looks back, shakes his head and says, 'Yeah, 86, that's what I'm talking about. I like that.' I looked from the huddle, and thought, 'Oh, no.' That will always stick with me for the rest of my life."
Here are explanations from three Hall of Fame players on why Ward made the cut:
LYNN SWANN: "Is there another receiver in the past 12 years who has a tougher reputation than Hines? If we are talking about being tough, then I don't know how you can't choose him. I'd like to go out of the box, but Hines fits this category too well. There are some very talented receivers in this league, and they'll catch the ball and then get out of bounds. It might not always be the best decision, but whenever he catches the ball he turns and fights for every yard. He takes guys on, he'll block and I mean really block."

LARRY CSONKA: "I like Hines Ward for his size and toughness and flat-ass orneriness. He has the temperament to play anywhere, any time. He makes big catches, big blocks and has the disposition that would allow him to play in any era. He doesn't bother with the trivial stuff. He plays to win and he knows, most of the time, he will."

JOHN RANDLE: "The thing about Hines is he would crack you in a second. You had to have your head on a swivel. You'd watch a game just to see who Hines would crack on. He'd try to line up at tight end, and you knew if there was going to be a crack, it was Hines crackin' somebody. And then afterward, he'd have that grin on his face. Because it was on you; he'd say, 'Hey, stop me.' That was his reputation for me. As a football player, I look at it like the Western days, being an outlaw and you'd go from town to town to defend your reputation. And they knew you were coming. For Hines, there was that smile on his face, and you'd see it on tape, 'Hey, I got ya.'"
Ward is the fourth AFC North player to make the list, but there are more division players in the top 4. The AFC North blog will post every time a division player makes the Any Era Team.
May, 27, 2009
5/27/09
12:00
PM ET
| | |
| --- | --- |
| | |
| | ESPN.com Illustration |
| | Who should be No. 1 heading into the season: the reigning Super Bowl champion Pittsburgh Steelers or perennial contenders the New England Patriots? Our bloggers debate. |
Posted by ESPN.com's James Walker and Len Pasquarelli

When it comes to NFL dominance and consistency, few teams rival the New England Patriots and Pittsburgh Steelers. With five Super Bowl titles between them since 2000, they're the two contenders for the mythical title of "Team of the Decade."
But which franchise deserves top billing heading into the 2009 season?
Does the return of superstar quarterback Tom Brady from a knee injury make New England the early favorite? Or should the defending champion Steelers, who return 20 of 22 starters, be considered the team to beat until proven otherwise?
To debate these topics and more, we bring in ESPN.com NFL writers Len Pasquarelli and James Walker.
In ESPN.com's May Power Rankings, the Steelers topped the poll of our experts -- despite a No. 9 overall ranking from Pasquarelli. He deems the Patriots the best team entering the season.
Who is the favorite heading into the 2009 season and why?
| | |
| --- | --- |
| | |
| | Donald Miralle/Getty Images |
| | The Steelers return 20 of 22 starters from last year's Super Bowl team, including receiver Santonio Holmes. |
James Walker
: Not much has changed since Pittsburgh hoisted its sixth Lombardi Trophy in February. The Steelers were the NFL's best team just three months ago and still deserve top honors as the preseason favorites.
Pittsburgh lost just two starters from its championship team, and a strong case can be made that replacements Lawrence Timmons and William Gay will be more productive than their predecessors, linebacker Larry Foote and cornerback Bryant McFadden. Key Steelers such as quarterback Ben Roethlisberger, receiver Hines Ward and tailback Willie Parker are healthy again. Second-year players Rashard Mendenhall and Limas Sweed appear primed to make contributions in reserve roles, which didn't happen last season.
The few weaknesses from last season also have been addressed. Pittsburgh punter Daniel Sepulveda is returning from injury and will be a major upgrade in the kicking game. Rookie first-round pick Evander Hood should provide youthful depth for an aging defensive line, and the team now has a plethora of speedy kick returners competing to fill that role.
If Pittsburgh stays healthy and the offensive line jells in 2009, as the coaching staff suggests, you'd be hard pressed to find a glaring weakness with the defending champs.
Len Pasquarelli: As an old Chuck Noll disciple, I still believe that many games are won at the line of scrimmage. And the Patriots averaged the second most points per game in the league in a season when the NFL's best quarterback, Tom Brady, played less than one full game. Perhaps more importantly, the Pats also have an edge up front on both offense and defense. From 2005-2007 -- Brady's last three full seasons in the league -- he was sacked only 73 times. That's 66 fewer times than his counterpart, Ben Roethlisberger, was sacked over the same span. Pass protection is a synergistic thing, as dependent on the quarterback unloading the ball as it is on the linemen blocking. Still, the New England offensive line, under the direction of Dante Scarnecchia, is one of the best in the league, with standouts like left tackle Matt Light, left guard Logan Mankins, and center Dan Koppen.
But the area where the Patriots own the biggest edge is on the defensive front. Both teams employ the 3-4 scheme, and the Pittsburgh line is both experienced and good. Still, their New England counterparts can be downright dominating at times. The Patriots almost always seem to choose a defensive lineman high in the draft, and that has paid off handsomely for them, with players like Richard Seymour, Vince Wilfork, and Ty Warren. Remember the old adage from cigarette commercials: "It's what's up front that counts?" New England coach Bill Belichick is a proponent of building a team from the inside out, kind of in the Noll image, and he has assembled terrific up-front units on both sides of the ball. Players at the skill positions aren't bad, either, but the Pats generally own the line of scrimmage, and that's a big plus for them.
Both teams are proponents of the 3-4 defense. How can New England's defense be any better than Pittsburgh's unit, which led the NFL in 2008?
| | |
| --- | --- |
| | |
| | AP Photo/Stephan Savoia |
| | Patriots coach Bill Belichick will figure out how to make New England's defense competitive. |
Pasquarelli
: Granted,
the Patriots' secondary was shaky in 2008, and allowed a ton of touchdown passes. Add to that the fact that New England has lost both starting cornerbacks (
Asante Samuel
and
Ellis Hobbs
) the last two offseasons, and that safety
Rodney Harrison
might not return for 2009. Yeah, the Pats have to "scheme up" a pass rush, since they don't really have an upfield force off the edge.
But with apologies to Steelers defensive coordinator Dick LeBeau, the Pats have Belichick, and he is a master at switching his fronts and disguising coverages. There aren't many 3-4 linemen who can take over a game, but as noted above, the Patriots have three of them. Certainly the performance of the Steelers' unit, which defends every blade of grass like it's their fortune, is an admirable outfit. But their secondary problems aside, the Patriots are still plenty good enough, particularly if the offense removes some of the pressure by scoring big.
Walker: Len, Pittsburgh had the NFL's best defense in 2008 and the Patriots were No. 10. I don't see a comparison.
Sure, both teams run 3-4 defenses. But when you look at every component -- be it yards, points allowed, or sacking the quarterback -- it wasn't even close. For instance, New England had 31 sacks as a team last year. Pittsburgh outside linebackers James Harrison and LaMarr Woodley combined for 27.5 sacks and the Steelers amassed 51 sacks total. The Steelers simply play defense on a much higher level.
In fact, New England's defense has been somewhat overrated in recent years. Brady's ability to put up points offensively, particularly in 2007, made a lot of opponents one-dimensional and easier to defend. If you noticed without Brady last year, the Patriots dropped six spots defensively in 2008 from No. 4 to No. 10.
Speaking of Brady, does his return shift the balance of power to New England?
Pasquarelli: Brady and Roethlisberger are both members of a small subset, the truly elite quarterbacks in the game. But as noted above, Brady is afforded better protection, and his playmakers are much more explosive. In his last three seasons before the knee injury, Brady threw 100 touchdown passes and only 34 interceptions. In his past three seasons, Roethlisberger has 67 touchdown passes and 48 interceptions, and has been sacked an incredible 139 times.
New England finished fifth in the league in total offense in 2008, second in scoring, and won 11 games, despite playing most of the year with an inexperienced backup quarterback in Matt Cassel. It would be naïve and foolhardy to think they won't do even better with their main trigger man back in the lineup. Of the Patriots' five defeats last season, two came by seven points or less, and Brady will take care of that small difference.
Walker: Anyone who automatically makes New England the Super Bowl favorite in May is making a bold assumption that Brady is 100 percent recovered from major reconstructive knee surgery. But many questions remain.
Will Brady be protective of his surgically-repaired knee? Will rust be an issue and cause Brady to get off to a slow start? How will he respond to getting hit? These questions will not be answered until months down the line. But you know exactly what you're getting from Roethlisberger and the Steelers, which is why you have to make them the favorites.
Keep in mind, Brady suffered his knee injury in the opening game last year against the Kansas City Chiefs. Therefore, he hasn't played in a full game since February of 2008, a Super Bowl loss to the New York Giants. With such an extended layoff, I doubt we're going to see the 4,800-yard, 50-touchdown version of Brady this year, and even that version wasn't good enough to win New England a Super Bowl.
Will Pittsburgh and New England meet in the AFC Championship game?
Pasquarelli: After a year out of the playoffs, New England will be poised to try to regain a title that almost seemed like its birthright. Pittsburgh faces a tough haul in its own division from Baltimore. One of the two teams won't make it to the conference championship game and -- hometown loyalties notwithstanding -- we're betting it's the Steelers who will be absent.
Inarguably, these are two of the finest organizations in the NFL, even if one is old-guard authorship and the other is new-age, and the two have terrific front office personnel. Both rely on preparing young players to step into roles as starters or contributors, as Pittsburgh will with linebacker Lawrence Timmons and cornerback William Gay, and New England will with linebacker Shawn Crable and cornerback Terrence Wheatley.
But the Patriots' veteran free agents -- guys like tailback Fred Taylor, tight end Chris Baker, wide receiver Joey Galloway, and cornerbacks Shawn Springs and Leigh Bodden -- will have more of an impact in 2009 than the Pittsburgh additions of spare parts like wide receiver Shaun McDonald and cornerback Keiwan Ratliff.
Walker: Although I easily could see other talented teams such as the Indianapolis Colts, Baltimore Ravens or Tennessee Titans spoiling the party, Pittsburgh and New England are currently the beasts of the AFC. In fact, these have been the top two teams in the NFL this decade, and they have the five combined championships over that span to prove it.
It would be fitting for these two franchises to settle this debate on the field for the right to advance to Super Bowl XLIV, and perhaps, solidify the title of "Team of the Decade." Pittsburgh and New England will not meet in the regular season in 2009. But if the Steelers and Patriots avoid the injury bug and play up to their talent levels, I have a feeling they could cross paths at some point in the postseason with a lot at stake.
July, 1, 2008
7/01/08
1:01
PM ET
Posted by ESPN.com's James Walker
| | |
| --- | --- |
| | |
| James Lang/US Presswire | Kevin Terrell/Getty Images |
It's no surprise that a pair of middle linebackers topped ESPN.com's survey of NFL head coaches for smartest defensive player. With six votes, Zach Thomas of the Dallas Cowboys edged the Baltimore Ravens' Ray Lewis (four votes).
Middle linebackers are often the quarterbacks of a defense. They usually take care of the play-calling responsibilities and are required to know the assignments of teammates. Add in exceptional instincts, ability and countless hours of film study and there's the rare mix you get with Thomas and Lewis.
Three safeties -- Ed Reed, John Lynch and Corey Chavous -- also were in the top five. That position is the last line of defense and usually reserved for some of the smartest players on the team as well.
In addition, there were five votes for defensive linemen and one for a cornerback. Those positions normally rely on beating your opponent with brute strength for linemen, or tremendous athleticism as a cornerback. But the players at those positions on this list are extremely savvy and bring the complete package.
Thirty of 32 NFL head coaches answered the question. Here are the results:
| | | | | |
| --- | --- | --- | --- | --- |
| Place | Name | Position | Team | Votes |
| 1. | Zach Thomas | LB | Dallas Cowboys | 6 |
| 2. | Ray Lewis | LB | Baltimore Ravens | 4 |
| 3. (tie) | John Lynch | S | Denver Broncos | 3 |
| 3. (tie) | Ed Reed | S | Baltimore Ravens | 3 |
| 5. (tie) | Corey Chavous | S | St. Louis Rams | 2 |
| 5. (tie) | Warren Sapp | DT | Retired | 2 |
| 5. (tie) | Michael Strahan | DE | Retired | 2 |
| 8. (tie) | Ronde Barber | CB | Tampa Bay Buccaneers | 1 |
| 8. (tie) | Derrick Brooks | LB | Tampa Bay Buccanners | 1 |
| 8. (tie) | Nick Greisen | LB | Baltimore Ravens | 1 |
| 8. (tie) | Rodney Harrison | S | New England Patriots | 1 |
| 8. (tie) | Antonio Pierce | LB | New York Giants | 1 |
| 8. (tie) | Brian Russell | S | Seattle Seahawks | 1 |
| 8. (tie) | Jason Taylor | DE | Miami Dolphins | 1 |
| 8. (tie) | Mike Vrabel | LB | New England Patriots | 1 |