December, 12, 2013
12/12/13
8:30
AM ET
It seems appropriate to give the final word on the
T.J. Ward
hit that demolished the right knee of
Rob Gronkowski
to a Hall of Famer.
Former
San Franisco 49ers
safety
Ronnie Lott
appeared on 92.3 The Fan in Cleveland on Wednesday and defended the
Cleveland Browns
safety. Ward had said after Sunday's game that he made a choice to tackle Gronkowski low because there was no other way to get the 265-pound tight end down.
Ward
Lott did not disagree.
"Had he hit him in the head he would have been fined," Lott said in
the radio interview
. "Had he hit him in the shoulder it would have been a tough collision. It would have been hard for him to bring him down.
"The way we're taught as a defensive back, when you're hitting someone that's bigger than you, you're gonna cut him, you're gonna find a way to hit him in the legs.
"Unfortunately in this case it was right on the knee."
Lott admitted that former and present players might look at the play and wonder how Ward could hit Gronkowski in the knee, but he said he did not believe Ward was trying to hurt Gronkowski, just to tackle him.
"You're going to cut the guys, and the way you're going to cut them is you're going to go low and you're going to hit them around the knee area or below the knee area," Lott said, adding: "I think it's a case of guys knowing that's the only way to bring big guys down."
One thing Lott said present-day players can do to avoid such hits is to work on tackling to make sure they are doing it as the rules are written. Lott said he often stayed on the field for an hour after practice ended, working on the right way to tackle.
"You have to work at the art of tacking," Lott said.
That is something that is not done nowadays in practice, in part because of limits on hitting. Even in training camp few coaches allow players to go full-speed and tackle.
For his part, Ward isn't discussing the hit anymore. Which is wise.
"I spoke my piece after the game and it is what it is," Ward said. "It's unfortunate, but it's the nature of the game."
January, 20, 2012
1/20/12
11:00
AM ET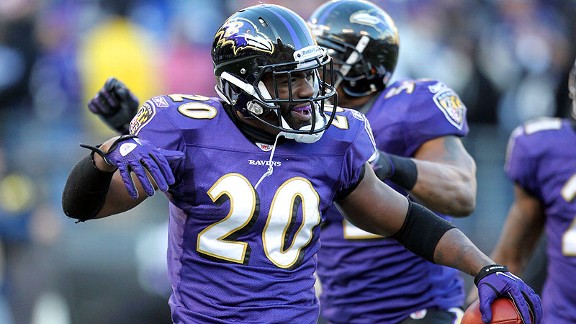 Mitch Stringer/US Presswire"I don't think there is a weakness that he has," Tom Brady says of Ed Reed.
OWINGS MILLS, Md. -- All the talk surrounding the Ravens this week has been about
Ed Reed
's critical comments regarding quarterback
Joe Flacco
and how they will affect the team heading into Sunday's AFC Championship Game.
In reality, Reed is a bigger problem for the Patriots than he'll ever be for the Ravens. No one draws more respect from the Patriots than Reed and no one gives them more reasons to worry than the eight-time Pro Bowl safety.
The Patriots know they can slow down
Terrell Suggs
by putting a couple of blockers on him. They know
Ray Lewis
is always going to be in the middle of the defense before they line up.
There's no certainty when it comes to Reed. He can be anywhere on the field. Reed can even make it look like he'll be on one side and end up on the other before the ball gets there.
When it comes to stopping the Patriots' passing game, the Ravens have to keep an eye on
Wes Welker
,
Rob Gronkowski
,
Aaron Hernandez
and
Deion Branch
. When it comes to having success against the Ravens' pass defense, all eyes are on Reed.
Having Reed playing center field in the secondary is the biggest reason that the Ravens allowed an NFL-low 11 passing touchdowns this season (four fewer than any other team). He's also the biggest reason that no quarterback has thrown more than one touchdown pass against the Ravens in any game this season.
The biggest compliment that Patriots quarterback
Tom Brady
can give Reed is that the free safety is always at the forefront of his mind.
"When you break the huddle, you find where he's at and you make sure you're not lobbing the ball up in his zones, because as you saw in the Houston game, he's going to go up there and make the plays," Brady said. "He's just an exceptional player. I don't think there is a weakness that he has."
Reed is coming off one of the worst regular seasons of his career, at least statistically. His three interceptions and eight passes defended are his lowest in a full 16-game season.
But the postseason has always been Reed's best season. His eight interceptions are one shy of tying Ronnie Lott, Bill Simpson and Charlie Waters for the most in NFL playoff history.
Reed's latest came last Sunday with 1:51 left in the game and the Ravens ahead by a touchdown. Knowing the Texans would look deep to wide receiver
Andre Johnson
, Reed held his ground in the middle of the field, even though quarterback
T.J. Yates
was trying to make the safety move left by staring in that direction.
When Yates cocked his arm back, Reed jumped to the right side toward Johnson before Yates even released the ball. Reed was there in time to intercept the pass in front of Johnson at the Baltimore 4-yard line.
Reed's instincts and awareness have led to 57 interceptions, the most among active players.
"I've just been playing football for a long time," Reed said of having a nose for the ball. "I've been playing football since I was a little kid, so it's just some natural blessings that God has blessed me with to get to the ball and understand what I've been doing over the years."
With 11 seconds left in last Sunday's playoff game, Reed made the play that allowed the Ravens to advance to the AFC Championship Game. On that play, Reed was playing over the top against Johnson on the left side, which forced the Texans to throw the Hail Mary to the right. Reed raced all the way across the field to knock down the pass, preserving a 20-13 victory.
"I'm not sure that if he hadn't made it, I don't know what would have happened there," Patriots coach Bill Belichick said. "Those are the kinds of plays he makes. He probably covers more field back there as a single safety than most teams can cover with two. He's got great instincts; he's a tremendous player."
Belichick's affection for Reed is well-known. He called Reed one of the greatest players ever to play the game. Last year, Brady joked that Belichick wanted to adopt Ed Reed and change his name to "Ed Belichick."
"He has said that to us before, and then constantly threw the ball back there at him," linebacker Suggs said. "I don't know how much that holds weight."
Suggs is right that the Patriots' adoration doesn't mean they fear Reed, who has broken up five passes in four career games against New England and intercepted Brady in the 2009 wild-card playoff game.
While the Patriots were praising Reed all week, the Ravens had to answer questions about his comments every day. Reed went on national radio this week to say Flacco was "rattled" in last Sunday's playoff game and "just didn't look like he had a hold on the offense." He doesn't believe those comments will distract the team leading up to Sunday's AFC Championship Game.
"It's about the Ravens and New England playing football," Reed said. "All that other stuff is to the side. That was about the last game. It's irrelevant to what we're doing right now, getting ready for the Patriots. What was said was something I said about the whole team, and it wasn't just about Joe. We were critical about ourselves in that game. That's every teammate of mine talking about the game we watched on film. We weren't satisfied with our effort."
Reed won't be satisfied until he wins a Super Bowl, and the years to capture one are starting to dwindle for him. He'll turn 34 less than a week into next season, and he's contemplated retirement before because of a nerve impingement between his neck and shoulder.
Does Reed sense the window of opportunity closing?
"We'll cross that bridge when that happens," Reed said. "Right now, we're focused on playing football and winning this game. That's what it's about at the end of the day. It's about us going out and trying to win this game to the best of our ability, and that's what we're going out there to do."
October, 29, 2010
10/29/10
4:00
PM ET
»
NFC Final Word
:
East
|
West
|
North
|
South
»
AFC
:
East
|
West
|
North
|
South
Five nuggets of knowledge about Week 8:
[+] Enlarge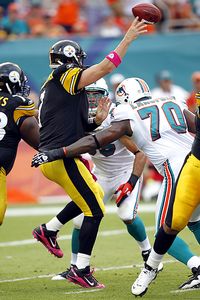 AP Photo/Paul SpinelliBen Roethlisberger is not afraid to stay in the pocket even when under pressure.
Big-play Ben:
Pittsburgh Steelers
quarterback
Ben Roethlisberger
has a chance to make a lot of big plays in Sunday's prime-time matchup against the
New Orleans Saints
. According to ESPN's Stats and Information, Roethlisberger leads the NFL in passer rating (140.1) and yards per attempt (11.1) against the blitz, which consists of five or more rushers. Roethlisberger is not afraid to hold the ball an extra second or two against pressure to allow his receivers to get downfield. Four of Roethlisberger's five touchdowns passes this year have come against the blitz. The Saints and defensive coordinator Gregg Williams are a blitz-heavy team, which could play into Roethlisberger's hands Sunday.
Winning the turnover battle:
It's no secret why the
New York Jets
(5-1) and the Steelers (5-1) are two of three teams tied for the NFL's best record. They are No. 1 and 2, respectively, in turnover ratio. The Jets are plus-10 in six games and the Steelers are plus-9. Pittsburgh adopted a conservative offense, which took care of the football in Roethlisberger's absence while wreaking havoc on defense. The Steelers are plus-2 in turnover ratio in Roethlisberger's two starts.
Banged-up Bengals:
The
Cincinnati Bengals
are hurting entering their must-win game against the
Miami Dolphins
, most notably in the secondary. Starting cornerbacks
Johnathan Joseph
(ankle) and
Leon Hall
(hamstring) both missed practice time this week, as did safeties
Chinedum Ndukwe
(knee) and
Roy L. Williams
(knee).
Adam Jones
(neck) also was put on
injured reserve
. Quarterback
Carson Palmer
missed Thursday's practice with
a hip injury
, but Bengals coach Marvin Lewis says he expects Palmer to play Sunday.
Red zone woes:
The Bengals have been gaining yards but have stalled in the red zone. Cincinnati is ranked No. 8 in total offense but in the bottom third (No. 24) in red zone efficiency, which has made a huge difference in its 2-4 start. The no-huddle has helped between the 20s, but the unit has to toughen up and stop settling for field goals. During Cincinnati's three-game losing streak, the team converted touchdowns on only four of 10 trips to the red zone.
Bye-week thoughts:
As the
Baltimore Ravens
enter the bye week, star safety
Ed Reed
(hip) will continue to get healthy after an impressive return in last week's win over the
Buffalo Bills
.
Reed recorded two interceptions
against Buffalo, and according to ESPN's Stats and Information, only two players have more multi-interception games (nine) than Reed: Hall of Famers
Ronnie Lott
and Paul Krause. The
Cleveland Browns
must find a way to score more points before taking the field Nov. 7 against the
New England Patriots
. The Browns are No. 28 in scoring at 16.9 points per game. The defense has played hard, and Cleveland is 2-0 when scoring 23 points or more.