AFC North:

Roscoe Parrish
November, 27, 2013
Nov 27
10:00
AM ET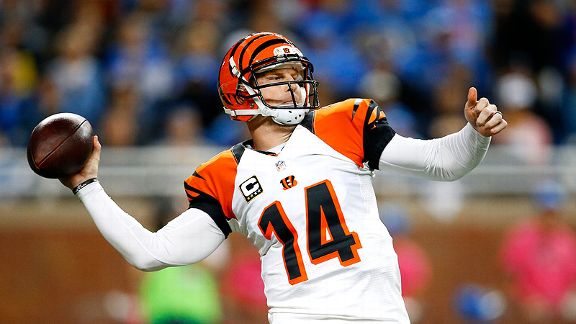 AP Photo/Rick OsentoskiThe Cincinnati Bengals are counting on Andy Dalton to return to the form that helped lead the team to a 4-1 record in October.
CINCINNATI -- Earlier this week,
Cincinnati Bengals
players like cornerback
Chris Crocker
were adamant in pointing out the urgency they need to play with throughout the
month of December
.
"It's all about winning in December," Crocker said. "Let's win out and see where the chips lay. Why can't we win out? I don't see why we can't."
If you ask some Bengals fans and most NFL analysts, they'll give you one big reason why they don't believe Cincinnati will be able to go 5-0 to close out the regular season: No. 14.
That's right. To some, the primary obstacle in the way of end-of-season perfection for the Bengals is
Andy Dalton
, the player who has quarterbacked the franchise into the playoffs each of the past two seasons, and who constantly is trying to prove himself to those who consider him just another member of a mostly failed 2011 quarterback draft class.
For that reason, as the Bengals gear up for a stretch run that could give them a first-round bye and home-field advantage in the playoffs, an important question has to be asked.
Can December Andy mimic October Andy?
As we've written countless times in the past month, October Andy was indeed a dandy. Through the first four games of that month, Dalton threw for 1,243 yards and 11 touchdowns. He also completed 67.9 percent of his passes, won four games, had a passer rating higher than 116.0 and a QBR above 83.0. He was, quite simply, brilliant. His play was so sharp back then that on the final day of the month, hours before the Bengals were set to take on the Dolphins in a road Thursday night game, he was named the AFC's Offensive Player of the Month.
And, yes, even though, comparatively speaking, he didn't look as good overall against the Dolphins and ended up taking the game-winning sack for a safety in overtime, Dalton still had a rather special performance in the 22-20 loss. Aside from not completing a touchdown pass and getting intercepted three times, he threw for 338 yards, marking the fourth straight game he had gone over the 300-yard passing mark.
Overall, October Andy was Good Andy.
But now here comes December with all of its postseason potency. If Cincinnati hopes to set itself up for the type of playoff seeding Crocker believes it deserves, then it will have to play its best ball across the next five weeks. That's especially the case for Dalton and a Bengals offense that has looked rather anemic in the past three games.
One look at Dalton's previous December stats and it doesn't appear the third-year star should have any problem showcasing even a sliver of the success that made him and his team so good about two months ago.
After a rocky December as a rookie in 2011, Dalton was among the difference-makers last season when the desperate Bengals were in need of a strong final month just to secure a playoff berth. One year after going 2-2 in the month, Dalton went 4-1 during December 2012. The lone loss came after the
Dallas Cowboys
made a field goal in the final seconds to win 20-19.
While the level of desperation may be different this December, the Bengals are looking for Dalton to thrive under similar pressure-packed moments during this one. This time around, the pressure on Dalton mainly stems from the fact that so many are fed up with his play from the past three games. In them, he's thrown eight interceptions and been sacked 10 times. Across the latter two of those games, he's completed fewer than 50 percent of his passes and hasn't posted a QBR higher than 18.0.
Weather factored heavily in Dalton's inability to move the ball in those two games. Windy conditions at Baltimore and windy and rainy conditions against the Browns sent some of his passes sailing and forced others into the hands of defensive backs.
Although weather shouldn't be a concern this weekend in San Diego (the forecast calls for partly cloudy skies and a delightful high of 71 degrees Sunday), it could be the rest of the season. Farmer's Almanac projects cold, damp conditions for all of December in the Ohio Valley. It should be noted that after Sunday's game, the Bengals are home three of the next four weeks. Their only remaining road game is at Pittsburgh.
Throughout his career, Dalton has performed better in warmer games. In games with temperatures 50 degrees or higher, he has a 20-14 record, an 85.1 passer rating and a 52.5 QBR. In games with temperatures at 49 and lower, he has a 5-5 record, a 75.4 passer rating and a 32.9 QBR. Dalton's last three sub-49-degree wins came last December, though; a sign that perhaps he's turning a corner in cold-weather contests.
Whatever the conditions and whomever their opponents are, when it comes to the next five weeks, the Bengals can only hope that Dalton turns into the same man who torched through this October.
January, 11, 2010
1/11/10
1:00
PM ET
Cleveland Browns
Pro Bowl returner
Josh Cribbs
is making the media rounds in Bristol, Conn., Monday. On ESPN's "First Take," he discussed his unhappiness with his contract.
Cribbs was paid a base salary of $900,000 this past season after making his second Pro Bowl. The Browns offered to raised his annual salary to
$1.4 million over the final three years
of his deal, which disappointed Cribbs and his representatives.
Cribbs said he wished the dispute could've been settled privately. But he feels he's not getting offered fair-market value.
"To this point, I have not gone public with how I felt," Cribbs said. "But I went two times trying to get a different contract, and two times [I was] turned down and told to wait and be patient, and I have. I feel like I've played and did what I had to do on the field to show them why I deserve it."
According to a recent report in the
Cleveland Plain Dealer
, other returners such as
Devin Hester
,
Roscoe Parrish
and
Andre Davis
are making a minimum of $3.2 million per season. At this point both Cribbs and the Browns appear far apart.
January, 9, 2010
1/09/10
12:00
PM ET
As I
correctly predicted Monday
, the AFC North had its most explosive news week of the season.
The
Pittsburgh Steelers
fired assistants
,
Cleveland Browns
president Mike Holmgren
retained head coach
Eric Mangini, and two teams have huge playoffs games this weekend.
But the most interesting story, according to our
division inbox
, was Browns Pro Bowler
Josh Cribbs
'
contract situation
.
Let's get to some questions on Cribbs and the Browns.
Andy from Canada
writes: Can you clarify exactly what the Browns are offering Cribbs?
James Walker:
Andy, Cleveland offered to raise Cribbs' salary to $1.4 million per season over the final three years of his contract. He made a base salary of $900,000 in 2009, which means the team offered a $500,000 raise from last season for the next three years.
---
Kovacs from Santa Monica
wants to know what it would take to keep Cribbs in Cleveland.
Walker:
As far as specific numbers to stay, that's really up to Cribbs, Kovacs. But in talking to his camp this week, the sense I got was that $3 million or $3.5 million per season would've been a good starting point. Maybe it would take more in negotiations. Maybe it would take less. I don't know. But that's just an educated guess on my part based on what other players are making and how shocked Cribbs was by Cleveland's $1.4 million offer.
---
Matthew King from Liberty Township, Ohio
wants to know what players comparable to Cribbs are making.
Walker
: That's a great question, Matthew, because that's part of the problem. Cribbs is very unique. Who else returns kicks, plays on coverage teams, and lines up at quarterback and receiver?
Devin Hester
of the
Chicago Bears
would be the closest comparison, because plays some special teams and is a full-time receiver. According to a
report in the Cleveland Plain Dealer
, Hester averages $5.45 million per season. Others returner/receivers like
Andre Davis
of the
Houston Texans
and
Roscoe Parrish
of the
Buffalo Bills
average $4.3 and $3.2 million per year, respectively.
---
Jordan from Annapolis, MD
wants to know if the
Baltimore Ravens
would show interest in Cribbs.
Walker:
At this point, I doubt Cleveland wants anything to do with trading Cribbs, Jordan. But in the event the Browns make a move, Baltimore would be the last team on their list. Cleveland would rather Cribbs sit a year than play for a division rival.
---
Jon Douglass from Murfreesboro, TN
writes: James, I am curious about your thoughts on Cleveland bringing in Mike Holmgren and what the future may hold for the Browns?
Walker:
This was a great move for the Browns, Jon. This team finally has an experienced, proven leader in the building who brings instant credibility to Cleveland. Holmgren should make the Browns better, but he has a big climb ahead of him. The Steelers and Ravens do not make a lot of mistakes when it comes to personnel. So they're consistently in the running to win the AFC North. In addition, the Bengals right now are on the upswing. So Holmgren has little room for error if he aims to catch up, pull the Browns out of the basement, and reach the top of the division.
May, 18, 2009
5/18/09
5:49
PM ET
Posted by ESPN.com's James Walker
Former Pro Bowl kick returner Joshua Cribbs outperformed his contract and said the team promised to renegotiate his deal.
The Cleveland Browns have new leadership that didn't make any promises and does not feel the need to honor promises by the old regime.
Are both sides correct?
The Cribbs-Browns contract debate is a tricky one that sometimes happens in the NFL. A player is unhappy, the team promises to take care of that player down the road, then the old front office is fired and everything falls by the wayside.
Cribbs and his representatives say the team agreed in good faith to rework his deal if Cribbs quietly played out the 2008 season, which Cribbs did. Cleveland, on the other hand, sent a release Monday stating "no one from the current Browns organization, including owner Randy Lerner, has made any promises to Josh Cribbs with regard to his contract status."
The keyword in that statement is "current."
It doesn't mean Cribbs didn't receive someone's word. It just means the people who likely gave Cribbs their word are no longer employed in Cleveland.
Cribbs is reportedly scheduled to earn $645,000 this year. Other return specialists (Devin Hester and Roscoe Parrish) make much more. Yet new coach Eric Mangini and first-year general manager George Kokinis would like to keep Cribbs at a bargain rate.
Is it Kokinis' responsibility to uphold something former general manager Phil Savage may have said last summer? That's a tough question with many layers.
For now, Cleveland's offseason program is voluntary. So you're probably not going to see either side bend in the coming weeks. But, at some point, one side may have to do something they're uncomfortable with, whether it's playing through an empty promise or agreeing to fulfill someone else's statement.