August, 7, 2010
8/07/10
10:00
PM ET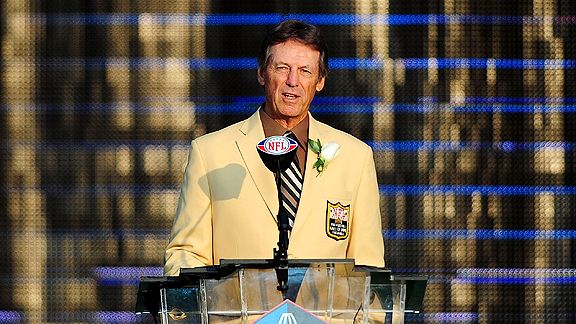 Andrew Weber/US PresswireDick LeBeau cherished his moment at the podium. "Life is a gift. It's a joy," he said.
CANTON, Ohio --
Pittsburgh Steelers
head coach Mike Tomlin and president Art Rooney II stood side-by-side as dozens of players behind them gradually stepped off the team's buses.
Each player carried a Terrible Towel as he entered Fawcett Stadium. Many Steelers smiled as one of their own -- a coach, a mentor, and in some ways a father figure -- was about to enter football immortality.
It was a joyous and celebratory day for Dick LeBeau. The longtime Steelers defensive coordinator and former Pro Bowl cornerback with the
Detroit Lions
received his Hall of Fame bust Saturday after recording 62 career interceptions and becoming one of the greatest defensive minds in football history.
"It's very special," Steelers defensive end
Aaron Smith
said. "He's done more for me as a person off the field than he could ever do with me on the field. It's just an honor."
LeBeau joined an outstanding 2010 Hall of Fame class that also included Jerry Rice, Emmitt Smith, John Randle, Russ Grimm, Rickey Jackson and Floyd Little. LeBeau went in as a Lions player, but Saturday's induction had more of a Steeler Nation feel to it.
[+] Enlarge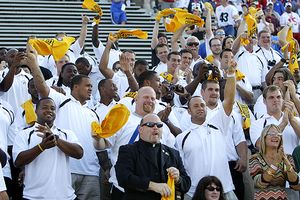 AP Photo/Mark DuncanMembers of the Pittsburgh Steelers cheered on Dick LeBeau on Saturday.
Steelers coaching staff and players made the trip from training camp in Latrobe, Pa., to support and honor LeBeau. They proudly stood in a roped-off section to the left of the stage and waved their Terrible Towels.
LeBeau's brother, Bob, introduced him and soaked in every moment.
"Man, this really is a great day to be alive!" Dick LeBeau said.
Dick LeBeau spent most of his adult life making life hard on quarterbacks. His 62 picks are eighth all time. His invention of the zone blitz defense also led the Steelers to two Super Bowl titles, making him arguably the greatest assistant coach in NFL history.
One of the first things LeBeau did Saturday was give credit to his players, which is something he does frequently. His wisdom and youthful energy have helped him relate to players during his coaching career.
In typical LeBeau fashion, he credited many of the people who shaped his career and contributed to his success. The Steelers hung on LeBeau's every word during his speech and were equally complimentary.
Some Pittsburgh players have been to Canton to participate in the Hall of Fame Game, but this was the first time many got to enjoy the ceremony.
"It's great to be a part of this induction," Steelers cornerback
Bryant McFadden
said. "It's a lot different actually getting to see this and celebrate it. For us this is very important."
LeBeau, 72, is coaching on a year-to-year basis with Pittsburgh. But his legend and contribution to football for more than 50 years were officially solidified Saturday night.
Showing his wisdom and charm, LeBeau left the crowd at Fawcett Stadium with a strong message.
"Life is for living, folks," LeBeau said. "Don't let a number be anything other than a number. Don't let somebody tell you that you're too old to do this or too old to do that. Stay in life. Life is a gift. It's a joy. Don't drop out of it."
March, 15, 2010
3/15/10
4:42
PM ET

Here is a memo to
Cincinnati Bengals
fans: Tickets for the Hall of Fame Game between Cincinnati and the
Dallas Cowboys
will go
on sale Tuesday
.
The game, which is the first exhibition of the 2010 season, will be held at Fawcett Stadium in Canton, Ohio, on Aug. 8. Tickets range from $47 to $62.
Cincinnati facing off against Dallas will be one of the many events scheduled for this year's Hall of Fame ceremony. The 2010 class consists of Dick LeBeau, Jerry Rice, Emmitt Smith, Russ Grimm, Rickey Jackson, Floyd Little and John Randle.
February, 6, 2010
2/06/10
7:43
PM ET
One of the top centers of all-time will continue to play the waiting game.

Dawson
Thirteen-year
Pittsburgh Steelers
offensive lineman
Dermontti Dawson
, who made seven consecutive Pro Bowls from 1992-98, was once again passed over for the Hall of Fame. This was the sixth consecutive time he failed to make it to Canton since becoming eligible in 2005.
Dawson made the cut
from 15 to 10 finalists this year. But Dawson wasn't part of
the five inductees
that included
Jerry Rice
,
Emmitt Smith
, Russ Grimm,
John Randle
and
Rickey Jackson
. Senior nominees Dick LeBeau and Floyd Little also are part of the 2010 class.
This year was perhaps the closest Dawson came to making the Hall of Fame. He also was a finalist in 2008 and a semifinalist in 2005, 2006, 2007 and 2009.
There is an impressive backlog of players currently not in the Hall of Fame. In addition to Dawson, strong candidates such as
Cris Carter
,
Cortez Kennedy
,
Richard Dent
,
Andre Reed
,
Charles Haley
,
Tim Brown
and
Roger Craig
were all rejected this year alone.
Several more impressive candidates such as
Marshall Faulk
,
Deion Sanders
,
Jonathan Ogden
and
Jerome Bettis
also will be eligible very soon. That will further congest the Hall of Fame voting process, which doesn't help Dawson's candidacy.
January, 28, 2009
1/28/09
9:36
AM ET
Posted by ESPN.com's Mike Sando and James Walker
TAMPA, Fla. -- Here's hoping Super Bowl XLIII between the Cardinals and Steelers is as competitive as our latest playoff debate between divisional bloggers.
From the big-game exploits of Kurt Warner and Ben Roethlisberger to Larry Fitzgerald's chances against the Steelers' top-ranked defense, we've got this matchup covered.


We're also picking winners and final scores, so pull up a chair.
How much of an advantage do Arizona Cardinals coaches Ken Whisenhunt and Russ Grimm enjoy in going against their former team?
James Walker: This has been a major topic for the Super Bowl, and much of it has been overblown in terms of X's and O's. With the amount of movement with coaches and players in the NFL, this situation happens more than people realize. In this instance, it's leading up to the biggest game of the year, so a lot more attention is being brought to it. But the biggest edge for Whisenhunt and Grimm is the knowledge of tendencies. They know what routes Roethlisberger likes to throw on third down, for instance. They could be aware that defensive coordinator Dick LeBeau blitzes more from the blindside because it causes quarterback fumbles. It's things that go a little deeper than the playbook. Arizona's coaching staff can game plan off those tendencies and try to put players in the right positions. But other than that, execution on the field is going to have a bigger impact in this game.
Mike Sando: The Cardinals should benefit from enhanced knowledge of the Steelers' personnel, specifically Roethlisberger. Whisenhunt will know better than most what bothers Roethlisberger and how to make him uncomfortable. That knowledge probably served the Cardinals well when they beat the Steelers last season.
| | |
| --- | --- |
| | |
| | Chris Graythen/Getty Images |
| | Cardinals receiver Larry Fitzgerald has been virtually unstoppable in the postseason. |
Roethlisberger completed only 53 percent of his passes with two interceptions in that game, and that was before the Cardinals had a cover cornerback as gifted as
Dominique Rodgers-Cromartie
. I'm sure Roethlisberger and the Steelers learned from that encounter, so the Cardinals' familiarity might not help as much this time.
Can the Steelers' top-rated defense slow Cardinals receiver Larry Fitzgerald, when no one else has this postseason?
James Walker: The key word in this question is "slow," because Fitzgerald is on a historic pace in the postseason and no team will all of a sudden shut him down. But relatively speaking, Pittsburgh's top-rated defense has as good a chance as anyone to give Fitzgerald problems. The Steelers allowed a league-low 156.9 yards passing per game in the regular season. They did it by taking away opponents' No. 1 receiving threat and sacking the quarterback. I expect Pittsburgh to come up with a scheme that pretty much says "Arizona, we're going to see if anyone other than Fitzgerald can beat us today." He will probably see double teams. It could also include constant shadowing by Pittsburgh cornerback Ike Taylor. The Steelers would want nothing more than for Warner to constantly look in the direction of someone other than Fitzgerald. That's why this Anquan Boldin story line is so huge.
Mike Sando: How quickly we forget. Boldin did not play when the Steelers and Cardinals squared off in 2007. Fitzgerald finished that game with 10 catches for 120 yards. The Cardinals won, 21-14. I keep expecting these playoff defenses to do something -- anything -- to take away Fitzgerald. If LeBeau and that Steelers defense cannot do it, nobody can. I know Jim Johnson and the Eagles expected more from their defense in the NFC Championship Game. Perhaps the extra week of preparation will help LeBeau and staff find a way. I'll believe it when I see it.