AFC North:

Ryan Pontbriand
November, 29, 2011
11/29/11
4:37
PM ET
Here are some happenings from around the division:
BENGALS
: The team announced that outside linebacker
Keith Rivers
will remain on the Reserve/Non-Football Injury list, which ends his season. Rivers, the ninth overall pick of the 2008 draft, underwent wrist surgery in July. This doesn't come as a surprise to the Bengals, who signed veteran
Thomas Howard
as his replacement before the season. It will be interesting to see who the Bengals start at outside linebacker next season because Howard has been a strength of the defense this year.
BROWNS
: The team waived struggling long-snapper
Ryan Pontbriand
after he cost the Browns chances at two victories over the past three games, according to
The Cleveland Plain Dealer
. Pontbriand, 32, was the second-longest tenured Browns player on the roster (kicker
Phil Dawson
ranks first). According to
The Plain Dealer
, Christian Yount (2011 undrafted rookie out of UCLA) is the new long snapper. The team also placed linebacker Scott Fujita and defensive end Emmanuel Stephens on injured reserve.
RAVENS
: While it's not a major addition, the team signed center Cecil Newton to its practice squad. The interesting part of the move is the fact that Newton is the older brother of Carolina rookie quarterback
Cam Newton
. Cecil Newton went undrafted out of Tennessee State and originally signed with Jacksonville. In other news, the Ravens claimed defensive back Emmanuel Cook after getting waived by the Jets.
STEELERS
: Head coach Mike Tomlin told reporters that he intends to use both
Emmanuel Sanders
and
Antonio Brown
as punt and kickoff returners. Sanders took all four kickoff returns Sunday night, averaging a forgettable 19.3 yards per runback. "We've done it less this year, primarily due to the health of Emmanuel," Tomlin said today on rotating Sanders and Brown as returners. "He appears to be moving in the right direction in regards to that. So we just want to keep both of those men in play, not only as kickoff return men but punt return men as well."
November, 27, 2011
11/27/11
4:35
PM ET
Thoughts on the
Cincinnati Bengals
' 23-20
win
over the
Cleveland Browns
:


What it means
: The Bengals (7-4) remained in the thick of the playoff hunt with their fourth fourth-quarter comeback of the season. After not leading for the first 59 minutes of the game, Cincinnati won the game on
Mike Nugent
's 26-yard field goal with 38 seconds remaining. The Bengals rebounded from a two-game losing streak by scoring the final 13 points against Cleveland. The Browns (4-7) lost their eighth straight AFC North road game.
Key play
: The decisive moment in this hard-fought game was
A.J. Green
's 51-yard leaping catch-and-run over the middle that put the Bengals inside the Browns' 10 with one minute left. It came against
Joe Haden
, the AFC North's best cornerback, and converted a third-and-8. This led to Nugent's short game winner. Green finished with 110 yards on three catches.
Benson bashes Browns
: Benson continued his success against the Browns and became the latest running back to gain more than 100 yards against them. He finished with 130 total yards, gaining most of them on the left side. His 16-yard touchdown run tied the game at 7 in the first quarter.
Bad snap ... again
: The Browns missed their opportunity to break the tie with 1:51 left in the game, but
Ryan Pontbriand
's bad snap caused
Phil Dawson
's 55-yard field goal attempt to fall short. It was Pontbriand's bad snap two weeks ago that led to another missed go-ahead field goal in a 13-12 loss to St. Louis.
Browns' defense steps up in first half
: Cleveland took a 17-7 halftime lead because of its defense. The Browns made a goal-line stand in the first quarter and forced
Andy Dalton
's first fumble of the season, which led to the Browns' second touchdown of the game.
Jabaal Sheard
forced the turnover.
Hillis returns
: Browns running back
Peyton Hillis
ran hard in his first game back after missing five straight with a hamstring injury. He made a bigger impact than expected, rushing for 57 yards on 15 carries.
Browns end drought
: Cleveland scored its first first-quarter touchdown when
Colt McCoy
hit
Jordan Norwood
for a 24-yard pass in the end zone.
What's next
: The Bengals travel to Pittsburgh just a couple of weeks after losing to the Steelers at home. The Browns play host to the Ravens next Sunday.
January, 28, 2010
1/28/10
12:30
PM ET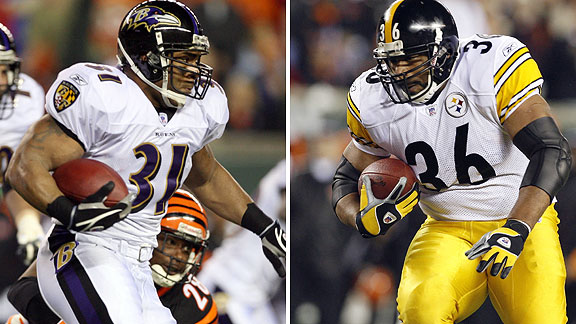 Matthew Emmons/US PresswireRunning backs Jamal Lewis and Jerome Bettis combined to rush for 15,806 yards during the 2000s.
The AFC North earned three Super Bowl titles this past decade, which means there were plenty of great players in the division over that span.
Here is our AFC North all-decade team.
Quarterback:
Ben Roethlisberger
(
Pittsburgh Steelers
)
Analysis:
You can really start and stop this argument with Roethlisberger's two Super Bowls wins in the decade. In terms of starting quarterbacks, Roethlisberger trails only the
New England Patriots
'
Tom Brady
, who won three titles in the decade. Outside of
Carson Palmer
of the
Cincinnati Bengals
, no one was even remotely close for consideration, unless you wanted to reach for quarterbacks who had one or two good seasons in the decade, such as Kordell Stewart,
Joe Flacco
or
Derek Anderson
.
Other considerations:
Palmer (Bengals)
Running backs:
Jamal Lewis
(
Cleveland Browns
/
Baltimore Ravens
) and
Jerome Bettis
(Steelers)
Analysis:
Typical of the AFC North, our all-decade backfield is as physical and heavy duty as it gets. Lewis, who retired after the 2009 season, registered 10,607 total rushing yards as a member of the Browns and Ravens. He had a 2,000-yard season with Baltimore in 2003. Bettis played six seasons (2000-05) in the decade with the Steelers and rushed for 5,199 yards in that span. Both players won Super Bowls and will be considered for the Hall of Fame. Although we don't have a traditional fullback, Bettis is versatile and big enough for the position.
Other considerations:
Willie Parker
(Steelers),
Rudi Johnson
(Bengals)
[+] Enlarge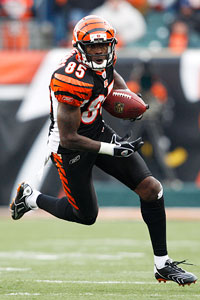 Frank Victores/US PresswireChad Ochocinco is just 48 yards short of reaching 10,000 career receiving yards.
Receivers:
Chad Ochocinco
(Bengals) and
Hines Ward
(Steelers)
Analysis:
We have a good mix at receiver. Ochocinco came to Cincinnati as a raw second-round pick who worked his way to become a six-time Pro Bowler and one of the biggest personalities in the NFL. Ward, a four-time Pro Bowler in the decade, was a former college quarterback who now is one of the toughest and smartest players in the league.
Other considerations:
T.J. Houshmandzadeh
(Bengals),
Derrick Mason
(Ravens)
Tight End:
Todd Heap
(Ravens)
Analysis:
When you look at the total numbers over the past decade, Heap was the clear choice as the top tight end in the division. Heap caught 427 passes over that span and made two Pro Bowls. Pittsburgh's
Heath Miller
, who has 244 receptions, is two years younger and may eventually match Heap's production. But Heap has the better numbers to date. Former Browns tight end
Kellen Winslow
Jr. also put up impressive numbers in just three full seasons with Cleveland.
Other considerations:
Miller (Steelers), Winslow Jr. (Browns)
Offensive line:
OT
Jonathan Ogden
(Ravens), OT
Willie Anderson
(Bengals/Ravens), G
Eric Steinbach
(Browns/Bengals), G
Alan Faneca
(Steelers), C
Jeff Hartings
(Steelers)
Analysis:
Besides leaving off three-time Pro Bowler
Joe Thomas
, putting the offensive line together was easier than I thought. Anderson of the Bengals got the edge over Thomas for two reasons: He's a natural right tackle and played nine years last decade at a high level. Thomas, with just three years, doesn't have the same longevity.
Other considerations:
OT Thomas (Browns), OT
Levi Jones
(Bengals), C
Rich Braham
(Bengals)
Specialists:
K
Matt Stover
(Ravens), P
Chris Gardocki
(Steelers/Browns), KR
Josh Cribbs
(Browns), LS
Ryan Pontbriand
(Browns)
Analysis:
Stover made the Pro Bowl in 2000, and his 93.3 field goal percentage in 2006 led the NFL. He's been consistent for a very long time, which is all you ask from kickers. Gardocki and
Dave Zastudil
is a toss up. But Gardocki led the NFL in punts two years in a row (2000 and 2001) as well as punting yards in 2000. Zastudil cannot boast those claims. Cribbs was a no-brainer, and teammate Pontbriand made two Pro Bowls as Cleveland's long-snapper.
Other considerations:
K
Phil Dawson
(Browns), K
Jeff Reed
(Steelers), P Zastudil (Ravens/Browns),
B.J. Sams
(Ravens)
Defense line:
Casey Hampton
(Steelers),
Aaron Smith
(Steelers),
Justin Smith
(Bengals)
Analysis:
It's only fair that the AFC North all-decade defense runs a 3-4 scheme. Since 2001, Hampton has embodied what a 3-4 nose tackle looks like and plays like. He has five Pro Bowls in the decade, including this past season. Aaron Smith also is a prototype for 3-4 defensive ends. He's always put personal numbers aside so other defenders in Pittsburgh could flourish. Justin Smith of Cincinnati never quite lived up to his lofty draft status. But he was a consistent player for the Bengals.
Other considerations:
DT
Kelly Gregg
(Ravens), DE
Kimo von Oelhoffen
(Steelers), DE
Trevor Pryce
(Ravens)
[+] Enlarge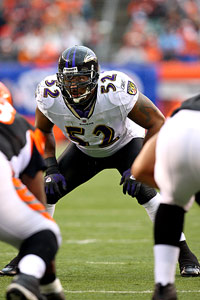 Tom Szczerbowski/US PresswireRay Lewis was the AP Defensive Player of the Year in 2000 and 2003.
Linebackers:
ILB
Ray Lewis
(Ravens), ILB
James Farrior
(Steelers), OLB
Joey Porter
(Steelers), OLB
Terrell Suggs
(Ravens)
Analysis:
You can win a lot of games with this group. You have intelligence and physicality in the middle, and plenty of pass-rush ability on the outside. Lewis, a future Hall of Famer, is the captain and emotional leader of the all-decade defense. Farrior also has the smarts to keep everyone in line, while Suggs and Porter can fly around and wreak havoc on the quarterback. There were several very good candidates at outside linebacker. But Porter and Suggs were dominant forces in the AFC North for a longer period.
Other considerations:
OLB
James Harrison
(Steelers), OLB
Adalius Thomas
(Ravens)
Defensive backs:
CB
Chris McAlister
(Ravens), CB
Ike Taylor
(Steelers), S
Troy Polamalu
(Steelers), S
Ed Reed
(Ravens)
Analysis:
Polamalu and Reed are two of the all-time great safeties, so there is no debate there. Also, fans may recently remember the aging and injured McAlister who was cut by the Ravens last year. But at one point "C-Mac" was the most physically dominant cornerback in the division. Taylor won two Super Bowls with the Steelers and is the best of what's left at cornerback. I also considered
Anthony Henry
, who played in Cleveland for four years during the decade and had one stellar season when he led the NFL with 10 interceptions in 2001.
Other considerations:
CB Henry (Browns), S
Rod Woodson
(Ravens)
May, 6, 2009
5/06/09
4:00
PM ET
Posted by ESPN.com's James Walker
Rich from Bellevue, WA writes: What exactly goes on at a minicamp? If they don't have real contact, what do they do? You mentioned that you can't assess offensive linemen because there's no contact, so what *do* the o-linemen do? Or the d-linemen, for that matter?
James Walker: Good question, Rich. Minicamp is mostly for learning the playbook and teaching assignments. It's very much like a weekend-long walkthrough, where players only wear helmets. Much of it is full speed but there's is no tackling. Offensive and defensive linemen basically make sure they're in their right spots and know their assignments on a given play. The best gauge for these camps are with the skill players, such as the quarterbacks, receivers, linebackers and secondary.
---
Ethan from Versailles, KY writes: Hey do you think with the protection the Bengals have now for Carson from Andre Smith and the young defense with the pickup of Rey, can Carson and Cincinnati get their name back to the top of the division?
James Walker: Ethan, I put the Cincinnati Bengals on sleeper watch for 2009 because of their talent and the return of quarterback Carson Palmer. A lot of people laughed at the time, but more people are now paying attention. Smith definitely helps the offensive line. His game tape is solid, and if he brings that level of play to the Bengals next season he will have a good rookie year. Their center position still worries me, though. I question if the Bengals will get enough protection and push up the middle when they play the better teams in the division like the Baltimore Ravens and Pittsburgh Steelers. How the Bengals compete in those four games could be the difference in their 2009 season. Rey Maualuga has first-round talent, and I'm interested to see where and how Bengals defensive coordinator Mike Zimmer will use him.
---
Scott from College Park, Md. writes: Hello Mr. Walker, I enjoy your blog and I can legitimately say I understood your use of the term "camp fodder" in reference to the Steelers' undrafted free agents. Likewise, I was wondering what you thought about the guys the Ravens have signed? Do you think Dannell Ellerbe or Graham Gano are likely to contribute, and or is the answer still pretty much "camp fodder"?
James Walker: Every team has a different set of circumstances, Scott. For the Ravens, there are fewer rookie draft picks and more opportunities. For instance, Gano may have about a 50-50 chance to win the kicker job. His competition is Steve Hauschka, who is unproven. Anyone who plays inside linebacker also will have a shot with the departure of Bart Scott. So look for more interesting stories from the rookie free agents in Baltimore. I will get a closer look at them later this week during the Ravens' full-squad minicamp.
---
William from New Brighton, Pa. writes: What's up James? Love the blog, daily reader here. Anyways, how do you think the Steelers are going to come into the season with our third receiver? Obviously, I should think it has to be Sweed, but I really like 3 rounder Mike Wallace in that spot.
James Walker: Thanks, William. I really liked what I saw from Limas Sweed in minicamp last week. He had one of the most productive camps, and if he stays healthy I think he's going to win the No. 3 receiver job and make good strides in his second season. Sweed's biggest competition is veteran receiver Shaun McDonald, who was just signed last week. Wallace has tremendous speed, but I need to see more of him at this point, particularly once everyone starts hitting in full pads.
---
Joseph from Columbus writes: With Mangini focused on versatile players, what do you think the fate of long snapper Ryan Pontbriand is? As a Pro Bowler, do you think he is worth a roster slot?
James Walker: Don't worry, Joseph. Pontbriand is safe. Eric Mangini likes versatility. But he's not going to cut one of the few legitimate Pro Bowlers left on the team because Pontbriand can't play left tackle, outside linebacker or tight end.