March, 4, 2010
3/04/10
9:48
AM ET

Baltimore Ravens
Potential unrestricted free agents
: DL
Justin Bannan
, DL
Dwan Edwards
, CB
Corey Ivy
, WR
Derrick Mason
, TE
L.J. Smith
, WR
David Tyree
, CB
Frank Walker
, WR
Kelley Washington
Potential restricted free agents:
OT
Jared Gaither
, K
Billy Cundiff
, S
Dawan Landry
, CB
Fabian Washington
, P
Sam Koch
, OG
Chris Chester
, QB
John Beck
, QB
Troy Smith
, OT
Tony Moll
, FB
Le'Ron McClain
, LB
Prescott Burgess
, WR
Mark Clayton
, WR
Demetrius Williams
Franchise tag:
None
What to expect:
The Ravens have a ton of quality free agents. It will be interesting because Baltimore is the only division team which has to abide by the "
Final Eight Plan
" for making the divisional playoffs. This will restrict Baltimore from making a lot of moves. Therefore, expect the team to keep most of its key restricted free agents while trying to explore the trade market. On the unrestricted side, the Ravens are negotiating with receiver Derrick Mason and are expected to keep him. But two players who could get some interest in the open market are defensive linemen Dwan Edwards and Justin Bannan. Baltimore likes both players but could lose at least one.

Cincinnati Bengals
Potential unrestricted free agents
: K
Shayne Graham
, FB
Jeremi Johnson
, RB
Larry Johnson
, DT
Tank Johnson
, TE
Reggie Kelly
, OG
Bobbie Williams
, S
Roy Williams
, TE
J.P. Foschi
Potential restricted free agents:
LB
Brandon Johnson
, LB
Rashad Jeanty
, OL
Evan Mathis
, C
Kyle Cook
, DE
Frostee Rucker
, CB
David Jones
, LB
Abdul Hodge
, QB
Jordan Palmer
, TE
Daniel Coats
, DT
Shaun Smith
Franchise tag:
None
What to expect:
The Bengals have yet to announce their tenders, so this list could change by Thursday evening. But traditionally they are not big spenders in free agency and will stay true to that even with an uncapped year. Cincinnati could make one or two decent outside signings that may help the team. Finding a receiver would be the most likely target. The most interesting in-house name is offensive guard Bobbie Williams, who likely will test the market. Bengals defensive coordinator Mike Zimmer also would like to keep veteran Roy Williams and Tank Johnson. But the team hasn't made a major push for either player before they're let loose Friday.

Cleveland Browns
Potential unrestricted free agents:
WR
Mike Furrey
, TE
Michael Gaines
, OG
Rex Hadnot
, CB
Hank Poteat
, OL
Ryan Tucker
, OG
Billy Yates
Potential restricted free agents:
RB
Jerome Harrison
, LB
D'Qwell Jackson
, FB
Lawrence Vickers
, S
Brodney Pool
, S
Abram Elam
, DE
Matt Roth
Franchise tag:
None
What to expect:
Cleveland has the money to spend and the biggest talent deficit. So look for the Browns to attempt to make up ground in free agency. Major names like defensive end
Julius Peppers
and tailback
Thomas Jones
have been mentioned as possibilities for Cleveland, but that remains to be seen. Internally, the Browns should be interested in keeping Harrison and Vickers in their backfield. Jackson also has value. None of their unrestricted players are priorities for the team and will be allowed to hit free agency.

Pittsburgh Steelers
Potential unrestricted free agents:
QB
Charlie Batch
, LB
Rocky Boiman
, S
Tyrone Carter
, S
Ryan Clark
, DE
Nick Eason
, WR
Joey Galloway
, DE
Travis Kirschke
, RB
Willie Parker
, CB
Deshea Townsend
, FB
Carey Davis
, OG
Darnell Stapleton
Potential restricted free agents:
OT
Willie Colon
, CB
William Gay
, P
Daniel Sepulveda
, TE
Matt Spaeth
Franchise tag:
K
Jeff Reed
What to expect:
The Steelers are pretty predictable. Pittsburgh intends to keep all of its restricted free agents, get a long-term deal complete with Reed, who has the franchise tag, and let nearly all of their unrestricted free agents test the market. The exception is Clark, who the Steelers targeted as a priority but has yet to reach a long-term extension before Friday's deadline. Negotiations have been ongoing and should go to the final hour to decide whether both sides can come to an agreement or allow Clark to test the market.
February, 15, 2010
2/15/10
1:00
PM ET
»
AFC Free Agency
:
East
|
West
|
North
|
South
»
NFC
:
East
|
West
|
North
|
South
An early look at the free-agent situation in the AFC North.
Note
: These projected lists reflect notable unrestricted free agents for each team. The NFL will not issue an official list of free agents until the signing period begins March 5.
Baltimore Ravens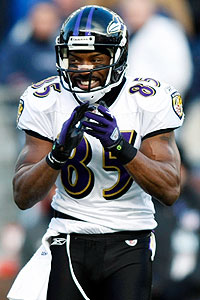 Greg M. Cooper/US PresswireThe Ravens' already-thin receiving corps will take a big hit if Derrick Mason retires.
Unrestricted free agents: DL
Justin Bannan
, K
Billy Cundiff
, DL
Dwan Edwards
, CB
Corey Ivy
, WR
Derrick Mason
, TE
L.J. Smith
, WR
David Tyree
, CB
Frank Walker
, WR
Kelley Washington
Key figures:
Derrick Mason is contemplating retirement. But if he wants to play, the Ravens have every intention of keeping their leading receiver. Look for Baltimore also to make a push for another significant addition at receiver to assist the development of budding quarterback
Joe Flacco
. Sleeper players on this list include the two defensive linemen: Justin Bannan and Dwan Edwards. The Ravens like both players and will probably make a push to keep at least one on the roster. Baltimore also lacks cornerback depth and might elect to bring back Frank Walker, despite his penchant for giving up big plays and committing penalties.
Cincinnati Bengals
Unrestricted free agents:
K
Shayne Graham
, FB
Jeremi Johnson
, RB
Larry Johnson
, DT
Tank Johnson
, TE
Reggie Kelly
, DT
Shaun Smith
, OG
Bobbie Williams
, S
Roy Williams
Key figures:
Bobbie Williams is an interesting name. He's one of Cincinnati's most consistent offensive linemen over the last several years, but he turns 34 in September. Kicker Shayne Graham, who was franchised last season, had a solid career in Cincinnati. But he missed kicks in big spots, potentially ending his run with the Bengals. Running back Larry Johnson was third string in Cincinnati and should get more playing time elsewhere in 2010.
Cleveland Browns
Unrestricted free agents:
WR
Mike Furrey
, TE
Michael Gaines
, OG
Rex Hadnot
, CB
Hank Poteat
, OL
Ryan Tucker
, OG
Billy Yates
Key figures:
This is not an impressive list as most of Cleveland's key free agents -- such as
Jerome Harrison
,
Lawrence Vickers
and
D'Qwell Jackson
-- are restricted. Mike Furrey is a high-character player that coach Eric Mangini likes on his football team, and he might be retained. The remaining players on this list likely will hit the open market. The Browns have an interesting decision to make with Harrison, who led the team in rushing after a tremendous second half of the 2009 season. Harrison could garner some interest as a restricted free agent if the Browns do not offer a high enough tender.
Pittsburgh Steelers
Unrestricted free agents:
QB
Charlie Batch
, LB
Rocky Boiman
, S
Tyrone Carter
, S
Ryan Clark
, DE
Nick Eason
, WR
Joey Galloway
, NT
Casey Hampton
, DE
Travis Kirschke
, RB
Willie Parker
, K
Jeff Reed
, CB
Deshea Townsend
Key figures:
The Steelers are aiming to keep most of their key veterans, while infusing some youth through the draft. All indications are the team will offer extensions to safety Ryan Clark and kicker Jeff Reed. Pro Bowl nose tackle Casey Hampton is the biggest name on this list. But he's a strong candidate for the franchise tag, because there is no full-time replacement on the roster. This offseason probably will mark the end of tailback Willie Parker's tenure in Pittsburgh. Parker, 29, helped lead the Steelers to two Super Bowl wins during his career. But various ailments since initially breaking his leg in 2007 hampered his production.
August, 17, 2009
8/17/09
1:00
PM ET
| | |
| --- | --- |
| | |
| | Matthew Emmons/US Presswire |
| | Derek Anderson, left, and Brady Quinn continue to battle for the starting QB job. |
Posted by ESPN.com's James Walker
BEREA, Ohio -- It takes only one training camp session to notice who's the new boss of the Cleveland Browns.
Eric Mangini's presence already looms large in Cleveland. Whether it's the improved practice habits, the meticulous charting of plays and game situations, or the constant running of laps after mental errors, the new Browns coach has quickly placed his fingerprints all over this team heading into the 2009 season.
Cleveland is trying to bounce back from an abysmal 4-12 record last year. Most players returning from last season are coming off the worst individual performances of their careers, and part of Mangini's job is to get the best out of them as well as the new additions.
"Nobody cares what anybody did last year," Browns offensive lineman Ryan Tucker said of the team's approach.
But Cleveland still has a lot of issues to address in its first year under new leadership.
Key Questions
1. Who is the starting quarterback?
The Browns have been searching for their franchise quarterback since returning to the NFL in 1999. A decade later there is another controversy at the position involving former Pro Bowler Derek Anderson and 2007 first-round pick Brady Quinn.
Preseason games are going to be huge for these two, and Quinn has jumped out to an early lead with a moderate performance Saturday against the Green Bay Packers. He completed 7 of 11 passes for 68 yards and an interception in a 17-0 defeat, while Anderson didn't fare nearly as well, going 0-for-2 with an interception.
Fantasy Football: 32 Questions

AJ Mass on the Browns' QB situation. Bottom line: It doesn't matter to fantasy owners which QB wins the starting job. Neither guy would be worth starting in fantasy. Story

Mangini says he won't make this decision hastily and will stick with his choice once the decision is made. But based on the offensive system and some early signs, a lot is pointing to the Browns going with Quinn to start the regular season.
2. Will players buy into Mangini's system?
It's no secret that former Browns coach Romeo Crennel was considered a "nice-guy coach." But in four years, that approach didn't work as the team finished with three losing seasons in that span.
| | |
| --- | --- |
| | |
| | Gregory Shamus/Getty Images |
| | New Browns coach Eric Mangini brings a different style of coaching to Cleveland. |
Therefore, the Browns went in the opposite direction in hiring Mangini, who is a stern disciplinarian. At the very least, Mangini expects to clean up some of the lazy mistakes that permeated the team.
There was some butting of heads initially, but at least publicly there haven't been any major dust-ups between Mangini and his players in training camp. It's still questionable if all the players will completely buy into Mangini's disciplinarian approach. Victories probably will be the biggest determining factor of whether everyone stays on board long term.
3. Can the defense improve?
The Browns haven't done many things well defensively the past several seasons. But Mangini and new defensive coordinator Rob Ryan feel they have some answers.
Perhaps the biggest wrinkles that are noticeable in training camp have been added to the pass rush. Ryan is not afraid to bring extra defenders at the expense of exposing his secondary. That is something Cleveland was leery of doing in the past.
Free-agent pickups such as safety Abram Elam and linebackers Eric Barton and David Bowens -- all former New York Jets -- know Mangini's system well and are helping the rest of the defense ease the transition. In the early going, Cleveland's defense looks like the strength of this team.
Market watch
The talent has always been there, but for various reasons receiver Braylon Edwards
has had an up-and-down career in Cleveland.
Edwards got off to a slow start in his first two years because of injuries and rookie mistakes. Then he exploded in 2007 with 80 catches, 1,289 yards and 16 touchdowns. But Edwards faltered again last season by leading the NFL in drops and catching only 55 passes and three touchdowns.
The Browns are counting on the 2007 Edwards to show up this season. This summer he has been the most dominant offensive player in training camp by making spectacular catches look routine. But he did have one drop Saturday in the preseason opener against the Packers.
Much of Edwards' production this year will rely on which quarterback can get him the football. But playing in a contract year, Edwards looks motivated to produce whenever opportunities come his way.
Newcomer to watch
The first draft pick of the Mangini era in Cleveland naturally will have pressure to perform, and that is certainly the case this year with rookie center Alex Mack. The Browns traded down in the first round to select Mack with the No. 21 overall pick.
| | |
| --- | --- |
| | |
| | Gregory Shamus/Getty Images |
| | The Browns are hoping to get early contributions from Alex Mack. |
So far, Mack has been inconsistent in training camp. The Browns are throwing a lot at him mentally and physically. As the center, he has to be aware of all things on offense. In competing with veteran Hank Fraley, Mack also is getting a lot of reps with the second team and is going against Pro Bowl defensive tackle Shaun Rogers, who is dominating most of their one-on-one matchups.
But the Browns are hoping Mack's battles with Rogers help him in the long run when he faces equally stout challenges in the AFC North such as Casey Hampton, Kelly Gregg, Haloti Ngata and Domata Peko.
Observation deck
A crowded field is competing for the No. 2 receiver job opposite Edwards. Rookies Mohamed Massaquoi and Brian Robiskie and veterans Josh Cribbs, David Patten and Mike Furrey are all getting reps at that position. Massaquoi has been the most consistent receiver this summer, but Cribbs also has made a push with a solid preseason opener. ... Rookie tailback James Davis has been one of the early surprises in training camp. The sixth-round pick from Clemson has shown good vision and a burst that may be able to help spell veteran Jamal Lewis. ... Kicker Phil Dawson and Cribbs both are unhappy with their current contracts. But things have been very quiet on that front and it's unknown if the team would be willing to renegotiate with either player before the start of the season.
November, 1, 2008
11/01/08
1:20
PM ET
Posted by ESPN.com's James Walker

Tucker
The Cleveland Browns lost one of their top offensive linemen Saturday when they placed right guard/tackle Ryan Tucker on injured reserve. Tucker missed the beginning of the season following hip surgery then suffered a knee injury after his return that eventually ended his season.
Tucker, a 12-year veteran, had been one of the most durable linemen for the Browns until this season. He is expected to have his knee scoped next week, according to the team.
"I'm looking forward to getting my body completely healthy and returning to play in 2009," Tucker said in a statement. "This has been a tough process, first working my way back from a hip fracture and now having to recover from a knee injury. I know that once I'm healthy, I still have a lot of playing days ahead of me."
Cleveland signed receiver Steve Sanders to take Tucker's place on the active roster. Sanders has spent time on the Browns 53-man roster and on the practice squad this season.
October, 12, 2008
10/12/08
11:40
AM ET
Posted by ESPN.com's James Walker
CLEVELAND -- On Columbus Day, the Cleveland Browns will attempt to discover their identity for the 2008 season.
Are they the talented collection of players that many felt were playoff contenders in the AFC? Or are the Browns an over-hyped, underachieving group that might fail to duplicate the success of the 10-win 2007 season?
The Browns and the rest of the nation will get their answer when Cleveland plays host to the undefeated New York Giants on ESPN's "Monday Night Football" (8:30 ET). The Browns, with no expectations, surprised the league last season.
At 1-3, Cleveland enters this game as significant underdogs to the Giants, who have won eight in a row and an NFL-best 11 straight road games.
| | |
| --- | --- |
| | |
| | G Fiume/Getty Images |
| | Romeo Crennel and the Cleveland Browns will learn a lot about their season Monday night against the New York Giants. |
The Browns find themselves at a breaking point. It's only October, but if Cleveland wants to keep its postseason hopes alive it comes down to a one-game season against the defending champs.
"[A win] would have a lot of impact because it would put us back in the mix," Browns Pro Bowl wide receiver Braylon Edwards said. "If you look at how the [NFL] season is going right now there is a lot of up and down things happening. Everybody is really in the thick of things for the most part. If we come out and get this win, it will boost us a little bit and I definitely think it will help us moving forward toward the rest of the season."
So what happened?
How did a 10-win team with seven returning Pro Bowlers from a year ago enter a must-win situation in early October against the defending Super Bowl champions?
The Giants contributed to the demise.
In New York's 37-34 preseason win over Cleveland Aug. 18, the Giants' starters pounded the Browns starters in the first half physically and on the scoreboard. New York jumped to a 30-3 lead and knocked out starting quarterback Derek Anderson (concussion) in the process before pulling its starters.
"The Giants were playing the game like it was a regular season game, and we were playing the game like it was a preseason game," Browns coach Romeo Crennel said.
Anderson, who missed the remainder of preseason, hasn't been the same. He has twice as many interceptions (six) than touchdowns (three) and the NFL's worst passer rating (49.9) of any quarterback with at least two starts. The poor performance through four games has Anderson dangerously close to losing his starting job to 2007 first-round pick Brady Quinn.
The Browns also have never been the same.
October, 8, 2008
10/08/08
2:15
PM ET
| | |
| --- | --- |
| | |
| | Aaron Josefczyk/Icon SMI |
| | If Derek Anderson (3) doesn't turn things around, Brady Quinn (10) could be the starting quarterback for the Cleveland Browns. |
Posted by ESPN.com's James Walker
BEREA, Ohio -- If this were a heavyweight title fight, Derek Anderson would be significantly behind on all of the judges' scorecards.
And from this point on, Anderson needs to win every round that's left in the 2008 season.
The grand prize is the starting quarterback job for the Cleveland Browns.
The opponents are himself, NFL defenses, and who many fans in Northeast Ohio believe is a shiny knight waiting in the wings in backup and former first-round pick Brady Quinn.
After sputtering through four games and earning himself a short leash, it's make-or-break time for Anderson. He caught the NFL by surprise and earned his first Pro Bowl bid in 2007 with his 3,787 yards and 29 touchdown performance during his first full year as a starter.
But Anderson's first four starts this year have been anything but Pro Bowl-esque. He's passed for just 543 yards and has twice as many interceptions (six) as touchdowns (three). Anderson's passer rating also is 49.9, which is the lowest of any quarterback in the league with at least two starts.
Derek Anderson: 2007 vs. 2008
YEAR
TEAM
G
CMP
ATT
PCT
YDS
AVG
TD
LNG
INT
RAT
2007
CLE
16
298
527
56.5
3,787
7.2
29
78
19
82.5
2008
CLE
4
58
117
49.6
543
4.6
3
23
6
49.9
Now Anderson finds himself in a position where any start could be his last. His next opportunity to trade punches comes this week against the New York Giants in a nationally-televised game on "Monday Night Football."
"I'll just continue to prepare like I have every week," Anderson said Wednesday when asked about his status. "I'm going to go out there and have fun and make some plays."
October, 2, 2008
10/02/08
12:00
PM ET
Posted by ESPN.com's James Walker
A quarter way into the season, the Cleveland Browns (1-3) and Cincinnati Bengals (0-4) have dug themselves a deep hole to get back to respectability. So the AFC North edition of the Blog Network wants to help to prevent 2008 from being a very long season.
First, let's look at four things the Browns could do to improve:

1. Gain composure
We put this up first, because it's the foundation of everything it's going to take to improve. The Browns are not a mentally strong team right now. Even in victory we see careless mistakes. We notice arguing on the sideline. There's a lack of focus that's getting in the way of consistently playing winning football. This group need to tighten up over the bye week and really hone in on the task at hand.
2. Stick to the running game
The Browns improved to 5-0 on Sunday when Jamal Lewis gets 25 carries or more. Hang this stat up in the locker room and on the door of offensive coordinator Rob Chudzinski's office. Give Lewis a chance. Sure, he's battling ankle and hamstring ailments, but Lewis is one of the few players who can be counted on every week. Backup Jerome Harrison can be used more as well.
3. Continue pressuring the quarterback
Something happened with Carson Palmer's injury last week. It suddenly gave the Browns the confidence to bring the wolves on backup Ryan Fitzpatrick and they registered three sacks. Learn from that and don't just do it against backups. Even the really good signal callers don't enjoy being hit in the mouth. The constant pressure even helped young cornerbacks Eric Wright and Brandon McDonald play more aggressively, knowing the pressure was on.
4. Get healthy
We're not too fond of the injury excuse here at the AFC North version of the Blog Network. It's the NFL and every team has them, so we'll keep this brief. The Browns need key players like receiver Donte' Stallworth (quad), guard Ryan Tucker (hip), safety Sean Jones (knee) and possibly Joe Jurevicius (knee) back in the lineup.
Up next: Four ways to improve the Cincinnati Bengals.
September, 21, 2008
9/21/08
5:55
PM ET
Posted by ESPN.com's James Walker
BALTIMORE--We have another close game in the AFC North as the Cleveland Browns lead the Baltimore Ravens 10-7 at intermission.
Here are a few halftime observations:
* The Browns are daring Ravens rookie quarterback Joe Flacco to beat them defensively. Cleveland is giving up a lot of short throws but remain ready to pounce on anything over 12-15 yards. Both interceptions have come on downfield passes where Flacco took a chance for longer gains.
* Cleveland quarterback Derek Anderson has had success against Baltimore in the past, and so far he's played his best half of the 2008 season. Anderson completed 9-of-20 passes for 101 yards and a touchdown. His score came on a 19-yard screen pass to backup tailback Jerome Harrison.
* Baltimore tailback Willis McGahee looks decent in his first game of the year following knee surgery. McGahee has 10 carries for 37 yards and a touchdown. On his 5-yard score, McGahee broke a tackle in the backfield and marched in the end zone.
* The Browns are short on offensive linemen with guards Eric Steinbach (shoulder) and Ryan Tucker (hip) both inactive today. So far starters Seth McKinney and Rex Hadnot have played well. But the unit's depth will be something to monitor in the second half as players start to wear down.
* Ravens starting safety Dawan Landry suffered a neck injury towards the end of the second quarter and was carted off the field. It was announced in the press box that Landry has movement in all of his extremities.
July, 24, 2008
7/24/08
9:15
AM ET
Posted by ESPN.com's James Walker
Here is a look at key position battles for the Browns:
No. 3 receiver: Kevin Kasper vs. Travis Wilson vs. Joshua Cribbs
The offense is stacked, so this is really the only skill position up for grabs on that side of the football. No. 3 receiver Joe Jurevicius is currently on the training camp physically unable to perform list and likely will be put on the regular season PUP at a later date. There are three candidates in Kevin Kasper, Travis Wilson and Joshua Cribbs looking to fill in. Kasper and Wilson had solid spring workouts, and Cribbs is always up for any challenge that's asked of him. The good news for Cleveland is the team only needs one of these three players to step forward.
Intensity index: Hot
| | |
| --- | --- |
| | |
| McKinney | Hadnot |
Right guard: Seth McKinney vs. Rex Hadnot
A fractured hip for starting guard Ryan Tucker this spring opened this spot for veterans Seth McKinney and Rex Hadnot to compete. Tucker is expected to return sometime in August, but this is arguably Cleveland's deepest position as both reserves have extensive starting experience. Hadnot may have a slight edge over McKinney at this point but it's very close. It may not matter anyway if Tucker quickly returns to form.
Intensity index: Mild
July, 18, 2008
7/18/08
7:00
AM ET
Posted by ESPN.com's James Walker
Jamison Hensley of the Baltimore Sun astutely points out that the Ravens have eight unsigned draft picks and just three days to get them all under contract.
Morning take: After getting their top pick, Joe Flacco, in late Wednesday night, it's time to go to work. The biggest issue for the Ravens this weekend will be second rounder Ray Rice, considering the current confusion over the fourth year of contracts involving second-round picks and the potential for labor unrest.
Most of the recent talk in Cleveland has centered around the potential loss of Joe Jurevicius, whose recent knee surgery likely will result in the Browns receiver to miss the first six weeks of the regular season.
Morning take: The Browns were very lucky with injuries last year, which helped propel the team to a 10-6 season. With a growing list of ailments to Jurevicius, cornerback Daven Holly (knee) and guard Ryan Tucker (hip), it doesn't appear Cleveland will have the same level of luck in 2008.
Morning take: After that there was a significant gap in the AFC North with the Pittsburgh Steelers (No. 21) and Cincinnati Bengals (No. 26). I wonder if this could play a factor in close division games this season?