July, 31, 2014
Jul 31
4:59
PM ET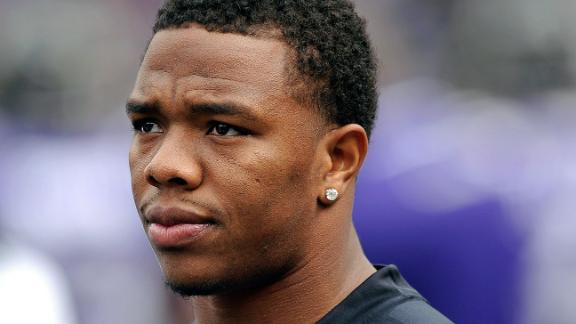 OWINGS MILLS, Md. -- In stark contrast to
Ray Rice
's awkward news conference in May, the
Baltimore Ravens
running back showed Thursday that he finally understood the weight of his actions from the alleged altercation with his then-fiancée in February.
He delivered the correct message, one the NFL failed to do last week with the two-game suspension, by not only apologizing to his wife, Janay Palmer, but also expressing a desire to become an advocate for domestic-violence causes.
Rice was compelling in his contrition, calling it the biggest mistake of his life. He stood in front of the microphone alone, without his wife standing by his side, and took full responsibility for the incident. Perhaps more importantly, Rice actually said the words "domestic violence," which weren't heard in his statement two months ago.
"My actions were inexcusable," Rice said. "That's something I have to live with the rest of my life."
Before anyone pats Rice on the back, this is what he should have said the first time when he broke his silence in May. Instead, Rice nervously fumbled through notes on his phone and apologized to team officials and his sponsors. That debacle of a news conference came across as damage control to his image.
His 17-minute news conference Thursday hit the right tones. He apologized to all women affected by domestic violence. He accepted the blame for losing the respect of fans. Rice came across as genuinely sorry.
"I let my wife down, I let my daughter down, I let my wife's parents down, I let the whole Baltimore community down," Rice said.
Rice's biggest misstep was not talking about what happened in the elevator. He was asked twice about it and declined to answer both times. His stance against domestic violence would have resonated stronger if he had explained his transgressions.
"I'll be honest: Like I said, I own my actions," Rice said. "I just don't want to keep reliving the incident. It doesn't bring any good to me. I'm just trying to move forward from it. I don't condone it. I take full responsibility for my actions. What happened that night is something that I'm going to pay for the rest of my life."
The only way Rice can move forward from this incident and show he's truly sincere is through his actions. It's not by his words. It's not by a hefty donation, which is merely a gesture. It's by proving this will remain a "one-time incident" and by supporting domestic-violence causes.
Thursday represented a small step forward for Rice. But it was an important one.
June, 4, 2012
6/04/12
1:33
PM ET
The chances of Browns linebacker
Scott Fujita
winning an appeal of his three-game suspension and clearing his name took a hit Monday.
Arbitrator Stephen Burbank ruled that NFL commissioner Roger Goodell had
the authority to discipline
Fujita and three other players for their part in the
New Orleans Saints
' bounty scandal.
The NFL Players Association immediately issued a release saying it will appeal Burbank's decision: "Any pay-to-injure program runs counter to the health and safety principles we stand for as players. However, none of the players punished in this case have seen a shred of evidence justifying the NFL's punishment."
The union also filed a grievance with another arbitrator, who has yet to rule on the matter. Fujita will formally file his appeal once the NFLPA's grievances are resolved.
In other words, there is still a long way to go before the entire process is complete. The players won't begin their suspensions until their appeals have been heard. If this situation isn't finalized by the start of the season, Fujita would play in the Sept. 9 opener against the
Philadelphia Eagles
.
June, 2, 2012
6/02/12
11:00
AM ET
By
ESPN.com staff
| ESPN.com
Baltimore Ravens
Linebacker Michael McAdoo, one of the candidates to fill in for the injured Terrell Suggs this season,
will likely miss the season himself
after suffering a torn Achilles tendon during organized team activities. McAdoo, who was entering his second season after spending his first on injured reserve, underwent surgery Friday, the Carroll County Times reports; Suggs partially tore an Achilles tendon during an April workout.
Cincinnati Bengals
Andrea Hangst pegs quarterback Andy Dalton and receiver A.J. Green as two of the four Bengals
most likely to take a step backward
in 2012.
Cleveland Browns
Not content to rip general manager Mike Holmgren and first-round draft pick Trent Richardson, former Browns star Jim Brown lit into team owner Randy Lerner during
an interview with the NFL Network
. "There's always a question mark when your owner is in England," Brown said.
Scott Fujita
denied a charge
from the filmmaker who leaked audiotape in the New Orleans Saints bounty scandal that the linebacker knew about the bounty program and that
he pushed for the release
of the audiotape.
Pittsburgh Steelers
Hines Ward
broke his silence
in the wake of news Thursday that he'd signed on as an analyst with NBC. "I'm looking forward to starting the next chapter of my life and working on the other side of football," the retired receiver wrote.
May, 22, 2012
5/22/12
4:58
PM ET
Browns linebacker
Scott Fujita
vowed to
clear his name
from the Saints' bounty scandal, but he won't say to what extent he'll go to do so.
I believe Fujita when he says he is more concerned about this black mark on his name. A three-game suspension doesn't affect a 10-year veteran as much as what an incident like this can do to his reputation.
Fujita is a member of the NFL Players Association executive committee. He was a proponent of stronger rules in dealing with concussions after
Colt McCoy
's incident last year. This suspension makes him look like a hypocrite.
The strongest course of action is to follow former teammate
Jonathan Vilma
, who has sued NFL commissioner Roger Goodell for defamation. Fujita wouldn't say whether he plans to do this.
"Jonathan Vilma is incredibly bright," Fujita told reporters after the Browns' first full-team workout Tuesday. "He's a man of very high character, and he's got a lot of pride. He's one of the best teammates I've ever had. I'm proud to call him a friend. I wish him the best in whatever he wants to do."
The NFL charged Fujita with pledging "a significant amount of money" which was used for cart-offs and knockouts on plays "during which an opposing player was injured." He was suspended for three games, which will cost him cost him about $645,000 and much more.
"Listen, my reputation is a lot more valuable to me than three game checks," Fujita said. "My track record speaks for itself."
May, 7, 2012
5/07/12
2:52
PM ET
Browns linebacker
Scott Fujita
denied involvement in the Saints' bounty scandal and wants to see the evidence that the NFL is basing his three-game suspension upon. The league disciplined Fujita for his participation in the Saints' bounty system when he played for New Orleans.
Here's Fujita's first public comments about the suspension in an e-mail sent to the Associated Press on Monday:
"I disagree wholeheartedly with the discipline imposed. I've yet to hear the specifics of any allegation against me, nor have I seen any evidence that supports what the NFL alleges. I look forward to the opportunity to confront what evidence they claim to have in the appropriate forum. I have never contributed money to any so-called 'bounty' pool, and any statements to the contrary are false. To say I'm disappointed with the League would be a huge understatement."
This is consistent with Fujita's stance that he paid teammates for making big plays like sacks and interceptions, but not for trying to intentionally injure opponents. In announcing the suspensions last week, the NFL said in a statement that Fujita pledged a significant amount of money to the prohibited bounty pool during the 2009 NFL playoffs that rewarded for "cart-offs" and "knockouts" plays which resulted in injuries to players.
Fujita received the shortest suspension among the four players disciplined and
should feel lucky
that the NFL Players Association is fighting for him.
May, 7, 2012
5/07/12
1:00
PM ET
Browns linebacker
Scott Fujita
has appealed his three-game suspension for his involvement in the Saints' bounty system, a league source told ESPN NFL Insider
Adam Schefter
.
This doesn't come as a surprise because Fujita was expected to take this step along with the three other suspended players. Fujita is arguing in his appeals that NFL commissioner Roger Goodell is without jurisdiction either to discipline the players for the conduct alleged or to determine any appeals, league sources told ESPN. The NFL feels strong that Goodell has the final authority on this matter because the action was an off-the-field issue and was considered conduct detrimental to the league.
While the players are arguing who should handle their appeal, they should feel lucky that the NFL Players Association is actively fighting for their exoneration. The union is defending four players who are accused of intentionally trying to hurt other players. Fujita, who is a member of the NFLPA's executive committee, should understand why this looks wrong.
The NFLPA probably should take the stance of helping Fujita and the other players file their appeal and then let them argue their own cases. Why protect four players when they should be concerned about protecting all of the players they targeted?
May, 2, 2012
5/02/12
3:30
PM ET
The
Pittsburgh Steelers
players have been the most vocal in sounding off about the
suspensions handed out to four players
involved in the Saints' bounty scandal.
Linebacker
Jonathan Vilma
received the harshest penalty, getting suspended for the entire 2012 season. In addition to Vilma, defensive tackle
Anthony Hargrove
(now with the
Green Bay Packers
) was suspended eight games, defensive
Will Smith
four games and linebacker
Scott Fujita
(now with the
Cleveland Browns
) three games.
Steelers linebacker
James Harrison
was among the first to vent
on Twitter
:
Ridiculous, and nobody really sees why the punishments have been so severe over the past 3 4years! Lawsuits and 18 games???
Steelers linebacker
LaMarr Woodley
was upset at the year-long suspension on Vilma in his
Twitter post
:
Vilma suspended a whole yr FOR PLAYING FOOTBALL???? cmon man!!!!!
Even Pittsburgh safety
Ryan Clark
was critical of the discipline (even though Saints coach Sean Payton was suspended for a year and general manager Mickey Loomis was banned for eight games) in a post
on Twitter
:
Wonder why the team got the least penalties in Bounty Gate! Think about who elects & reworded the commish, it's the owners of the trams!
The Steelers don't have any connection with the Saints, but they can relate to being disciplined by the NFL. The Steelers were fined a reported 13 times in the first 10 games last season, totaling $182,500. So you can understand why the Steelers players are coming to the defense of these Saints players.
May, 2, 2012
5/02/12
12:16
PM ET
Browns linebacker
Scott Fujita
was
suspended three games
for his participation in a bounty system while he was a member of the
New Orleans Saints
.
He was one of four players who were disciplined by the NFL on Wednesday, and he received the smallest penalty. Fujita will have the opportunity to appeal. Based on his $3.65 million salary this season, he will lose around $645,000 if the three-game suspension stands. He can participate in all offseason activities including preseason games.
Here's what the league had to say about Fujita in the official release:
The record established that Fujita, a linebacker, pledged a significant amount of money to the prohibited pay-for-performance/bounty pool during the 2009 NFL Playoffs when he played for the Saints. The pool to which he pledged paid large cash rewards for "cart-offs" and "knockouts," plays during which an opposing player was injured.
There was talk that Fujita would be fined but not get suspended by the NFL. Fujita, a member of the NFL Players Association's executive committee, previously admitted to paying teammates for big plays while in New Orleans, but not for hurting opponents and not as part of the bounty pool.
The Browns have played without Fujita before. When the team placed him on injured reserve last November with a hand injury, weakside linebacker
Chris Gocong
moved to Fujita's spot on the strong side and backup
Kaluka Maiava
started on the weak side.
March, 22, 2012
3/22/12
10:30
AM ET
There were differing opinions in the AFC North over
the unprecedented punishment
given to the
New Orleans Saints
for their bounty system.
Bengals offensive tackle
Andrew Whitworth
, who is also the team's player representative, told the
team's official website
that NFL commissioner Roger Goodell's ruling was "too harsh."
Whitworth seemed to take exception to the year-long suspension without pay for Saints coach Sean Payton. As a matter of full disclosure, Whitworth, a Louisiana native, has become good friends with Payton, who is the main speaker for Whitworth's charity foundation dinner March 30.
"I would imagine there should be some kind of sanctions, but this is ridiculous," Whitworth said. "To give a guy the same suspension that you give a guy that went to jail for a felony doesn't make sense. A guy who gets suspended for steroids can come back in four or eight games and make money and we applaud that.
"They weren't gambling. They weren't drinking or driving. If you want to make an example of someone, make an example of someone who commits a crime."
Unlike Whitworth, Steelers president Art Rooney II supported the actions of Goodell.
"I think the commissioner is sending a very loud and clear message here," Rooney told the
team's official website
. "Hopefully, the effect is going to be that we will get these kinds of things out of the game. We don't need this in our game."
The NFL is still reviewing player involvement in the bounty program, and Browns linebacker
Scott Fujita
could be subject to punishment.
Fujita, who is a member of the union's executive board, acknowledged earlier this month that he made contributions to the pay-for-performance pool when he was in New Orleans. He said he handed reward money to Saints teammates for big plays but not for intentionally injuring players.
According to
Sports Illustrated's Peter King
, disciplining players could be "extremely sticky for the league" because the NFL Players Association would defend Fujita and other players accused by the NFL.
March, 21, 2012
3/21/12
1:48
PM ET
Browns linebacker
Scott Fujita
could face disciplinary action stemming from the Saints' bounty scandal. Fujita, who played for New Orleans from 2006 to 2009 (the 2009 season was his only one under defensive coordinator Gregg Williams), was linked to the bounty probe in a report by ESPN's
Chris Mortensen
earlier this month.

Fujita
The NFL is still reviewing player involvement in the bounty program, according to the league's official release announcing disciplinary action:
Commissioner Goodell said he will separately address potential sanctions for players and others with documented involvement in the bounty program.

"While I will not address player conduct at this time, I am profoundly troubled by the fact that players – including leaders among the defensive players – embraced this program so enthusiastically and participated with what appears to have been a deliberate lack of concern for the well-being of their fellow players," Commissioner Goodell said. "While all club personnel are expected to play to win, they must not let the quest for victory so cloud their judgment that they willingly and willfully target their opponents and engage in unsafe and prohibited conduct intended to injure players."

While NFL staff has interviewed people in connection with public allegations of bounty programs at other clubs, no evidence was established showing that the programs at other clubs involved targeting opposing players or rewarding players for injuring an opponent. Commissioner Goodell emphasized that if additional information is brought to his attention that discloses bounties offered for injuring specific opposing players, he will revisit the matter to consider additional discipline.
Fujita is a member of the NFL Players Association's Executive Committee and has been an advocate for players' safety. He called for independent neurologists to be on the sidelines for every NFL game after Browns quarterback
Colt McCoy
was allowed to go back into the Steelers game last season with a concussion. Fujita is scheduled to earn $3.65 million in 2012, the final season of his contract.
Browns safety
Usama Young
also played for the Saints from 2007 to 2010.
According to the NFL, Saints players were financially rewarded during the 2009 to '11 seasons for big defensive plays, including knocking opponents out of games. Between 22 and 27 players contributed funds to a pool, according to the league.
March, 4, 2012
3/04/12
11:00
AM ET
The
New Orleans Saints
find themselves involved in a major scandal after the NFL
uncovered a bounty pool
of up to $50,000 the last three seasons to reward game-ending injuries inflicted on opposing players.
But this isn't the first time that the league has investigated a team for targeting opposing players for profit. In October 2008, linebacker
Terrell Suggs
told an Atlanta radio station that the Ravens had "a bounty" -- yes, he used that word -- on wide receiver
Hines Ward
and running back
Rashard Mendenhall
.
His comments about a bounty seemed valid because it came after Mendenhall sustained a season-ending shoulder injury on a hit by Ravens linebacker
Ray Lewis
. Suggs later clarified his remarks, explaining the Ravens were merely planning to keep a close eye on certain players.
"There wasn't any bounty," Suggs said in 2008. "He [the talk show host] asked me if there was a bounty and I just said I'm going to keep a watch on the guy. He [Ward] broke some guy's jaw last week, and he tried to cheap-shot JJ [
Jarret Johnson
]. He has also cheap-shotted
Ed Reed
. We're just going to be on alert the next time we play him."
All the NFL did was send Suggs a letter informing him that any further comments or on-field activity indicating his participation in bounty activity could result in "significant disciplinary action."
So, did the Ravens have bounties out on the Steelers? No one can say for sure without any proof. But Suggs knows the definition of "bounty." For him to use that word, it makes this a legitimate question.
Ward first heard of the Ravens having a bounty on him back in January 2002. According to Ward that year, a Ravens player would be rewarded if he could knock out either one on a crossing route. And, if the Ravens were going to put a bounty on someone, you know they would place Ward at the top of that list.
Outside linebacker Jarret Johnson, who is scheduled to be a free agent after playing for the Ravens from 2003 to 2011, told a Baltimore radio station on Saturday that he was unaware of the Ravens ever using a bounty system during his time in the organization.
"I don't know exactly what [the Saints] were doing," Johnson said. "In my opinion, in my experience in the NFL, the things you hear about bounties get blown out of proportion."
Johnson was asked if he got extra money for the hard hit he laid on Ward this past season. "I'm sure there were a lot of people that wanted to pay me for it," Johnson said. "But no, I didn't get paid."