AFC North:

Sal Paolantonio
January, 24, 2013
1/24/13
3:00
PM ET
Baltimore Ravens
linebacker
Ray Lewis
discusses his motivation with ESPN's Sal Paolantonio as as he prepares to play his final game in Super Bowl XLVII.
May, 23, 2011
5/23/11
1:00
PM ET
Baltimore Ravens
linebacker
Ray Lewis
is one of the most influential players in the NFL. But
until his recent interview
with ESPN's Sal Paolantonio, Lewis had not commented publicly on the league's work stoppage.
[+] Enlarge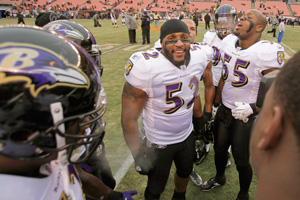 AP Photo/Amy SancettaRay Lewis' motivational skills may be just what is needed to move labor talks forward.
Lewis has a unique perspective on the troubles between the NFL and NFLPA. He believes huge egos from both sides are getting in the way and crime could rise in our country if a full season is lost.
"Do this research if we don't have a season," Lewis told Paolantonio. "Watch how much evil -- which we call it crime -- watch how much crime picks up if you take away our game."
Lewis has not participated in mediation sessions but said the "time is coming." Could Lewis be the right voice to help end the lockout?
The future Hall of Famer is well-respected on many different levels. Lewis is closely in tune with the players and common fans, while his name and star power also are enough to grab the owners' attention. This might be the proper combination to bring the two sides closer together.
Lewis' intense pre-game speeches to help motivate the Ravens have become famous to football fans. But if Lewis can find a way to motivate the owners and NFLPA to put pride aside and reach a new collective bargaining agreement this summer, it could be Lewis' biggest speech of all.
September, 1, 2010
9/01/10
6:51
PM ET
Earlier Wednesday we wrote about the unpredictability of NFL commissioner Roger Goodell's
suspensions with AFC North players.

But one thing that is predictable with Goodell is he rarely, if ever, backs down from a decision.
Goodell made a ruling in April that Pittsburgh Steelers quarterback Ben Roethlisberger will serve a conditional six-game suspension with a chance to be reduced to four with good behavior. The NFL took its time with the decision, waited for the facts, then carefully crafted a way for Roethlisberger to be punished while providing a chance to redeem himself.
But according to ESPN's Sal Paolantonio,
Roethlisberger's reps will ask for less than four games
during their meeting with Goodell on Friday. The request appears to be a shot in the dark.
Roethlisberger has done and said all the right things the past several months. But is it enough to make Goodell go against the guidelines he already set for Roethlisberger's suspension? Probably not.
Roethlisberger passed the first stage by staying out of trouble. That likely will get his suspension cut to four games. But wanting, or expecting, even more leniency this week falls in the category of "leave well enough alone."
April, 23, 2009
4/23/09
12:40
PM ET
Posted by ESPN.com's James Walker
A trade that was expected to be a done deal and just a matter of time has apparently reached a stalemate. According to ESPN's Sal Paolantonio, the Cleveland Browns and New York Giants are at an impasse over Browns receiver Braylon Edwards.
Both sides want to make the move, but the asking price has created a significant gap between the two teams. The Giants now feel the deal is "dead," Paolantonio reports.

The Browns are reportedly asking for defensive end/linebacker Mathias Kiwanuka and a first-round pick for Edwards. New York was willing to give up a second- and fifth-round pick instead.
Although I wouldn't completely rule out this trade yet, it's evident that both sides are playing hardball.
Cleveland's desire to land a quality defender and a first-round pick for a receiver who struggled in 2008 and is in the final year of his contract seems too high. At the same time, No. 1 receivers usually hold the asking price of a first- and third-round pick, not a second- and fifth-round pick.
Someone has to bend soon if a deal will be reached. Either way, it should be an interesting weekend in Cleveland.