September, 19, 2012
9/19/12
11:00
AM ET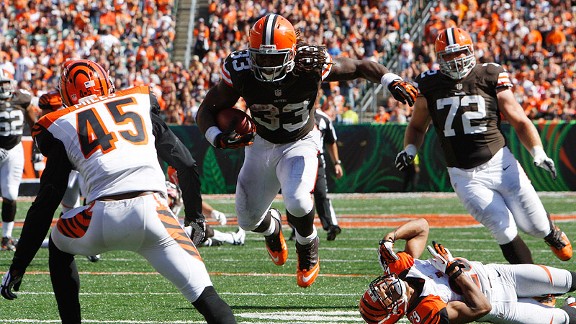 AP Photo/David KohlTrent Richardson's bruising running style might help finally turn the Browns around.
Teams shouldn't spend a top-five pick on a running back in this pass-happy age of football. Two knee surgeries in less than a year reveal that
Trent Richardson
is damaged goods. Even Jim Brown, the greatest runner in Browns -- and perhaps NFL -- history, took a shot at Richardson, labeling the first-round pick as "ordinary."
Two weeks into the regular season, all of this criticism seems laughable. While it's correct not to make any sweeping conclusions after a couple of games, no one can consider the Browns' drafting of Richardson a mistake at this point. His power, speed and jaw-dropping moves in the open field prove he's the key piece in turning around the NFL's worst offense over the past decade.
Richardson's attitude is the perfect jolt to a Browns franchise that has accepted last place as a way of life since returning to the league in 1999. He runs angry. Knocking off the helmet of would-be tackler
Kurt Coleman
in the season opener -- it flew five yards after the crushing collision -- is a great example of that. He gets ticked off. Delivering a breakout game following
Rey Maualuga
's lukewarm assessment of him is another warning that you don't want to challenge him.
Richardson is a violent right hook for the usually punchless Browns, who have ranked 28th or worse in offense nine times in the previous 13 years. Relying on a running back like
Peyton Hillis
, who missed a game because of strep throat, wasn't going to cut it. Drafting a hard-nosed playmaker like Richardson is Cleveland's best hope to change its culture of losing, even if it has yet to provide immediate results for the winless Browns (0-2).
For entertainment purposes alone, Richardson made a Browns game worth watching Sunday. Richardson totaled 109 yards rushing and 36 yards receiving against the Bengals on Sunday. Those numbers don't illustrate how impressive Richardson looked. On his 32-yard touchdown run, he took a delayed handoff and raced to the end zone without being touched. On what will go down as a 23-yard touchdown reception, Richardson caught a short pass before running through two tackles and spinning out of another to reach the end zone.
"He's a special player," Browns rookie quarterback
Brandon Weeden
said. "He's a difference-maker."
Richardson became first NFL rookie to record 100 yards rushing, a rushing touchdown and a receiving touchdown in the same game since
Samkon Gado
seven years ago. He also scored two 20-yard-plus touchdowns for a team that had seven of them all of last season.
"I think I was just more comfortable with myself that, 'Hey, I'm still able to run like I used to' and do it much better," Richardson said of his improvement from Week 1. "In my head, [I was thinking] 'I've got to run much stronger because these guys are much stronger than the guys in college.' Hopefully I'll come out stronger next week."
Five months ago, everyone christened
Andrew Luck
as the next great franchise quarterback and applauded the Redskins for moving up to take
Robert Griffin III
. The Browns received mixed reviews when they jumped one spot up to make sure they landed Richardson.
Teams have gotten burned in the past by taking a running back that high. Before Richardson, there were five running backs selected in the top five over the previous 10 drafts:
Cadillac Williams
(2005),
Cedric Benson
(2005),
Ronnie Brown
(2005),
Reggie Bush
(2006) and
Darren McFadden
(2008). Only Brown has reached the Pro Bowl and only McFadden is still with the team that drafted him.
[+] Enlarge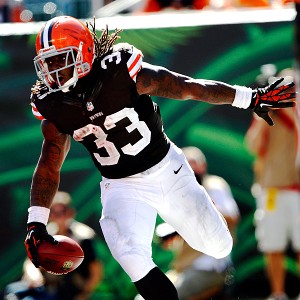 Frank Victores/US PresswireTrent Richardson celebrates his 23-yard catch-and-run TD in the third quarter against the Bengals.
Richardson's stock didn't rise when a second procedure on his left knee in less than a year sidelined him for the entire preseason. In his NFL debut, he managed 39 yards, which prompted Bengals linebacker Maualuga to say "he didn't do nothing spectacular." Maualuga was wrong. Exactly one month after knee surgery, no matter if it's minor or not, Richardson carried the ball 19 times. In terms of toughness, that is spectacular.
Richardson can be a top-five running back in the NFL as early as next season. That isn't to say he's the next
Adrian Peterson
right now.
"I still think he can do some things better when he doesn't have the football, which means we probably ought to give him the ball every time he's in there," coach Pat Shurmur said.
Richardson still has a ways to go before he convinces everyone about his talent. Jim Brown, who was critical of Richardson after the Browns drafted him, told The Plain Dealer that
he was impressed
with Richardson's performance against the Bengals. But he stopped short of fully endorsing the former Alabama star.
"Richardson has to show he can consistently carry a team," Brown told the paper. "The Browns have had some players that looked like they could, and it didn't work out. (Peyton) Hillis had a lot of talent."
Brown is right in that respect. It doesn't matter how many 1,000-yard seasons Richardson records. He was drafted to turn around a franchise that regularly loses more than 10 games a season and hasn't won a playoff game since 1994. Losing hasn't been easy on Richardson, who went 36-4 in three seasons at Alabama and won two national championships.
"At some point we have to put up more points than the other team is putting up," Richardson said. "If they score on special teams, we have to come back and score. We did a good job (offensively), but I think we can do an even better job. When we start winning, it's going to be much better."
Based on the first couple weeks of the season, Richardson is at his best when faced with a challenge.
August, 28, 2009
8/28/09
1:30
AM ET
Frank Victores/US Presswire



St. Louis running back Samkon Gado scored one of two touchdowns Thursday night, surprising the Bengals defense.


Posted by ESPN.com's James Walker

The Cincinnati Bengals lost to the St. Louis Rams, 24-21, in their third preseason game Thursday night.

Here are some observations:

I was surprised Cincinnati's first-team defense gave up two first-quarter touchdowns against an offense that's expected to be average at best in St. Louis. The first was an 11-play, 71-yard drive capped by a 16-yard run by Samkon Gado. St. Louis had a short field on second scoring drive. But Cincinnati failed to hold the Rams to a field goal, which is what elite defenses do. If the Bengals want to be a top 10 defense this year, which is their goal, they are going to have to handle both of these situations better in the regular season.


Bengals receiver Chris Henry continued his impressive preseason. Henry scored for the third straight preseason game after quarterback Jordan Palmer connected with Henry for a 54-yard touchdown in the fourth quarter. Henry had the best offseason of his career and is poised to help the Bengals this year as the No. 3 receiver.


Rookie linebacker Rey Maualuga is making a strong push for a starting job. After missing the preseason opener, he's been a stud the past two weeks. Against St. Louis he led the Bengals with eight tackles. Maualuga has already established himself as a feared hitter in training camp, and he fits right in with the AFC North division.


Former Baltimore Ravens quarterback Kyle Boller did well Thursday night. He got the start for St. Louis and finished 14 for 20 for 96 yards and a touchdown. He threw a lot of safe passes but executed pretty well. Boller also rushed twice for 16 yards.


Rookie receiver Quan Cosby made his first big play of the preseason with a 49-yard punt return for a touchdown in the first quarter. Cosby is on the bubble in a deep receiver corps of the Bengals. Stellar special teams play is probably the only way he avoids the practice squad.

AFC NORTH SCOREBOARD
Thursday, 8/21
Saturday, 8/23
Sunday, 8/24