August, 14, 2012
8/14/12
2:29
PM ET
The
Cleveland Browns
were awarded undrafted defensive lineman
Ronnie Cameron
on waivers from the
Chicago Bears
.

The Browns weren't the only team interested in Cameron. In fact, five teams -- Cleveland, Detroit, Houston,
New York Giants
and Philadelphia -- put in waiver claims for Cameron and the Browns got him based on the worst 2011 record. As a senior at Old Dominion in 2011, Cameron made 73 tackles and had 6.5 sacks.
"We thought he was a good player versus the run as well as generating pass rush inside," coach Pat Shurmur said Tuesday. "We'll get him in here, get him up and running and hopefully he'll be able to contribute."
The addition of Cameron could be an indication of the severity of
Scott Paxson
's knee injury. Paxson has been filling in for the injured
Phil Taylor
, who is expected to miss at least the first six games after surgery for a torn pectoral muscle.
Asked if this move was related to Paxson's injury, Shurmur said, "I think we needed some more depth there. It's based on all things defensive line."
August, 10, 2012
8/10/12
11:29
PM ET
Brandon Weeden
headlined a sloppy performance by the Browns in a
19-17 preseason win
at Detroit. In one quarter of work, the rookie quarterback had three completions and two turnovers.
While it wasn't surprising to see Weeden struggle in his first NFL action, it was a little unexpected to hear coach Pat Shurmur compliment him for such an uneven performance.


"I thought Brandon did a good job," Shurmur said at halftime. "It looked like the game was slow for him. He was out there and he executed pretty well. I think he would want that one back on the interception. It was in tight coverage. The ball was a pretty good ball and we've got to make that play. I think for the most part, he executed in a way that I thought he would."
As I
blogged about earlier tonight
, Weeden started off strong before making a series of mistakes. In three series, he fumbled, threw an interception and should have been picked off another time. He left after three forgettable drives, completing 3 of 9 passes for 62 yards.
Here are my thoughts and observations from the game:
The Browns' injuries continue to pile up. Wide receiver Mohamed Massaquoi sustained a concussion after making a catch on the Browns' first offensive snap. It's his third head injury in three seasons. The other injuries were: cornerback Dimitri Patterson (ankle), defensive tackle Scott Paxson (knee) and tight end Jordan Cameron (back).
Cleveland's run defense was awful, and that doesn't come as a surprise. Linebacker D'Qwell Jackson, defensive end Frostee Rucker and defensive tackles Ahtyba Rubin (pelvis) and Phil Taylor (pectoral muscle) all didn't play, which left the Browns short-handed up front. Cleveland gave up 115 yards rushing in the first half. The Browns showed no containment on outside runs and got gashed on runs up the middle.
The Browns won't win many games this season if they beat themselves. That's exactly what happened in the preseason opener, committing eight penalties for 55 yards in the first half. This lack of discipline is a bad reflection on the coaching staff.
Backup quarterback Colt McCoy (6-of-8 for 88 yards) was one of the few bright spots. He took three shots downfield, hitting Cameron for a 42-yard pass down the seam. McCoy wasn't this aggressive as the starter last season. He also gained 20 yards on one run.
Sheldon Brown tightened his grip on the starting cornerback job with an interception over the middle of the field. His good play looked more impressive by the disappointing performances of Patterson and Buster Skrine.
The Browns have to figure out a way to take use Travis Benjamin's speed. He had two catches for 46 yards and can be a playmaker for an offense that lacked a spark last season.
In his first game back since missing last year with an Achilles injury, Reggie Hodges had a 52-yard punt and placed two kicks inside the 20-yard line. Not to be outdone, kicker Phil Dawson connected on a 37-yard field goal and had two touchbacks in the first half.
Weeden wasn't the only rookie who stumbled Friday night. Right tackle Mitchell Schwartz was called for a false start on third-and-10 and then allowed the sack that led to Weeden's fumble on the next play. He's definitely a work in progress.
June, 6, 2012
6/06/12
2:15
PM ET
BEREA, Ohio -- One of the big holes that the Browns have to fill on defense is at defensive tackle, where
Phil Taylor
is expected to miss the start of the season after having surgery to repair a torn pectoral muscle.
During mandatory minicamp, third-year defensive lineman
Scott Paxson
has taken the reps in Taylor's spot. But Browns coach Pat Shurmur said rookies
John Hughes
(third round) and
Billy Winn
(sixth round) are competing for that starting spot.
"It's hard to totally evaluate linemen until we put pads on, but they're doing a nice job," Shurmur said Wednesday in evaluating his rookie linemen. "They look like they got good get-off. They use their hands well. It looks like they will separate from blocks well. They're doing a good job."
Shurmur shot down the possibility of moving
Ahtyba Rubin
to Taylor's spot and putting someone like Hughes at nose tackle.
The Browns have expressed confidence that Taylor will return this season. Recovery can take four to six months, depending on the severity of the tear, so Taylor could return sometime in the first half of the regular season.
May, 10, 2012
5/10/12
5:30
PM ET
Phil Taylor
's pectoral injury could force a rookie drafted two weeks ago into the
Cleveland Browns
' starting lineup.
Taylor
If Taylor is out for an extended period -- the official diagnosis is expected Monday -- the Browns will likely turn to one of two rookies (
Billy Winn
or
John Hughes
), or returning backup
Scott Paxson
.
Winn, a sixth-round pick, is the most intriguing candidate. He was projected as a third- or fourth-round pick, but slide into a later round because of questionable work ethic. At Boise State, he was known for his quickness and ability to penetrate gaps.
Another candidate is Hughes, a third-round pick from Cincinnati. He's more of a space-filler, and was earmarked as a backup for
Ahtyba Rubin
. But the Browns might put him in the battle for the job.
If the Browns want more experience, they will look to Paxson. After stints with the Packers and Steelers, Paxson played all 16 games in his first season with the Browns and recorded 21 tackles.
The 2012 draft class was supposed to have an immediate impact on offense after Cleveland selected running back
Trent Richardson
, quarterback
Brandon Weeden,
and offensive tackle
Mitchell Schwartz
with its first three picks. Now, the Browns might need a rookie on the defensive side to step up.
December, 9, 2011
12/09/11
2:04
AM ET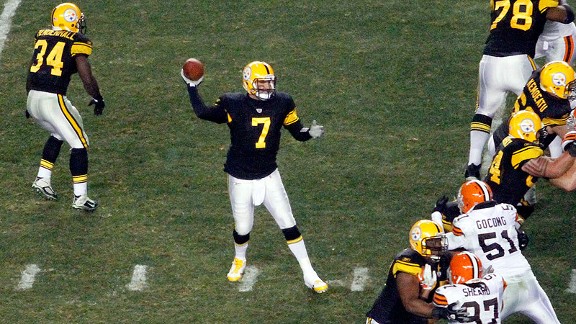 Justin K. Aller/Getty ImagesBen Roethlisberger spent Thursday's second half feeling "like my ankle is about to explode."
PITTSBURGH -- Steelers quarterback
Ben Roethlisberger
isn't going to win the NFL most valuable player award.
Aaron Rodgers
will take that. Roethlisberger won't win the offensive player of the year honor, either. Give that to
Drew Brees
or
Tom Brady
.
If there was a trophy for grittiest quarterback, though, the unanimous pick would be Roethlisberger. When it comes to playing in pain, there is Roethlisberger, and then there is everyone else in this generation of football players.
You can break his nose. You can break his thumb. The problem is, no one has ever broken his will to win.
Even given his history of toughness, Roethlisberger outdid himself in gutting out
a 14-3 Steelers victory
over the
Cleveland Browns
on Thursday night at Heinz Field. After having his left leg bent in a way that it's not supposed to bend, Roethlisberger stepped up -- actually, hopped up, to be more accurate -- late in the fourth quarter to seal the much-needed win with a 79-yard touchdown pass to
Antonio Brown
.
"I just didn't want to let the guys down," Roethlisberger said. "We're in a tight race right now."
Roethlisberger's high ankle sprain forced him to throw off his back foot because he couldn't put weight on his left leg. He had to cut his dropbacks to two steps because anything else pushed it too far.
Many quarterbacks wouldn't come back with this injury. Others would and would struggle. Roethlisberger's mastery is such that you see him in pain but you wouldn't be able to tell by looking at the numbers.
Before the injury: 8-of-9 for 102 yards and one touchdown. After the injury: 8-of-12 for 178 yards, one touchdown and one interception.
Roethlisberger's toughness, stubbornness and dedication to the team moved the Steelers (10-3) one step closer to a playoff berth and put them a half-game ahead of the
Baltimore Ravens
in the AFC North race.
"I'll always give him the opportunity to show what he's capable of," Steelers coach Mike Tomlin said. "We know what kind of competitor he is. We know his pain tolerance. We know what he's capable of."
Roethlisberger still doesn't know the severity of the injury and will undergo an MRI on Friday. "We'll find out how bad tomorrow," he said. "At least it takes the pain off my thumb."
When Roethlisberger was injured with 5 minutes, 59 seconds left in the second quarter, he was brought down in such a way by Browns defensive lineman
Scott Paxson
that you wondered whether he would return this season, much less this game. It was one of those types of replays that you grimaced in pain as much as Roethlisberger.
His first reaction: "I thought my leg was broke. Honestly. It was one of the most painful things I've ever felt. They grabbed [the leg], and it felt like my foot was outside of my leg."
Roethlisberger hobbled off the field with the help of two trainers and needed to get carted off to the locker room. When the X-rays on his ankle were negative, all that stood in his way of returning was a conversation with Tomlin.
Here's how that went, according to the coach:
[+] Enlarge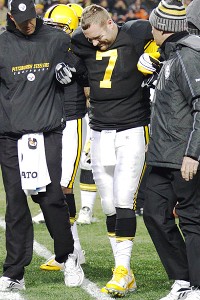 AP Photo/Gene J. PuskarRoethlisberger's second-half stats nearly mirrored those from before he suffered the ankle sprain.
Tomlin: "The doctor said you're good to go; how you feel?"
Roethlisberger: "OK."
Tomlin: "You want to go?"
Roethlisberger: "Absolutely."
Tomlin: "All right, let's do it."
Roethlisberger came out of the locker room, threw a few passes on the sideline before halftime ended and limped onto the field. Even teammates who had seen Roethlisberger come back from injuries in the past couldn't believe what they saw.
"I was kind of surprised to see him come back in the second half," tight end
Heath Miller
said. "But when I step back and think about it, maybe I shouldn't be. You know he's going to be there with us if he's able to stand on two legs."
Roethlisberger's return was crucial considering how ragged backup
Charlie Batch
looked in three series and how Pittsburgh clutched onto a 7-3 lead for most of the game.
Roethlisberger made his presence felt in the fourth quarter when he converted a third-and-20 by hopping up into the pocket and completing a 27-yard pass deep over the middle. He then appeared to throw a 24-yard touchdown to
Mike Wallace
, but it was reversed on replay because the receiver was down before crossing the goal line.
After the Steelers failed to score on the goal-line stand, Roethlisberger was intercepted on the next series. Like Roethlisberger, the Steelers continued to battle against adversity and gave the ball back to the two-time Super Bowl-winning quarterback on
William Gay
's interception in the end zone.
Two plays later, Roethlisberger flicked a short pass to the right sideline, where Brown caught the back-shoulder pass and took advantage of cornerback
Joe Haden
slipping. Brown raced down the field, faked out safety
Mike Adams
along the way and scored the decisive touchdown with 2:52 left in the game.
"You could see he didn't have the same mobility, but in his eyes, he was the same Ben," Miller said. "He was ready to lead us and get our offense going."
Roethlisberger never sat down after the injury, and constantly paced up and down the sideline so the ankle wouldn't stiffen up. When he got knocked down a couple of times after returning, he needed to get pulled up by his teammates.
"It feels like my ankle is about to explode," he said.
This is the first time Roethlisberger has had a high ankle sprain, which is surprising because he's injured nearly everything on his body.
In 2005, he fractured his right thumb and tore cartilage in his right knee. In 2008, he separated his right shoulder. In 2010, he broke his nose and fractured a bone in his right foot. Even this year, he's already sprained his left foot and fractured his right thumb again.
Despite his continued heroics, Roethlisberger won't win the postseason awards. But he might win something else.
"That's the effort that gets you to win championships," safety
Ryan Clark
said, "and we have a championship quarterback."
December, 8, 2011
12/08/11
9:52
PM ET
PITTSBURGH --
Ben Roethlisberger
and the Steelers' championship hopes took a potentially devastating hit when the two-time Super Bowl-winning quarterback hobbled off the field in the second quarter. Roethlisberger has an ankle injury, according to the NFL Network.
Roethlisberger
Roethlisberger's left leg bent after getting brought down by Browns defensive lineman
Scott Paxson
, whose first sack could have major ramifications. Roethlisberger limped off the field with 5:59 left in the second quarter and needed help from two trainers to get to the locker room. He didn't put any weight on the left leg.
The Steelers (9-3) are tied for the best record in the AFC and are battling the
Baltimore Ravens
for the AFC North title.
Before getting injured, Roethlisberger was 8-of-9 for 102 yards and one touchdown. The Steelers were leading, 7-3, when Roethlisberger left the game.
Longtime backup
Charlie Batch
replaced Roethlisberger. There has been no official announcement on Roethlisberger's injury.