May, 9, 2011
5/09/11
11:00
AM ET
Sometimes looking back at the past can help project the future.
Is that the case for upcoming meetings between
Cleveland Browns
cornerback
Joe Haden
and new
Cincinnati Bengals
receiver
A.J. Green
?
[+] Enlarge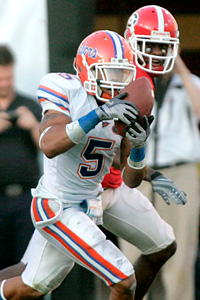 AP Photo/Phil CoaleFormer Florida cornerback Joe Haden, shown intercepting a 2008 pass intended for A.J. Green, will battle the former Georgia receiver twice a season in the AFC North.
These two top-end athletes will take their SEC rivalry to the AFC North in what should be great, one-on-one battles twice a season. Haden was a first-round pick for Cleveland in 2010, while Green was this year's No. 4 overall pick for Cincinnati.
So who has the advantage in this high-profile matchup? Judging by their two games in college, Haden at Florida got the upper hand against Green at Georgia.
In 2009, the Gators won a blowout over the Bulldogs, 41-17. Green was a non-factor. Haden held the receiver to just three catches for 50 yards and zero touchdowns. Green's biggest play in the game was a 19-yard reception. But other than that, Green had trouble shaking Haden.

In 2008, Florida won another blowout, 49-10. Green had more success this time, with five receptions for 91 yards. Probably worth noting is Green's quarterback that year was Matthew Stafford, who turned out to be the No. 1 overall pick of the Detroit Lions. To Haden's credit, he intercepted Stafford in the game and returned the pick 88 yards.
Considering the possible variations of man and zone coverage, we double-checked the accuracy of these numbers with
ESPN.com SEC blogger
Chris Low, who says Haden was on Green "for much of the game."
Haden was 2-0 against Green in college and performed well in both meetings. Will Haden continue to have Green's number in the AFC North?
We don't have to wait long to find out. The Browns will host the Bengals in Week 1, where Haden likely will draw the assignment of covering Green in his NFL debut.
Can't wait!
April, 18, 2011
4/18/11
11:02
AM ET
Last week we ran a series on
potential AFC North prospects
through the eyes of ESPN.com's college football writers who covered these players on a daily basis.

Peterson
But here is an interesting nugget that we didn't get to: We asked
SEC blogger Chris Low
who was the best player in his conference between LSU corner
Patrick Peterson
, Georgia receiver
A.J. Green
and Alabama receiver
Julio Jones
?
"Peterson would be my first pick. He can return kicks, he can return punts, he can play safety, nickel and corner. He's 220 or 219 pounds, and he's faster than Julio and faster than A.J. And Peterson can tackle. He's a great tackler in open space. Two years ago in Baton Rouge I saw him make two or three plays where it was just Peterson and Tim Tebow one-on-one on the perimeter, and [Peterson] made the plays that no one ever makes. Usually Tebow just bulled over and ran through people, but Peterson took him down by himself every time. He's a physical, physical guy, and I bet Peterson benches about 400 pounds. He's the best player in the league."
All three players are potential top-10 picks and could be available for the
Cincinnati Bengals
(No. 4) and
Cleveland Browns
(No. 6). Will either Ohio team draft one of these SEC stars next week?
April, 16, 2011
4/16/11
12:00
PM ET
The AFC North blog continues its series on potential draft prospects for the division by taking a look at Georgia outside linebacker Justin Houston, who recorded 56 tackles, 10 sacks and one interception in 2010. He's a potential target for the
Baltimore Ravens
.
SEC blogger Chris Low
covered Houston during his three years with the Bulldogs and offered a full scouting report.
[+] Enlarge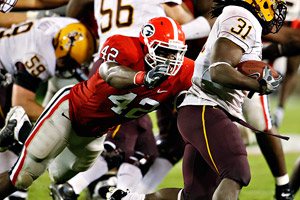 Todd Kirkland/Icon SMIJustin Houston would be a fit in Baltimore's 3-4 defense, but would he be effective in a 4-3?
Chris, break down Houston's strengths and weaknesses at linebacker.
Chris Low:
He's a pass rusher; that's what he does. He's not a guy Georgia asked to drop in coverage much, and when he did he wasn't real comfortable at it. He's not a run-stopper out there. It's not that he's bad or will get run over. He's just not real good there. Justin is a guy that you say "Go get the quarterback," and that's basically what Georgia did with him in that 3-4. He was really, really good at that. He's 270 [pounds] and really explosive.
The Ravens run a mix of 3-4 and 4-3 defenses. Is Houston versatile enough to switch back and forth?
Low:
Houston played defensive end in a 4-3 before Georgia went to a 3-4 the past two years. So he has played some defensive end. But I think in a 3-4, he's your prototypical pass-rushing outside linebacker. I don't think that he can play linebacker in a 4-3. He would have a tougher time as a 4-3 linebacker. Now, as a defensive end, he is 270. So I don't know how big NFL teams like defensive ends to be. But he is 268-270. But he needs to get in the right scheme in a 3-4 to rush the passer. He had a bunch of sacks the last two years at Georgia. He had 17 sacks the past two seasons.
April, 14, 2011
4/14/11
4:00
PM ET
The AFC North blog continues its series Thursday on the most intriguing draft prospects for the division.
We check back with
SEC blogger Chris Low
to get his take on Florida center/guard
Mike Pouncey
, who is the twin brother of
Pittsburgh Steelers
Pro Bowl center
Maurkice Pouncey
. Mike Pouncey has drawn significant interest from the Steelers and
Baltimore Ravens
.
[+] Enlarge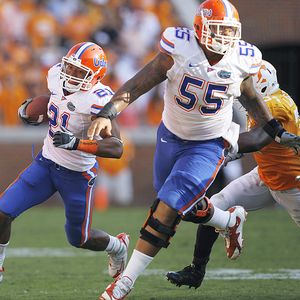 Joe Robbins/Getty ImagesMike Pouncey is athletic enough to get into space and lead the way as a blocker.
Chris, NFL scouts are falling in love with Mike Pouncey during this pre-draft process. What are his strengths and weaknesses?
Chris Low:
The thing about Mike Pouncey is he's a lot like his brother in that he's a great leader. He's one of those guys you can plug in at center and he can play guard. I would say his best position might end up being guard. Physically, he's just a beast. He's so strong and a great run-blocker. Whoever drafts him will have a player who can play guard or center at the highest level. The only thing is he had a lot of trouble snapping the ball early. He had a lot of bad shotgun snaps. That wasn't as big a problem in the latter part of the season, but he did have some issues early. Florida also had some struggles protecting the quarterback. But I don't think that was as much a reflection of him as the guys around him who didn't play that great. But Mike is a really strong player and a guy I can see being somebody's anchor for 10 years in the league.
The Steelers really like Maurkice Pouncey's athleticism and ability to move in space. How does Mike Pouncey compare in that area?
Low:
Both of them are great athletes on the offensive line. I think Mike is in the same ballpark as his brother with his ability to move. They're twins, and really if you put them side by side you probably wouldn't be able to tell them apart. In fact, when they were together I couldn't tell them apart when they didn't have their jerseys on. They are built the same way and on the field they both are really, really good athletes for interior offensive linemen. You're not going to find a lot of guards and centers who move better than those two. I would say Mike Pouncey will be drafted somewhere in the top 20 or 25 picks, which is about where his brother was picked.
April, 11, 2011
4/11/11
12:00
PM ET
With the NFL draft just weeks away, ESPN.com's AFC North blog is tapping into our college bloggers to get their perspective on prospects they covered on a daily basis.
[+] Enlarge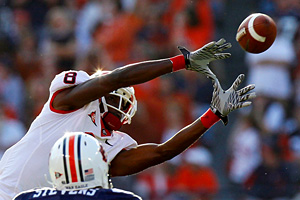 Kevin C. Cox/Getty ImagesDiving grabs like this one against Auburn on Nov. 13 make Georgia's A.J. Green a potential top-10 pick.
Each day we will present a different prospect of interest to our division. We start with
SEC blogger Chris Low's
take on Georgia receiver
A.J. Green
, who is a strong possibility for the
Cincinnati Bengals
(No. 4) and
Cleveland Browns
(No. 6) in the first round.
Chris, you've watched Green closely the last three years. Break down his strengths and weaknesses.
Chris Low:
He's one of those guys who's the ultimate red-zone player inside the 20 and 25, because he can go up and get everything. He has unbelievable body control and can make some of the most acrobatic catches you'll ever see. He can twist and turn his body and make adjustments on the ball. He's legitimately 6-foot-4 and has great vertical-leaping ability and great hands. He knows how to use his body and get just enough space to get the football. [Georgia] did that a lot, just throwing it up to him inside the 20. But they probably should have done it more. He's the same way down the field, too, though. A lot of times they would purposely underthrow the ball, because he would come back and the defender had no prayer to jump with A.J. I wouldn't say he has great speed, but you never see anybody running him down on the football field. He has good speed for a receiver, but he doesn't have great speed. He's not afraid to go across the middle and just makes catches that very few people can make. He can adjust in midair, catch it behind his head, on the other shoulder. I've seen him make one-handed catches. He is really good. He's one of the better receivers I've seen in the last 10 years.
That's very high praise. How does Green compare to another top SEC receiver: Alabama's Julio Jones?
Low:
Green was probably more consistent than Julio. Julio had some drops. I know Julio checks out a little bit better, because Julio is just an ironman. He hurts his knee, breaks a bone in his hand, hurts his ankle and just keeps playing. I don't think he missed a game this past year and missed one the previous year. But he's had several surgeries, from a sports hernia to his shoulder to a knee. Physically, I will tell you where Julio is better than A.J.: He's better when you throw the ball out there to him and rarely see the first guy make that tackle on Julio. He's definitely better there. A.J. is not bad at it, but Julio is the best in the SEC at that. He's so physically strong and tough. He's got that linebacker mentality and you never see the first guy bring him down hardly ever. They played against some very good corners, and the only one that really did that was
Patrick Peterson
at LSU and he's the best corner in the draft. But Julio is physically stronger than A.J. Green and probably a little bit faster. He ran faster times. Both of those guys, I'd be shocked if either is around after the 10th pick. Maybe they will be, but they're both really, really good.
If you were an NFL general manager who would you draft first between Green and Jones?
Low:
I would probably take A.J. He's shown to be a little bit more complete and a little bit more consistent. I think A.J. will consistently make more plays down the field than Julio. Julio is a guy who will make a bunch of plays, but sometimes he would struggle to get open or they couldn't get him the ball. I think A.J. is a little bit more complete, but it's extremely close.
April, 26, 2010
4/26/10
12:10
PM ET
Cincinnati Bengals
second-round pick
Carlos Dunlap
is one of the most intriguing draft selections this year in the AFC North.
[+] Enlarge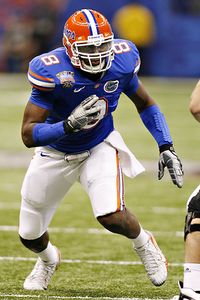 Brad Schloss/Icon SMICarlos Dunlap clearly has the talent to play defensive end, but his intensity has been called into question.
In terms of talent, the Bengals got a tremendous prospect at defensive end. But every team passed over Dunlap in the first round -- and some passed Dunlap twice -- because of character and work ethic concerns.
Here is Dunlap's full scouting report, according to the draft experts at
Pro Football Weekly
:
Positives: Has exceptional body length and very long arms to disrupt passing lanes and bat balls. Has fluid movement skills, can open up his stride and string out plays to the sideline -- closes very quickly to the ball. Can split through the double-team. Engulfs ball carriers like an anaconda and is a sure tackler.

Negatives: His pass-rush repertoire is very limited. Intermittent intensity and effort--has a soft football-playing temperament and is too comfortable coasting and going through the motions. Lacks focus, and character is a big question -- was suspended for the SEC Championship Game after being arrested for DUI just four days before the game.
This is the enigma that is Dunlap: The positives are certainly alluring, but the negatives are very worrisome. That is why most consider Dunlap one of the biggest "boom-or-bust" players in this year's draft.
Perhaps working in Cincinnati's favor is that Bengals defensive coordinator Mike Zimmer is very stern with his players. That could be just what Dunlap needs. The Bengals also have experience with risky players before -- some have worked, while others did not.
Will Dunlap pan out for the reigning AFC North champs?
November, 27, 2009
11/27/09
9:00
AM ET
Here are the most interesting stories Friday in the AFC North: Morning take: I prefer to give it a couple of years, but Cleveland's draft isn't looking good at this point. Not only are rookies not producing, but high picks Brian Robiskie and David Veikune aren't even active on some game days.
Morning take: As I've said all year, it's very tough to get three teams into the playoffs from the same division. It looks more and more like the AFC North will have to settle for two.
Morning take: These were two solid picks from a school that's sometimes overlooked in the SEC. No surprise the scouting staffs in Baltimore and Pittsburgh were once again on top of their game.
Morning take: I still contend Benson needs to rest and get healthy for the long haul if he's not close to 100 percent. The play of rookie Bernard Scott should make that decision a little easier.