AFC North:

Shaquille Richardson
August, 29, 2014
Aug 29
6:45
PM ET
PITTSBURGH -- The
Pittsburgh Steelers
made a couple of roster moves late Friday afternoon, claiming former
Dallas Cowboys
cornerback
B.W. Webb
off waivers and placing rookie linebacker
Jordan Zumwalt
on injured reserve.
Webb
The Cowboys cut Webb, who played in 15 games for Dallas last season as a rookie, on Thursday. Webb recorded 13 tackles and broke up a pass last season. The 5-foot-11, 187-pound Webb attended William & Mary, the alma mater of Steelers coach Mike Tomlin.
The Steelers' claiming of Webb, a former fourth-round draft pick, could be an indication that cornerback
Brice McCain
sustained a significant groin injury Thursday night in the Steelers' preseason finale.
The loss of McCain for an extended period would weaken a position where Steelers are not particularly deep. Rookie
Shaquille Richardson
is nursing a knee injury and the fifth-round pick is a candidate for the short-term injured reserve list, though the Steelers would first have to put him on the 53-man roster.
The Steelers have yet to announce any cuts, and they have until 4 p.m. ET on Saturday to finalize their 53-man roster.
The Steelers will essentially redshirt Zumwalt after he missed most of their offseason practices because UCLA had not completed its school year. The sixth-round pick has been hampered by a groin injury, and Zumwalt has not played since the Steelers' first preseason game on Aug. 9.
August, 6, 2014
Aug 6
8:00
AM ET
LATROBE, Pa. -- I have long thought that
Ben Roethlisberger
doesn't quite get his due as an elite quarterback from a national perspective.
One of only three active quarterbacks to win multiple Super Bowls, there is also documented evidence of how good Roethlisberger is under another kind of pressure.
Roethlisberger
Over the past three seasons Roethlisberger has been the best quarterback in the NFL when his pass protection breaks down.
Roethlisberger leads all quarterbacks in completion percentage (51.8), passing yards (1,837) and passing touchdowns (18) when throwing under duress or getting hit since 2011, according to ESPN Stats & Information.
The Steelers, of course, want to minimize the hits Roethlisberger absorbs, especially at this stage of his career. If the Steelers offensive line comes into its own this season -- and everything is in place for that to happen -- Roethlisberger could receive the kind of protection he enjoyed early in his career when he had the likes of Alan Faneca and Jeff Hartings blocking for him.
But it bodes well for the offense that Roethlisberger is still as good as any quarterback when it comes to delivering under pressure.
Check out what Kevin Colbert had to say about Roethlisberger -- and a couple of other subjects -- later today when my video interview with the Steelers general manager is posted. It should be up by 10 a.m. ET.
A couple of other odds and ends:
I'm really looking forward to seeing rookie cornerback Shaquille Richardson in the Steelers' first preseason game Saturday night against the New York Giants. I have been impressed with Richardson, and to paraphrase Steelers coach Mike Tomlin, the game at this level doesn't seem too big for the fifth-round draft pick. William Gay agreed. "He's so calm," the veteran cornerback said. "I tell him all the time, just use that in a game and you'll be all right. We'll see how he does in live action. I think he's going to be pretty good."
The Steelers return to practice this afternoon following the players' day off Tuesday. They have gotten through the toughest grind of training camp and will practice two more times this week and four times the following week before breaking camp. Camp drills end with consecutive joint practices against the Buffalo Bills at St. Vincent College.
Camp has been noticeably quieter with Ryan Clark no longer playing for the Steelers. The veteran free safety, who had a heck of a run in Pittsburgh, is now with the Redskins. Here is an update on Clark.
August, 1, 2014
Aug 1
11:30
PM ET
LATROBE, Pa. -- A daily review of the hot topics coming out of
Pittsburgh Steelers
training camp:
Friday night under the lights almost turned into Friday night at the fights. Spirited competition during the backs-on-'backers drill spilled over when Vince Williams and Le'Veon Bell wrestled each other to the turf at Memorial Stadium. Running back LeGarrette Blount, who wasn't even practicing, dived at Williams in an attempt to help Bell, and players from both sides of the ball jumped into the fray. Order was quickly restored, but not before Blount and defensive assistant Joey Porter jawed at each other as Porter tried to get Blount away from the scrum. Steelers coach Mike Tomlin, who eventually led Blount away from the end zone where the drill had taken place, later said, "it's an emotional game. They do lose that element of it sometimes. All of it is part of team development even if it is a little negative. They do it in a brotherly way. They understand what we're going in the grand scheme of things."
Williams said there aren't any hard feelings between him and Bell even though their tussle nearly set off a brawl. "We're just two fierce competitors going at it. It's all love man." Williams didn't appear to be stewing over the incident on the bus ride back to St. Vincent College. He was more preoccupied with locating his cell phone, which outside linebacker Jason Worilds found for him as the team buses were making their way back to campus.
Outside linebacker Jarvis Jones did not practice because of an groin injury that Tomlin said is not serious. Wide receiver Justin Brown was also out after breaking his nose Thursday in practice. Rookie cornerback Shaquille Richardson left practice early because of groin tightness, according to Tomlin. Rookie linebacker Jordan Zumwalt remains out with a groin injury.
An estimated crowd of more than 7,000 people packed into Memorial Stadium and were treated to one of the more intense practices of camp. Special-teams coordinator Danny Smith experienced the physicality of the drills when he fell to the ground hard after Antonio Brown was tackled out of bounds following a short reception. Smith popped right back up after getting taken out near the benches.
The Steelers waived running back Alvester Alexander and signed running back Jawan Jamison. Alexander, who spent all of last season on the Steelers' practice squad, arrived at camp last Friday with a groin injury, and the Steelers placed him on the physically unable to perform (PUP) list. That injury doomed him as the Steelers brought in Jamison, who was taken in the seventh round of the 2013 NFL draft by the Washington Redskins but did not make the team. Jamison made a favorable first impression as Tomlin praised him several times during the backs-on-'backers drill.
The Steelers return to their regular schedule today following their first night practice of camp. They will practice from 2:55 to 5:30 p.m. ET at St. Vincent College. Admission is free.
July, 28, 2014
Jul 28
7:15
PM ET
LATROBE, Pa. -- A daily review of the hot topics coming out of the
Pittsburgh Steelers
training camp:
What a difference the popping of pads makes. The Steelers held their first padded practice of training camp between the rain drops produced Monday by a sobbing sky and everyone, it seemed, turned the intensity up. Way up. You expected to hear new defensive assistant Joey Porter early and often during practice. It was a surprise to see even-keeled defensive coordinator Dick LeBeau also yelling as he did several times during an 11-on-11 drill. Running backs and linebackers collided ferociously during the popular backs on 'backers drill and there was tackling as coach Mike Tomlin had promised. The practice looked totally different from the non-contact drills that the players had taken part in May and June and for the first two days of camp.
Rookie Ryan Shazier stood out during the backs on backers drill, showcasing the speed that helped convince the Steelers to take the inside linebacker with the 15th overall pick of the 2014 NFL draft. Everyone was anxious to see Shazier in full pads, and he made a strong first impression, especially when he twice blew past LeGarrette Blount. "He did some nice things," Tomlin said of Shazier. "He was elusive. He was playing to his assets with his speed and agility."
Outside linebacker Jason Worilds turned in the play of the day when he intercepted a pass thrown to rookie running back Dri Archer on a wheel route. When asked what was more impressive, Worilds making a play on the ball down the field or his running with the ultra-fast Archer, Tomlin said the interception and laughed. "That's the first time Jason Worilds has caught a ball in any fashion out here in practice. I know he can run. I'm going to paint that ball and give it to him."
Rookie cornerback Shaquille Richardson made a diving interception of a Bruce Gradkowski and the defense seemed to be ahead of the offense on the first day of pads and contact. Not that Tomlin saw it that way. "Battles were fought and won on both sides of the ball," he said.
Starting running back Le'Veon Bell (hamstring) didn't practice, and Blount, his backup, didn't have his best day. Blount struggled in backs on 'backers and also dropped a pass. Bell is "day-to-day," Tomlin said, after experiencing hamstring tightness on Sunday.
In other injury news, rookie linebacker Jordan Zumwalt left practice with groin tightness and wide receiver C.J. Goodwin was held out of drills after landing on his shoulder during practice on Sunday. Ramon Foster will not in camp due to the death of his mother, so Chris Hubbard played left guard with the first-team offense for the second consecutive practice. The players are off on Tuesday and resume practice on Wednesday.
July, 10, 2014
Jul 10
12:00
PM ET
The key for the
Pittsburgh Steelers
over the next three years is developing young players such as outside linebacker
Jarvis Jones
, safety
Shamarko Thomas
, inside linebacker
Ryan Shazier
and defensive end
Stephon Tuitt
.
They will be the cornerstones of a defense that has been almost completely overhauled over the past couple of years -- and may not have strong safety
Troy Polamalu
and cornerback
Ike Taylor
beyond the 2014 season.
Shazier, the Steelers' first-round pick this year, has the look of a future Pro Bowler, and he did well during the offseason practices. The key for the former Ohio State star is continuing that in training camp when the pads go on and the hitting starts.
Jones, the team's first-round pick in 2013, is a crucial part of the Steelers' future given how vital it is that their outside linebackers generate a consistent pass rush. Jones struggled while learning the Steelers' defense on the job last season and recorded just one sack despite starting eight games.
He will be better this season, especially with former Steelers great Joey Porter mentoring him, but will Jones establish himself as a premier pass-rusher over the next couple of seasons?
The 6-foot-6, 312-pound Tuitt already has an NFL body, and the 2014 second-round pick will make a nice pairing with defensive end
Cameron Heyward
if he realizes the potential that has the Steelers so excited about him.
The hard-hitting Thomas is the likely successor to Polamalu, and the Steelers have high hopes for the 2013 fourth-round pick.
Pittsburgh also needs to develop some cornerbacks. The Steelers would love nothing more than if rookie
Shaquille Richardson
, a fifth-round pick, becomes their latest midround find at the position.
Cornerback may also be the Steelers' top priority in the 2015 NFL draft after many thought they would use a high pick on one this year.
June, 4, 2014
Jun 4
12:00
PM ET
PITTSBURGH --
Cortez Allen
is poised to put everything together in his fourth NFL season and don't overlook
William Gay
.
That is what
Ike Taylor
said when assessing the state of the Steelers' cornerbacks, a subject that generated much discussion before the draft -- and after it since Pittsburgh took just one cornerback and waited until the fifth round to select
Shaquille Richardson
.
"Cortez Allen toward the end (of last) season was breaking out to what we thought he could be, a ballhawk," Taylor said. "Will Gay is real solid. I think last year was the best year of his career."
Allen and Taylor are expected to start at cornerback this season and Gay will see plenty of snaps as the Steelers' nickel back.
Allen just has to stay healthy to become a cornerback who can regularly hold his own against the opposing team's No. 1 wide receiver, let a lone become a shutdown corner. Gay is an underrated player who gets too much flak from fans but is more than capable of covering slot receivers.
As for the roles of the Steelers' top three cornerbacks, Taylor offered a colorful take.
"Cortez is Batman," he said. "I'm Joker. Gay is Robin."
What is no joke is Taylor's training regimen.
The 11th-year veteran is one of the hardest workers on the Steelers, and he is known for pushing himself to the brink during the offseason when he trains at the Tom Shaw Performance Camp in Walt Disney World.
"When you see them little starts that have been blinking across, gnats flying but they're really not gnats, it's about time for you to take a breather," Taylor said. "I got to that point a few times but I like to push myself to the limit."
Taylor will be among those pushing Richardson through the rest of the offseason practices and then training camp, which starts in late July. He likes what he sees so far from the rookie.
"He got the attitude and I think that's the first thing you need to have as a corner," Taylor said. "He's definitely got the attitude so everything else will fall (into place)."
May, 23, 2014
May 23
10:00
AM ET
»
NFC Wrap:
East
|
West
|
North
|
South
»
AFC:
East
|
West
|
North
|
South
»
Grades

With free agency and the NFL draft in the rearview mirror and training camp just a couple of months away, we assess the
Pittsburgh Steelers
' offseason moves.
[+] Enlarge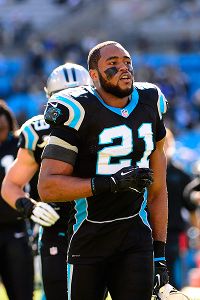 Bob Donnan/USA TODAY SportsSigning Mike Mitchell gives the Steelers another speedy playmaker in the secondary.
Best move:
The Steelers wasted little time in getting younger and faster in the secondary as they landed former Panthers safety
Mike Mitchell
on the first day of free agency. Mitchell, who turns only 27 next month, blossomed last season in Carolina as he intercepted four passes and recorded 3.5 sacks. He gives the Steelers a playmaker to pair with
Troy Polamalu
on the back of their defense. And Mitchell was cost-effective for a team that had limited room under the salary cap. Only $5.25 million of the five-year $25 million deal that Mitchell signed is guaranteed, and the contract is backloaded to make it cap friendly.
Riskiest move:
The Steelers shopped more than usual in free agency, but they added only one player to their defensive line while losing defensive ends
Ziggy Hood
and
Al Woods
.
Cam Thomas
, who signed a two-year, $4 million contract, would ideally fill Woods' role as a swing man between nose tackle and defensive end. But right now he is the Steelers' best option at defensive end opposite
Cameron Heyward
. The Steelers need second-round pick
Stephon Tuitt
to develop quickly and at least play in a rotation at defensive end. They would also be wise to keep Brett Keisel's number handy.
Most surprising move:
The Steelers didn't draft a cornerback until the fifth round, and that is a position where they have only one long-term starter in
Cortez Allen
. The prevailing thought prior to the draft was that the Steelers would take a cornerback early and select two of them.
Shaquille Richardson
, their fifth-round pick, and free-agent signee
Brice McCain
are the only addition they have made at cornerback. That means the Steelers better be right that the answers at cornerback are already in their building,
What's next:
The Steelers appear to be done adding -- for now -- and most of the $8 million they'll receive in salary cap savings after June from the release of outside linebacker
LaMarr Woodley
will be used to sign draft picks. They have a handful of players going into the final year of their contracts that they should try to sign to long-term deals. The list includes center
Maurkice Pouncey
, outside linebacker
Jason Worilds
and Allen. The Steelers could also try to sign quarterback
Ben Roethlisberger
to a new contract, though nothing is imminent on that front. The Steelers may wait until after the 2014 to sign Roethlisberger to a new deal since he still has two years left on his contract.
May, 16, 2014
May 16
11:00
AM ET
PITTSBURGH -- The journey that led
Shaquille Richardson
to the practice fields he stepped onto Friday, the first day of
Pittsburgh Steelers
' rookie minicamp, started years ago on the other side of the country.
An unheralded recruit in Los Angeles, Richardson caught then-UCLA assistant coach Carnell Lake's eye at a summer camp with the way he stuck to wide receivers like paparazzi. On Lake's recommendation, the Bruins brought Richardson back for another camp.
[+] Enlarge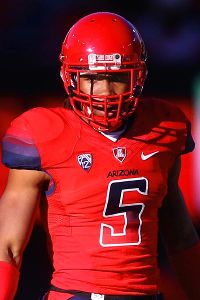 Mark J. Rebilas/USA TODAY SportsThe Steelers are banking on fifth-round draft pick Shaquille Richardson to help out Pittsburgh's secondary in the 2014 season.
"He came in and was the best cover guy we had," Lake said. "We offered him a scholarship the next day."
Richardson signed with UCLA in 2009, but neither he nor Lake stuck around Westwood -- though both for different reasons.
Their football paths have finally crossed again and this much is certain: the Steelers need their defensive backs coach to nurture the talent that he was one of the first to discern.
Richardson will receive more scrutiny than any fifth-round draft choice should, in large part because he is the only cornerback the Steelers drafted this year. The Steelers were expected to select a cornerback early in the draft and take two of them, something they have twice done since 2009.
They waited until the draft's third day to take the Arizona product. And the Steelers drafted Richardson in the same round that they selected Illinois cornerback Terry Hawthorne last year.
Hawthorne didn't make it out of training camp, and he was the only draft pick the Steelers gave up on after preseason practice.
They better have done a better job of evaluating Richardson given their lack of depth at cornerback and need to get younger at the position.
"He's definitely a good prospect that's got the measurables that you're looking for," Arizona defensive backs coach David Lockwood said of Richardson. "He's a smart player. He picks up things fast and he has some cover skills, which of course you need at that level."
Richardson started 37 of 49 games at Arizona and recorded 189 career tackles while intercepting 10 passes and breaking up 30 of them.
The 6-1, 194-pounder has good size, and he runs the 40-yard dash in the 4.5 seconds range, which Lake said, "is fast enough, especially if he is a good technician."
Lake never got to work with Richardson on the finer points of playing cornerback.
Richardson was arrested (along with three others) for felony theft before his freshman season -- charges were later dropped -- and he transferred to Arizona. Lake left the Bruins' coaching staff after the 2009 season to spend more time with his family, but he kept an eye on Richardson. The Steelers hired Lake in March 2011 to coach the defensive backs.
Lockwood, meanwhile, said Richardson never had any off-the-field issues the two seasons the two were together at Arizona.
"He's got a good personality and you can hold a conversation with him," Lockwood said. "He likes to have fun and joke around, but when it's time to work you go to work."
The Steelers hosted Richardson for a pre-draft visit last month, and Lake said he was "instantly likeable."
The Steelers liked Richardson enough that they were content to wait until the fifth round to select a cornerback and hope Richardson was still available.
"I did get a good vibe from coach Lake when I was there," Richardson said of his visit. "I'm so happy to be back under him, learn from him and be a Pittsburgh Steeler."
The Steelers are counting on Richardson -- and Lake -- for that to be the case for a long time.
"Shaquille Richardson has the prototypical size you want in a starter-capable corner," Steelers general manager Kevin Colbert said. "He's fast, he's athletic. He's got a chance."
May, 12, 2014
May 12
4:30
PM ET
PITTSBURGH -- Would the Steelers have taken a cornerback in the first round of the NFL draft had either
Justin Gilbert
or
Kyle Fuller
-- or both -- been available at No. 15?
Steelers general manager Kevin Colbert isn't saying.
"Sure, there were guys that went ahead of Ryan that were really good players," Colbert said Monday on TribLive radio. "We were extremely excited [Shazier] was there but there were other players that we would have entertained and maybe didn't have an opportunity to pick them. But that doesn't diminish our excitement for Shazier."
The Steelers really liked tight end
Eric Ebron
, and the North Carolina product certainly would have been prominent in the discussion that preceded the Steelers' first-round pick had he still been available.
But the Steelers were more than happy to select Shazier, who provides speed, athleticism and versatility to their defense.
The Steelers only took one cornerback in the draft but Colbert echoed comments made by defensive coordinator Dick LeBeau that the position is not as lacking as has been widely perceived.
"
Cortez Allen
we think has a real bright future and he should only get better," Colbert said. "When you've got a guy like
William Gay
and
Brice McCain
and
Antwon Blake
and we feel nice about what they're going to be able to contribute. Blake did a great job coming in [last season] and playing mainly on special teams because he was a late addition for us but he's going to have a whole offseason to grow as a corner."
Despite taking only one cornerback -- and waiting until the fifth round to select Arizona's
Shaquille Richardson
-- the Steelers have generally gotten good reviews for their draft.
ESPN analyst Mel Kiper Jr. gave the Steelers an A-minus for their draft. ESPN analyst Todd McShay also liked what the Steelers accomplished during the three-day draft.
"I was really impressed. I thought they had one of the better drafts of all the teams in the league," McShay said Monday during a post-draft conference call. "I really thought beginning to end that Pittsburgh did a really good job of finding players that fit their system and do multiple things."
May, 12, 2014
May 12
2:00
PM ET
PITTSBURGH – There is a lot to like about a Steelers draft in which they added size and speed. There are also some things that can be questioned, including the lack of attention they paid to a certain position.
Here are three things I liked about the Steelers' draft:
Tuitt

Shazier

It's hard not to get excited about the first two picks. Yes, the Steelers didn't address one of their bigger needs by taking a cornerback, but they added size and speed to a defense that fell last season from its usual lofty perch. Ryan Shazier makes inside linebacker a strength and his sheer speed will allow Dick LeBeau to get creative in how he uses the Steelers' first-round pick. Stephon Tuitt, like Shazier, has the chance to start right away and he fills a gaping hole at defensive end. Tuitt and Cameron Heyward could form quite an inside pass-rush tandem in the Steelers' nickel defense.
The Steelers let the draft come to them at wide receiver and they were able to get a really good prospect in the fourth round. The Steelers strongly considered taking Clemson's Martavis Bryant in the third round and were still able to get him after using their third pick on Kent State running back Dri Archer. Bryant has excellent size and speed, and he averaged over 20 yards per catch at Clemson despite getting overshadowed by first-round picks DeAndre Hopkins (2013) and Sammy Watkins. The Steelers, who have made it clear to Bryant that they expect his work ethic to be up to their standards, have given quarterback Ben Roethlisberger an enticing red-zone target.
The Steelers were able to add an intriguing prospect and not just a body to their deep offensive line. And it didn't cost them much to do it. They drafted Vanderbilt's Wesley Johnson with the second of their two fifth-round picks, and the 6-5, 297-pounder started 51 career games in college football's preeminent conference. Johnson is athletic and versatile and he could fill left tackle Kelvin Beachum's former role as a super sub who can play all five positions.
Two things I question:
I'm still a little puzzled that the Steelers took a running back in the third round. I understand that they are enamored with Archer's speed and game-breaking ability. But how many touches will he get in an offense that already has Le'Veon Bell and LeGarrette Blount to shoulder the load at running back? And as much as the Steelers like Archer's potential as a kickoff and punt returner he didn't do much of either his final season at Kent State. And it's a lot easier to keep the ball away from dangerous kickoff returners since kickoffs were moved up to the 35-yard line.
Adding to questions about the Archer pick is the fact that a run on cornerback took place in the fourth round. Nine cornerbacks were taken in the fourth round and five before the Steelers picked Bryant. Steelers fans would have felt a whole lot better about the draft had Pittsburgh gone linebacker, defensive end, cornerback and wide receiver. As it turns out the Steelers only picked one cornerback, and they didn't take Shaquille Richardson until the fifth round. Maybe the Steelers really are confident that free-agent signee Brice McCain can bounce back after struggling last season for the Texans and that Antwon Blake is ready to contribute more than just on special teams. Time will tell on that – and whether the Steelers erred by not doing more to address cornerback in the draft.
May, 11, 2014
May 11
2:05
PM ET
PITTSBURGH -- Count Mel Kiper Jr. among those who think the Steelers hit it big in a draft they had to get right.
The Steelers were one of just five teams that received an "A" grade from the ESPN analyst following the NFL draft, one in which Pittsburgh made nine picks.
Kiper gave the
Steelers an "A-minus"

for their draft haul and the only thing he questioned is why they didn't add more reinforcements at cornerback.
"Did they do enough at cornerback? Maybe not," Kiper wrote. "But they got everything else right."
Such praise emanates from the Steelers' top two picks, linebacker
Ryan Shazier
and defensive end
Stephon Tuitt
. Shazier adds speeds to the Steelers' defense and should make an immediate impact. Kiper wrote that Tuitt is a "stud" who is a perfect fit on a defensive line that needed help.
As for cornerback, here is what general manager Kevin Colbert said on why the Steelers only picked one and waited until the fifth round to take Arizona's
Shaquille Richardson
: "The way [the draft] broke, any player that we took really we were happy to get them where we got them. We weren't going to reach for any position that we didn't feel comfortable with. You knew a guy like Shaquille Richardson was probably going to be available in the fourth or fifth round. You just hoped he was going to be there and fortunate for us he was."
Time will ultimately tell whether the Steelers did enough to help themselves at cornerback and whether Kiper's glowing assessment of their draft is correct.
Remember, none of the players drafted have played a down in the NFL and we probably won't know for three years how well the Steelers did.
But I agree with Kiper that, at first blush, it looks like the Steelers had a really good draft.
"If you look at the men that we had an opportunity to select, their size, their speed, their versatility, obviously those are things we value," Steelers coach Mike Tomlin said. "We buy into the upside of these young men and we look forward to getting down to business and working with them."
May, 10, 2014
May 10
8:15
PM ET
»
NFC wrap-ups
:
East
|
West
|
North
|
South
»
AFC
:
East
|
West
|
North
|
South
PITTSBURGH -- A wrap-up of the
Pittsburgh Steelers
' draft.
Click here
for a full list of Steelers draftees.
[+] Enlarge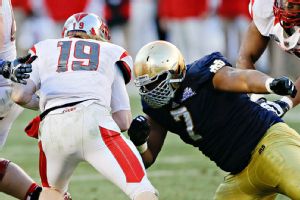 AP Photo/Frank Franklin IIThe Steelers expect big things from Notre Dame defensive lineman Stephon Tuitt.
Best move:
Taking Notre Dame defensive lineman
Stephon Tuitt
in the second round. The Steelers had no bigger need than at defensive end, and they were smart to pounce on Tuitt, who had been widely projected to go late in the first round. The 6-foot-5, 303-pounder has the ideal build for a five-technique defensive end, and he also has the pass-rushing skills to move inside when the Steelers go to their nickel package. Tuitt had 21 career sacks at Notre Dame, and the Steelers are convinced his play slipped last season because recovery from double-hernia surgery compromised his training and caused him to put on too much weight. Steelers general manager Kevin Colbert said Tuitt is back to his 2012 playing weight when he dominated for the Fighting Irish, and they expect him to play significantly as a rookie if not start at some point in 2014.
Riskiest move:
The Steelers took just one defensive back in the draft and they didn't select cornerback
Shaquille Richardson
of Arizona until the fifth round. That won't do anything to allay the anxiety of Steelers' fans about the state of the secondary and specifically cornerback where
Ike Taylor
isn't getting younger and where there isn't much depth. Steelers defensive backs coach Carnell Lake said he is confident free-agent signee
Brice McCain
and
Antwon Blake
, who played almost exclusively on special teams last season, can be key contributors this season. They better be since the draft didn't deliver the reinforcements at cornerback that most thought it would.
Most surprising move:
The Steelers bypassed a cornerback and wide receiver in the third round to take speedy but diminutive running back
Dri Archer
. This looks like a luxury pick since the Steelers had more pressing needs when they selected the 5-8, 173-pounder. Archer ran the fastest 40-yard dash time (4.26 seconds) at the NFL combine, and the Steelers plan to carve out a role for him in the offense. ESPN analyst Mel Kiper Jr. has compared Archer to
Darren Sproles
because of his explosiveness and versatility. Steelers wide receivers coach Richard Mann said Archer reminds him of former Browns scatback/receiver Gerald "Ice Cube" McNeil. "He's not small," Steelers coach Mike Tomlin said. "He's short."
File it away:
First-round pick
Ryan Shazier
will be an immediate difference-maker as a rookie -- and will make multiple Pro Bowls if he stays healthy. His speed is such that defensive coordinator Dick LeBeau has said he envisions playing Shazier all over the field. Lake said he will gladly take Shazier as a safety if linebackers coach Keith Butler doesn't want him. Butler, when told that, smiled and said "I'm not in favor of doing that. Shazier can make mistakes and has make-up speed to get back into position and make plays." Butler scoffs at the notion that the 6-1, 237-pound Shazier is undersized for an inside linebacker at this level. Butler said former Steelers inside linebacker James Farrior played between 225 and 230 pounds in the latter part of his carer, including 2010 when he made the Pro Bowl. "A lot of times young linebackers get in their head, 'I have to weigh 250 or I have to weigh 260 [pounds] but can they move? Can they get where they need to be when they need to be there? This guy can do that."
April, 22, 2014
Apr 22
1:05
PM ET
PITTSBURGH -- The
Pittsburgh Steelers
are meeting with another cornerback prospect as Duke's
Ross Cockrell
is visiting team headquarters today.
Cockrell, a four-year starter at Duke, recorded 46 tackles last season and intercepted three passes while breaking up 12 of them. The 6-foot, 191-pounder is Duke's all-time leader in interceptions (12) as well as passes defended (46).
Cockrell, who redshirted his first season at Duke, is widely projected as a third- or fourth-round pick.
He is the latest cornerback to make a pre-draft visit to Pittsburgh as the Steelers previously hosted Michigan State's
Darqueze Dennard
, Ohio State's
Bradley Roby
, TCU's
Jason Verrett
, Rice's
Phillip Gaines
and Arizona's
Shaquille Richardson
.
Dennard will be a first-round pick and Roby and Verrett could also get taken on the first day of the draft. The Steelers will draft at least one cornerback, and I will be surprised if they don't take two this year given their need for an infusion of talent and youth at the position.
ESPN analyst Todd McShay has the Steelers taking Dennard with the 15th overall pick in his latest mock draft.
Teams are permitted to host 30 out of area prospects prior to the draft and no visits are allowed after this week.
The three-day draft starts May 8.