AFC North:

Spencer Lanning
November, 18, 2013
11/18/13
3:58
PM ET
Breakdowns by the
Cleveland Browns
and good plays by the
Cincinnati Bengals
led to the crucial special teams mistakes that contributed significantly to the Browns' 21-point loss.
"We had two major breakdowns there," coach Rob Chudzinski said.
One tipped punt and one blocked punt gave the Bengals two touchdowns and helped turn the momentum toward Cincinnati.

The first rush came up the middle, as the Bengals drove a rusher into center
Christian Yount
and looped
Shawn Williams
up the middle. Williams was able to tip the ball, which was not considered a block because it went beyond the line of scrimmage.
But the nine-yard "punt" set up the Bengals' second touchdown.
Yount said he should have changed the protection before the play. He also said his snap drifted right, which took punter
Spencer Lanning
closer to Williams as he rushed.
The second was a block, by
Jayson DiManche
. He lined up on the left side of the Bengals' rush, and split the gap between linebacker
Eric Martin
and linebacker
Barkevious Mingo
. He also easily avoided fullback
Chris Ogbonnaya
to reach out with his left hand and block the punt.
Mingo lined up off Martin's right shoulder, a couple yards off the line of scrimmage. When DiManche took an outside-in move, Martin went inside to help and Mingo basically whiffed. As did Ogbonnaya.
In the scramble for the ball, Lanning also had a chance to touch
Tony Dye
when he recovered the ball, but Lanning said he was trying to recover the ball.
Though Mingo took the blame, coach Rob Chudzinski said the scheme called for zone blocking, so both players were responsible. Chudzinski hinted the responsibility was more on Martin.
"There needs to be help from the inside guy, and he ultimately is responsible for that guy," Chudzinski said.
Martin actually turned inside to help on a player a teammate was blocking.
The Browns have shuffled players on the punt team, in part because of an injury to special teams captain
Quentin Groves
.
Mingo had played in various spots on the punt protection, including that one, Chudzinski said.
"The effect of losing Quentin is having to move guys around," Chudzinski said. "But that's no excuse. There's no excuse for getting punts blocked."
November, 17, 2013
11/17/13
8:33
PM ET
CINCINNATI -- It's not common for a team to have a punt blocked and returned for a touchdown.
It's less common that a team has that happen in the same game when it has another punt tipped, holding said punt to 9 yards.
But that's part of the reason the
Cleveland Browns
fell apart in the 41-20 loss to the Bengals: They couldn't get off a punt. There were other miscues, of course.
Jason Campbell
's pass from his 20-yard line with the Browns ahead 13-0 was tipped at the line and intercepted by
James Harrison
. It would have been a touchdown had a Cincinnati player not blocked in the back for a penalty.
No matter, it merely set up Cincinnati's first touchdown.
[+] Enlarge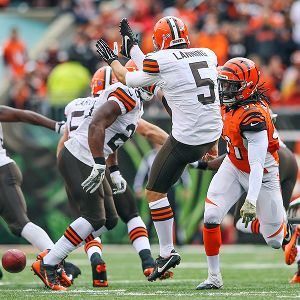 Kevin Jairaj/USA TODAY SportsBengals linebacker Jayson DiManche, 51, blocked Spencer Lanning's punt, which Tony Dye returned for a touchdown.
The Bengals forced a punt, which Lanning had tipped and went 9 yards. That set up the Bengals' second touchdown, which put them ahead for good.
Two possessions later, rookie
Barkevious Mingo
missed a block in protection and Lanning's punt was blocked, except this time the Bengals ran it in for a touchdown and a 21-13 lead.
The barricade was starting to cave.
"It's definitely a game-changer," Lanning said of the blocks.
Mingo took responsibility for the second blocked punt. Lanning said the snap, step and kick from his point of view were fine.
"I felt the operation was good," Lanning said. "Credit to them for dialing up good rushes."
Lanning was amid the scrum for the ball with
Tony Dye
, but he neglected to touch Dye when he recovered the kick on the ground. That let Dye get up and run.
"I have no idea," Lanning said when asked if he touched Dye. "I slid and was trying to fight for the ball."
Lanning said he expected to be rushed kicking into the wind, and he got the pressure he expected. It could be, too, that the Bengals saw something they liked on the first tipped punt and decided to go after the second.
"Unacceptable," coach Rob Chudzinski said of the poor special-teams protection.
The Browns then compounded their problems. On their ensuing possession,
Chris Ogbonnaya
fumbled after a short completion and the Bengals returned it for a touchdown and a 28-13 lead.
Then on third-and-13 with 42 seconds left,
Jordan Cameron
caught a short throw from Campbell and ran out of bounds. That allowed Cincinnati to save a timeout, and when the Browns didn't cover the punt well Cincinnati was able to kick a field goal.
The Browns implosion led the Bengals to score 31 points in the quarter, a franchise record.
"A few plays here and there, it could have been a different outcome to the game," defensive lineman
Desmond Bryant
said.
Which, technically, is true.
But when every play goes against the team making the errors, it creates a steamroll effect that is next to impossible to fight.
And when the same team makes mistakes big and less big -- like
Armonty Bryant
jumping offside on a Cincinnati punt in the third quarter on fourth-and-2 -- it adds up.
Figure that Campbell returned to his pre-last-two-weeks self and threw three interceptions, and it's not hard to grasp why Browns lost a game by 21 when they held the opposing quarterback to 93 yards passing (on 27 attempts) and when they held the opposing star (receiver
A.J. Green
) to two catches for 7 yards.
"We handed them the game," said wide receiver
Josh Gordon
.
"Too many mistakes," said safety
T.J. Ward
. "Too many errors. We're not ready … we're not ready."
November, 17, 2013
11/17/13
6:07
PM ET
CINCINNATI -- Observed in the locker room after the
Cleveland Browns
'
41-20 loss
to the
Cincinnati Bengals
:
Four plays:
The Browns knew that the loss to the Bengals came down to four plays -- one blocked punt, one tipped punt, one interception that set up a Cincinnati touchdown and one fumble that was returned for a touchdown. The Browns gave the Bengals 28 of their 31 points in the second quarter on what coach Rob Chudzinski said were plays that "were a disaster."

Campbell
Tough to stomach:
T.J. Ward
could not believe the Bengals had 31 points and three first downs in the first half. Nobody could, especially defensively. It's simply not a stat that makes a lot of sense, or that folks see too often.
My bad:
A lot of folks took the blame in the locker room.
Jason Campbell
said it was his job to get the team in the end zone early, and he didn't.
Barkevious Mingo
said he was at fault for the blocked punt that the Bengals returned for a touchdown. A 21-point loss in a "big" game tends to lead to a lot of responsibility being shared.
It was expected:
Punter
Spencer Lanning
said he fully expected Cincinnati to pressure his punts when he kicked into the wind. The Bengals obliged, tipping one punt and blocking another, even though Lanning said his side of things was as it should have been.
Getaway:
The Browns had an abbreviated locker room and hustled their players to the team plane within an hour after the game ended. The goal: To beat the storm that was heading toward Cincinnati; the same storm that delayed the game in Chicago. Players did interviews with team officials scampering around yelling "five minutes."
September, 23, 2013
9/23/13
12:30
PM ET
An examination of four hot issues from the
Cleveland Browns
' 31-27 win at the
Minnesota Vikings
:
[+] Enlarge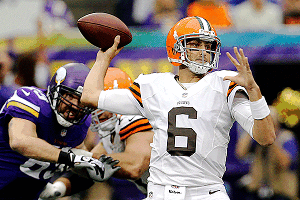 AP Photo/Ann HeisenfeltBrian Hoyer exploited Minnesota's poor pass defense in the Browns' win on Sunday.
Hometown hero
: Quarterback
Brian Hoyer
, a Cleveland native, made a historic first impression for his hometown team. According to the Elias Sports Bureau, Hoyer became the first quarterback in Browns history to throw for at least 300 yards in his debut with the team. He completed 30 of 54 passes for 321 yards with three touchdowns and three interceptions, exploiting the 25th-ranked pass defense in the league. In his five-year career, Hoyer had one previous start and threw two touchdown passes. He passed for 330 yards all of last season.
Busy day
:
Spencer Lanning
is typically the Browns' punter and holder on kicks. He had a few more responsibilities Sunday. He threw a touchdown pass to tight end
Jordan Cameron
on a fake field goal attempt in the second quarter and later kicked the extra point because
Billy Cundiff
injured his quadriceps. According to the NFL, Lanning is the first player since Philadelphia's Sam Baker in 1968 to have a punt, an extra point and a touchdown pass in the same game.
Can't run them over
: The Browns made a commitment to upgrade their pass rush. Not many expected such an improvement out of their run defense. The Browns made their biggest stand of the season against Vikings running back
Adrian Peterson
. Cleveland limited the All-Pro running back to 88 yards on 25 carries, a 3.5 average. His longest run was 9 yards. The Browns ranked 19th in the NFL last season in run defense. They're No. 8 in the league after three games this season.
Who needs to run the ball?
In their first game since trading running back
Trent Richardson
, the Browns didn't even attempt to establish the run. Of the Browns' 75 plays, they handed the ball off to a running back 14 times. That's 18 percent of the time. The biggest runs were gained by safety
Josh Aubrey
off a fake punt (34 yards), wide receiver
Josh Gordon
(22 yards) and fullback
Chris Ogbonnaya
(22 yards). Cleveland's tailbacks --
Willis McGahee
and
Bobby Rainey
-- combined for 26 yards on 12 carries.
August, 26, 2013
8/26/13
7:30
AM ET
If Week 3 of the preseason is truly a dress rehearsal for the regular season, the AFC North teams have some work to do. All four division teams lost, and most of the starters had forgettable performances. Speaking of losing, the AFC North wake-up call will no longer have the Steelers in this space every morning. Steelers team reporter Scott Brown now will provide a post with morning links for the Black and Gold. So, let's see what is happening with the two Ohio teams and the franchise that used to located in Ohio:
RAVENS
: Running back Delone Carter has only a few days of practice and the preseason finale to prove he's worth a roster spot. He was acquired by the Ravens last week in a trade with Indianapolis, and is looking to make the team as the No. 3 running back. "It's a hurried evaluation, that's what it is," coach John Harbaugh said, via
The Baltimore Sun
. "We're going to have to see if we see enough. That's what it really boils down to. First impressions are positive, and we'll just see where it goes this week." ... For a look at the roster cuts made by the Ravens on Sunday, you can
click here
.
BENGALS
: Right tackle Andre Smith left in the second quarter of Saturday's preseason game with a left knee injury. According to
The Cincinnati Enquirer
, Smith appeared to be walking fine in the locker room after the game. "He should be ready to go for [the season opener against] Chicago," coach Marvin Lewis said. ... The Bengals released six players Sunday: tight end Richard Quinn, defensive tackle Vaughn Meatoga, wide receiver Jheranie Boyd, cornerback Terrence Brown, linebacker Jordan Campbell and kicker-punter Quinn Sharp. The team needs to make six more moves to get down to the league limit of 75 players by Tuesday afternoon.
BROWNS
: Kicker Shayne Graham and punter Spencer Lanning are leading the candidates to remain the Browns' specialists, but coach Rob Chudzinski wouldn't fully commit to them just yet, according to
The Akron Beacon Journal
. Graham made field goals of 50 and 44 yards against the Colts while undrafted rookie kicker Brandon Bogotay sat out with a strained groin. "It was good to see him be able to do that," Chudzinski said of Graham's 50-yard kick. ... According to
The Plain Dealer
, Chudzinski is leaning toward playing his starters in the preseason finale, although it may be just a cameo appearance. "We're going to approach this next game that those guys are going to play," he said. "And then I'll make that determination later in the week as it goes on."
August, 24, 2013
8/24/13
10:05
PM ET
The
Cleveland Browns
offense delivered its worst output of the preseason just four days after
Brandon Weeden
was officially named the starting quarterback.

In a
27-6 preseason loss
at Indianapolis, the Browns failed to score on their six drives against the Colts' starting defense and the first-team offense produced its only points -- a 50-yard field goal by
Shayne Graham
-- against the Colts' backups.
Weeden, who entered this game with the second-best passer rating of the preseason, finished 12-of-25 for 105 yards. He nearly saw two passes picked off, including a third-down one during a two-minute drill, and missed a wide-open
Kellen Davis
in Indianapolis territory. Weeden threw six consecutive incompletions during one stretch.
There are others to share the blame in the woeful performance. Wide receiver
Greg Little
fumbled after picking up a first down, and wide receiver
Josh Gordon
and running back
Brandon Jackson
both dropped passes. Little and Gordon combined for five catches on 11 targets.
This was a Browns offense that had scored points on five of six possessions in its first two preseason games. Cleveland had trouble extending drives Saturday night, going 1-of-6 on third downs against the Colts' starting defense.
Here are some other thoughts on the Browns' third preseason game:
July, 10, 2013
7/10/13
10:46
AM ET
By
ESPN.com staff
| ESPN.com
Baltimore Ravens
First-rounder Matt Elam has no plans to hire an agent and will
negotiate his own rookie contract
, according to The Baltimore Sun's Aaron Wilson.
Will Joe Flacco continue in 2013 to
perform like an elite QB
, like he did in last season's playoffs? Phil Gentile of Purple Reign doesn't think so. Gentile: "I feel like Flacco will continue his up-and-down play in the regular season in 2013. Sorry. Does this make me a Flacco 'hater?' I don't really care. He's been an up-and-down quarterback in every regular season of his career. Why would that change now? Of course, if he continues to excel in the playoffs (and I think he will) then who really cares what he does in the regular season?"
Cincinnati Bengals
Without a long-term deal, Michael Johnson is set to play this season under the franchise tag.
He opened up about his contract situation
in an interview with Sirius NFL Radio. Johnson: "I'm the right defensive end and I'll play in every game and do my best for the team. I can't worry about that and prepare myself day in and day out. There is no ill will on either side, it's a business. They have to make these moves much like players have to do the same thing. I have to go out and perform. The bottom line is to help the team win."
Though his numbers dipped from his first season with the Bears to his second,
Dane Sanzenbacher says he became a better receiver
, reports Steve Junga of the Toledo Blade. Sanzenbacher was traded to the Bengals last December and now he's one of 10 receivers vying for six jobs. Sanzenbacher: "I'm getting a fresh start in Cincinnati. You carry over the confidence you've gained, and all the little things you've learned. It's my third year, and I think it's a good time for me to progress. I think it's really going to be a good situation for me."
Geoff Hobson of Bengals.com points out
five statistical areas in which the Bengals must improve
in order to "put them over the top" this season.
Cleveland Browns
Scott Entsminger didn't get the six Browns pall bearers he requested for his funeral, but the team did send representatives to his memorial service Tuesday and
presented his family with a customized jersey
, reports NFL.com's Kevin Patra.
Paul Warfield comes in at No. 19
on The Plain Dealer's list of the top 100 Browns of all time.
Spencer Lanning has a few things going in his favor
in the competition to replace punter Reggie Hodges, writes Tony Grossi of ESPNCleveland.com.
Pittsburgh Steelers
Fullback Will Johnson gives fans
a look into his life off the field
in a video from Steelers.com.
Pennlive.com's Dustin Hockensmith has a
training camp preview of the linebackers
, including a breakdown of the projected starters, key reserves, new faces to watch and key losses.
With several key players aging,
the window for the Steelers to contend
for a Super Bowl is closing, writes Gil Brandt of NFL.com.
May, 16, 2013
5/16/13
12:45
PM ET
The AFC North is finishing up the position ranks today, and I will have a wrap-up on all of the rankings Friday. Let's look at special teams, and the rankings are based on specialists and not coverage or return units as a whole.
1. Baltimore Ravens
: The Ravens get the top spot based on the assumption that
Jacoby Jones
will remain the primary returner. He proved to be the most explosive returner in the NFL last season with four touchdowns (including playoffs).
Justin Tucker
exceeded expectations as a rookie last season with his accuracy (led the division at 90.9 percent) and distance on field goals. Punter
Sam Koch
has been solid for years and recorded a career-high 40.8-yard net average last season.
2. Cincinnati Bengals
:
Kevin Huber
was the best punter in the AFC North last year. He led the division in net average (42.0) and punts inside the 20-yard line (33).
Mike Nugent
slipped to 82.6 percent conversion rate, but he was perfect inside 40 yards. The biggest concern with Nugent is durability. He has finished two of the past three seasons on injured reserve. The Bengals have some options at returner with
Brandon Tate
,
Adam Jones
and
Onterio McCalebb
, the fastest player at this year's NFL scouting combine.
3. Pittsburgh Steelers
: Journeyman kicker
Shaun Suisham
has solidified himself in Pittsburgh. He has converted over 90 percent of his field goals in two of his three seasons with the Steelers. There's more uncertainty at punter and returner. Rookie punter
Drew Butler
was 25th in the NFL in net average (37.8), which is why he'll have competition this year from
Brian Moorman
, a two-time Pro Bowl punter. After spending 12 seasons with the Bills, Moorman had a below-average season last year with the Cowboys. At returner, the Steelers have to decide between
LaRod Stephens-Howling
, rookie sixth-round pick
Justin Brown
and undrafted rookie
Reggie Dunn
.
4. Cleveland Browns
: The Browns didn't re-sign two Pro Bowl specialists from last year, kicker
Phil Dawson
and
Josh Cribbs
. The Browns downgraded at kicker, going from the one constant in their expansion era (Phil Dawson) to a player who is on his ninth team in five seasons (
Shayne Graham
). Graham ranked 23rd in the league last season with a 81.6 percent success rate on field goals. Cleveland also parted ways with ineffective punter,
Reggie Hodges
.
Spencer Lanning
and
T.J. Conley
, both of whom were out of the league last year, will compete for the punter job.
Travis Benjamin
is expected to replace Cribbs on punt returns, and
Dion Lewis
may take over on kickoffs.
August, 26, 2012
8/26/12
4:39
PM ET
The Browns and Ravens have already made some cuts as teams need to get down to the 75-player limit by Monday at 4 p.m.

As everyone knows by now, the Ravens cut kicker
Billy Cundiff
in
a gutsy move
by the team. That means undrafted rookie
Justin Tucker
takes over as kicker.
"Billy had a great camp, the best he has had with us," coach John Harbaugh said in a statement. "He showed, like he always has, a toughness and an ability to come back and be a top-flight NFL kicker. These decisions are never easy, and this one was difficult for all of us -- Ozzie [Newsome, general manager], Jerry [Rosburg, special-teams coordinator] and me."
Harbaugh added, "Of course, that says something about Justin, the way he has kicked and our belief in him. But, that does not say something less about Billy. Billy was ready in every way to be our kicker. He'll kick in the NFL. He's a very good kicker and an even better person."
The Ravens had signed Cundiff to a five-year, $14.7 million contract that included a $3 million signing bonus just 19 months ago.
The one notable player waived by the Ravens was center
Cecil Newton
, the brother of Panthers quarterback
Cam Newton
. Cecil Newton was on the team's practice squad last season. Here are the other players waived: tight end
Davon Drew
(a 2009 fifth-round pick), receiver
Devin Goda
, OL
Addison Lawrence
, cornerback
Jordan Mabin
, long-snapper
Patrick Scales
, quarterback
Chester Stewart
and receiver Patrick Williams.
These cuts bring the Ravens' roster down to 81 players, meaning six more need to go by Monday's deadline. One move could be placing wide receiver
Tommy Streeter
, who didn't practice Saturday, on injured reserve to store him away for a year.

For the Browns, the biggest name to go was wide receiver
Carlton Mitchell
.The Browns had hopes they could develop Mitchell when they drafted the 6-foot-3, 215-pounder in the sixth round in 2010. But he managed three catches for 31 yards in two seasons. Cleveland decided to move on after drafting
Josh Gordon
in the supplemental draft and taking
Travis Benjamin
in the fourth round in April.
Here are the other players waived by the Browns: offensive linemen
Jake Anderson
and
Matt Cleveland
, defensive back
Emanuel Davis
, linebacker
JoJo Dickson
, punter
Spencer Lanning
and wide receivers
Bert Reed
,
Jermaine Saffold
and
Owen Spencer
.
The Browns now have 80 players on their roster and need to make five more moves by Monday's deadline.