November, 18, 2009
11/18/09
11:30
AM ET
NBA superstar LeBron James is
once again talking NFL
, and he's doing it at a time when his hometown team is at one of its lowest points in franchise history.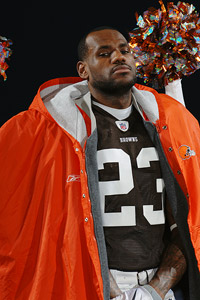 All StateIn a recent commercial, James daydreamed about playing in the NFL; the Browns could use all the help they can get on offense.
James is doing all he can to bring a championship to Cleveland via basketball. But could he help the struggling
Cleveland Browns
get out of their funk in football?
The Browns need a tight end. In fact, the Browns need everything.
At 6-foot-8 and weighing 250 pounds, James might instantly become one of the top football players in Cleveland, despite not playing the sport since high school. Without a doubt, he would be the best athlete. James would just need a lot of coaching.
Former
Green Bay Packers
Mark Murphy, a member of that team's Hall of Fame,
told ESPN.com's Tim Graham
earlier this year that James would be tremendous in football.
"The kid had everything you could want," Murphy said. "I felt like that was one kid that could have gone from high school to the NFL and played."
Murphy put James in the same category as Jerry Rice, Steve Largent and James Lofton. I don't know about all that. But what I do know is Cleveland's offense is awful and difficult to watch.
Insert James and the Browns' offense suddenly becomes more watchable.
The Browns could use James in the slot at tight end, perhaps run him on a few reverses, and even as quarterback in the Wildcat offense.
For those that don't know, James has a very strong arm. Maybe Cleveland could let him throw the deep passes of 15 yards or more instead of the struggling
Brady Quinn
. I'm not sure of James' accuracy, but Quinn and
Derek Anderson
's accuracy hasn't been good this year, either.
James could be a decoy on some plays. That would open things up for
Jamal Lewis
,
Josh Cribbs
and
Mohamed Massaquoi
. His vertical jump is tremendous. James could be
Randy Moss
-like in jump-ball situations in the red zone.
But the Browns are missing out as James is using his talents in basketball, a sport that he obviously has a gift for.
Football is a sport in which players have a very brief shelf life. So even if James is occasionally enamored with scoring touchdowns, he's better off sinking three-pointers than thinking of helping the lowly Browns or any other NFL team.
October, 29, 2008
10/29/08
12:30
PM ET
| | |
| --- | --- |
| | |
| | Tom Hauck/NFL |
| | Peter Boulware retired as the Baltimore Ravens' all-time sack leader. |
Posted by ESPN.com's James Walker
Three years after his retirement from the NFL, former Baltimore Ravens linebacker Peter Boulware is tackling politics.
The four-time Pro Bowler and Ravens all-time sack leader is on the campaign trail this fall attempting to earn a seat in the Florida House of Representatives in Tallahassee, where he was once an All-American at Florida State University.
Boulware decided to enter politics about a year ago. Even his closest family members and friends were surprised Boulware wanted to make the jump into politics.
"I don't really like the public attention or the public spotlight, so it caught everybody off guard," Boulware said. "But I just felt like it was the right thing for me to do. If you would have asked me two and a half years ago if I thought I would be going into politics, I would have told you 'No way possible.'"
But Boulware is less than a week away from possibly obtaining his goal. He overwhelmingly won the Republican primary in August. Yet by most accounts Boulware is considered an underdog on Election Day against Democratic candidate Michelle Vasilinda, in part, because the Democratic ticket is more popular in Tallahassee.
Boulware believes his ability to bring people together will help cross party lines. His biggest platforms are continuing to improve his district's school system, featuring Florida State, Florida A&M and Tallahassee Community College. And he is passionate about home affordability and the economy, which are both major concerns locally and nationwide.
Boulware is studying these issues like he once did opposing offenses. He admits his popularity is a big boost to his campaign, but that alone is not enough to win a seat in the state house.
| | |
| --- | --- |
| | |
| | Submitted photo/Caleb Hawkes |
| | Former Baltimore Ravens linebacker Peter Boulware is now tackling politics. |
"In order to get somebody to vote, they want to know exactly who you are, what you stand for, and what are the issues that are close to your heart," Boulware said. "So the name recognition kind of gets you in the door, but after that you have to let people know that you're serious. You have some issues and concerns about them and that you want to help."
Boulware is not alone. He joins a growing list of former NFL athletes who have translated their natural love for competition into public service in government and politics.
Former Washington Redskins quarterback Heath Shuler and Hall of Fame receiver Steve Largent are among the former NFL players to enter the political arena. Boulware says he's studied some of those success stories and hopes he can add his name to that list.
When it comes to leadership, Boulware has a close confidant nearby in longtime Florida State head coach Bobby Bowden. By choice, Boulware is not parading the popular Bowden around Tallahassee to help him earn more votes in next week's election. But Bowden remains a calming influence in Boulware's life.
"He's kind of been in the background of it," Boulware said. "I don't want to drag coach Bowden into politics. But I talked to him before I got in and he encouraged me and said, 'I think you will do a good job and I'm here for you.'"
Retiring from football was one of the toughest things Boulware said he's ever had to do. Like many NFL players, playing was something he's done all his life and what was most natural to him.
Boulware felt he still had a few good years left, before his career was cut short after eight seasons by knee, toe and foot injuries. He tried to come back for about a year but was never the same player who registered 70 career sacks and was a cornerstone of one of the best defenses in NFL history.
Now Boulware's newfound passion for politics has helped the former linebacker move on from his first love and into the next phase in his life. Just like football, there are many challenges ahead in state government and Boulware hopes to have a chance to work through them.
"It's a great way for me to get involved with the community," Boulware said. "It's really kind of a way for me to tell the community and the state, 'Thank you.' I had a great opportunity to get a scholarship and do well here in Florida, and I want to give back and say, 'I'm here, and I'm here to help out and make this a better place.'"