June, 23, 2010
6/23/10
11:30
AM ET
Notable players:
LB
Ray Lewis
, OT
Jonathan Ogden
, S
Rod Woodson
, TE
Shannon Sharpe
, RB
Jamal Lewis
, LB
Peter Boulware
, CB
Chris McAlister
, DT
Sam Adams
[+] Enlarge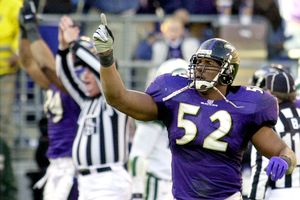 AP Photo/Nick WassRay Lewis and the Ravens' defense helped the young franchise win its first, and so far only, Super Bowl.
Analysis:
The 2000 Ravens are the clear choice for a franchise that's only been in existence for 14 years. It was the only team to win a Super Bowl and also had arguably the most dominant defense of all time.
Baltimore was far from a perfect Super Bowl team in 2000. Most notably, the team had issues at quarterback. The Ravens started with
Tony Banks
under center but finished with
Trent Dilfer
, who played efficiently enough for Baltimore to make an incredible run to end the season.
At one point, the Ravens were a middle-of-the-pack, 5-4 team. Then Baltimore got hot, winning seven straight to end the regular season and four more postseason games, including a victory over the
New York Giants
in Super Bowl XXXV.
Led by middle linebacker Ray Lewis, the Ravens set several defensive records in 2000, including fewest points (165) and fewest rushing yards (970) allowed in a 16-game season. Baltimore also pitched four shutouts.
There were seemingly no weaknesses on defense. Baltimore's defensive line was stout with Adams and
Tony Siragusa
, the linebackers were elite, and the secondary had stud playmakers at safety (Woodson) and cornerback (McAlister).
Then-rookie tailback Jamal Lewis anchored the offense with 1,364 rushing yards. Tight end Sharpe was the team's most dependable receiver, recording 67 receptions for 810 yards.
Most impressive win:
Although the Super Bowl win over the Giants will go down as the biggest game of the season, the most impressive was Baltimore's dominance in the AFC Championship Game, a 16-3 road win over the
Oakland Raiders
. The Ravens' defense smothered Oakland's high-powered offense led by quarterback
Rich Gannon
. Baltimore forced five Oakland turnovers.
Research Room:
Longtime Ravens kicker
Matt Stover
made the only Pro Bowl of his 19-year career in 2000. With an inconsistent offense, Stover was clutch in connecting on 35 of 39 field goals. He led the NFL in both field goals made and field-goal attempts that season. Stover also converted all 30 extra-point attempts.
Lone ranger:
Ray Lewis remains the only player currently with the Ravens from their Super Bowl team in '00. Now 35, the future Hall of Famer is still playing at a Pro Bowl level. Lewis signed a multi-year deal in '09 to make certain that he retires a Raven.
Several key members from Baltimore's Super Bowl team left the organization in the past several seasons. Jamal Lewis last played for the Ravens in '06, Ogden retired after the '07 season, and McAlister and Stover last played for Baltimore in '08.
Honorable mentions (in order):
2006 (tie):
Baltimore finally got solid quarterback play from former NFL MVP
Steve McNair
, and the Ravens won 13 regular-season games. But in the postseason they ran into nemesis
Peyton Manning
and the
Indianapolis Colts
, who eventually won the Super Bowl.
2008 (tie):
The Ravens became the first NFL team to win two road playoff games with a rookie quarterback (
Joe Flacco
). But their run was stifled in fourth quarter of the AFC title game to another eventual Super Bowl champion: The
Pittsburgh Steelers
.
2001:
Baltimore's attempt to defend a Super Bowl title ended with a second-round playoff exit. The
Elvis Grbac
experiment was a disaster. After signing a big free-agent deal with Baltimore, he had more interceptions (18) than touchdowns (15).
January, 17, 2010
1/17/10
8:00
AM ET
INDIANAPOLIS -- Pro Bowl safety
Ed Reed
isn't the only
Baltimore Ravens
player
contemplating retirement
.

Mason
Ravens No. 1 receiver
Derrick Mason
also said after Saturday night's 20-3 playoff loss to the
Indianapolis Colts
that he's undecided on his playing future. Mason, 36, will become a free agent in March.
"I got some months to think about it," Mason said. "I'm not in a rush. If I decide to play, obviously this would be a place that I'll come back to. All the pieces are in place. But I have to think about my two little ones [children]."
Mason led the Ravens with 1,028 receiving yards this past season. He briefly retired last summer following the passing of close friend and former teammate Steve McNair. Mason sighted the emotional trauma as a major reason he briefly called it quits and admitted he has to decide if his heart is still into playing.
"Mentally and emotionally is the toughest part," Mason said candidly. "Physically, I think I've proven that I haven't slowed down. That is not a worry to me. I've been blessed enough to stay healthy.
"So it's all about if I want to play, if mentally I'm still in it to play another year, or two, or three -- whatever it may be. So it's something that I'll evaluate."
August, 16, 2009
8/16/09
12:10
PM ET
An emotional Ray Lewis discusses being a Baltimore Raven, the upcoming season, if he really was going to leave as a free agent and the loss of Steve McNair.
August, 1, 2009
8/01/09
1:53
PM ET
| | |
| --- | --- |
| | |
| | File Photo/G. Newman Lowrance/Getty Images |
| | Wide receiver Drrick Mason's decision to forego retirement should help out Baltimore's offense. |
Posted by ESPN.com's James Walker
The Baltimore Ravens received a shot in the arm offensively when No. 1 receiver Derrick Mason ended his retirement and joined the team for training camp Saturday. It was the best possible scenario for Baltimore, which spent weeks trying to find a replacement after Mason retired.
Mason had been dealing with both shoulder rehab and the passing of his longtime friend and teammate Steve McNair. But Baltimore was convinced Mason could have a change of heart if the organization gave him time, and the Ravens were right.
Mason led the team last year in both receptions (80) and receiving yards (1,037).
The Ravens were caught by surprise last month when Mason announced his retirement. In an effort to find a quick replacement, they signed Drew Bennett to a one-year deal. Bennett also retired two days later, citing a knee injury.
The team had flirtations with other veteran receivers such as Joe Horn and D.J. Hackett. But getting Mason back was clearly the preferred option. He already has good chemistry with second-year quarterback Joe Flacco, and teammates Mark Clayton and Demetrius Williams will not have nearly as much pressure on them to produce in support roles.
July, 13, 2009
7/13/09
6:07
PM ET
Posted by ESPN.com's James Walker
During the Baltimore Ravens' run to the AFC Championship Game last season, veteran receiver Derrick Mason developed into one of the team's most indispensible players.
| | |
| --- | --- |
| | |
| | Al Bello/Getty Images |
| | Derrick Mason was the Ravens' leading receiver last season, catching 80 passes for 1,037 yards. |
Now, the Ravens have a huge void that needs to be filled just weeks before training camp after Mason announced his retirement before the 2009 season. Here is the full report from ESPN.com senior writer John Clayton.
So what's next for the Ravens? They have major work to do in very little time.
Giving a call to veteran Marvin Harrison, who is the best free-agent receiver available, could be a good first step. In the past, signing Harrison didn't make sense for Baltimore because his skills as a possession receiver are very similar to Mason's. But with Mason gone, Harrison, if healthy, has the ability to fill that void.
The Ravens will save $3 million off their cap with Mason's retirement, making a strong play for Harrison a possibility. Baltimore also has been mentioned in several trade scenarios involving disgruntled receivers such as Brandon Marshall and Anquan Boldin in the past, but nothing ever came to fruition.
Keep in mind that Baltimore is in the process of working out a long-term deal with Pro Bowl defensive end/linebacker Terrell Suggs, which is a huge priority. Suggs currently is playing on the franchise tag and the deadline to remove it is Wednesday.
But after a decision on Suggs is final, Baltimore needs to put all of its efforts into patching up the major void Mason leaves behind. The Ravens were one game away from the Super Bowl last season and have very high expectations, and fielding a starting receiving duo of Mark Clayton and possibly Demetrius Williams simply won't cut it.
July, 10, 2009
7/10/09
9:40
AM ET
Posted by ESPN.com's James Walker
Here are the most interesting stories in the AFC North:
Morning take: No surprise here. Pittsburgh was one of the few teams that bottled up Slaton (13 carries, 43 yards) in Week 1 of his rookie season.
Morning take: Mason in particular spent a majority of his career catching passes from McNair in Baltimore and with the Tennessee Titans, and their bond goes far beyond the gridiron.
Morning take: We will have more on "Madden" this afternoon, once I finish taking NFC East blogger Matt Mosley to task in the upcoming Eli Manning vs. Ben Roethlisberger debate.
Morning take: Coffman could help the Bengals if he recovers from his foot injury this summer. Getting to training camp on time would be a good first step.
July, 9, 2009
7/09/09
8:15
AM ET
Posted by ESPN.com's James Walker
Here are the most interesting stories in the AFC North:
Morning take: Currently Ochocinco is thinking of slogans to wear on his shirts during HBO's "Hard Knocks" series. From there, who knows?
Morning take: By all accounts, McNair was a tremendous teammate during his time in the NFL. He certainly made a significant impact in his two years with the Ravens.
Morning take: It was simple but meaningful. Click to find out.
Morning take: Davis could be a late-round steal. We will have more on Cleveland's sixth-round pick in the next blog post (hint, hint).
July, 5, 2009
7/05/09
11:51
AM ET
Posted by ESPN.com's James Walker
Steve McNair spent the majority of his career with the Tennessee Titans, but he also will be remembered for his impactful and productive stay with the Baltimore Ravens.
| | |
| --- | --- |
| | |
| | David Maxwell/Getty Images |
| | Steve McNair helped lead the Ravens to a 13-3 mark in 2006. |
McNair, who suffered an untimely passing on Saturday, was Baltimore's first legitimate threat at quarterback in the team's 13-year history.
After a bevy of failed draft picks and free-agent acquisitions, the Ravens were in search of a winner who could steady the quarterback position. In 2006, they turned to McNair -- one of their biggest rivals -- to become Baltimore's new leader on offense.
The chemistry was instant as McNair's toughness and character commanded respect and quickly made him a leader in Baltimore's locker room. He helped propel the Ravens to a 13-3 finish and an AFC North title in his first year with the team.
On a defensive-oriented team, McNair threw for 3,050 yards and 16 touchdowns in 2006 before losing in the divisional round of the playoffs to the Indianapolis Colts, who went on to win Super Bowl XLI. A strong case can be made that the Ravens' 2006 team with McNair was the organization's best outside of its title team in 2000.
"What we admired most about Steve when we played against him was his competitive spirit, and we were lucky enough to have that with us for two years," Ravens general manager Ozzie Newsome said this weekend. "He is one of the best players in the NFL over the last 20 years."
McNair started all 16 games in 2006, but injuries caught up to him during his second and final season in Baltimore. He played in just six games in 2007 and retired the following offseason.
McNair deservingly will be remembered mostly as a Tennessee Titan. But he also left a significant imprint during his two years in Baltimore, as well.
July, 4, 2009
7/04/09
7:35
PM ET
Paul Kuharsky talks about Steve McNair's impact in Nashville and reflects on the quarterback's career.
The latest on the story is here.
More reaction to McNair's death:
July, 9, 2008
7/09/08
8:01
AM ET
Posted by ESPN.com's James Walker
Here is a look at the most interesting stories around the AFC North:
Walker's take: Interestingly, Gosselin also likes the New York Giants to win the NFC. I'd say the team in Gosselin's backyard has a much better chance than these two picks.
Walker's take: Druckenmiller attends every Steelers home game and, according to the article, paints his face black-and-gold. That would certainly earn brownie points in Steel Town. Still, I don't see the Rooneys giving up principal ownership. Maybe Druckenmiller can buy the Pirates instead.
Walker's take: Another case of poor financial management. But Henry could get another chance if he gets through his trial on July 14.
Walker's take: Will McNair get the "itch" once he throws to high school receivers?