August, 1, 2014
8/01/14
9:30
AM ET
CINCINNATI -- Thanks to Marvin Lewis, a generation has passed since the
Cincinnati Bengals
were a joke. Kids today have never heard of the "Bungles" or David Klingler or Ki-Jana Carter or Akili Smith. They couldn't fathom an NFL team missing the playoffs in 20 of 22 seasons, as the Bengals did from 1983 through 2004.
These days, the Bengals are, well, a professional football franchise. They draft good players, employ skilled coaches to develop them and are a perennial playoff contender. In January, the league stamped them with an exclusive badge: Both coordinators were hired as head coaches elsewhere. Two other teams wanted some of that Bengals magic.
"The cup now overflows with confidence here," said retired linebacker Takeo Spikes, who fled Cincinnati in 2003 but now marvels at the subsequent transformation.
[+] Enlarge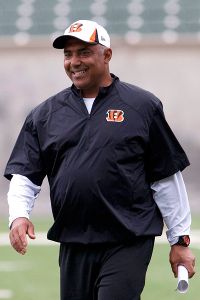 Aaron Doster/USA TODAY SportsMarvin Lewis has led Cincinnati to the postseason five times in 11 seasons, but the Bengals are 0-5 in playoff games under Lewis.
This is where Marvin Lewis has brought the Bengals, through 11 painstaking years of modernization and gently tugging owner Mike Brown away from football operations. And now, in 2014, the Bengals have reached perhaps the most complex crossroads in franchise history: Just how ambitious are they? Will they reach a point when a first-round playoff loss has consequences for the man who led them into their golden age? Or would they be too scared to risk their successful perch in search of the next level?
These issues coursed through training camp during a visit to Cincinnati this week. Under Lewis, the Bengals have reached the playoffs five times, accounting for nearly half of the franchise's 12 postseason trips. They have lost in the first round on all five occasions, however, giving Lewis the unique distinction of coaching more games (176) without a playoff victory than anyone in NFL history.
So what happens now? By all accounts, the Bengals are a talented group that, despite the coordinator transition, should vie for its fourth consecutive playoff berth. Is this the year Lewis leads them deep into the postseason? And if not, will Brown react any differently than he has in the past? Should he?
Lewis is signed through the 2015 season, courtesy of a one-year extension completed this spring.
Speaking to reporters last week,
Brown gave no indication of impatience. Instead, he sounded an appreciative tone for Lewis' accomplishments where so many others had failed.
"Marvin's a solid coach and a good guy," Brown said. "I've gotten to know him through thick and thin. He's brought us to a good level. We're a winning team. And when you have that coach that can do that for you, I think you'd be foolish to be unsatisfied with him."
After decades of debacles, I understand why Brown is happy to not be unsatisfied. It beats an alternative he is quite familiar with. But the next step is to raise expectations for what constitutes satisfaction in Cincinnati, and now is as good of a time as any. The only NFL coach in his job longer than Lewis is Bill Belichick, who has taken the
New England Patriots
to five Super Bowls in 14 years and won three.
Lewis' best work in Cincinnati has taken place on a different plane. During a visit to camp Thursday, Spikes recalled his desperation to escape the Bungles. Lewis had just been hired, but Spikes didn't think he could move Brown away from day-to-day operations.
"I give Marvin a lot of credit for that," Spikes said. "He came in and built that trust factor up with Mike, and ... starting back in [the early years], he gave a little control, more, more, and then more. When I look at the roster, the roster is built not with what Mel Kiper says, not with what Mike Mayock says. It's built with football players that I've seen on tape. That's what I like about this roster. It's a bunch of players [that show up] on the tape."
According to Spikes, Lewis also raised expectations for a coaching staff that wasn't always NFL-grade.
"It used to be that you would have a head coach here or one coach [on the staff] that would have credibility," he said. "Now it's damn near the entire staff that has credibility. Proven winners. Proven teachers. That's what I see."
Lewis has charmed the Brown family, which includes Mike's daughter and heir apparent Katie Blackburn, in a way his predecessors did not.
"They have let him mold his team to his image and his vision of it," said defensive line coach Jay Hayes, who arrived with Lewis in 2003 and is a lifelong friend. "He's worked well with them and they've worked well with him."
Is that enough? Does Marvin Lewis need to start winning playoff games? Eventually, it's fair to expect it. That's how professional teams operate. Lewis has pulled the Bengals to that level. Are they satisfied simply by their transformation? We'll soon find out.
July, 31, 2014
7/31/14
8:15
PM ET
CINCINNATI -- The world was much different when Takeo Spikes played inside linebacker for the
Cincinnati Bengals
.
On average, gas nationwide was less than $1.40 per gallon. Three generations of
Boston Red Sox
fans still hadn't seen a World Series win. Bengals fans were going through a different type of misery. Their team was far from what it is now.
Plain and simple, the Bengals were awful, pitiful, and any other adjective you can think of that describes the abysmal play that defined their existence in the decade prior to that point. By the end of the 2002 season they hadn't been to the playoffs in a dozen years. The organization was so bad in the five years Spikes played for it that he saw only 19 wins.
He also was part of 61 losses.
These days, brown paper bags aren't the game day accessory of choice for Who Dey Nation. Instead, rose-colored glasses -- ones with orange-and-black striped frames, naturally -- are what Bengals fans are looking out of. The regular-season wins are coming. The postseason appearances are steady. The only real similarity to those Spikes-led teams that never saw the playoffs is that this most recent Bengals manifestation simply can't get past the opening 60 minutes of the postseason.
Spikes thinks that will soon change.
"I've only been in here for like three hours," Spikes said to reporters from inside a Paul Brown Stadium hallway Thursday afternoon, "[but] the sense I get is that a lot of the guys are pissed at the way last year ended.
"They're out to prove a point."
A self-proclaimed "Bengal for life," Spikes likes the thought of that.
"Talking with the guys, seeing how the guys walk, the culture has changed," Spikes said. "Expectations are different."
The former 1998 first-round draft pick was in Cincinnati to help with Sirius XM Radio's coverage of training camp from the Bengals' practices. He's had a number of other opportunities as a radio and television analyst since his career ended after the 2012 season.
Spikes played with the Bengals until 2002, leaving as a free agent the same offseason Marvin Lewis took over as head coach. The two met often in the weeks before Spikes bolted for Buffalo, but never got to fully know one another until they had long moved on in their respective careers.
In 2012, just before the Bengals were playing Spikes' last team, the Chargers, Lewis mentioned how much he hated letting Spikes leave so easily. Lewis' goal at that time was to establish a new identity and culture around the organization. The beloved linebacker was an unintended casualty of the philosophical change that was occurring.
"I wish I could've got it done better," Lewis said two years ago of Spikes' free-agency negotiations. "It's one that got away."
Even though Spikes only spent a portion of his career with the Bengals, and none of it with Lewis' reclamation projects, he still pays attention to what the organization does. He believes the changes to offensive identity will make the team build upon its disappointing first-round playoff exit to San Diego.
"They felt like they left it on the table last year," Spikes said. "For them to put up season highs over a three-year period of time on the offensive side of the ball and the defense to make a lot of noise and to still go down to San Diego, it just felt like it was unfinished business."
Much of what Spikes sensed from players is what daily beat reporters have felt from the team since the organized team activity and minicamp portion of the offseason: That the offense under new offensive coordinator Hue Jackson is going to pace any changes the Bengals go through.
"On the offensive side of the ball, you will see the mentality switch," Spikes said. "It will damn near look like the defensive side of the ball. I'm excited."
Current Bengals linebacker
Vontaze Burfict
, a player who has been compared to Spikes, said the defense has had a role in helping the offense flip that mental switch.
"They feed off of us," Burfict said. "We bring a little bit of feistyness, and I can tell they're bringing it, as well. That's just good competition. If I compete at certain levels, the guy in front of me is going to do the same, as well. That's my focus: come out full speed every day and make my offense better."
Whether that edge comes from Burfict or Jackson or anyone else, Spikes knows one thing -- that he likes it.
March, 2, 2011
3/02/11
9:15
AM ET
Are the
Cincinnati Bengals
as bad as
Carson Palmer
thinks they are?
Based on the starting quarterback's stern trade demands and
reported comments via a confidant
, it is clear Palmer believes the Bengals are hopeless. He is not buying into the team's 2-1 finish, recent coaching changes or the idea of young players quickly developing. In Palmer's eyes, he doesn't see an end to the losing following a 4-12 season.
This should serve as a huge wake-up call for the Bengals organization.
Palmer knows the Bengals extremely well. He's the franchise quarterback who, over the past eight years, has been privy to all the inner workings of one of the most downtrodden organizations over the past two decades. Since Palmer was drafted as the No. 1 overall pick in 2003, the Bengals have had only two winning seasons and zero playoff victories.
[+] Enlarge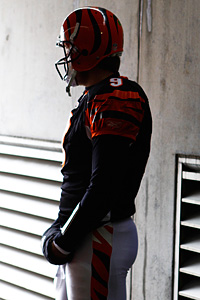 Frank Victores/US PresswireCarson Palmer is the latest Bengals star player to want out of Cincinnati.
It's not a shock that a Bengals player wanted out this offseason. This happens every few years in Cincinnati, whether it's
Chad Ochocinco
,
Corey Dillon
or
Takeo Spikes
.
But the surprising part is that it was Palmer, who is (was?) one of the most optimistic and naturally upbeat athletes in the NFL. He's never complained to the media about the Bengals in eight seasons. Now, he suddenly doesn't want anything to do with the franchise.
Longtime readers of the AFC North blog know I've never had much confidence in Cincinnati's non-traditional organizational setup. The Bengals have no general manager, a small scouting staff (ESPN's scouting staff is bigger) and they make too many bad personnel decisions without putting enough money back into their product.
How can you consistently compete in today's NFL with this model?
If this is easy to see from the outside, then Palmer certainly knows this from the inside as the team's starting quarterback. He would rather retire and spend time with his family than continue to suffer through more losing seasons and take the physical pounding on his 31-year-old body.
In my opinion, Palmer's wanting out is a much bigger reflection on the Bengals than it is Palmer. He isn't the first star player to lose hope in the organization, but I think Palmer's situation is the most telling.
As of March, it appears Palmer will never play another down for the Bengals. It remains to be seen if this holds true in September. But regardless of how this saga ends, the Bengals should really take this latest debacle as a sign that a lot of improvements need to be made within the organization to prevent
the next star player from being "Bengalized."
February, 23, 2011
2/23/11
7:22
AM ET
With the offseason in full swing, let's take a look at one major question facing each AFC North team as it begins preparations for the 2011 season:
CINCINNATI BENGALS
Should the Cincinnati Bengals give into Carson Palmer's trade demands?

After eight underachieving seasons in Cincinnati,
Palmer wants out
and everyone from his agent
to teammates
to his realtor believe Palmer is absolutely serious. So how should the Bengals handle this situation?
Cincinnati is consistently one of the NFL's more downtrodden franchises and has been through this before. In the past, players such as
Takeo Spikes
,
Corey Dillon
and
Chad Ochocinco
have expressed the desire to get out of Cincinnati and couldn't leave on their terms.
But Palmer's situation is different for two reasons. First, he's the franchise quarterback, the most important player on the team. Second, he's threatened to retire if he's not traded, which is something Spikes, Dillon and Ochocinco never did. These two factors up the ante tremendously in terms of putting pressure on the Bengals.
If Palmer, 31, holds firm on his demands, that leaves
Dan LeFevour
and
Jordan Palmer
as the other quarterbacks on Cincinnati's roster. The Bengals cannot start the 2011 season with either of those players under center. As more time goes by with uncertainty, it becomes more likely the Bengals must
do something to get quarterback help
in the draft or free agency.
In my opinion
, the Bengals should trade Palmer while they can still get decent value for him. Cincinnati will be rebuilding for the next two years anyway -- with or without Palmer -- and there are plenty of teams in need of a good quarterback.
But the
Bengals are standing their ground
, hoping Palmer will have a change of heart. That's a dangerous assumption with free agency potentially starting next month and the NFL draft coming in April.
BALTIMORE RAVENS

Are concerns about Baltimore Ravens quarterback Joe Flacco legit?
As we continue the subject of quarterbacks, we move over to Baltimore. Flacco is getting drilled this offseason by media and fans for not leading the Ravens past the divisional round. Baltimore entered last season as a Super Bowl favorite and by those standards the team -- and particularly the offense -- underachieved.
Now people are starting to doubt Flacco. He has struggled in the playoffs, recording just one passer rating above 90.0 in seven career postseason games. It's no secret an organization is tied into the success and development of its quarterback. But are the expectations of Flacco, in his third season, too high too soon? The answer is, yes.
Flacco has become a victim of his own early success. He advanced to the AFC title game as a rookie and has had expectations of getting to the Super Bowl thrust upon him since.
Last season, Flacco set career-highs in passing yards (3,622), touchdowns (25) and passer rating (93.6) for the Ravens (12-4). But it's the second-round loss to the
Pittsburgh Steelers
that stands out in most people's mind.
Flacco likely must
get past rival
quarterback
Ben Roethlisberger
of Pittsburgh for the Ravens to take that next step. But there is no shame in losing to the eventual AFC champions in the postseason.
Young quarterbacks such as
Matt Ryan
,
Mark Sanchez
and
Josh Freeman
are viewed in a much more favorable light in their cities. Flacco has had as much career success and put up equal or better numbers than all of them. He deserves a break.
PITTSBURGH STEELERS
What will the Steelers do at cornerback?

As their Super Bowl XLV loss to the
Green Bay Packers
proved, the Steelers must add quality depth in the secondary. The Packers,
New England Patriots
and
New Orleans Saints
provide the blueprint of how to beat Pittsburgh's vaunted defense: spread the Steelers out with multiple receivers.
The Steelers simply don't have enough good cornerbacks to defend three- and four-receiver sets. This also takes Pittsburgh's strongest players-- its linebackers -- off the field in favor of players such as
William Gay
and
Anthony Madison
.
Now that linebacker
LaMarr Woodley
received
the franchise tag
, veteran cornerback and pending free agent
Ike Taylor
is Pittsburgh's No. 1 priority. Taylor is Pittsburgh's best corner, but he's also 31 and the Steelers must gauge how much money and how many years to give to him.
The draft will also be important. Previous draft picks at corner such as
Keenan Lewis
,
Joe Burnett
and
Crezdon Butler
have not panned out for the Steelers, who typically address this position in the middle rounds. It's time Pittsburgh invests a high draft pick at this position to increase the probability of finding a future starter.
Do not be surprised if Pittsburgh retains Taylor in free agency and spends its first- or second-round pick on a cornerback in April to fix this issue.
CLEVELAND BROWNS
Are the Cleveland Browns fine without an offensive coordinator?

Pat Shurmur of the Browns has a lot on his plate this year. Not only is he a first-time head coach, but Shurmur is also taking over the role as offensive coordinator in his first season with Cleveland.
Is this a good idea?
After a brief search, the Browns decided to leave the position vacant. Shurmur is a former offensive coordinator for the
St. Louis Rams
and didn't want to give up those responsibilities after becoming a head coach.
A head coach's first responsibility is to manage all 53 players. But Shurmur clearly will give more special attention to his players on offense. That's a major reason the Browns hired experienced defensive coaches such as Dick Jauron and Ray Rhodes to manage the other side of the football.
President Mike Holmgren and general manager Tom Heckert have both done a good job so far in Cleveland. But I have reservations about creating this type of setup with a rookie head coach on a rebuilding team.
January, 24, 2011
1/24/11
12:06
PM ET
Well, this is getting interesting.

One day after
ESPN's Chris Mortensen
reported that
Cincinnati Bengals
quarterback
Carson Palmer
requested a trade, the team's website quotes owner Mike Brown as saying "
We are not trading Carson
." Brown confirmed that Palmer asked to be traded last week.
So there is the first line in the sand between Bengals ownership and their franchise player. Without a doubt this will be one of the most fascinating stories to watch unfold this offseason. Palmer reportedly threatened to retire if Cincinnati doesn't trade him.
Palmer joins a long list of players who grew unhappy with the
constant losing in Cincinnati
. That list included Corey Dillon,
Takeo Spikes
and most recently
Chad Ochocinco
, who all requested to be traded or released with mixed results.
How will this Palmer saga end? Stay tuned.