AFC North:

Tarvaris Jackson
November, 13, 2011
11/13/11
7:12
AM ET
Here's your game-day warm-up:
CINCINNATI -- The Steelers are looking to avoid their first 0-3 start in the AFC North when they play the Bengals at Paul Brown Stadium today.
Pittsburgh lost its first two division games this year when it got swept by the Ravens. The Steelers have only had one three-game losing streak in the division since the AFC North began in 2002.
A majority of the ESPN
NFL experts
believe the Steelers will get their first division victory today. Six of the eight prognosticators have Pittsburgh (6-3) beating the Bengals (6-2), who have won five consecutive games (the longest current streak in the AFC).
ESPN's NFL experts also have the Ravens and Browns winning today. The Ravens (6-2) play at Seattle (2-6), and the Browns (3-5) are home against St. Louis (1-7).
Here are some story lines for today's games:
October, 31, 2011
10/31/11
8:04
AM ET
Every morning, grab a cup of coffee and get your AFC North wake-up call here:
It's Ravens-Steelers week and there's a lot at stake once again in this rivalry. The winner takes control of the division and ... wait, what about the Bengals?
That's right. The Who Dey Nation is unexpectedly crashing the AFC North party this year. The Bengals (5-2) are tied with the Ravens for second place in the division, trailing the first-place Steelers (6-2) by a half-game. The same Bengals that began the season ranking last in ESPN's power rankings.
For those who still don't believe, Cincinnati has won four consecutive games for the first time since 2009. For those who still aren't impressed, the Bengals won their first West Coast game since 2003.
Whatever your opinion, you can't dispute that the Bengals are relevant in November again. There's a growing belief in the locker room that can be judged by the expanding vocabulary. According to the
team's website
, the P-word can now be heard from players.
"I think we set out not to do anything less," left tackle
Andrew Whitworth
said of the playoffs. "That's what we're shooting for. We're going for team wins any way we can get them."
The Bengals will find out whether they're playoff caliber when they play at the Titans (4-3) before hosting the Steelers and taking a trip to the Ravens.
Here's a look at what the local columnists are saying about the AFC North teams following Sunday's games:
BENGALS
: The Bengals are 5-2 because they've taken advantage of a favorable schedule, according to The Cincinnati Enquirer's
Paul Daugherty
. Their five wins have come against teams with a combined record of 13-25. Daugherty wrote: "The achievement comes with its own asterisk. The QBs they've beaten are a veritable Who's Not Who. Raise your hand if you'd start your dynasty with
Kyle Orton
,
Curtis Painter
,
Blaine Gabbert
,
Charlie Whitehurst
or
Tarvaris Jackson
. But we quibble. A 5-2 record should not demand style points, especially not around here."
BROWNS
: The Browns have scored over 17 points just once this season. The Cleveland Plain Dealer's
Terry Pluto
thinks the no-huddle is a no-brainer for Cleveland. Pluto wrote: "There are no quick fixes, not with two inexperienced guards, two running backs in the trainer's room, and no receiver who demands double coverage. But maybe a faster pace will help."
RAVENS
: The Baltimore Sun's
Mike Preston
believes the Ravens' momentous rally just hides another below-average performance. Preston wrote: "The Ravens staged their greatest comeback in franchise history, rallying from a 21-point deficit to defeat Arizona Sunday, but that was about the only good thing you could say. They won. That's it. They won. They beat one of the worst teams in the league, and had to rally from three touchdowns down. Go ahead, jump up and down. Break dance if you want. Lift your champagne glass, but there is not much to celebrate."
STEELERS
: The Pittsburgh Tribune-Review's
Dejan Kovacevic
was impressed with the way the Steelers physically dominated the Patriots. Kovacevic wrote: "They chased
Tom Brady
as if endorsement deals were hanging from his neck. They made
Wes Welker
eat grass within a millisecond of catching the football. They rode big tight end
Rob Gronkowski
like a bucking bronco. And they apparently caught defensive genius Bill Belichick wholly unprepared for, of all gimmicky schemes, the underneath routes of tight end
Heath Miller
. The Steelers, finally, after eight games, are the Steelers again."
October, 30, 2011
10/30/11
8:14
AM ET
Here's your game-day warm-up:
PITTSBURGH -- The AFC North teams have been doing their fair share of winning outside the division, but a majority of ESPN's
NFL experts
is picking half of the division to lose Sunday.
The Ravens (4-2), who play the
Arizona Cardinals
(1-5), are the only unanimous selection within the division to win. The Browns (3-3), who play at the
San Francisco 49ers
(5-1) are the only unanimous selection to lose.
All but two experts predicted the Bengals (4-2) to win at the
Seattle Seahawks
(2-4). Of the eight experts, five chose the Steelers (5-2) to lose at home to the
New England Patriots
(5-1).
Here are some pre-game notes:
BENGALS: Cincinnati, which ranks 18th in the NFL in sacks, should have more opportunities to get after the quarterback in Seattle. The Seahawks have allowed 23 sacks, which is tied for most this season. There's still a question whether the Seattle will start injured Tarvaris Jackson or backup Charlie Whitehurst.
BROWNS: Cleveland needs to figure out how to generate more big plays. The Browns have nine plays of 20 yards or more, which is by far the fewest in the NFL. No other team has fewer than 17.
RAVENS: Joe Flacco has completed 52.1 percent of his passes this season. That's the second-worst completion rate by a Ravens quarterback six games into a season since Stoney Case in 1999. For those who don't remember Case, it's not a compliment to be compared to him. Trust me.
STEELERS: Pittsburgh has forced a season-low three turnovers this season. It's a surprising statistic considering the Steelers led the NFL with 19 turnovers after seven games last season. For those wondering, New England's Tom Brady has thrown eight interceptions, which is tied for fifth-most in the league.
For those interested, today's game plan is to have a wrap-up as soon as the Ravens-Cardinals game ends. I'm at Pittsburgh, so there will be Rapid Reaction as soon as the game ends, along with a column from the Steelers-Patriots game. Because there will be three AFC North games starting at 4:15 p.m. today, the wrap-ups for the Bengals and Browns will get posted as soon as I get back from the Steelers locker room. So, please be patient. It will be a busy (and most likely exciting) Sunday.
September, 16, 2011
9/16/11
1:30
PM ET
»
NFC Final Word
:
East
|
West
|
North
|
South
»
AFC
:
East
|
West
|
North
|
South
Five nuggets of knowledge about Week 2:
[+] Enlarge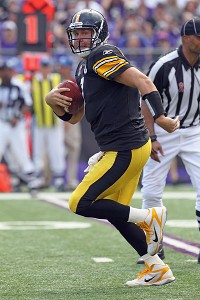 Mitch Stringer/US PresswireAll eyes will be on Ben Roethlisberger and the Steelers to see how they respond to their Week 1 loss against Baltimore.
Early gut check for Steelers:
Everyone wants to see how Pittsburgh responds after taking its worst beating ever from Baltimore. The Steelers said all week that there is no panic in the locker room, and you tend to believe them because they return 21 of 22 starters from a team that played in the Super Bowl. But the heat will be turned up if the Steelers fail to put away the rebuilding Seahawks and go through the motions in their home opener. The critics say Pittsburgh looked slow and old against the Ravens. This is Pittsburgh's chance to respond.
Ravens' biggest concern:
An emotional hangover from last Sunday would spell trouble for the Ravens against
Chris Johnson
, who is a threat to score on any play. After getting nine carries last game, the Titans running back thinks he could get as many as 25 touches Sunday, which would present a challenge for the Ravens. Three years ago against the Ravens, Johnson had 100 yards from scrimmage before leaving with an ankle injury. Baltimore's linebackers are tough and physical but lack great speed. Tracking Johnson sideline to sideline is a huge task.
Avoid slow start:
Every team wants to start fast. But it's essential for the Browns and
Colt McCoy
. Playing catchup with the Colts means defensive ends
Dwight Freeney
and
Robert Mathis
begin to tee off. The big worry is Mathis, even though he's been limited in practice this week with a neck injury. With
Tony Pashos
out with an ankle injury, Cleveland will rotate
Artis Hicks
and
Oniel Cousins
at right tackle, where they'll line up against Mathis. That's the biggest mismatch of the game.
Give the ball to Benson:
Bengals running back
Cedric Benson
is looking for 100-yard rushing games in consecutive weeks for the first time since the end of the 2008 season. That should be a primary goal for Cincinnati against a banged-up Broncos defense. Denver could be without two starters (defensive end
Elvis Dumervil
and weakside linebacker
D.J. Williams
) along with a couple of backups (defensive tackle
Marcus Thomas
and nose tackle
Ty Warren
). It seems like a no-brainer to commit to a ground-and-pound game against the Broncos, who allowed 190 yards rushing against Oakland on Monday.
Steelers' target:
The bull's-eye is squarely on Seattle quarterback
Tarvaris Jackson
. The Steelers should be revved up after managing one sack in the season opener and now facing a ragged Seattle offensive line. The Seahawks' blocking is so shaky that even a mobile quarterback like Jackson got sacked five times Sunday. It should be big days for
James Harrison
and
LaMarr Woodley
.
December, 18, 2010
12/18/10
1:30
PM ET
Let's dig into the weekend mailbag.

Bengals fan from Sardinia, Ohio,
writes: With
Brett Favre
retiring and
Tarvaris Jackson
in his last year, do you think the
Minnesota Vikings
would be willing to trade for
Carson Palmer
? If so what kind of compensation do you think they would get?
Walker:
The trade market for Palmer is going to be interesting because he makes $11.5 million next year. Any team willing to trade for Palmer has to pay him like an elite quarterback when that's no longer the case. The AFC North blog reported Saturday that
Palmer would not accept a pay cut
this offseason to stay with the rebuilding Bengals (2-11). That could increase Palmer's chances of a trade or release from Cincinnati. But the Bengals also have to be careful. If word gets out that Cincinnati is willing to release Palmer to avoid paying that high salary, teams could simply wait for the quarterback to become available and negotiate a lower salary as a free agent. That way teams won't give the Bengals any compensation.
---
Hank from Westbrook, ME,
writes: Do you see the Bengals giving
Bernard Scott
more playing time in the last three games?
Walker:
Scott only got four carries last week, so it's hard to say. But I agree the Bengals should use Scott more down the stretch. In all likelihood, starting running back
Cedric Benson
will not return to Cincinnati. I'm not sure Scott can be a feature back, but the Bengals need to find out what his strengths are. Scott is averaging 4.8 yards per carry this season.
---

Jon Teams from Barboursville, W.Va.,
writes: What is the deal with
Pittsburgh Steelers
offensive coordinator Bruce Arians? Why has he not tried to utilize the run more?
Walker:
It's a combination of having various injuries on the offensive line and having quarterback
Ben Roethlisberger
back under center. Pittsburgh ran the ball best when it had to. For the first month of the season, tailback
Rashard Mendenhall
was the only consistent offensive threat the team had. The Steelers were also healthy up front. Now the entire playbook is available with Roethlisberger and they pass a lot more, and the offensive line isn't healthy and blocking as well.
---
Peter from Virginia
writes: Which offense is in more disarray at this point: Steelers or
New York Jets
?
Walker:
The Steelers are having offensive line issues and the Jets are having quarterback issues. Both can really stall an offense. But it's harder to overcome poor quarterback play. So I would say the Jets have bigger issues at the moment.
---
Will from Alexandria, Va.,
writes: What do you think about the Steelers' chances in the playoffs? Do you think they can beat the
New England Patriots
?
Walker:
I think the Steelers' chances are much better if they don't play the Patriots. Otherwise, the Steelers have as good a chance as anyone if they can get healthy.
---

Adam Gardner from Bel Air, Md.,
writes: Do you think
Joe Flacco
will ever become the Ravens' team leader, call audibles, and be up there with
Peyton Manning
and
Tom Brady
?
Walker:
I never understood the expectations for Flacco to become Manning or Brady, who are two future Hall of Famers. I think Flacco is doing fine at this stage of his career. He has three playoff wins and is having a solid third season statistically.
Ray Lewis
is the leader of the Ravens, and that won't change until he retires. Flacco, for now, can just play well down the stretch and lead by example.
---
Brandon Crawford from Sykesville, Md.,
writes: With the Ravens really struggling on the offensive line, how much of this can you contribute to the loss of offensive tackle
Jared Gaither
?
Walker:
That's a good question, Brandon. I almost forgot about Gaither, because he hasn't been available to the team all season. Gaither can be solid when he wants to be and could've helped Baltimore this year. But too often the Ravens had to stay on top of Gaither, and that gets tiring for an organization. He lost too much weight in the offseason and subsequently got hurt, and I think that was the final straw. Gaither is no longer a good fit with Baltimore, and I don't expect him to return next year.
---
B. Susi from Orlando, Fla.,
writes: I know you like the Troy Reed and now the Heath Heap mash-up. But what about the terror that would be James Lewis? Now THAT would be a terrifying linebacker.
Walker:
Wow, B. Susi. That's an automatic Hall of Famer. The only weakness I can think of would be...long snapping???
---
Troy Reed from Walkerville, AFCN,
writes: Okay, I will admit it:
Troy Polamalu
is better than both me and
Ed Reed
.
Walker:
What?!? No way. Please read this tweet
explaining your greatness
. Neither Polamalu nor Reed could do that alone. Only you can, Troy Reed. You're the best safety in NFL history!
---

Matt
writes: Can you please comment on Brian Daboll and his status as the
Cleveland Browns
' offensive coordinator?
Walker:
Sure, Matt. Daboll is in major trouble. A lot has been written
about Eric Mangini's future
because he's the head coach. But I think the verdict is pretty much in on Daboll. The offense hasn't made any progress in two years, and it has to be driving offensive guru and Browns president Mike Holmgren crazy. I think Cleveland's failure to develop second-round picks
Mohamed Massaquoi
and
Brian Robiskie
also reflects poorly on Daboll.
---
Becky from Galloway, Ohio,
writes: I was wondering why in December the "Battle for Ohio" between the Bengals vs. Browns couldn't be played in The Shoe [at Ohio State]. It would be a sellout. Even if OSU got a million both teams would still make a tidy sum. I work with a number of Bengals and Browns fans. and we would all go no matter cost of tickets.
Walker:
Interesting idea, Becky. But there are a couple of issues I see with this from the NFL's perspective. For starters, one team would be losing a home game every year. Would it be fair for the Browns or Bengals to play just seven annual home games and one at a neutral site, while other teams get eight? Also, home teams make a lot of money off concessions, parking and other things during the game-day experience. That's not something the Browns or Bengals would want to give up to Ohio State.
Comment and complaint department
Ken from Long Beach, Calif.,
writes: As terrible as the
Oakland Raiders
have been the past few seasons I would gladly trade ownership with them. Living in L.A. I have seen the freak show that is Al Davis, but one thing remains certain about him; he wants to win. I am not sure I can say that about Mike Brown. I love my Bengals but I can't wait for L.A. to get a team so I can file my fan free agency and get the heck out of Mike Brown's land of despair.
Jacob from Cincy
writes: I watched
DeSean Jackson
take a 10-yard pass 91 yards to the house, I thought back to how we passed him up in the draft and how the guy we passed him up for has been inactive all season. Where would the Bengals be if they drafted Jackson over
Jerome Simpson
?
Walker:
Jacob, Simpson would probably play like Jackson in Philly and Jackson would be a bust in Cincy. Just kidding. It would have made a big difference in Cincinnati's offense. Ken, so many Bengals fans are at the end of their rope. I've held firm in saying it's good fandom to stick with your team. The Bengals haven't had back-to-back winning seasons in 28 years. Why leave now?
---
Joe from Cincinnati
writes: "Cleveland Browns (5-8) at
Cincinnati Bengals
(2-11), Sunday at 1 p.m. Blasik's comment: The Bengals have better personnel than the Browns, and
Colt McCoy
will be a little rusty coming back. As much as I love to see the Bungles lose, this streak has to end sometime, right? Walker's score: Bengals, 17-16" -- I feel all Bengals fans knew, or at least had a sneaking suspicion, that you hate the Bengals and were extremely biased against them. But your stating how much you love to see them lose makes it woefully apparent.
Walker:
Joe, when did I change my name to Amanda Blasik? We had a guest predict games this week.
Please read the blog again
. Also, for those who think I'm too harsh on the Bengals, read last year's coverage. For those who think I'm a Bengals homer, read this year's coverage.
---
David from Fontainebleau, France,
writes: I think it is incredibly unlikely that the Panthers take Stanford QB Andrew Luck with the No. 1 pick of the draft as you suggested they would. They just picked
Jimmy Clausen
and
Tony Pike
this year. Three picks on the QB position in two drafts? I don't see it happening.
Walker:
David, it's probably too early to predict the top of the draft board, but keep in mind that Clausen was a second-rounder and Pike was a sixth-rounder. Clausen hasn't showed anything for the 1-12 Panthers to get a vote of confidence for next year. Carolina also will have a new coaching staff in 2011 that's not tied to these draft picks, and a new coach always has the tendency to bring in his own players. I wouldn't rule it out.
---
Barry Veet from Hazleton, Pa.,
writes: Just wanted to tell you in my fantasy football playoffs this week I was down 61 points with only
Matt Schaub
and
Andre Johnson
left. I came back and was up 1.6 points until Schaub threw that INT in OT. Talk about an unbelievable heartbreak, losing by .4 after an improbable comeback.
Walker:
Tough way to end your season, Barry. I assume Ravens cornerback
Josh Wilson
probably
isn't your favorite player
.
---
Will from Nashville, Tenn.,
writes: Hey, James. Thanks for not posting that comment comparing the Bengals and the Heat until after the Heat went on a seven-game winning streak and making me look like a fool for the question. At 9-8 when I did post the comment, the Heat were a little more disappointing and it maybe would have drawn a little better comparison to the Bengals. Way to show some respect to a loyal reader.
Walker:
You are correct, Will, and my apologies. We get a lot of questions in our inbox and sometimes we can't always get to them immediately. By the time I got to yours, it was outdated.
AFC North Homer of the Week
We didn't have a strong batch of homer comments this week (good job, everyone). So we had to dig deep and find one of the runners-up from last week.
Enjoy.
Andy from Canada
writes: Hey, James. Longtime reader and much respect. I am driving down to Buffalo regardless of weather for the game this weekend and
Peyton Hillis
will break 200 yards rushing. Post me if I'm right, and post me if I'm wrong. I have faith. Thanks.
Walker:
Andy, Hillis did get 108 rushing yards. But I'm sure you didn't anticipate his three fumbles. Nonetheless, Hillis is having a great year.
If you have any additional questions, comments or complaints, please send them to our
AFC North inbox.
February, 9, 2010
2/09/10
11:00
AM ET


As the reigning Super Bowl champions, the
New Orleans Saints
are guaranteed a nationally-televised home opener on Thursday night next season.
So here's a suggestion: How about the
Pittsburgh Steelers
against New Orleans in Week 1?
This high-profile game would pit the past two Super Bowl champions and a classic meeting between a high-powered offense versus a great defense. Quarterbacks
Ben Roethlisberger
and
Drew Brees
have three combined Super Bowl titles and are undefeated in the big game.
Pittsburgh is one of the top teams on New Orleans' home schedule next season. In addition to the Steelers, the only other teams on the Saints' home slate with winning records last season are the
Atlanta Falcons
and the
Minnesota Vikings
.
Minnesota-New Orleans would be an interesting rematch of the NFC title game. But if Vikings quarterback
Brett Favre
retires, this game loses all of its luster. (Possibly
Tarvaris Jackson
vs. Brees? No thanks.)
But Steel Town meets Bourbon Street? That sounds like a 2010 opener worth watching.
The NFL should make this happen when the schedules are released this spring.
October, 21, 2009
10/21/09
1:00
PM ET
| | |
| --- | --- |
| | |
| | US Presswire |
| | Ben Roethlisberger and the defending champion Steelers will take on Brett Favre and the undefeated Vikings in Week 7. |
Posted by ESPN.com's James Walker and Kevin Seifert
As one of just four undefeated teams, the
Minnesota Vikings
(6-0) can make a claim as arguably the best team in football.
As defending Super Bowl champions, the
Pittsburgh Steelers
(4-2) can also claim they're the team to beat until someone else holds the Lombardi trophy.
So which team has the advantage when the Vikings meet the Steelers Sunday in Heinz Field?
ESPN.com's AFC North blogger James Walker and NFC North blogger Kevin Seifert debate the most important storylines in this high-profile matchup.
Which quarterback is more important to his team: Minnesota's Brett Favre or Pittsburgh's Ben Roethlisberger?
Seifert:
Favre has already made a huge difference in at least two victories this season. Without his heroics, I think the Vikings lose to San Francisco (Sept. 27) and last week against Baltimore. Other than Favre and receiver
Percy Harvin
, the Vikings in essence are fielding the same team they had last year. Through six games in 2008, the Vikings were 3-3. I don't know if a quarterback can have a bigger impact than doubling a team's win total through six games. Roethlisberger is the cornerstone of the Steelers, but I like their chances with backup
Charlie Batch
better than the Vikings' with backup
Tarvaris Jackson
.
Walker:
Last I recall the Vikings were a playoff team in 2008 without Favre, and Jackson was their starting quarterback for the final four games, including the postseason. Favre is a
luxury
in Minnesota. At 40, he's is not even the best player on his own offense. That award goes to tailback
Adrian Peterson
-- the real engine behind the Vikings. Without a doubt Roethlisberger means more to his team. At 27, Big Ben already has twice as many rings (two) as Favre (one), and Roethlisberger is just entering the prime of his career. He's 55-22 (71.4 percent) as a starter and kept the Steelers afloat when Pro Bowl safety
Troy Polamalu
missed four games with a knee injury. But both deserve to be near the top of the MVP conversation. So look for the winning quarterback to make a huge push in that race as we approach the midpoint of the season.
Which defense is more likely to dominate?
Seifert:
We're not exactly at a high point for Minnesota's defense right now. I'm pretty sure the Steelers will be scouring the tape of last week's game against Baltimore, which rolled for 302 offensive yards IN THE SECOND HALF. The Ravens scored 21 points in less than five minutes of the fourth quarter and seemed to expose the Vikings' pass defense. Most of that damage came after Pro Bowl cornerback
Antoine Winfield
left the game with a sprained foot. It's difficult to replace a No. 1 cornerback, but can the loss of one player really decimate a defense that thoroughly? I like the Steelers' chances of getting pressure against Favre more than the Vikings' ability to cope with Winfield's injury status.
Walker:
I like the physicality of both defenses. But with home-field advantage, Winfield's status uncertain and the return of Polamalu, the advantage goes to Pittsburgh. The Steelers have the NFL's third-ranked defense, and that's with Polamalu missing four games. Now everyone on Pittsburgh's defense can revert back to their normal roles. Minnesota's defense is underachieving this year at No. 18. Pittsburgh will be the toughest defense the Vikings have faced so far. The Steelers have the talent to match up with Minnesota's offense and keep the game manageable. But with four turnovers last week, Pittsburgh's biggest concern should be taking care of the football and not giving the Vikings a short field.
| | |
| --- | --- |
| | |
| | Rich Gabrielson/Icon SMI |
| | Adrian Peterson, the NFL's leading rusher, has had his best games against AFC North teams this season. |
Who is the biggest playmaker in this game?
Seifert:
You have to point out that two of the NFL's four highest-rated quarterbacks are playing in this game. You have to give credit to any receiver, Pittsburgh's
Santonio Holmes
included, who has made a Super Bowl-winning catch. But this game will feature a fascinating matchup between the NFL's leading rusher (Minnesota's Peterson ) and its second-best rush defense (Pittsburgh). Peterson made quick work of the Ravens last week, rushing for 143 yards. But the Steelers are allowing only 74.5 rushing yards per game, and have given up only one rushing touchdown all year. If anyone can slice through the Steelers, it's Peterson. But it will be a challenge.
Walker:
With 10 combined wins, you can't help but have a lot of playmakers in this game. For me, it's a close race between Peterson and Roethlisberger. I believe these two players will most determine the outcome of Sunday's game. Peterson had his two biggest performances this season -- a combined 323 rushing yards -- against AFC North teams in the
Baltimore Ravens
and
Cleveland Browns
. Usually the Steelers have success against big, physical backs, but Peterson is special. If he runs wild Sunday, Minnesota has the advantage. On the flip side, Roethlisberger is just as capable -- and perhaps more capable -- of putting up numbers similar to
Joe Flacco
's (385 yards) last week. So I like Roethlisberger's chances of controlling the game more, especially with Minnesota hurting at cornerback.
Brad Childress and Mike Tomlin, former colleagues in Minnesota, usually rely on defense and power running. Whose roots will show more clearly in this game?
Seifert:
My guess is that Childress would love to follow his roots, relying on Peterson and the defense to win it. But as we've discussed above, this game doesn't seem to set up that way. Whether he likes it or not, Childress is going to have to rely on Favre and the passing game in its most significant test yet this season. This year's version of the Steelers doesn't seem to get beat by the running game, and the Vikings' defense might not be suited to take on the pass-happy Steelers. This isn't likely to be a Childress-like game.
Walker:
This is an interesting question, because I think one of Tomlin's biggest strengths is the ability to be fluid during games. Tomlin is a defensive coach, but he's not afraid to let Roethlisberger chuck it 35 to 40 times if necessary. Tomlin's also not afraid to go for it on fourth down at times most coaches would not. Tomlin rarely coaches tight, and the same cannot be said for Childress, who tightened up last week in the fourth quarter against Baltimore. But it's hard to argue with Childress' 6-0 record. I think this game will see a little bit of everything, not just smashmouth football and good defense.
August, 19, 2008
8/19/08
8:30
PM ET
NFL Insiders James Walker, Paul Kuharsky and Kevin Seifert weigh in on Chris Henry returning to the Bengals, Peyton Manning's appearance at camp and Tarvaris Jackson's injury situation.
August, 16, 2008
8/16/08
9:10
PM ET
| | |
| --- | --- |
| | |
| | AP Photo/Gail Burton |
| | Baltimore Ravens quarterback Troy Smith throws a pass in the second quarter of the preseason football game against the Minnesota Vikings Saturday in Baltimore. |
Posted by ESPN.com's James Walker
BALTIMORE, Md. -- The Baltimore Ravens and Minnesota Vikings have reached halftime in Saturday's preseason contest and many of the starters are done for the game. The Vikings are leading 20-7.
Here were the first-half highlights:
Quarterback Troy Smith tried to make his claim on the starting quarterback job in the first half. He did well in leading the Ravens to a touchdown on the opening drive. Smith made a couple of nice bootlegs (one run, one pass) to keep the chains moving that eventually led to Baltimore's only score thus far. But he also threw an interception before halftime and finished the first half 3 for 5 for 25 yards, an interception, and 35 yards rushing.
Baltimore rookie tailback Ray Rice had his best game of the preseason with 71 yards on seven carries and a touchdown run. He longest gain was 42-yard run against a solid Vikings defense. The Ravens coaching staff has been impressed with Rice this summer and he's continuing to play well.
In what may be the biggest news of the night, Vikings starting quarterback Tarvaris Jackson injured his right knee in the first quarter. He was scrambling where he took a shot on his leg from safety Dawan Landry and linebacker Ray Lewis. Vikings PR said the severity of the injury remains unknown and they won't have a definitive update until after the game. He finished the night 7 for 11 for 82 yards and a touchdown.
The Ravens' first-team defense, particularly the secondary, struggled mightily against Minnesota in the passing game. Baltimore was without starting safety Ed Reed and cornerback Chris McAlister, and the Vikings picked the Ravens apart through the air for two passing touchdowns to receivers Martin Nance and Robert Ferguson.
August, 16, 2008
8/16/08
8:28
PM ET
Posted by ESPN.com's James Walker

Jackson
BALTIMORE, Md. -- The Minnesota Vikings received a scare Saturday night as starting quarterback Tarvaris Jackson injured his knee in the first quarter of their preseason game against the Baltimore Ravens.
Jackson was scrambling on the team's second offensive drive when he was hit coming up the right sideline. He ran one more play before limping and taking himself out of the game.
The severity of the injury is unknown, but he is not expected to return to the game. More details to come when we have them.
UPDATE (8:40): Just received confirmation from Vikes' PR that it was Jackson's right knee that was injured.
UPDATE (10:18 p.m.): Vikings coach Brad Childress, speaking to KSTP-Ch. 5:

"He's fine. He just got bumped in the knee. We'll just keep him in there. Got some ice on it at half. Just a little contusion there."