March, 21, 2013
3/21/13
8:30
AM ET
Is it even newsworthy anymore when the
Baltimore Ravens
lose a starter from their Super Bowl team? It's more newsworthy when the Ravens
don't
lose a starter for a day. This time, however, it's different because the
Ravens said goodbye
to safety
Ed Reed
, the third-best player ever to wear their uniform. He reached an agreement with the
Houston Texans
on Wednesday night. Hopefully, Ravens fans will remember Reed's dramatic plays on the field and not his painful rendition of
"Two Tickets To Paradise,"
which he sang repeatedly during the team's Super Bowl run. Here's your wake-up call ...
BALTIMORE RAVENS
CINCINNATI BENGALS
PITTSBURGH STEELERS
CLEVELAND BROWNS
March, 15, 2013
3/15/13
7:30
AM ET
Ravens safety
Ed Reed
-- or is it soon-to-be former Ravens safety? -- had dinner in Houston on Thursday night with Texans officials and wide receiver
Andre Johnson
, who was Reed's teammate at the University of Miami. According to
ESPN NFL Insider Adam Schefter
, signs point to Reed getting a deal done with the Texans on Friday. Let's see if it plays out that way. Reed is the most unpredictable player I've ever covered in my 14 years in the NFL. Now let's go to the wake-up call ...
BALTIMORE RAVENS
The Ravens didn't attempt to match the Eagles' three-year, $17 million deal to cornerback Cary Williams. "I completely understand," Williams told The Baltimore Sun. "I get it. They weren't trying to do anything at this point or bring back the old offer. No, there's no hard feelings. It's not something that you get upset about it. We won a Super Bowl, and now I'm moving on."
The Ravens officially announced the release of safety Bernard Pollard. "There are many difficult decisions we make every offseason," general manager Ozzie Newsome said in a statement. "They become even more difficult when they involve players who helped us get another Super Bowl trophy."
Baltimore re-signed reserve cornerback Chris Johnson to a one-year deal. Johnson, 33, played four games for the Ravens last season.
CINCINNATI BENGALS
PITTSBURGH STEELERS
CLEVELAND BROWNS
Chief executive officer Joe Banner dismissed rumblings that the Browns are interested in trading defensive linemen Phil Taylor or Ahtyba Rubin. There was speculation they could be involved in a deal for Patriots backup Ryan Mallett. "Our purpose has been to put together a really strong unit, have some depth so we can rotate and so if we have any injuries the line will still be one of the primary assets of the team," Banner said, via The Akron Beacon Journal. "That's what we feel like we're achieving. We're not looking to be trading anybody."
Browns new defensive lineman Desmond Bryant is eager to put the past behind him. He was arrested in Miami on Feb. 24 on a misdemeanor charge of criminal mischief. He allegedly entered a neighbor's house inebriated and caused a commotion, according to the San Francisco Chronicle. "I made a mistake," Bryant said at his introductory press conference, via The Plain Dealer. "I apologize for everything that happened. . .. That's really not the kind of person that I am. I think in time I will show you guys and whoever wants to know that that's not indicative of me. I've moved beyond that and hopefully everybody else will, too."
January, 30, 2013
1/30/13
12:00
PM ET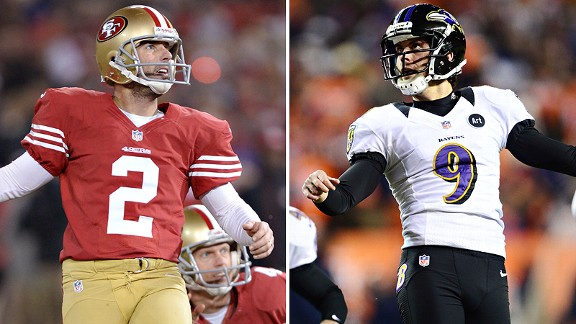 USA TODAY SportsRavens rookie kicker Justin Tucker, No. 9, has outperformed 49ers veteran David Akers.
NEW ORLEANS -- Field goal tries have decided two of the 11 most recent Super Bowls and four of them overall.
San Francisco 49ers
fans could do without such a finish in Super Bowl XLVII after their team's kicker,
David Akers
, missed 10 of his 19 tries from at least 40 yards this season.
Not that the 49ers' opponent in this Super Bowl has sailed through the playoffs on the strength of its special teams. The
Baltimore Ravens
have their own issues in that area.
NFC West blogger Mike Sando and AFC North counterpart Jamison Hensley have covered most of the other angles heading into this game. Can they pull off an item dedicated solely to special teams or will this one bounce off the upright? You decide.
Sando:
Ravens fans probably don't want to hear about Akers' struggles. They're still recovering from
Billy Cundiff
's missed field goal in the playoffs last season. But as I've watched the 49ers and Ravens advance through the playoffs, special-teams issues have been impossible to overlook. Here we have the Ravens, led by a former special-teams coach, allowing 104-yard and 90-yard returns for touchdowns in a close game at Denver. And here we have the 49ers, with big bucks invested in special-teams coach Brad Seely, hoping against hope that Akers can make routine field goals. Are we overreacting here, Jamison?
Hensley:
Not an overreaction at all, Mike. It's kind of been a curse with Ravens head coaches. Brian Billick could never get the offense on track when he was in Baltimore after coordinating the highest-scoring offense at the time in Minnesota. The same goes for Harbaugh, who has to be irritated by the critical breakdowns on special teams after spending most of his NFL career coordinating that area of the game. It was worse for the Ravens last season, when they allowed three touchdowns on special teams.
Sando:
I remember one of them well. Arizona's
Patrick Peterson
returned a punt 82 yards for a touchdown in Baltimore. Cleveland's
Josh Cribbs
and the New York Jets'
Joe McKnight
also did the return-game scoring honors against the Ravens last season. It was the Broncos'
Trindon Holliday
with that 104-yard kickoff return and 90-yard punt return this postseason.
Hensley:
John Harbaugh thought the problem was fixed. The Ravens didn't allow a special-teams touchdown in the regular season and didn't allow even one yard on a return of any kind in the wild-card playoff game against Indianapolis. But lapses on special teams nearly cost the Ravens in the AFC division playoff game, where they gave up those touchdowns to Holliday. The Ravens still express confidence in their coverage teams and they have veteran experience there with
Brendon Ayanbadejo
,
Sean Considine
and
James Ihedigbo
. Still, those errors have to be in the back of the Ravens' minds.
Sando:
The 49ers have had their own special-teams adventures, of course. We all remember Kyle Williams' miscues dooming San Francisco to defeat in the NFC Championship Game one year ago. You might also recall
Ted Ginn
Jr. struggling to field the ball in the rain against New England this season. Ginn was a consistent threat in 2011, but not so much this season. He did have a 20-yard punt return against Atlanta in the NFC title game this year. Ginn has six career return touchdowns, three apiece on punts and kickoffs. He is a player to watch on special teams in this matchup. Playing the game indoors removes weather as a concern -- big for returners.
Hensley:
The Ravens actually had Ginn in for a visit this offseason because they were looking to upgrade at returner. They finally decided he was too much of a risk considering his injury history. Baltimore was lucky in landing
Jacoby Jones
. A week after the Texans released Jones, the Ravens signed him to a two-year, $7 million deal. He has been an electric returner for the Ravens, earning a trip to the Pro Bowl this season that he didn't make. Jones is the only player in NFL history with two kickoff returns of at least 105 yards in a career. And he did it in one season. The other big pickup made by the Ravens this offseason was kicker
Justin Tucker
, an undrafted rookie who beat out Cundiff this summer.
Sando:
Ah, yes, Cundiff. The 49ers signed him to compete with Akers before the playoffs got going. That is how desperate they had become after Akers made only 11 of his final 18 tries of the regular season. Akers, Cundiff and Green Bay's
Mason Crosby
were the only qualifying kickers making less than 70 percent of their field goal tries during the regular season. Counting the playoffs, Akers has made only 9 of 19 tries from 40-plus yards. He bounced one off the upright against Atlanta, making that game the 49ers' first under Jim Harbaugh without at least one made field goal.
Hensley:
While the decision to go with Tucker over Cundiff proved to be the right one, it was still a gutsy call by Harbaugh back in the end of August. The Ravens went from Cundiff, a Pro Bowl kicker in 2010, to Tucker, an undrafted rookie out of Texas. They went from Cundiff, who had converted 89.9 percent of his kicks inside the 50 over the past two years (53-of-59) and led the NFL in touchbacks, to Tucker, who had never kicked in a regular-season game.
Sando:
How the mighty have fallen. Akers set an NFL record for made field goals in 2011. He and Cundiff were both Pro Bowlers recently.
Hensley:
Tucker has surpassed expectations. He connected on 90.9 percent of his field goals (30-of-33) in the regular season, which was the second-best mark by a rookie kicker in NFL history. Tucker also has been clutch with three game winners, including a 47-yarder to win the AFC divisional playoff game in double overtime. Another strength of the Ravens is at punter, and the 49ers can say the same thing.
Sando:
I think
Andy Lee
is the best punter in the NFL. And while there's no truth to the adage that special teams comprise one-third of the game, there's no question field position can matter a great deal in a game between evenly matched opponents. So can last-second field goals. And if this game comes down to one of those, the Ravens have to like their chances.
April, 6, 2012
4/06/12
11:00
AM ET
It wasn't Ravens coach John Harbaugh's preference to have starting cornerback
Lardarius Webb
returning punts entering this offseason. His mindset probably didn't change after Webb agreed to a five-year, $50 million extension with a $10 million signing bonus and a $5 million option bonus.
Webb
Having Webb field punts was a risk before. Now, it has become a pricey proposition. The Ravens will try hard to find a replacement for Webb on returns, and it probably will come in the draft.
"You can't sit there and play scared, so I don't have a problem with [Webb returning]," Harbaugh said Wednesday, a day before Webb's deal. "But I would rather have a backup doing it? Yes. If there is another option that is a better player or takes your starting corner and takes him off the punt return, that's even better."
Webb ranked 16th in the NFL in punt returns (10-yard average), returning one for a touchdown. The other two punt returners listed on last year's Ravens depth chart --
Chris Carr
(Vikings) and
Tom Zbikowski
(Colts) -- signed elsewhere in free agency.
Baltimore brought in
Ted Ginn
Jr. for a free-agent visit but he re-signed with the 49ers. The Ravens were also linked to
Eddie Royal
before he joined the
San Diego Chargers
.
"We tried to do something with a free agent or two, and it didn't work out, but that's OK," Harbaugh said. "We'll move on to the next opportunity."
That "next opportunity" means the draft. One returner to keep an eye on is Fresno State's
Devon Wylie
. Other top returners coming out of college are: Florida International's
T.Y. Hilton
, Alabama's
Marquis Maze
and Stanford's
Chris Owusu
.
April, 1, 2012
4/01/12
8:00
AM ET
It's been a quiet weekend so far in the AFC North and that's not surprising. We're at that point in the offseason where the first wave of free agency is over and the draft is more than three weeks away.
But there are still some unanswered questions based on what's in the mailbag. Let's take a look ...
...
Charlie (Fort Campbell, Ky.):
Bengals fan and daily blog reader here. Great job on keeping me updated on my favorite (and least favorite) teams. Anyway, my question is this: Where do you foresee
Keith Rivers
fitting in with the Bengals' linebacking corps once he returns?
Jamison Hensley from AFC North headquarters
: Right now, Rivers doesn't have a spot in the starting lineup. His starting job at weak-side linebacker -- the one he held for 2 1/2 years -- was taken by
Thomas Howard
, who was the Bengals' most consistent linebacker last season. The Bengals have yet to address Rivers this offseason and might give him a chance to compete for that spot. I see his impact coming on special teams this season. It's certainly a luxury to have the ninth overall pick of the 2008 draft sitting on your bench. The strongside linebacker position is one that the Bengals will need to figure out next season because Howard and Rivers are free agents after this season.
---
Matt S. (Warren, Ohio):
The Browns have talked about trading back a few spots to acquire more picks. I think it is very possible we might see them trade back the sixth pick with the Rams in return for an additional second-rounder and later round picks. This ensures that the Browns have a chance to at least get
Morris Claiborne
with the sixth pick (the fourth going to
Justin Blackmon
and the Rams, and fifth going to
Trent Richardson
and Tampa Bay). Claiborne is a freakish athlete and will solidify the secondary for years to come. This leaves us with the 22nd pick and two second round picks to help the offense with starting potential. Do you think this is a possibility?
Jamison Hensley from AFC North headquarters
: I can definitely see this as a possibility. If the Browns believe LSU cornerback Morris Claiborne is the best player available at No. 4, they should try to trade down with the Rams. That way, the Browns can get their targeted player in Claiborne and gain additional picks. I agree that the Rams will take Oklahoma State receiver Blackmon and the Buccaneers will grab Alabama running back Richardson. But this isn't the move I would make. The Browns desperately need a playmaker on offense. It would be a mistake to pass on a talent like Richardson.
---
Rick (Baltimore):
If the Steelers address a need on offensive line or defensive line with their first-round pick, could you see them spending a second-round pick on a quality running back?
David Wilson
and
Doug Martin
come to mind. I would love to see Wilson in the Black and Gold on Sundays. He is an underrated freak athlete.
Jamison Hensley from AFC North headquarters
: It's like you were reading my mind. I don't see the Steelers going for a running back in the first round, but there will be good value for that position at the bottom of the second. Expect at least one of the second-tier backs like Wilson (Virginia Tech), Martin (Boise State) and
Lamar Miller
(Miami) to be available at No. 56 for the Steelers. While I like Martin's toughness in between the tackles, it's hard to overlook the big-play ability of Wilson. The Steelers have a tough runner with
Isaac Redman
, and Wilson would be a great compliment in the backfield.
---
Heath (Shreveport, La.):
There has been a lot of talk about the Ravens adding a kick returner, but is there any chance they will give
Phillip Livas
a chance? He was a late-season addition last year and tied an NCAA record at Louisiana Tech with eight returns for touchdowns.
Jamison Hensley from AFC North headquarters
: Livas was signed to the Ravens' practice squad during the playoffs and will be kept around for offseason camps and training camp. The Ravens will give him a look, but he's not among the team's top options. Livas was cut by the
Miami Dolphins
in September even though the 5-foot-7 wide receiver returned a punt 75 yards for a touchdown in the preseason. He didn't catch on with another NFL team until the Ravens picked him up in January.
The Ravens want an upgrade in the return game, which became obvious when they brought in
Ted Ginn
Jr. for a free-agent visit. Drafting a returner is a good possibility for Baltimore. The top returners are: Florida International's
T.Y. Hilton
, Alabama's
Marquis Maze
, Fresno State's
Devon Wylie
and Stanford's
Chris Owusu
.
March, 29, 2012
3/29/12
11:00
AM ET
»
AFC Assessments
:
East
|
West
|
North
|
South
»
NFC
:
East
|
West
|
North
|
South
Cincinnati Bengals

Key additions:
RB
BenJarvus Green-Ellis
, S
Reggie Nelson
, G
Travelle Wharton
, CB
Jason Allen
, CB
Adam Jones
, DE
Jamaal Anderson
, DE
Derrick Harvey
Key losses:
DE
Frostee Rucker
(Browns), G
Nate Livings
(Cowboys), G
Mike McGlynn
(Colts), DE
Jonathan Fanene
(Patriots), WR
Andre Caldwell
(Broncos)
Grade after first wave of free agency:
B. The Bengals were the most active team in the division and they should have been. Cincinnati entered free agency with more than $50 million in salary-cap space, which was more than the rest of the AFC North combined. The Bengals upgraded at running back and left guard while bringing back their top free-agent priority in safety Reggie Nelson. The biggest knock against the Bengals is they didn't make a splash by signing a high-profile free agent like guard
Ben Grubbs
or wide receiver
Robert Meachem
.
The prize of the Bengals' signings is running back BenJarvus Green-Ellis, who is an improvement over
Cedric Benson
. Green-Ellis isn't known for breaking long gains, but he is a force in the red zone and has never fumbled in the NFL. Wharton is a step up from Nate Livings at left guard because he is a strong run-blocker who will open holes inside. The biggest losses came on the defensive line, where Cincinnati will miss Frostee Rucker on run defense and Jonathan Fanene in the pass rush.
What's next:
The Bengals can still close the gap between the Ravens and Steelers because they have two first-round picks in the draft (No. 17 overall, which came from Oakland in the
Carson Palmer
trade, and No. 21). Even with the signing of Wharton, Cincinnati needs a right guard and could have a shot at the top interior offensive lineman coming out of college. Stanford's
David DeCastro
is one of the safest picks in the draft and would start immediately for the Bengals.
The second first-round pick could be used on a wide receiver or a cornerback. The Bengals surprisingly didn't add a free-agent wide receiver to pair with
A.J. Green
. Georgia Tech's
Stephen Hill
or Baylor's
Kendall Wright
should be available in the bottom third of the draft. Another need is cornerback because Cincinnati could use an eventual replacement for
Nate Clements
, who is entering his 12th season. Alabama's
Dre Kirkpatrick
, the second best corner in the draft, has a chance of sliding to the Bengals.

Cleveland Browns
Key additions:
DE Frostee Rucker, LB
D'Qwell Jackson
, CB
Dimitri Patterson
, DE
Juqua Parker
Key losses:
RB
Peyton Hillis
(Chiefs), S
Mike Adams
(Broncos), G
Eric Steinbach
, OT
Tony Pashos
Grade after first wave of free agency:
C. Browns president Mike Holmgren and general manager Tom Heckert said they were building this team through the draft and they weren't joking. The Browns desperately needed to improve at quarterback, wide receiver and right tackle. But Cleveland's offense came out of the initial wave of free agency empty-handed. Blame the
Washington Redskins
. The Browns attempted to move up in the draft to take
Robert Griffin III
, and the Rams instead traded the second overall pick to the Redskins. Cleveland reportedly pursued wide receivers
Pierre Garcon
and
Josh Morgan
, and both took high-priced deals from Washington.
The Browns provided more help to the defense in free agency. Frostee Rucker will make an impact in stopping the run, which was the biggest weakness on the NFL's 10th-ranked defense. Juqua Parker, who has 31.5 sacks over the past six seasons, will team with
Jabaal Sheard
to give Cleveland a strong rush coming off both edges. The Browns didn't try to keep Peyton Hillis and Mike Adams from going elsewhere.
What's next:
Offense, offense and offense. Did I mention offense? The Browns need a quarterback but there's no one worthy of the fourth overall pick. Cleveland could trade down to select Texas A&M's
Ryan Tannehill
or wait until the second round for Oklahoma State's
Brandon Weeden
. The big decision comes if the Browns stay put at No. 4. Cleveland's choices are Alabama running back
Trent Richardson
or Oklahoma State wide receiver
Justin Blackmon
. The Browns could use either one because they don't have a starting running back or a No. 1 wide receiver.
Cleveland has a second first-round pick as a result of last year's trade with the
Atlanta Falcons
. The Browns need to target a wide receiver (if they don't take one earlier in the first round), right tackle or outside linebacker with the 22nd overall pick. Baylor receiver Wright, Mississippi offensive tackle
Bobby Massie
and Nebraska outside linebacker
Lavonte David
have been linked to Cleveland.
Baltimore Ravens

Key additions
: C
Matt Birk
, ILB
Jameel McClain
, OLB
Brendon Ayanbadejo
, CB
Corey Graham
, S
Sean Considine
Key losses
: G Ben Grubbs (Saints), OLB
Jarret Johnson
(Chargers), DE
Cory Redding
(Colts) and CB
Domonique Foxworth
Grade after first wave of free agency
: D. The Ravens lost three starters (Ben Grubbs, Jarret Johnson and Cory Redding) from last season's AFC North champion team and have yet to add anyone to replace them. It was a rough start to free agency for Baltimore, which didn't sign any of its first three visits (guard
Evan Mathis
, defensive end
Mark Anderson
and receiver-returner
Ted Ginn
Jr.). The toughest part of free agency was when the Ravens failed to sign Mathis, who re-signed with the Eagles, after Baltimore had just lost Grubbs.
Baltimore was able to keep two free-agent starters, Matt Birk and Jameel McClain, and boost a struggling special-teams group that allowed three touchdowns last season. The Ravens signed Cory Graham, a Pro Bowl special-teams player from the Bears; Brendon Ayanbadejo, a three-time Pro Bowl special-teams standout; and Sean Considine, who played special teams for three seasons under John Harbaugh in Philadelphia.
What's next
: The Ravens' biggest need is at left guard, but there might not be one that warrants being taken at No. 29. Wisconsin center-guard
Peter Konz
's stock has slipped recently even though he can play guard right away before switching to center in future seasons. It's hard to pin down a player for Baltimore, which can go in a lot of different directions in the first round.
The Ravens could take the best wide receiver available (especially if he's a returner) because they need a third target who can eventually take
Anquan Boldin
's starting spot. They could take a safety because
Ed Reed
turns 34 at the start of the season and
Bernard Pollard
is a free agent next year. And they could take an offensive tackle because they don't have a reliable backup and
Bryant McKinnie
is a free agent in 2013.
Pittsburgh Steelers

Key additions
: None
Key losses
: CB
William Gay
(Cardinals), LB
James Farrior
, NT
Chris Hoke
, G
Chris Kemoeatu
, DE
Aaron Smith
, WR
Hines Ward
Grade after first wave of free agency
: D. It's been a quiet free-agency period so far for the Steelers. Then again, it's usually quiet for the Steelers at this point in the offseason. The only team that consistently does less than the Steelers in free agency is the
Green Bay Packers
.
The Steelers avoided a failing grade because they've lost only two starters from last season's playoff team. James Farrior was cut in the team's salary-cap purge, and William Gay left as an unrestricted free agent. What Pittsburgh really lost in trimming $25 million to get under the cap was veteran depth and leadership. Injuries would force young players to step up into starting roles.
What's next
: There are question marks at running back, guard, inside linebacker, nose tackle and cornerback. Despite all of those needs, the consensus has been Pittsburgh will draft Alabama inside linebacker
Dont'a Hightower
if he's available at No. 24. He has a great combination of size and speed and excelled in a 3-4 defense in college. It seems like Hightower would be the perfect fit for Pittsburgh.
There's no chance that Memphis'
Dontari Poe
falls to the Steelers, but there some quality nose tackles in the draft. Those who should be available after the first round are: BYU's
Loni Fangupo
(second round), Washington's
Alameda Ta'amu
(third round) and Alabama's
Josh Chapman
(fourth round). The Steelers likely will become active later in free agency, especially in retaining their own players. Wide receiver
Jerricho Cotchery
, running back
Mewelde Moore
and quarterbacks
Byron Leftwich
and
Charlie Batch
could potentially return to the team.
March, 22, 2012
3/22/12
7:30
AM ET
Every morning, grab a cup of coffee and get your AFC North wake-up call here:
The Pittsburgh Steelers have proposed two rule changes that will be voted upon at next week's NFL owners meetings.
The Steelers are asking that the new overtime rules for the playoffs get extended into the regular season. In the regular season, the first team that scores wins. In the playoffs, each team is guaranteed at least one possession unless the team receiving the ball first scores a touchdown. Of course, that's exactly what happened in the Steelers' overtime playoff loss at Denver where Tim Tebow's 80-yard touchdown pass on the first play from scrimmage ended the game.
According to the
Pittsburgh Post-Gazette
, this probably came at the request of Steelers coach Mike Tomlin and has a good chance of passing. At least 24 of the 32 owners have to vote in favor of a proposal for it to pass.
The other Steelers' proposal would increase protection for the quarterback. The Steelers are asking that horse-collar tackles on quarterbacks within the pocket become a penalty. For some reason, it's not currently illegal for a defender to bring down a quarterback when he's in between the tackles.
Also, Steelers free-agent cornerback William Gay, who started 15 games last season,
posted on Twitter
that all of his free-agent visits are complete and will decide between Pittsburgh, Denver, Arizona and Tennessee.
Hensley's slant
: I'm old school and like the regular-season overtime rules where the first team that scores wins. Call it sudden death or sudden victory, but that's football to me. I don't, however, like different overtime rules for the regular season and playoffs. Pick one and make it the rule for every game.
BENGALS
: Andre Caldwell, who played four seasons for the Bengals, became the first free-agent wide receiver added to Peyton Manning's Denver Broncos. The No. 3 receiver for the Bengals last season, Caldwell agreed to a two-year deal with Denver, according to
his Twitter account
. He caught 37 passes last season and scored three touchdowns.
Hensley's slant
: Caldwell wasn't expected to return to the Bengals, who have depth in the slot with Jordan Shipley, Andrew Hawkins and Ryan Whalen. Cincinnati still needs to find a No. 2 wide receiver, but Caldwell wasn't going to fill that role after making a total of 62 catches the past two seasons.
BROWNS
: Giants free-agent middle linebacker Jonathan Goff visited the Browns on Wednesday, according to
Sirius NFL Radio
. Goff, 26, tore his ACL the week before the 2011 season opener, when he reportedly knocked knees with a teammate during practice. He missed the entire season. In 2010, Goff started for the Giants and recorded 80 tackles.
Hensley's slant
: The Browns don't have a backup to D'Qwell Jackson after the team declined to tender a contract to exclusive rights free agent Titus Brown. But it's surprising that Goff visited Cleveland because it appeared like he would have a chance to regain his starting job if he re-signed with the Giants. Goff won't start there for the Browns unless they have plans for him elsewhere.
RAVENS
: Free-agent defensive end Mark Anderson signed
a four-year, $27.5 million deal
(included $8 million guaranteed) with the Buffalo Bills a day after his visit to Baltimore. Meanwhile, free-agent inside linebacker Jameel McClain said he's hopeful that he can re-sign with the Ravens. "That's up to the powers that be and my agent to figure out that happy medium," McClain told the
Carroll County (Md.) Times
. "I'm staying patient. I'm waiting for the perfect move at the perfect time. Patience is a virtue."
Hensley's slant
: It's been an unproductive free-agent period so far for Baltimore. The Ravens have had three reported free-agents visits (Anderson, guard Evan Mathis and receiver-returner Ted Ginn Jr.) and they have yet to sign any of them. There is still a shot at Ginn, who remains unsigned.
March, 19, 2012
3/19/12
7:45
AM ET
Every morning, grab a cup of coffee and get your AFC North wake-up call here:
Steelers safety Ryan Clark delivered a shot at the Dolphins organization Sunday night after quarterback Matt Flynn became the latest free agent to sign elsewhere.
Responding to a previous tweet that claimed no one wants to sign with the team, Clark
posted on Twitter
: "No one! To believe I almost went there but it was easy decision not to."
Two years ago, Clark considered playing for the Dolphins and even visited Miami before re-signing with the Steelers. When someone accused Clark of a "low blow" last night, Clark
responded again via Twitter
: "It's my honest opinion. Not a good guy making decisions."
It would seem that Clark is referring to Dolphins general manager Jeff Ireland.
The subject got started Sunday night when Clark, who went to LSU, congratulated Matt Flynn on his new deal. Flynn signed with the Seattle Seahawks after talking with the Dolphins.
Hensley's slant
: While some will just pass this off as Clark being outspoken again, he wouldn't be the first player to criticize Ireland. During this year's Super Bowl, former Dolphins linebacker Channing Crowder insisted he wouldn't play for Ireland again, saying "he's not a good person." Crowder brought up Ireland's
pre-draft incident
with Dez Bryant where he asked the wide receiver if his mother was a prostitute.
BENGALS
: Reggie Nelson agreed to a deal Sunday that is believed to be the biggest for a safety this offseason, according to the
Bengals' official website
. No details of his contract were provided. Nelson chose the Bengals over the Jets. It's believed both offers exceeded $4 million per season. "I'd be lying if I didn't say it was hard," Nelson told the website. "I had a great visit with the Jets. Yeah, I went back and forth. But my agent [Hadley Engelhard] was able to come to a great agreement with the Browns [family, Bengals owners]. I'm back in orange and black."
Hensley's slant
: The suddenly busy Bengals will have another important day Monday, when free-agent running backs Michael Bush and BenJarvus Green-Ellis visit. It's believed that Bush is the favorite. Also, Texans tight end Joel Dreessen is
visiting the Bengals Monday
after meeting with the Saints.
BROWNS
: A few days after ending the speculation of Kevin Kolb-to-the Browns, the same can go for Flynn, who signed
three-year, $26 million deal
(including $10 million guaranteed) with the Seattle Seahawks. It doesn't look like the Browns were interested in Flynn, although earlier reports indicated that the team had exchanged contract offers with him.
Hensley's slant
: I agreed with the Browns' game plan at quarterback this offseason, when they tried to trade up for Robert Griffin III and didn't pursue Flynn. He might have some good seasons in Seattle, but the Browns need to find themselves a franchise quarterback. But that might not come until next year's draft.
RAVENS
:
The Baltimore Sun
's Mike Preston believes John Harbaugh and the Ravens' coaching staff wanted to re-sign center Matt Birk more than general manager Ozzie Newsome. "For the past two seasons, the Ravens have struggled in short-yardage situations and they haven't gotten much push from Birk, whose best days are behind him," Preston wrote. Preston notes that the Ravens would've cut left tackle Bryant McKinnie if they could have kept Birk and guard Ben Grubbs.
Hensley's slant
: With the Ravens unable to sign free agent Evan Mathis over the weekend,
here's my options
on what the team can do at left guard. But adding an offensive lineman isn't the Ravens' only focus. Baltimore brought in wide receiver-returner Ted Ginn Jr. for a visit Friday. He was the Dolphins' first-round pick in 2007, when Cam Cameron was the head coach, and played last season in San Francisco for Jim Harbaugh.
December, 24, 2009
12/24/09
4:00
PM ET

Wallace

Oher
Earlier Thursday, we ran a story in the AFC North blog on the strong friendship between
Baltimore Ravens
right tackle
Michael Oher
and
Pittsburgh Steelers
receiver
Mike Wallace
, who were college teammates at Mississippi.
One angle that didn't make the cut was an interesting statement from Oher on Wallace's speed.
"He's one of my good buddies, and I definitely think he's the fastest guy in the NFL, as well," Oher said.
Wallace is definitely a blazer, as evident by his average of 17.9 yards per catch this season. There's also been talk in Pittsburgh of whether he's faster than tailback
Willie Parker
and cornerback
Ike Taylor
, who are considered the two Steelers with the most speed.
There are about a dozen other players to take into account.
Tennessee Titans
tailback
Chris Johnson
and receiver Ted Ginn Jr. of the
Miami Dolphins
are two that come to mind. Both recently
engaged in trash talk on the subject.
At one time the NFL settled this dispute by having the league's fastest players race after the season. I'm in favor of the league organizing races once again.