January, 6, 2011
1/06/11
1:30
PM ET
Our latest
"Take your pick"
in the AFC North blog involved this weekend's wild-card game between the
Baltimore Ravens
(12-4) and
Kansas City Chiefs
(10-6).
Who will win this big matchup? Here are some predictions from our
division inbox
and
AFC North Twitter
:

Ravens advance!
Tom Cheek from Baltimore
writes: Baltimore is going to win this one despite being on the road at K.C., which is a tough place to play. However, look at what Baltimore did to New England last year, which is a tough place to play. Even though Kansas City leads the league in rushing, the Ravens are fifth in rush defense, which should be able to hold
Jamaal Charles
under 100 yards on the day.
Jason from Pasadena, MD,
writes: The Ravens defense will come up big with multiple turnovers and the offense will make the Chiefs pay. I smell a nice game from
Ray Rice
and
Willis McGahee
, 31-17, Ravens.
TheNFLChick via Twitter
writes: Charlie Weis hiring is a distraction. Ravens know how to win playoffs on the road...I'm taking my boys! Tell Pitt we're gunning for them!
BlacknGoldGlen via Twitter
writes: Ravens will beat the Chiefs. Then it's a trip to Pittsburgh before going home to watch the Big Game on TV.
Tyson from Newark, OH,
writes: I think the Ravens will win this game with ease. Not taking away from the great season the Chiefs have had. But the Ravens are a veteran team who has been down this path before; much like when the played in Miami in 2008.

Chiefs protect home!
Bryce from Tucson, AZ,
writes: I am actually going to take Kansas City at home over the Ravens. The New Arrowhead has been rocking like the Arrowhead of old, which makes life extremely difficult for opponents. While I think Baltimore can handle it, Kansas City is going to be extremely excited about playing in their first playoff game (for most of them) and will just feed off the crowd's energy.
Meyers2305 via Twitter
writes: Chiefs are a great team. They need to play Charles the majority of the game.
Thomas Jones
doesn't have it anymore! Chiefs, 27-21.
BrockDulco via Twitter
writes: I'm taking the Chiefs, 14-10. Chiefs' defense is good and Arrowhead can never be discounted.
BigPaych via Twitter
writes: I like the Chiefs. Dual-threat running game could wear on the older Ravens' D and win in the fourth quarter.
Ben from Pensacola, FL,
writes: I'll take the Chiefs over the Ravens in a close game. The Ravens have been good on the road, but the Chiefs are just as good at home, and you have to think Arrowhead will be even louder than usual given how long it's been since K.C. has hosted a playoff game. I'll take a blazing hot hand in
Matt Cassel
over
Joe Flacco
, too.
AFC North final say
After finishing the
regular season 32-20
, the AFC North blog is no longer predicting games now that the playoffs are underway. So we check in with Scouts Inc.'s Matt Williamson to get his take.
Williamson:
I predict a close one, 21-20 in favor of Baltimore. I just think the Ravens are so much further along as an organization. With Kansas City, no matter what happens, if the team loses 51-0 this weekend the season has been a success. I don't think the Chiefs have true Super Bowl aspirations. They're content that they had a great year, all is well, and K.C. fans are going to be talking about the Chiefs all offseason. I don't think Baltimore is a really good matchup for K.C., either. The big key to me is if you can stop the Chiefs' running game, they don't know what to do with themselves. Matt Cassel can't put the team on his shoulders and air it out all day, and think the Ravens will stop their running game.
March, 1, 2010
3/01/10
5:44
PM ET
Here are the latest developments Monday in the AFC North:
February, 28, 2010
2/28/10
5:00
PM ET
INDIANAPOLIS -- The AFC North blog is wrapping up its four-day tour of the NFL combine.
Here are seven closing notes and observations on the division:
[+] Enlarge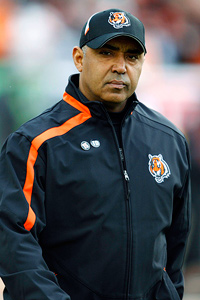 Frank Victores/US PresswireMarvin Lewis led the Bengals to the AFC North title in 2009.
May, 7, 2009
5/07/09
1:30
PM ET
Posted by ESPN.com's James Walker
Here are several notes and observations from within the division:
We are hearing that it will be extremely tough for the Pittsburgh Steelers to make any more moves with their heralded free-agent class of 2010 without first striking a deal with left tackle Max Starks. The franchise tag used on Starks is eating up a whopping $8.451 million of this year's salary cap. Players such as tight end Heath Miller, safety Ryan Clark, nose tackle Casey Hampton, defensive end Brett Keisel and tailback Willie Parker are all playing in the final year of their deals. Even with linebacker Larry Foote's recent release, we're told things probably will remain status quo unless Starks and the team can agree to a long-term extension.
The Baltimore Ravens could have a tough decision to make in the battle for backup quarterback. Newly signed John Beck should provide stiff competition for last year's No. 2 quarterback Troy Smith. But here is an important wrinkle the Ravens have to consider: If Beck wins the backup job does that eliminate Baltimore's "Wildcat" offense? Baltimore used it with a lot of success last season. But if Smith is the No. 3/emergency quarterback, by rule he can dress but cannot play unless starting quarterback Joe Flacco remains on the sidelines for the remainder of the game. This small rule could be a major reason Smith remains the No. 2 quarterback. Chances are Beck cannot run the gimmick formation as well as Smith.

The recent release offensive tackle Levi Jones was the final link to another example of poor management by the Cincinnati Bengals. Before the 2006 season, Cincinnati was coming off a playoff appearance the year prior and had to decide which offensive linemen deserved new contracts. The team chose to give Jones and aging tackle Willie Anderson huge deals at the expense of up-and-coming guard Eric Steinbach. Jones and Anderson were never the same players after those contracts and both tackles have been released. Steinbach went to the Browns as a free agent in 2007 and became a Pro Bowl guard. To this day, Cincinnati's offensive line has yet to recover from those poor decisions.

There is a rumor floating around Cleveland that the Browns might be interested in a deal involving receiver Braylon Edwards for New York Jets tailback Thomas Jones. We're not sure how much validity there is to this one. But knowing the Browns, this likely wouldn't go down unless future draft picks were involved. Cleveland also would have to give Jones, 30, a big contract extension following a trade, which doesn't seem like something the new regime in Cleveland is interested in at the moment.

January, 7, 2009
1/07/09
10:26
PM ET
Posted by ESPN.com's Tim Graham
For the past week, folks back home in Cleveland have been inundating me with questions about Eric Mangini and whether they should be excited or concerned about him becoming the Browns' next head coach.
| | |
| --- | --- |
| | |
| | AP Photo/Tom Mihalek |
| | After interviewing Eric Mangini, the Browns essentially called off their coaching search. |
As a former member of the Fair Hooker fan club and somebody who has closely followed Mangini's time with the New York Jets, I can say I'm at least mildly enthused.
Browns fans might jump to the conclusion they're taking on some other team's rubbish.
That shouldn't be the reaction. Many Miami Dolphins fans felt similarly when they picked up Jets discard Chad Pennington, too, but that seemed to work out.
Here are three reasons, based on Mangini's performance with the Jets, that he is the right choice for Cleveland:
1. The Jets' 9-7 record and late-season collapse aren't all on him.
Although the Jets flatlined down the homestretch under Mangini's watch, many of the reasons were out of the coach's control.
Some of his last images on the Jets sideline were of pained exasperation, wondering what in the heck Brett Favre was doing. As Mangini's close friend Teddy Atlas, a boxing trainer and ESPN analyst, noted to the New York Post, Mangini went into 2008 intending to base the offense around running back Thomas Jones, but "the whole plan, the whole blueprint got thrown out the window when Favre came."
Mangini also had the respect of his players.
"I still feel bad," Jets tackle Damien Woody said. "I just feel like there's no reason this team shouldn't be in the postseason right now.
"He shouldn't have gotten fired. As players, we let him down. We didn't play our best ball down the stretch. We had everything in our control, and we let it slip away from us."
2. Mangini showed flashes of what he can do.
Mangini's record in his three seasons with the Jets was 23-25. But he often was better than mediocre.
In his rookie season as head coach, he took over a team that had gone 4-12 the previous season and guided it to 10-6 and a trip to the playoffs.
The Jets returned to 4-12 last season, and the "Mangenius" label was replaced with "Mangidiot" -- among other names.
The Jets' front office made a concerted effort to turn the franchise around and compete with the New York Giants and New York Yankees for the Big Apple's attention by spending $140 million on such free agents as guard Alan Faneca, Woody, fullback Tony Richardson and outside linebacker Calvin Pace and trading for Favre and nose tackle Kris Jenkins.
That was a lot of patches to quilt together, and Mangini handled the task for much of the season. The Jets became Super Bowl darlings after defeating the New England Patriots and previously unbeaten Tennessee Titans on the road.
They were 8-3 and playing with remarkable balance. Jones was running like an All-Pro. The Jets threw when they wanted. They throttled opponents with an impenetrable run defense.
Although it all unraveled with four losses in New York's last five games, Mangini managed to assemble a heap of new parts for a significant portion of the season.
3. Mangini's obviously indefatigable.
While the Jets still are hunting for his replacement, it says something about Mangini that he already has found a head-coaching job.
When he was fired, it seemed a safe assumption Mangini would need to undergo career rehabilitation as a defensive coordinator or position coach somewhere. Most coaches don't get fired from their first job and make a lateral move, and Mangini still had the Spygate stigma to deal with.
Yet one day after he was fired, Mangini was able to shake off the biggest setback of his career and dazzle Browns owner Randy Lerner in an interview that went so well the team essentially ended its search.
"He has a vision of what it takes to win a championship, and he's got a lot of football ahead of him," Woody said.
"I couldn't be happier. Eric's a great guy, an excellent young coach. He's always on top of the details, from the smallest things to the big picture. I think it's a great fit for Cleveland. Eric's the type of coach to get them back on track."