August, 1, 2011
8/01/11
1:30
PM ET
LATROBE, Pa. -- Distractions and controversy? What distractions and controversy?

The opening of training camp was business as usual for the reigning AFC champion
Pittsburgh Steelers
. Despite offseason incidents that ranged from
Hines Ward
's arrest to
Rashard Mendenhall
's misuse of Twitter to
James Harrison
ripping commissioner Roger Goodell and teammates, players
quickly deflected any issues
and seemed genuinely happy to get back to work.
The Steelers believe their off-the-field problems are a
thing of the past
, and the team is ready to move forward and attempt to make another title run in 2011.
"Any time we come to training camp, our goal is the Super Bowl," Ward said. "Anything less than the Super Bowl is a down year for us. Having experienced and tasted a loss in the Super Bowl is not a good feeling. So, hopefully we can get back there and come out on the winning side."
The Steelers have a lot of work to do before the start of the regular season. Here are some early questions:
THREE HOT ISSUES
1. How will the Steelers get under the cap?
According to the new collective bargaining agreement, the Steelers have until Thursday to get under the $120 million salary cap. Despite a flurry of roster moves last week, Pittsburgh remains about $7 million to $10 million over, which is where the team started this summer.
The Steelers made several key salary cuts, including veteran receiver
Antwaan Randle El
and offensive tackles
Max Starks
and
Flozell Adams
. But the re-signings of in-house free agents such as cornerback
Ike Taylor
have basically nullified those moves.
Expect more tough decisions to be made this week.
"We have to find ways to get under [the cap] and in compliance," Steelers general manager Kevin Colbert said. "We're going to look at every and all possibilities."
There is some good news for the Steelers.
The new CBA allows teams to use three $1 million exceptions in 2011, and Colbert says he will use them all. Teams have this onetime flexibility to add an extra $3 million to the cap, which essentially brings the Steelers' number up to $123 million. This could allow Pittsburgh to retain some veterans it otherwise would lose.
[+] Enlarge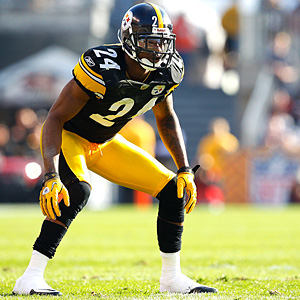 Jared Wickerham/Getty ImagesIke Taylor has 11 interceptions in eight NFL seasons.
2. Has Pittsburgh fixed its pass defense?
The last memory Steelers fans have of their defense is
Green Bay Packers
quarterback
Aaron Rodgers
carving up the secondary for 304 yards and three touchdowns in Super Bowl XLV. Since then, Pittsburgh hasn't made any significant additions to the secondary, leaving many to wonder whether this problem is fixed.
Because Pittsburgh is fielding the same players in the secondary, it's difficult to imagine the pass defense being better than it was last season. The Steelers re-signed veteran corners Taylor and
William Gay
and drafted rookies
Curtis Brown
and
Cortez Allen
.
"You can't worry about what people think outside the locker room, because we've been so successful on the field," Taylor said of the criticism. "So it really doesn't matter. Everybody has their own opinion. It comes with the territory."
Expect many teams to spread the Steelers out this season by using three- and four-receiver sets. That will force backups such as Gay or some of the young corners to play important roles on the defense.
3. How thin is Pittsburgh's offensive line?
Pittsburgh's offensive line could be the thinnest group in the league.
Outside of second-year center
Maurkice Pouncey
, who is a stud, the rest of the line is littered with questions.
Jonathan Scott
plays the important role of left tackle and was inconsistent last year. Guards
Ramon Foster
and
Chris Kemoeatu
are decent run-blockers but struggle in pass protection. And right tackle
Willie Colon
is coming off an Achilles injury that forced him to miss the entire 2010 season.
Cutting Starks and Adams severely hurt the talent and depth of this group. Those were two of the most experienced linemen Pittsburgh had. Cap issues make it unlikely the team will sign another starting offensive lineman in free agency.
"You can't go into it and expect to have veteran depth at every position," Colbert admitted. "It just doesn't work out financially. You have to trust some of your young guys."
[+] Enlarge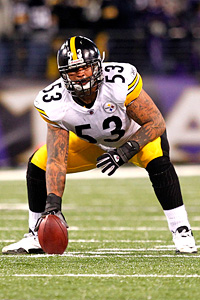 Geoff Burke/Getty ImagesMaurkice Pouncey is the rock of the Pittsburgh offensive line.
BIGGEST SURPRISE
It's only the first weekend of camp, but backup cornerback
Keenan Lewis
has been a pleasant surprise.
Lewis is gaining valuable experience
working with the first-team defense. Taylor signed a four-year contract in free agency and isn't allowed to practice with the team until later this week.
Despite a rocky two years in Pittsburgh, Lewis is a good athlete. He has good size and quickness and is making fewer mental mistakes, which is key. The competition for the important nickel role in the secondary will be intense this summer, and Lewis could have the inside track.
BIGGEST DISAPPOINTMENT
With the lengthy NFL lockout, someone was bound to show up out of shape. Backup running back
Jonathan Dwyer
was that person for the Steelers.
I expected to see more from Dwyer, a sixth-round pick in 2009. But he struggled mightily during the conditioning evaluations and hasn't done much in the practices. The Steelers' running back corps is deep, and Dwyer is definitely on the roster bubble.
OBSERVATION DECK
July, 5, 2011
7/05/11
5:30
PM ET
Here are the latest happenings Tuesday evening in the AFC North:
June, 23, 2011
6/23/11
9:42
AM ET
By
ESPN.com staff
| ESPN.com
March, 10, 2011
3/10/11
5:00
PM ET
Here are the latest happenings Thursday evening in the AFC North:
March, 10, 2011
3/10/11
1:00
PM ET
The New York Post reports
the
Pittsburgh Steelers
could be an emerging candidate for free-agent running back
Tiki Barber
.
Although stranger things have happened, I don't see this one becoming a reality.

Barber
The Steelers have enough aging veterans on their roster, and Barber will be 36 in April. In other words, he's nearly as old as Steelers coach Mike Tomlin, 38.
Pittsburgh's running game is fine.
Rashard Mendenhall
has posted back-to-back 1,000-yard seasons and up-and-coming running back
Isaac Redman
has emerged as a valuable backup.
The only role Barber could fit in Pittsburgh is catching out of the backfield on third down.
Mewelde Moore
is a pending free agent and may not return, but the Steelers could look for younger and/or cheaper alternatives than Barber to fill a limited role.
In my opinion, this sounds more like Barber wanting to join a contending team in Pittsburgh. If Barber could play cornerback, he would probably have a better chance.
March, 9, 2011
3/09/11
8:00
AM ET
Here are the most interesting stories Wednesday in the AFC North: Morning take: Peyton Hillis is the starter in Cleveland, and the team is hoping for a healthy return of Montario Hardesty (knee). With the Browns trying to get younger, I don't see a 36-year-old Barber fitting in the equation.
Morning take: The Bengals are getting another look at quarterback Cam Newton, while both Ohio teams were checking out defensive lineman Nick Fairley.
Morning take: Taylor, a pending free agent, is still doing features on the Steelers' team website. Good sign?
Morning take: Cornerback Josh Wilson and guard Marshal Yanda are the two biggest free agents the Ravens want to retain. Baltimore has a chance to keep both.