AFC North:

Titans-Steelers 091009
September, 11, 2009
9/11/09
12:15
PM ET

Posted by ESPN.com's James Walker
PITTSBURGH -- With
Troy Polamalu
's knee injury and the Steelers'
overtime victory
over the
Tennessee Titans
, there were several things I was unable to get to late Thursday night.
So now that I've had more time to reflect on the game, here are several additional observations on the Steelers:
| | |
| --- | --- |
| | |
| | Scott Boehm/Getty Images |
| | Santonio Holmes was a reliable target Thursday night, hauling in nine passes for 131 yards. |
Let's start with the good: Santonio Holmes looks primed for a 1,000-yard season. Against the Titans he had nine receptions for 131 yards and a touchdown -- the same total from his Super Bowl MVP performance. The difference I'm seeing now from Holmes is he's making all the routine plays in addition to the spectacular ones. Holmes didn't leave any opportunities on the field Thursday. He was thrown to 11 times and nine were receptions. The other two were uncatchable balls by quarterback Ben Roethlisberger, including one interception. The Steelers won't pass 43 times every week (at least I don't think they will). But it's clear Holmes is capable of putting up big numbers when needed.
As indicated in the preseason, the Steelers were much improved on special teams against the Titans. In a field-position battle, punter Daniel Sepulveda turned out to be one of Pittsburgh's most important players. He punted seven times for an average of 42.7 yards per punt. But most importantly, he placed four kicks inside the 20. Stefan Logan added 127 yards in returns and a blocked field goal by defensive end Aaron Smith made a huge difference in a close game. Veteran Jeff Reed also made two clutch kicks in the fourth quarter and overtime to seal the victory, capping a banner night for Pittsburgh's third phase of the game.
The Steelers really needed this win over Tennessee. Pittsburgh goes on the road two straight weeks, against the Chicago Bears and Cincinnati Bengals, and doesn't return to Heinz Field until October. Playing the next three to six weeks without Pro Bowl safety Troy Polamalu also will be a challenge for the Steelers. But it's a little easier when you're the first NFL team to get in the win column this season.
Now for the bad: Loyal readers of the AFC North blog know I've been skeptical of Pittsburgh's offensive line entering the season and Thursday's performance confirmed my skepticism. Roethlisberger was sacked four times by the Titans. By my account, two were on Roethlisberger for holding the football and scrambling too long, and two were from lack of protection. But what jumped out most Thursday was the run blocking. The Steelers weren't physical and couldn't hold their blocks very long. They have nine days to straighten out those issues. Of Pittsburgh's five up linemen, I thought starting guard Trai Essex had the most problems against Tennessee.
Finally, I'm going to offer the Steelers some free advice: Call up Isaac Redman from the practice squad. After watching Pittsburgh's running backs get stuffed at the line of scrimmage time after time, I'm convinced "Redzone" is the best short-yardage option the team has. It's not the end of the world to carry four tailbacks, and Redman rightfully won't be the primary option. But even if he gets two carries a game that result in two first downs, he's worth the roster spot. The Steelers cannot expect to win every week going 4 of 14 on third-down conversions.
September, 11, 2009
9/11/09
2:15
AM ET
| | |
| --- | --- |
| | |
| | Jason Miller/US Presswire |
| | With the running game struggling, quarterback Ben Roethlisberger put the offense on his shoulders and led the Steelers to a victory. |

Posted by ESPN.com's James Walker
PITTSBURGH -- For three-and-a-half quarters Thursday night, the
Pittsburgh Steelers
' offense owned a rare trifecta.
The unit couldn't run. It couldn't pass. It couldn't block.
Yet in crunch time, Pittsburgh made a difficult decision. It went against the grain -- and its long-standing identity -- and utilized a shotgun-style, no-huddle offense in the fourth quarter and overtime.
Suddenly the Steelers could pass, they could block, and they could even run at times when needed. The result was a
13-10 season-opening overtime victory
over the stubborn
Tennessee Titans
at Heinz Field.
After stalling most of the night, the Steelers flipped the switch and went
Tom Brady
on the Titans to the tune of 363 passing yards. Pittsburgh quarterback
Ben Roethlisberger
threw the football 43 times, which is a two-game total for him in some weeks. The ploy brought out the best in the offense and its quarterback when it mattered.
The quick-hitting, no-huddle offense helped the Steelers gain 173 yards on their final three drives, which resulted in the game-tying and game-winning field goals by kicker
Jeff Reed
in the fourth quarter and overtime.
Is this something the defending Super Bowl champions could go to all season?
"Maybe," said Roethlisberger smiling, showing he's not completely opposed to the idea.
The Steelers tried to control the clock and run the football early. But the combination of a very good Titans defense and a porous and inconsistent Steelers running game made it nearly impossible to stick to the original game plan.
It was clear after the first quarter that Pittsburgh could not win this game on the ground. The Steelers' first four runs amounted to minus-4 yards. On the night, they gained 36 yards on the ground in 23 carries, which is an awful 1.6 yards per carry.
Willie Parker
led the team with 19 yards on 13 carries, and his longest run was for 8 yards.
Even in victory, this was an atypical night for the Steelers (1-0).
Pittsburgh had two 100-yard receivers in
Santonio Holmes
(131 yards) and
Hines Ward
(103 yards). The pass-to-run ratio was nearly double in favor of the pass, 43-to-23. Special teams were exceptional all night. Yet the Steelers' defense gave up a touchdown by being sloppy right before halftime.
Overall, it was
so
not 2008.
| | |
| --- | --- |
| | |
| | Jason Miller/US Presswire |
| | The Steelers celebrate Jeff Reed's 33-yard field goal that won the game in overtime. |
"We talked about ... winning the trench warfare. We didn't do that," said Steelers coach Mike Tomlin, who admitted the reigning champs have a lot of work ahead of them. "I thought we had to take care of the football and win the turnover battle because [Titans quarterback]
Kerry Collins
is great at taking care of the football. We didn't do that. Chances are the more violent team usually wins. The jury is out on that."
Another thing that wasn't 2008 was losing Pro Bowl safety
Troy Polamalu
. While trying to recover a blocked field goal attempt in the second quarter, Titans tight end
Alge Crumpler
fell awkwardly on Polamalu's knee. The Steelers star didn't return to the game.
Tomlin said afterward that Polamalu has an MCL sprain in his left knee and speculated that he could be out of the lineup for the next three to six weeks. Still, the defense held firm and only allowed three points in the second half and overtime, which was enough to preserve the victory. But Collins managed a solid performance, notching 244 yards, one touchdown, one interception and an 81.1 passer rating, with most of his success coming with Polamalu out of the game.
"I was telling [Steelers backup quarterback] Charlie [Batch], when he's not out there, it's just not the same," Roethlisberger said of missing Polamalu. "He's just a phenomenal player and you could see it tonight. We wish him a speedy, speedy recovery."
How Pittsburgh's top-ranked defense from a year ago adjusts to life without Polamalu will be one of the season's most interesting storylines.
There are a lot of plays that defensive coordinator Dick LeBeau has built around Polamalu's unique talent and leadership. So there is a very good chance Pittsburgh's defensive playbook will be condensed over the next several weeks. Backup safety
Tyrone Carter
replaced Polamalu in the second half and recorded one tackle.
The great news for the Steelers is they earned an important victory against a likely playoff contender in the AFC. Teams can never predict how things will shake out with potential tiebreakers down the road.
Pittsburgh also won its seventh straight season opener, which is the longest streak in the NFL. Tomlin's crew has 10 days to prepare for its next game, Sept. 20 on the road against the
Chicago Bears
.
"Hopefully we will learn some lessons so the road will be a little less bumpy next time," Tomlin said. "Such is life in the NFL. We will take the victory."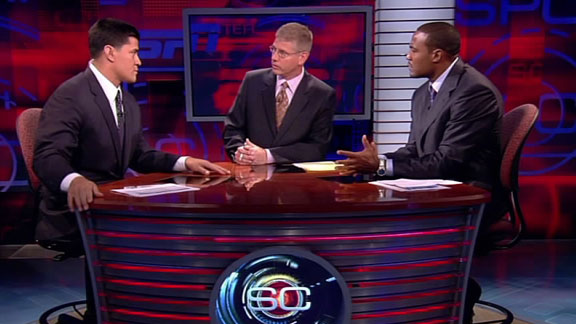 September, 11, 2009
9/11/09
12:48
AM ET
September, 10, 2009
9/10/09
11:50
PM ET

Posted by ESPN.com's James Walker
PITTSBURGH -- It wasn't pretty. But the defending champions earned a
hard-fought, marquee win
against the team with the best regular-season record in the NFL last year.


The
Pittsburgh Steelers
made just enough plays in the fourth quarter and overtime to edge the
Tennessee Titans
, 13-10, in a season-opening slugfest.
Jeff Reed
made the 33-yard field goal in overtime to seal it.
The performance was far from perfect, particularly offensively. Pittsburgh didn't run well, struggled to pass protect at times, and veteran receiver
Hines Ward
fumbled the football in the waning moments of regulation.
Even with the win, the Steelers still suffered a potentially significant loss.
Pro Bowl safety
Troy Polamalu
went down with a left knee injury in the second quarter. He was trying to recover a blocked field goal and Titans tight end
Alge Crumpler
fell awkwardly on his leg. But even without Polamalu, Pittsburgh's top-rated defense from a year ago held firm and allowed just three points in the second half.
We will have an update on Polamalu and reaction from the Steelers locker room soon.
UPDATE
: Polamalu has an MCL sprain in his left knee. Coach Mike Tomlin speculated Polamalu could be out three to six weeks.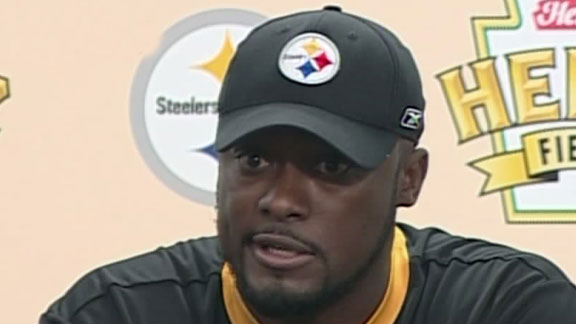 September, 10, 2009
9/10/09
11:35
PM ET

Posted by ESPN.com's James Walker
PITTSBURGH -- Veteran receiver
Hines Ward
made a rookie mistake against the
Tennessee Titans
.
The
Pittsburgh Steelers
star fumbled in the final minute trying to get more yards in their final drive of the fourth quarter. The fumble turned what could have been a late touchdown or a field goal by Pittsburgh into overtime.
Ward is extremely upset with himself on the sideline. He banged his helmet several times as teammates tried to calm him down.
We will have rapid reaction as soon as this slugfest is over.
September, 10, 2009
9/10/09
10:28
PM ET

Posted by ESPN.com's James Walker
PITTSBURGH -- Steelers Pro Bowl safety
Troy Polamalu
did not return for the second half against
Tennessee Titans
and is
ruled out for the game
.
Polamalu was trying to recover a blocked field goal in the first half when Titans tight end
Alge Crumpler
fell awkwardly on Polamalu's left knee. We will try to get an update on Polamalu's status after the game.
Tyrone Carter
is playing in place of Polamalu and it will be interesting to see how the Steelers respond in their season opener without one of their top players.
September, 10, 2009
9/10/09
10:05
PM ET

Posted by ESPN.com's James Walker
PITTSBURGH -- The
Pittsburgh Steelers
are
tied, 7-7
, with the
Tennessee Titans
after one half at Heinz Field.
Here are some halftime observations:

September, 10, 2009
9/10/09
9:21
PM ET

Posted by ESPN.com's James Walker
PITTSBURGH -- The Steelers offense is sputtering out the gates.
Big time.
Pittsburgh was held scoreless in the first quarter, and it wasn't pretty. Quarterback
Ben Roethlisberger
telegraphed an interception. The running game has been non-existent so far, and the offensive line has given up two sacks.
Give credit to Tennessee's defense, which is one of the NFL's best. The unit looks a step ahead of Pittsburgh's offense in the early going.
So far, it looks like it will be a defensive struggle.
September, 10, 2009
9/10/09
8:30
PM ET

Posted by ESPN.com's James Walker
PITTSBURGH -- One of the interesting things to watch early in Thursday's game between the
Pittsburgh Steelers
and
Tennessee Titans
will be the performance of backup linebacker
Keyaron Fox
.
Fox, 27, is replacing inside linebacker
Lawrence Timmons
(ankle) in the starting lineup of a huge season opener for both teams.
This is the fifth career start for Fox and his first in Pittsburgh. He had a good preseason for the Steelers, but primarily a special-teams player, Fox will need to step up his game even further against the run-heavy Titans.
Pittsburgh released veteran linebacker
Larry Foote
this offseason to get Timmons into the starting lineup. But that also hurt Pittsburgh's depth, leaving Fox with some big shoes to fill.
September, 10, 2009
9/10/09
7:17
PM ET

Posted by ESPN.com's James Walker
PITTSBURGH -- Here are the players that you won't see for the Steelers in Thursday night's game against the
Tennessee Titans
.
Pittsburgh inactives:
September, 10, 2009
9/10/09
12:00
PM ET
| | |
| --- | --- |
| | |
| | Rex Brown/Getty Images |
| | Quarterback Ben Roethlisberger, who owns a 59-22 career record, is the unquestioned leader of a Steelers team looking for another championship. |

Posted by ESPN.com's James Walker
PITTSBURGH -- According to
Santonio Holmes
, the Steelers are similar to a large black-and-gold locomotive seeking Miami as its final destination.
And the lead car of that train is
Ben Roethlisberger
.
"He's the front man," Holmes said of his quarterback. "If he derails, the rest of the team is probably going to fall back."
As the Steelers and
Tennessee Titans
kick off the 2009 season Thursday night at Heinz Field, Roethlisberger once again is nowhere near the top of the MVP conversation. But similar to perennial candidates
Tom Brady
and
Peyton Manning
, "Big Ben" is just as important to his team.
Though a team consists of 53 players, the Steelers cannot -- and will not -- reach their ultimate goal of repeating as Super Bowl champions without a healthy No. 7. Roethlisberger's numbers rarely stand out, but his 59-22 career record as a starter (including the playoffs) is further proof of what he means to the Steelers.
"He's definitely the most important [player] to our team," Pittsburgh tailback
Willie Parker
said. "He's the centerpiece, and he's the leader to our offense. He rallies the troops and always gets us ready to play. And he plays with tremendous heart, and that's what a lot of people overlook."
Enough credit?
Every year Roethlisberger is overlooked, and he effortlessly deflects questions about it with the same technique he swats would-be defenders in his latest television commercial.

Ben Roethlisberger
#7 QB
Pittsburgh Steelers
2008 STATS

YDS
CMP%
TD
INT
RAT

3,301

59.9

17

15

80.1
"I picked them too," said Roethlisberger, when asked why the Patriots and
San Diego Chargers
are considered Super Bowl favorites.
Another reporter could barely finish a quarterback question before Roethlisberger interjected:
"Tom Brady," he said. " … or
Drew Brees
."
Is Roethlisberger worthy of a first-round fantasy pick?
"Nope," Roethlisberger said smiling. "I'm a sleeper this year."
You get the sense that somewhere deep within, Roethlisberger has a mental reserve where he keeps all of these nuggets as motivation. How else can you explain his instant success, from a quarterback at a mid-major college program to one of the NFL's winningest players in just five seasons?
But for as much credit as Brady gets for his three Super Bowl rings, no one seems to give Roethlisberger the same acclaim for being one behind the New England Patriots' star quarterback. In fact, Roethlisberger, who was 26 last February, won his second Super Bowl at the same age Brady did.
"You look at the Bradys and the Peytons, and they're huge with precision-routes, timing-routes and that type of stuff," Steelers left tackle
Max Starks
said. "But when Ben plays the game, sometimes it looks crazy with him moving all around the pocket. Some guys move defenders with their eyes or with formations. Ben moves them with his feet. He's just a special quarterback."
This week Roethlisberger said that quarterback is the hardest position to play in the NFL, mostly because of the pressures that come with it.
"I think it starts with the scrutiny from everybody," said Roethlisberger, who's also facing off-the-field issues after being hit with a civil sexual assault suit in Nevada this summer. "Everyone is always watching what you do, and it can be tough and it can wear on you."
Backup plan
When disaster struck Brady and New England in Week 1 last year, the Patriots' preseason status as Super Bowl favorite went down the tubes. To their credit, the Patriots won 11 games, but it wasn't enough to make the playoffs in a deep and competitive AFC.
Would the same happen to Pittsburgh if Roethlisberger got hurt?
Although there's no clear-cut preseason favorite, Pittsburgh is one of a handful of elite teams being picked to advance to Miami and Super Bowl XLIV. The Steelers also are the top team in
ESPN.com's Week 1 power rankings
.
If Roethlisberger goes down, Pittsburgh's backup plan is
Charlie Batch
. The 12-year veteran has been a solid No. 2 quarterback and a proven short-term option.
Batch has 50 career starts and is 3-1 as a starter in Pittsburgh relieving Roethlisberger. Batch set a perfect example in 2005, when he won two important regular-season games before Pittsburgh's run to Super Bowl XL.
"We have a savvy vet in Charlie who's willing and ready to step in at any time and take control if Ben goes down," Holmes said. "But with [Roethlisberger] out, you would have to take a step back and gather everybody together and say, 'It's a different head of the train now.' "
For Pittsburgh to avoid a catastrophe at quarterback, the team must improve its pass protection. The Steelers have allowed 139 sacks of Roethlisberger in the past three seasons.
Roethlisberger has the tendency to hold the football, adding to some of the sack totals. But the offensive line certainly is not without blame. Roethlisberger had a lot of injury scares and was banged up numerous times in the past three years but missed only two of 52 starts in that span, including the playoffs.
Last year alone Roethlisberger overcame hand, shoulder, spine and rib injuries to make all 19 starts and lead Pittsburgh to his second Super Bowl, which included a memorable, game-winning drive in the fourth quarter against the
Arizona Cardinals
.
"There's a reason why he's the franchise and you want to keep him safe," Starks said. "The guy can make things happen that a lot of people can only dream of. His fourth-quarter, big-play ability is ridiculous."
Titanic opener
Before they have any thoughts of repeating, the Steelers will first have to get past the Titans, who had the NFL's best record (13-3) last season.
| | |
| --- | --- |
| | |
| | AP Photo/John Russell |
| | Ben Roethlisberger fumbles the ball as he is sacked by Titans defensive end Jason Jones in last December's Titans-Steelers matchup. |
Of those 13 victories, one was an impressive, 31-14 win over Pittsburgh in December. It was a game in which the Titans forced four Roethlisberger turnovers (two interceptions, two fumbles) and handed the Steelers their final loss before Pittsburgh won Super Bowl XLIII.
"It's going to be a challenge for us and what better way to start the year," Roethlisberger said. "They forced turnovers and that's on me. Anytime you turn the ball over that many times, it's not good."
With a healthy quarterback, the Steelers have a legitimate chance to win their third Super Bowl title in five years. It also would cement Pittsburgh's status as an NFL dynasty and perhaps the mythical title of "Team of the Decade."
"It would mean a whole lot," Steelers nose tackle
Casey Hampton
said of winning a third ring. "This is a team that has a lot of history. Those teams back in the 1970s winning four [championships], that was a big deal. But it's a long road."
Pittsburgh's potentially historic journey begins tonight.
AFC NORTH SCOREBOARD
Sunday, 12/21
Monday, 12/22