January, 14, 2014
1/14/14
4:33
PM ET
Some words from Freddie Mercury seem strangely appropriate at this point: Another one bites the dust.
Arizona Cardinals
defensive coordinator Todd Bowles informed the
Cleveland Browns
Tuesday that he was removing his name from consideration to be the team's head coach. Bowles interviewed Jan. 2, and simply did not want the job, according to a source close to Bowles.
The reason: The situation with the Browns is not perceived as a strong one, in part because of the team's constant flux and in part because Rob Chudzinski was fired after one season. The Browns insisted they could find a strong candidate -- and they still may -- but the perception is things are not going swimmingly.
Bowles had coached in Cleveland before, and he's a good coach. But he, like Josh McDaniels of New England, withdrew.
The team is being patient, and insists it is not flailing -- a picture painted by many.
But at this point, the team's coaching searches the past two years have hardly been smooth. Nick Saban and Chip Kelly turned the Browns down a year ago, and Kelly went to Philadelphia where he led the Eagles to the playoffs. The Browns were negotiating with Ken Whisenhunt a year ago when those talks fell apart; this offseason Whisenhunt interviewed with the Browns and Lions before taking the job with Tennessee. The Browns also could not lure McDaniels and now Bowles has withdrawn. Bob Stoops did not interview -- though it's not known if the Browns interest was serious in Stoops. Jim Tressel also has not been contacted. It all follows the decision to hire Rob Chudzinski, then fire him less than one year later.
The Browns still seem focused on Denver offensive coordinator Adam Gase, 35, the first person they requested permission to interview. He is expected to talk with the Browns once Denver is out of the playoffs, but with the Broncos in the Super Bowl that interview might wait three weeks. Also, Gase is not believed to be itching to get out of Denver, where he works with
Peyton Manning
and where his stature should only improve next season.
Other candidates interviewed include former Tennessee coach Mike Munchak, Green Bay quarterback coach Ben McAdoo and Seattle defensive coordinator Dan Quinn. None of the remaining names have generated much buzz and excitement in Cleveland.
In a separate matter, the Browns have given former defensive coordinator Ray Horton permission to pursue other jobs. Normally a coach would have to take a promotion to leave, but the Browns have given permission for Horton to pursue any job. That information comes from ESPN Insider Adam Schefter.
Which of course means the team will have a new defensive coordinator, and most likely a new system, in 2014. Again.
When they hire a coach. Any coach.
Weeeee are the champions, my friend.
January, 3, 2014
1/03/14
9:00
AM ET
One year ago, one of the first coaches the
Cleveland Browns
interviewed to be the team's head coach was Ray Horton.
Horton was the defensive coordinator of the
Arizona Cardinals
. By all accounts he was an upright, honest guy, and a good coordinator who used a pressure 3-4 defense. He was also a minority, which matters in the NFL, which mandates minority interviews with the Rooney Rule.
[+] Enlarge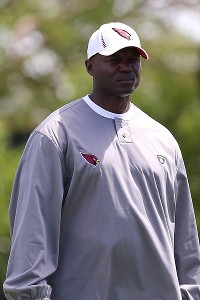 Christian Petersen/Getty ImagesThe Cleveland Browns are interviewing Arizona Cardinals defensive coordinator Todd Bowles.
One year later the Browns are about to interview another defensive coordinator from the Arizona Cardinals. He is an upright, honest guy, and a good coordinator who used a pressure 3-4. And yes, he also is a minority.
Todd Bowles by almost any account is highly thought of and a good coach. He spent time in Cleveland in the Butch Davis years, then worked in Dallas, Miami and Arizona.
He's respected, a good guy and a good coach.
Much like Horton.
In what could be the first of its kind, Joe Banner and Jimmy Haslam are about to follow their interview of a defensive coordinator for the Arizona Cardinals by interviewing another one one year later (assuming the blizzard that hit Cleveland on Thursday doesn't close the airport).
Bowles' positives are similar to Horton's, though he might not be as up-front with the media as Horton was. But he's a hard-worker, knows the game and has learned under some good people -- including Bill Parcells.
Bowles will be the second coach to interview. The Browns started on the defensive side of the ball by talking first to
Seattle Seahawks
defensive coordinator Dan Quinn.
New England Patriots
offensive coordinator Josh McDaniels interviews Saturday.
McDaniels would seem to be the frontrunner, but some in the league wonder if McDaniels and Banner can co-exist with Banner making final decisions on personnel.
Bowles is a strong candidate and probably deserves a head coaching job.
If it doesn't work out in Cleveland, he will have other options. He has an interview scheduled in Minnesota, and is believed to be interviewing in Detroit as well.
January, 1, 2014
1/01/14
3:33
PM ET
Owner Jimmy Haslam talked about hiring a proven winner to replace Rob Chudzinski, so it was odd when the first names that surfaced in the
Cleveland Browns
' coaching search were coordinators.
Then on Sunday, CBSSports.com's Jason La Canfora reported that the Browns were interested in two college coaches: Auburn's Gus Malzahn and Vanderbilt's James Franklin. These names could fall under the category Haslam described.
[+] Enlarge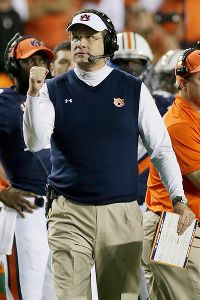 AP Photo/Dave MartinThe Browns are reportedly interested in Gus Malzahn, who led Auburn to the BCS title game in his first season as head coach.
Malzahn's name is interesting. He's this year's Chip Kelly, the guy the Browns did not get a year ago. That failure stung, especially after Kelly initially indicated he'd return to Oregon but then joined the Eagles and led them to the playoffs. The timing isn't good for Malzahn, who is preparing his Auburn team to play Florida State in the national title game. But if Malzahn's goal is to be in the NFL, the timing won't matter.
Malzahn was
Cam Newton
's offensive coordinator when the Tigers won the national title. He spent a year as head coach at Arkansas State before returning to be the head coach at Auburn this season. Like Kelly, he has been tied to the read-option offense.
Franklin is a former Packers assistant who had success in one of the toughest places in the SEC to have success, Vanderbilt. He has also been rumored to be on the list of other NFL teams with openings, and his name has been floated in relation to Penn State, which needs a coach after Bill O'Brien left for the
Houston Texans
.
The college names are interesting, because it's tough for NFL coordinators to have proven records of winning. College head coaches can.
While most in the league shook their head at the firing of Chudzinski after one season, almost as many are interested to see who is hired. In the structure the Browns have, Banner is in charge of football and personnel. A coach would have to accept that structure.
Other names that have surfaced include:
New England offensive coordinator Josh McDaniels.
At first glance McDaniels would seem to be a front-runner. He's from Northeast Ohio and went to college at John Carroll in suburban Cleveland. But sources have said Banner must be convinced, and that could be a challenge. McDaniels would seem to want control over personnel the way Belichick has it in New England. Given the Browns structure, that demand might be tough to meet.
Arizona defensive coordinator Todd Bowles.
Good guy, respected coach. He worked for the Browns from 2001 to 2004 as defensive backs coach before moving on to the Cowboys, Dolphins, Eagles and Cardinals, where he was Bruce Arians' choice to coach the defense. It's tough to find anyone who will say much negative about Bowles. He also would fill the league's Rooney Rule mandate.
Seattle Seahawks defensive coordinator Dan Quinn.
He will also interview with the Vikings. Under Quinn this season, Seattle led the NFL in points allowed, yards allowed, passing yards allowed and interceptions. He spent two years as the Florida Gators' coordinator, and has been an assistant with several NFL teams.
Denver Broncos offensive coordinator Adam Gase.
Every year there's a young coordinator who garners attention. It appears this year it's Gase, who had the benefit of working with
Peyton Manning
. That sure helps a coach look good, but it also helps a coach gain knowledge. Don't discount the recommendation Manning may have given on behalf of Gase; Manning and Haslam are friends. Gase, though, could hurt his chances by deciding not to interview until the Broncos' postseason run is over. It's an admirable stance, but the Browns may not wait.
January, 18, 2012
1/18/12
7:00
AM ET
Every morning, grab a cup of coffee and get your AFC North wake-up call here:
The
Pittsburgh Steelers
are about $25 million over the salary cap and need to cut about 20 percent of their payroll by the March 13 deadline, according to
The Pittsburgh Post-Gazette
.
But the Steelers aren't panicking, at least not publicly.
"It's not a situation where we're looking to tear things apart and start over," team president Art Rooney II told Pittsburgh reporters yesterday.
Rooney, though, acknowledged there will be "some tough decisions."
"I would say it's probably as big an issue as we've had to face," Rooney said. "There will probably have to be some contracts that get restructured and things like that. No question, there's a lot of work to be done."
In the half-hour state-of-the-team interview, Rooney said wide receiver
Mike Wallace
will be among the priorities this offseason. He becomes a restricted free agent March 13.
The Steelers will also add 3,000 seats to Heinz Field after the 2012 season.
Hensley's slant
: Those "tough decisions" will likely come down to players such as nose tackle
Casey Hampton
($4.8 million salary in 2012), wide receiver
Hines Ward
($4 million), guard
Chris Kemoeatu
($3.5 million), inside linebackers
Larry Foote
($3 million) and
James Farrior
($2.8 million) and cornerback
Bryant McFadden
($2.5 million). If these players don't take a pay cut, they probably will be released. The good news for the Steelers is that they bring back their core with quarterback
Ben Roethlisberger
, three young receivers (unless Wallace goes elsewhere as a restricted free agent), two top-notch pass rushers and Pro Bowl safety
Troy Polamalu
.
BENGALS
: Defensive coordinator Mike Zimmer was considered one of the front-runners for the Dolphins head coaching job earlier this week. Now he is out of the running for it, according to the
Miami Herald
. The search has been narrowed down to Packers offensive coordinator Joe Philbin, Broncos offensive coordinator Mike McCoy and Dolphins interim coach Todd Bowles, the paper reported.
Hensley's slant
: Based on the candidates remaining, it appears that the Dolphins want an offensive-minded coach, which eliminated Zimmer from consideration. This is bad news for Zimmer but a good development for the Bengals. While Zimmer still has a chance to get the head-coaching position with the Buccaneers, the Dolphins job was considered his best shot.
BROWNS
: The Akron Beacon-Journal's
Marla Ridenour
was envious of the playoff teams' tight end play over the weekend. This is what Ridenour wrote: "Against Denver, the Patriots got 261 yards (200 receiving) and four touchdowns out of
[Rob] Gronkowski
and
[Aaron] Hernandez
. The Browns' four tight ends —
Ben Watson
,
Evan Moore
,
Alex Smith
and rookie
Jordan Cameron
— totaled seven touchdowns all season. Hernandez also had a 43-yard run against the Broncos, longer than any Browns' rush in 2011."
Hensley's slant
: The Browns are also trailing the rest of the division when it comes to tight ends. Cleveland was the only AFC North team not to have a tight end catch more than 50 passes. The Bengals'
Jermaine Gresham
(56 catches, six touchdowns), the Ravens'
Ed Dickson
(54 catches, five touchdowns) and the Steelers'
Heath Miller
(51 catches, two touchdowns) are all important pieces in the passing game.
RAVENS
: I will be at the Ravens' facility where I will post blogs this afternoon. There will be a
Joe Flacco
column posted at some point today, and the featured blog yesterday was the
Double Coverage
segment.