March, 29, 2011
3/29/11
1:10
PM ET
Pittsburgh Steelers
quarterback
Ben Roethlisberger
often calls teammate
Heath Miller
the best tight end in football. But according to ESPN.com's positional Power Rankings, Miller is not even in the top 12 at his position.
Miller came in at No. 13 in this week's ranking of the NFL's best tight ends. ESPN.com senior writer John Clayton and I were the only two voters who had Miller on their ballots. Clayton voted Miller ninth and I ranked Miller seventh.
This confirms what most of us in the AFC North blog already suspected: Miller remains one of the league's most underrated players. Injuries hurt his numbers in 2010 (42 receptions for 512 yards). But Miller was recently an AFC representative in the Pro Bowl two seasons ago with 76 receptions for 789 yards and six touchdowns.
Miller is not flashy and will never catch 100 passes per season playing in Pittsburgh's offense. But in my opinion, Miller is one of the NFL's most complete tight ends and worthy of being on this list.
Miller makes the most of his limited opportunities. He's sure-handed and great at running downhill after the catch. He's also a phenomenal run- and pass-blocker, and essentially serves as Pittsburgh's third offensive tackle.
The Steelers know how important Miller is to their offense. His contributions cannot be measured strictly by numbers because Miller adds much more with his toughness, blocking ability and being a safety valve over the middle for Roethlisberger.
Miller may not be tops at his position. But I would not select 12 tight ends for my team before taking Miller.
ESPN.com's Tight End Power Rankings
1.
Jason Witten
,
Dallas Cowboys
2.
Antonio Gates
,
San Diego Chargers
3.
Dallas Clark
,
Indianapolis Colts
4.
Vernon Davis
,
San Francisco 49ers
5.
Chris Cooley
,
Washington Redskins
6.
Tony Gonzalez
,
Atlanta Falcons
7.
Kellen Winslow
Jr.,
Tampa Bay Buccaneers
8.
Marcedes Lewis
,
Jacksonville Jaguars
9.
Brandon Pettigrew
,
Detroit Lions
10.
Jermichael Finley
,
Green Bay Packers
Walker's Tight End Power Rankings
1. Jason Witten, Dallas
2. Antonio Gates, San Diego
3. Dallas Clark, Indianapolis
4. Kellen Winslow Jr., Tampa Bay
5. Vernon Davis, San Francisco
6. Tony Gonzalez, Atlanta
7. Heath Miller, Pittsburgh
8. Chris Cooley, Washington
9.
Zach Miller
,
Oakland Raiders
10.
Dustin Keller
,
New York Jets
September, 10, 2010
9/10/10
4:00
PM ET
»
NFC Final Word
:
East
|
West
|
North
|
South
»
AFC
:
East
|
West
|
North
|
South
Five nuggets of knowledge about Week 1:
[+] Enlarge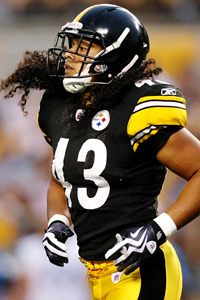 Jason Bridge/US PresswireTroy Polamalu will be matched up against tight end Tony Gonzalez.
There is a great matchup in Pittsburgh on Sunday between a future Hall of Famer and potential Hall of Famer.
Atlanta Falcons
tight end
Tony Gonzalez
, one of the greatest tight ends ever, will be monitored closely by
Pittsburgh Steelers
star safety
Troy Polamalu
. This will be a stellar battle of athleticism versus size, as Gonzalez likes to shield opponents with his big frame to ward off defenders to make receptions. The Steelers will be aggressive with their blitz packages this week. So you can expect Atlanta quarterback
Matt Ryan
to look to Gonzalez as a safety valve.
If you're into trends, Pittsburgh has had its way against the Falcons.
The Steelers are 11-2-1 all time against Atlanta, including a 5-0-1 mark in Pittsburgh. The Steelers also have an NFL-best seven-game winning streak in openers. So why is Pittsburgh a home underdog? Backup
Dennis Dixon
is starting at quarterback in place of the suspended
Ben Roethlisberger
.
Keep an eye on the Cleveland Browns' pass rush, which didn't produce much in the preseason.
Cleveland's defense, ranked No. 31 last season, struggled in a lot of areas but was eighth in the NFL with 40 sacks. It was baffling how the starters couldn't get to the quarterback during preseason. Sunday's game against the
Tampa Bay Buccaneers
will prove if Cleveland defensive coordinator Rob Ryan was holding back this preseason with vanilla schemes or if the lack of pass rush is a legitimate concern.
Cincinnati Bengals' receivers will look to exploit a mismatch against the New England Patriots' secondary.
A
season-ending shoulder injury
to veteran
Leigh Bodden
leaves New England with starting cornerbacks
Darius Butler
and rookie
Devin McCourty
, who have two combined years of experience. The Bengals, meanwhile, have two experienced veterans in receivers
Chad Ochocinco
and
Terrell Owens
, who should have success Sunday. Cincinnati caught a break because Bodden, who once played for the Browns, usually defended Ochocinco well.
If there were a championship in the NFL for trash talking, the New York Jets and Baltimore Ravens would be the two top contenders.
As you've seen this week
, no teams in the league do it better, and what makes it fun is that New York and Baltimore are two bullies who are good at backing it up. The Ravens know Jets coach Rex Ryan well and were aware of the mind games he would try to pull to get under Baltimore's skin. But the time for talking is almost over. We will have plenty more on this "Monday Night Football" game this weekend in the AFC North blog.
September, 9, 2010
9/09/10
11:00
AM ET
PITTSBURGH -- After a one-year hiatus, cornerback
Bryant McFadden
is happy to be back in a Steelers uniform.
McFadden will try to bring stability back to Pittsburgh's secondary, which struggled holding leads last year. The Steelers face a stiff test right away against quarterback
Matt Ryan
and the
Atlanta Falcons
on Sunday.
The AFC North blog caught up with McFadden to get his thoughts on the Falcons and other topics.
[+] Enlarge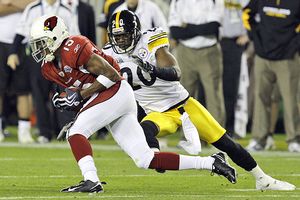 AP Photo/Ross D. FranklinBryant McFadden (20) last played for the Steelers during Super Bowl XLIII. He spent last year with the Arizona Cardinals, who the Steelers beat in that Super Bowl.
Bryant, are you aware that your last meaningful game in a Steelers uniform was Super Bowl XLIII?
BM:
Yeah, I thought about it a little bit. I can remember how happy we were, being able to reach that pinnacle with the type of season we went through and the adversity. We finally were able to get to that mark that a lot of people never get the chance to experience in their career. We were able to do that. Now being back, we're just trying to bring that back to the forefront again. But none of that matters. The only thing that matters right now is the Atlanta Falcons game.
How much responsibility rests on your defense with quarterback Ben Roethlisberger suspended four games?
BM:
We know as a group, when you play
Pittsburgh Steelers
defense there is always a level of expectation that you're expected to reach. With the tradition of the Steel Curtain and the numerous great defenses we've had the last few years, it's always a thought process to be able to carry that tradition. We know there might be games where it may be 6-9, or 10-9, things of that nature. We will have to step up and play the type of football we're accustomed to doing. It's nothing new to us.
What's your take on the Atlanta Falcons' offense from what you've seen on film?
BM:
They're a good group of guys. They do a lot of different things as far as motioning and changing up formations. They make you switch your defense and they work together very, very well. Matt Ryan, with how he's throwing the ball, [receiver]
Roddy White
, it's going to be a big challenge. We're playing against one of the premiere tight ends [
Tony Gonzalez
] to ever suit up. Every week in the NFL is going to be a high competition level anyway. So with that being said, we just got to go out and execute and play our kind of football.
You were once a young player trying to learn Pittsburgh's defense. What's your advice for second-year cornerback Keenan Lewis, who's struggled and was frustrated this preseason?
BM:
Just stay focused. Those guys you're covering, they get paid also. This is a league right now that is set for offenses to catch passes, so we're already behind the eight ball covering them with the rules and how things work. So just stay focused. Cornerbacks are in tough situations. You have to be mentally tough and definitely have to have a short memory.
January, 18, 2010
1/18/10
12:00
PM ET
With every AFC North team looking ahead to next season, here are seven notes and observations within the division:
One of the most baffling stories in the division this year was the inconsistency of the Baltimore Ravens. After Sept. 27, the team never won more than two games in a row. That trend held true to form in the playoffs. The Ravens looked dominant in a 33-14 wild-card win over the New England Patriots, then ineffective during last weekend's loss to the Indianapolis Colts, 20-3. That kind of roller-coaster production was the story of Baltimore's season, and it's hard to put a finger on the issue. When I asked some players about it Saturday night, they were just as confused.
"I don't know," Ravens linebacker Jarret Johnson said. "We got to play consistent across the board. We got games where the offense plays really good and games where the defense [plays well]. We had a couple of complete games. But we got to find a way when the offense struggles, we got to make a play and help them out. They got to do the same for us, and there are times this year when we haven't done that."
Dennis Wierzbicki/US PresswireBaltimore needs to surround quarterback Joe Flacco with more weapons next season.
December, 30, 2009
12/30/09
2:00
PM ET
As the
Pittsburgh Steelers
continue to morph into a pass-first offense, one of the biggest beneficiaries this season has been starting tight end
Heath Miller
.
Miller
The five-year veteran has already set new career-highs for receptions (71) and yards (733) in a season. Pittsburgh (8-7) will finish its regular season Sunday against the
Miami Dolphins
(7-8).
Miller has also been one of the most dependable targets in the league, catching 71 of 91 passes (78 percent) thrown in his direction.
Here are the NFL's most-targeted tight ends heading into Week 17, courtesy of ESPN Stats & Information: