November, 27, 2013
Nov 27
10:00
AM ET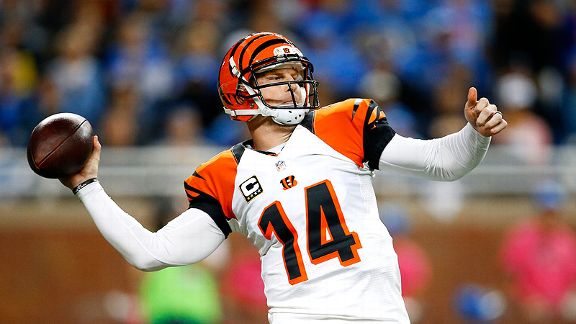 AP Photo/Rick OsentoskiThe Cincinnati Bengals are counting on Andy Dalton to return to the form that helped lead the team to a 4-1 record in October.
CINCINNATI -- Earlier this week,
Cincinnati Bengals
players like cornerback
Chris Crocker
were adamant in pointing out the urgency they need to play with throughout the
month of December
.
"It's all about winning in December," Crocker said. "Let's win out and see where the chips lay. Why can't we win out? I don't see why we can't."
If you ask some Bengals fans and most NFL analysts, they'll give you one big reason why they don't believe Cincinnati will be able to go 5-0 to close out the regular season: No. 14.
That's right. To some, the primary obstacle in the way of end-of-season perfection for the Bengals is
Andy Dalton
, the player who has quarterbacked the franchise into the playoffs each of the past two seasons, and who constantly is trying to prove himself to those who consider him just another member of a mostly failed 2011 quarterback draft class.
For that reason, as the Bengals gear up for a stretch run that could give them a first-round bye and home-field advantage in the playoffs, an important question has to be asked.
Can December Andy mimic October Andy?
As we've written countless times in the past month, October Andy was indeed a dandy. Through the first four games of that month, Dalton threw for 1,243 yards and 11 touchdowns. He also completed 67.9 percent of his passes, won four games, had a passer rating higher than 116.0 and a QBR above 83.0. He was, quite simply, brilliant. His play was so sharp back then that on the final day of the month, hours before the Bengals were set to take on the Dolphins in a road Thursday night game, he was named the AFC's Offensive Player of the Month.
And, yes, even though, comparatively speaking, he didn't look as good overall against the Dolphins and ended up taking the game-winning sack for a safety in overtime, Dalton still had a rather special performance in the 22-20 loss. Aside from not completing a touchdown pass and getting intercepted three times, he threw for 338 yards, marking the fourth straight game he had gone over the 300-yard passing mark.
Overall, October Andy was Good Andy.
But now here comes December with all of its postseason potency. If Cincinnati hopes to set itself up for the type of playoff seeding Crocker believes it deserves, then it will have to play its best ball across the next five weeks. That's especially the case for Dalton and a Bengals offense that has looked rather anemic in the past three games.
One look at Dalton's previous December stats and it doesn't appear the third-year star should have any problem showcasing even a sliver of the success that made him and his team so good about two months ago.
After a rocky December as a rookie in 2011, Dalton was among the difference-makers last season when the desperate Bengals were in need of a strong final month just to secure a playoff berth. One year after going 2-2 in the month, Dalton went 4-1 during December 2012. The lone loss came after the
Dallas Cowboys
made a field goal in the final seconds to win 20-19.
While the level of desperation may be different this December, the Bengals are looking for Dalton to thrive under similar pressure-packed moments during this one. This time around, the pressure on Dalton mainly stems from the fact that so many are fed up with his play from the past three games. In them, he's thrown eight interceptions and been sacked 10 times. Across the latter two of those games, he's completed fewer than 50 percent of his passes and hasn't posted a QBR higher than 18.0.
Weather factored heavily in Dalton's inability to move the ball in those two games. Windy conditions at Baltimore and windy and rainy conditions against the Browns sent some of his passes sailing and forced others into the hands of defensive backs.
Although weather shouldn't be a concern this weekend in San Diego (the forecast calls for partly cloudy skies and a delightful high of 71 degrees Sunday), it could be the rest of the season. Farmer's Almanac projects cold, damp conditions for all of December in the Ohio Valley. It should be noted that after Sunday's game, the Bengals are home three of the next four weeks. Their only remaining road game is at Pittsburgh.
Throughout his career, Dalton has performed better in warmer games. In games with temperatures 50 degrees or higher, he has a 20-14 record, an 85.1 passer rating and a 52.5 QBR. In games with temperatures at 49 and lower, he has a 5-5 record, a 75.4 passer rating and a 32.9 QBR. Dalton's last three sub-49-degree wins came last December, though; a sign that perhaps he's turning a corner in cold-weather contests.
Whatever the conditions and whomever their opponents are, when it comes to the next five weeks, the Bengals can only hope that Dalton turns into the same man who torched through this October.
September, 1, 2011
9/01/11
8:30
AM ET
Here are the most interesting stories Thursday in the AFC North: Morning take: This is a tough matchup for Smith before the regular season. White is big and physical, and these are the type of No. 1 receivers Smith was drafted to stop.
Morning take: Andy Dalton and Bruce Gradkowski are locks to make the team. Dan LeFevour may be expendable if Cincinnati wants to use a roster spot on another position.
Morning take: Legursky is a blue-collar player who fits the Steelers well. Tony Hills had the first chance but didn't take advantage in the preseason.
Morning take: The Browns are not a deep team. So I'm curious to see which young players step up and make the team for backup roles.
May, 12, 2011
5/12/11
12:00
PM ET
We continue our series this week on grading the 2008 draft classes in the AFC North by taking a look at the
Pittsburgh Steelers
.

Picks:
RB
Rashard Mendenhall
(first round), WR
Limas Sweed
(second), LB
Bruce Davis
(third), OT
Tony Hills
(fourth), QB
Dennis Dixon
(fifth), LB
Mike Humpal
(sixth), S
Ryan Mundy
(sixth)
Analysis:
At the time, many felt this was one of the best draft classes in recent memory for the Steelers. That turned out not to be the case, but Pittsburgh still got some production from this draft. The Steelers were surprised Mendenhall fell to them at No. 23 overall and took him as a luxury pick. Pittsburgh had
Willie Parker
entrenched as the starter but injuries were starting to slow him down. Mendenhall eventually took over in the 2009 season and produced back-to-back 1,000-yard seasons. Sweed showed early flashes but could never seem to get over drops he suffered early in his career. Now he's at the back of Pittsburgh's depth chart. Dixon and Mundy are both decent backups at quarterback and safety, respectively. Davis and Hills never developed as the Steelers had hoped.
AFC North blog draft grade:
C
We will conclude our series on Friday by grading the 2008 draft of the
Baltimore Ravens
.
January, 31, 2011
1/31/11
11:30
AM ET
FORT WORTH, Texas -- As Super Bowl week officially kicks off for the
Pittsburgh Steelers
and
Green Bay Packers
on Monday, here are seven notes and observations on the division:
[+] Enlarge

Gregory Shamus/Getty ImagesMike Tomlin is taking the Steelers to their second Super Bowl in three years.

Super Bowl experience should be an advantage for Pittsburgh, not only in the game, but in the way the team prepares during the week. For most Steelers players, this is their second trip to the Super Bowl. For some veterans like Hines Ward, Ben Roethlisberger, James Farrior and Troy Polamalu, this is their third opportunity. The two-week break and enormous hype can be very distracting for teams, and Green Bay is much more likely to fall victim this week. Steelers head coach Mike Tomlin also got his first Super Bowl experience out of the way two years ago and will surely tighten things up in his preparation the second time around.

Expect some retirement speculation with the Steelers, although I'm not sure they will entertain it. Pittsburgh defensive coordinator Dick LeBeau and Ward will be at the center of it. LeBeau, 73, said three years ago that he's coaching on a year-to-year basis, and now he has a chance to go out on top. LeBeau also is in the final year of his contract with Pittsburgh. Ward said in the offseason that another Super Bowl title would make his career complete and he would retire. But last week Ward downplayed those comments and said he hasn't thought about retirement. Both will be asked to revisit the topic in Texas.

With Pro Bowl center Maurkice Pouncey (ankle) sidelined, it's time to start thinking about who will take his spot on Sunday's 45-man roster. It could be as simple as making defensive end Aaron Smith active. Smith has missed the past 12 games, including playoffs, following triceps surgery and is listed as questionable. If Smith cannot go, the Steelers will likely take on another offensive lineman such as Tony Hills or Chris Scott to provide depth.

It's never a good thing when your quarterback is making disparaging remarks toward the organization, which is what Joe Flacco did recently to the Baltimore Ravens. Flacco was not happy about the firing of quarterbacks coach Jim Zorn, and Flacco took it as a personal shot at his performance. Flacco's perception is inaccurate since he put up career highs in yards (3,622), touchdowns (25) and quarterback rating (93.6) this season. But the offense could have done better and probably had too many voices, which is why the Ravens never established one identity and one direction this season. Flacco is a major part of the Ravens, and the organization needs to do a better job of communicating these things to its starting quarterback so there is no confusion or public rifts in the future.

In other AFC North drama, Cincinnati Bengals head coach Marvin Lewis has to deal with an unexpected problem this offseason. Now that he's finished coaching the Senior Bowl, Lewis has to return to Cincinnati and immediately address the morale of his team, which appears very low. Franchise quarterback Carson Palmer wants out and is threatening to retire. That's a huge blow to the Bengals, because it creates a dark cloud of uncertainty over the entire team. This could also impact free agents coming or staying with the Bengals. Cincinnati already is coming off a 4-12 season, which is tough enough, and it will be Lewis' job to convince Palmer and others the team is still heading in the right direction. Based on Palmer's reaction this offseason, that looks like a hard sell.

You can pretty much rule out Washington quarterback Jake Locker as a possibility for the Bengals. By all accounts, Locker had a bad week at the Senior Bowl, which will drop his stock a considerable distance from Cincinnati's No. 4 overall pick. Even with Palmer's situation, the Bengals still may not draft a quarterback in the first round because they have other needs. But if Cincinnati considers it, Missouri's Blaine Gabbert seems to be the only possibility currently in the top four.

Speaking of the draft, I'm starting to believe the Cleveland Browns will go offense early this year. President Mike Holmgren and Pat Shurmur are both offensive coaches, and I have a hard time believing this pair wants to spend another year with the same talent deficit it had on that side of the football. Cleveland helped the defense last year by spending its first two picks on cornerback Joe Haden and safety T.J. Ward. Both were good selections. But if there's an equally-rated player available at No. 6 on offense and defense, my feeling is the Browns will break the tie on offense and want to help that side of the football more this offseason.
July, 8, 2010
7/08/10
1:00
PM ET
»
NFC On the Radar
:
East
|
West
|
North
|
South
»
AFC
:
East
|
West
|
North
|
South
A player, coach or issue that should be on your radar as training camp approaches.
In just one week, offensive lineman
Trai Essex
has gone from a relative unknown to one of the most talked about
Pittsburgh Steelers
heading into training camp.
[+] Enlarge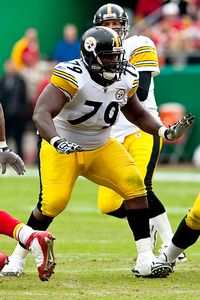 Icon SMITrai Essex may be called on to replace injured right tackle Willie Colon.
The buzz surrounding Essex is whether he's the key component to replace injured right tackle
Willie Colon
, who was
lost for the season
after rupturing his right Achilles tendon.
Now Pittsburgh needs answers -- and quickly. With training camp set to begin later this month, the Steelers worked out veteran offensive tackle
Flozell Adams
but didn't sign him to a contract. If there is no movement in free agency, Essex could be the top choice to replace Colon.
Essex started all 16 games at right guard last season, but his starting job this year was already in jeopardy. Pittsburgh drafted rookie
Maurkice Pouncey
in the first round (No. 18 overall) with the anticipation that the Florida product would eventually take over for Essex, who has played on the first team this spring. Colon's injury could speed up the process and give Essex a chance to work at right tackle in training camp and the preseason.
"When you look at Essex, I kind of like him because he's smart and he's versatile," said Scouts Inc.'s Matt Williamson. "In a pinch, he can probably play any of the five positions. But he's going to get exposed if he's there too long for any of them.
"He moves pretty well, although I think he carries too much weight and a bigger spare tire than you'd like to see [for an offensive tackle]."
Other in-house options for Pittsburgh include backups
Jonathan Scott
and
Tony Hills
. Expect both players to get a look in training camp.
For an offense that recently traded receiver
Santonio Holmes
and will be without quarterback
Ben Roethlisberger
for at least four games, solving the right tackle issue this summer would be a huge plus.
July, 7, 2008
7/07/08
2:33
PM ET
Posted by ESPN.com's James Walker
The Pittsburgh Steelers reached a three-year agreement with fourth-round pick Tony Hills, the team announced Monday. The left tackle started 24 career games for the University of Texas but suffered a broken fibula toward the end of his senior season. Pittsburgh still has six unsigned draftees remaining, including first-round pick Rashard Mendenhall, a running back from the University of Illinois, and former Texas receiver and second-round pick Limas Sweed.
The Steelers report to training camp in Latrobe, Pa., on July 27.