AFC North:

training camp preview 09
November, 27, 2013
Nov 27
10:00
AM ET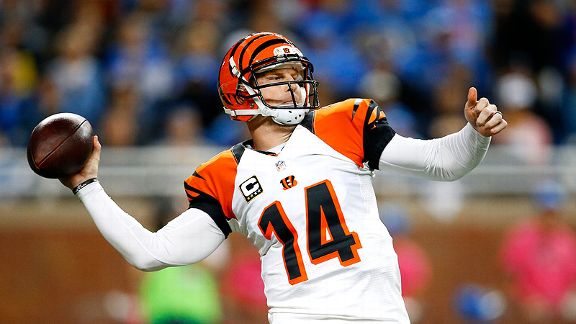 AP Photo/Rick OsentoskiThe Cincinnati Bengals are counting on Andy Dalton to return to the form that helped lead the team to a 4-1 record in October.
CINCINNATI -- Earlier this week,
Cincinnati Bengals
players like cornerback
Chris Crocker
were adamant in pointing out the urgency they need to play with throughout the
month of December
.
"It's all about winning in December," Crocker said. "Let's win out and see where the chips lay. Why can't we win out? I don't see why we can't."
If you ask some Bengals fans and most NFL analysts, they'll give you one big reason why they don't believe Cincinnati will be able to go 5-0 to close out the regular season: No. 14.
That's right. To some, the primary obstacle in the way of end-of-season perfection for the Bengals is
Andy Dalton
, the player who has quarterbacked the franchise into the playoffs each of the past two seasons, and who constantly is trying to prove himself to those who consider him just another member of a mostly failed 2011 quarterback draft class.
For that reason, as the Bengals gear up for a stretch run that could give them a first-round bye and home-field advantage in the playoffs, an important question has to be asked.
Can December Andy mimic October Andy?
As we've written countless times in the past month, October Andy was indeed a dandy. Through the first four games of that month, Dalton threw for 1,243 yards and 11 touchdowns. He also completed 67.9 percent of his passes, won four games, had a passer rating higher than 116.0 and a QBR above 83.0. He was, quite simply, brilliant. His play was so sharp back then that on the final day of the month, hours before the Bengals were set to take on the Dolphins in a road Thursday night game, he was named the AFC's Offensive Player of the Month.
And, yes, even though, comparatively speaking, he didn't look as good overall against the Dolphins and ended up taking the game-winning sack for a safety in overtime, Dalton still had a rather special performance in the 22-20 loss. Aside from not completing a touchdown pass and getting intercepted three times, he threw for 338 yards, marking the fourth straight game he had gone over the 300-yard passing mark.
Overall, October Andy was Good Andy.
But now here comes December with all of its postseason potency. If Cincinnati hopes to set itself up for the type of playoff seeding Crocker believes it deserves, then it will have to play its best ball across the next five weeks. That's especially the case for Dalton and a Bengals offense that has looked rather anemic in the past three games.
One look at Dalton's previous December stats and it doesn't appear the third-year star should have any problem showcasing even a sliver of the success that made him and his team so good about two months ago.
After a rocky December as a rookie in 2011, Dalton was among the difference-makers last season when the desperate Bengals were in need of a strong final month just to secure a playoff berth. One year after going 2-2 in the month, Dalton went 4-1 during December 2012. The lone loss came after the
Dallas Cowboys
made a field goal in the final seconds to win 20-19.
While the level of desperation may be different this December, the Bengals are looking for Dalton to thrive under similar pressure-packed moments during this one. This time around, the pressure on Dalton mainly stems from the fact that so many are fed up with his play from the past three games. In them, he's thrown eight interceptions and been sacked 10 times. Across the latter two of those games, he's completed fewer than 50 percent of his passes and hasn't posted a QBR higher than 18.0.
Weather factored heavily in Dalton's inability to move the ball in those two games. Windy conditions at Baltimore and windy and rainy conditions against the Browns sent some of his passes sailing and forced others into the hands of defensive backs.
Although weather shouldn't be a concern this weekend in San Diego (the forecast calls for partly cloudy skies and a delightful high of 71 degrees Sunday), it could be the rest of the season. Farmer's Almanac projects cold, damp conditions for all of December in the Ohio Valley. It should be noted that after Sunday's game, the Bengals are home three of the next four weeks. Their only remaining road game is at Pittsburgh.
Throughout his career, Dalton has performed better in warmer games. In games with temperatures 50 degrees or higher, he has a 20-14 record, an 85.1 passer rating and a 52.5 QBR. In games with temperatures at 49 and lower, he has a 5-5 record, a 75.4 passer rating and a 32.9 QBR. Dalton's last three sub-49-degree wins came last December, though; a sign that perhaps he's turning a corner in cold-weather contests.
Whatever the conditions and whomever their opponents are, when it comes to the next five weeks, the Bengals can only hope that Dalton turns into the same man who torched through this October.
July, 21, 2009
7/21/09
12:00
PM ET
Posted by ESPN.com's James Walker
Baltimore Ravens/McDaniel College: Westminster, Md.
| | |
| --- | --- |
| | |
| | Al Messerschmidt/Getty Images |
| | Baltimore running back Le'Ron McClain might not get as many carries this season. |
Campfires:
Coming off an appearance in the AFC Championship Game, Baltimore is a veteran-laden team set at a lot of positions. So there aren't many training camp battles to look forward to.
One of the few open competitions is the battle to replace Bart Scott, involving young linebackers Tavares Gooden and Antwan Barnes. Gooden, with his energy and athleticism, is the early favorite but will have to solidify the starting job with a good camp this summer.
Although the Ravens' coaching staff has downplayed it this offseason, there seems to be a shift in the backfield toward giving more carries to the tailbacks -- Ray Rice and Willis McGahee -- and fewer carries to Le'Ron McClain, who is a natural fullback. McClain was the hot hand last year and led Baltimore in rushing with 902 yards, while Rice and McGahee were in and out of the lineup with injuries. But McClain only averaged 3.9 yards per carry and it appears Baltimore is hoping for more big rushing plays from its tailbacks. But similar to last year, all three components of the "three-headed monster" will get their share of opportunities.
Camp will be a downer if ... the Ravens fail to find a replacement for retired receiver Derrick Mason. Baltimore already had the tall task of finding a young receiver to fill the No. 3 option. Mason's surprise announcement this month leaves the team in search of a top receiver. The team also plans to meet with Mason to see if it's possible he could have a change of heart.
Baltimore could stay in-house and hope Mark Clayton develops into a No. 1 receiver this season, which is a risky proposition. Or the Ravens could look outside at a veteran free agent such as Marvin Harrison, who is similar to Mason in terms of skills. Making a trade for a receiver such as Anquan Boldin or Brandon Marshall doesn't appear likely, and the team recently signed veteran Drew Bennett to help with depth.
The Ravens have high aspirations this year and a starting lineup of Clayton and possibly Demetrius Williams isn't good enough to win a Super Bowl this season. Baltimore doesn't have many glaring weaknesses, but the hole at receiver could become a major issue if it is not addressed.
Camp will be a success if ... rookie right tackle Michael Oher adjusts to the NFL game quickly. Oher has a major responsibility of protecting one of the edges for second-year quarterback Joe Flacco.
Baltimore traded up in the first round to draft Oher, which shows how much the team likes the rookie from Mississippi. Barring injury, Oher will be the Week 1 starter at right tackle. So the Ravens coaching staff would love to see continual progress from the rookie during training camp.
Getting a kick: This year could mark the first time in franchise history that Matt Stover is not Baltimore's kicker. The 18-year veteran who has been with the team from its inception in 1996 was not re-signed by the Ravens because of declining leg strength on kickoffs.
The Ravens kept an additional kicker on their roster for most of last season to help with kickoffs, while Stover handled field goals and extra points. But Baltimore doesn't want to do that again, so they have Steve Hauschka and rookie Graham Gano battling it out for both duties.
Neither kicker got off to a great start this offseason. So Stover remains on
call in case Hauschka or Gano do not perform well in the preseason.
---
Cincinnati Bengals/Georgetown College: Georgetown, Ky.
| | |
| --- | --- |
| | |
| | AP Photo/David Kohl |
| | Cincinnati linebacker Rey Maualuga will be given every opportunity to compete for a starting job. |
Campfires:
When a team is coming off a four-win season, naturally there are a lot of interesting camp battles to look forward to the following year.
Perhaps the most compelling battle will be at outside linebacker between incumbent Rashad Jeanty and hotshot rookie Rey Maualuga, whom the Bengals were thrilled to land in the second round. Maualuga is a natural inside linebacker, but that position is already filled by team leader Dhani Jones. So Cincinnati's coaching staff is giving the former USC linebacker every opportunity to see the field, and Maualuga's best chance is to beat out Jeanty in training camp.
Also look for an interesting three-way competition at center between Kyle Cook, Dan Santucci and rookie Jonathan Luigs, and an interesting battle at safety between veteran free-agent signing Roy Williams and the underrated Chinedum Ndukwe.
Camp will be a downer if ... the offensive line fails to get it together. There are expected to be four players at new positions on the offensive line this season. That means developing continuity will be vital during training camp.
First-round pick Andre Smith comes in with a gaudy résumé and is expected to start at right tackle. The Bengals also will have a new center between the aforementioned Cook, Santucci or Luigs. Andrew Whitworth is moving from left guard to left tackle this season, and Nate Livings probably will take Whitworth's place at guard. That is a lot of new faces in new places for Cincinnati.
Camp will be a success if ... quarterback Carson Palmer returns to form and remains healthy. It sounds simple, but two of the past four years Palmer has suffered season-ending injuries.
Last year alone, Palmer had his nose broken in the preseason and later suffered an elbow injury that forced him to shut it down for the year. With Palmer approaching 30 in December and Cincinnati's poor performance on the offensive line the past couple of seasons, getting Palmer to the regular season without a scratch should not be taken for granted.
Show and prove: Cincinnati's defense finished 12th in the NFL last season despite little help or points scored from its offense.
Defensive coordinator Mike Zimmer has done a tremendous job with this scrappy group, and now that the Bengals expect to score points again, there is some talk of Cincinnati's defense becoming a top 10 group. With good, young players such as linebacker Keith Rivers, defensive tackle Domata Peko and cornerback Johnathan Joseph, Cincinnati's defense will be out to prove that last year was not a fluke.