September, 27, 2013
9/27/13
8:00
AM ET
Here's your morning briefing on the Baltimore Ravens beat with the wake-up caw ...
January, 16, 2011
1/16/11
8:13
PM ET
Three things to know about next Sunday's New York Jets-Pittsburgh Steelers AFC Championship Game:


1. The road to the Super Bowl now goes through Pittsburgh.
The Steelers caught a break Sunday night with the Jets' upset win against the
New England Patriots
. Pittsburgh, the AFC's No. 2 seed, will play host to the conference title game for the second time in three years. The Steelers said Saturday night that they were confident regardless of the opponent. But playing at home in the postseason is always a preference, and the Patriots and quarterback
Tom Brady
have had Pittsburgh's number in recent years.
2. Don't forget the Jets beat Pittsburgh too.
While the Steelers avoided a trip to New England, the team with the best record in the regular season, they will face a Jets team that went into Heinz Field on Dec. 19 and handed Pittsburgh a
22-17
defeat. New York outplayed Pittsburgh in Week 15, particularly on special teams. The Steelers also were without Pro Bowl safety
Troy Polamalu
, who missed the game with a calf/Achilles injury.
3. There are tons of AFC North connections in this game.
This will be a big week for Jets receiver
Santonio Holmes
, whom Pittsburgh traded this offseason to New York. Holmes will make his second trip to Pittsburgh this season, but this time a ticket to Super Bowl XLV is at stake. Jets coach Rex Ryan, linebacker
Bart Scott
and defensive lineman
Trevor Pryce
are among those who joined New York from the
Baltimore Ravens
' organization. Receiver
Braylon Edwards
was acquired in a trade with the
Cleveland Browns
, and the Browns traded their No. 5 overall pick to the Jets in 2009 to allow New York to draft quarterback
Mark Sanchez
. Jets safety
Brodney Pool
also played five seasons in Cleveland.
September, 30, 2010
9/30/10
6:10
PM ET
Here are the latest happenings Thursday evening in the AFC North:
September, 30, 2010
9/30/10
12:13
PM ET

Baltimore Ravens
Pro Bowl tailback
Ray Rice
told reporters Thursday that he
expects to play
this weekend against the
Pittsburgh Steelers
. Rice bruised his knee late in last week's win over the
Cleveland Browns
.
This is in line with what most of the Steelers said in the locker room this week. Rice, who is one of the few tailbacks to have success against Pittsburgh's defense, was described by the Steelers as a "gamer" and "tough player." Pittsburgh was preparing this week for Rice to play, and it turns out that will be the case.
In other Ravens news, defensive end
Trevor Pryce
was
signed by
the
New York Jets
. Baltimore planned to re-sign Pryce, who was cut by the Ravens this week and scooped up by former Baltimore defensive coordinator and Jets head coach Rex Ryan.
September, 29, 2010
9/29/10
5:00
PM ET
Here are the latest happenings Wednesday evening in the AFC North:
May, 27, 2010
5/27/10
1:00
PM ET
»
NFC On the Radar
:
East
|
West
|
North
|
South
»
AFC
:
East
|
West
|
North
|
South
A player, coach or issue that should be on your radar as training camp approaches.
[+] Enlarge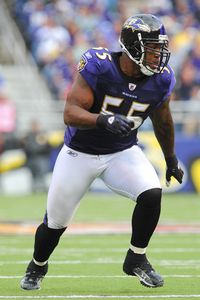 Al Messerschmidt/Getty ImagesTerrell Suggs had a career-low 4.5 sacks last season.
Terrell Suggs
of the
Baltimore Ravens
openly admits 2009 was a down year. But it also led to a bold proclamation for this upcoming season.
"Rest assured, it will never happen again,"
Suggs recently told reporters.
The hybrid linebacker/defensive end and three-time Pro Bowler is motivated to have a bounce-back season for the Ravens, who should be strong contenders in the AFC.
A variety of factors contributed to Suggs' subpar numbers last season.
At times Suggs was banged up with a knee injury, missing three games. He lacked his usual explosiveness and didn't look to be in the best of shape. There were points when teammates
Jarret Johnson
and
Trevor Pryce
, not Suggs, were Baltimore's best pass-rushers. Pryce (6.5 sacks) and Johnson (6.0 sacks) led the team, while Suggs recorded a career-low 4.5 sacks.
The sudden inconsistency from Suggs is baffling. He was one of the most dominant defenders in the NFL for the six years before last season.
"His pass rush, I just tend to think it was an anomaly," said Matt Williamson of Scouts Inc. "There wasn't somebody on the other side who took a lot of the pressure off ... But I don't worry about Suggs. If it happens another year in a row, then maybe I will say he's a declining pass-rusher.
"But I tend to side that he's going to come back to form in a hurry."
The Ravens are banking on Williamson's projection. Baltimore gave Suggs, 27, a six-year,
$63 million contract
last year, believing he is still in his prime.
Baltimore as a team was ranked a disappointing No. 18 in sacks last season. If the Ravens are going to have a resurgent pass rush in 2010, Suggs will be vital.
April, 26, 2010
4/26/10
10:00
AM ET
Former
Baltimore Ravens
linebacker
Bart Scott
used to say, in all seriousness, that he could take
Haloti Ngata
to any rough neighborhood in America and feel completely at ease.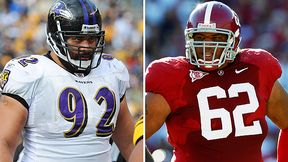 Getty ImagesRavens DTs Haloti Ngata and Terrence Cody combine to weigh around 700 pounds.
Imagine how Scott would feel traveling with Ngata
and
new acquisition
Terrence "Mount" Cody
? At a combined listed weight of nearly 700 pounds, consider this pairing Baltimore's version of the Secret Service.
The president in this case is future Hall of Fame middle linebacker
Ray Lewis
, who has to be extremely happy with Baltimore's draft. The girth of Ngata and Cody should eat up a lot of space while keeping offensive linemen off Lewis, who will be free to fly around and finish off plays.
Baltimore's run defense was rated No. 5 last season. But barring injuries, that ranking could get even better with a defensive line rotation of Ngata, Cody,
Kelly Gregg
,
Trevor Pryce
and
Cory Redding
. Lewis,
Terrell Suggs
,
Jarret Johnson
,
Dannell Ellerbe
and rookie
Sergio Kindle
also are among a physical group of Baltimore linebackers.
The Ravens still have questions in the secondary, particularly when it comes to health and depth at cornerback. But Baltimore's front seven should be among the most formidable units in the NFL next season.
March, 29, 2010
3/29/10
10:00
AM ET
In addition to the blockbuster trade to land receiver
Anquan Boldin
, the
Baltimore Ravens
recently filled another hole in signing free-agent defensive lineman
Cory Redding
. Baltimore inked Redding to a two-year deal to add depth to a previously thin defensive line.
[+] Enlarge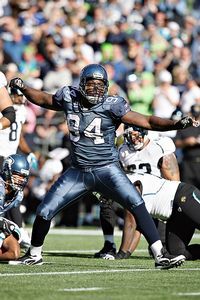 Otto Greule Jr/Getty ImagesThe addition of Cory Redding gives the Ravens depth on the defensive line.
This week the AFC North blog caught up with Scouts Inc.'s Matt Williamson to get an in-depth look at what Redding brings to the Ravens.
Matt, how exactly does Redding fit in Baltimore's defensive scheme?
Williamson:
He's a good fit for them. You haven't seen him ever play in a 3-4, so that's a bit of a mystery. But he is, in style of play, sort of a tweener between a defensive tackle and a defensive end. It wasn't that long ago that he had a very productive year, and it wouldn't blow me away if he did it again going into that system. The Ravens lost
Justin Bannan
and they lost
Dwan Edwards
, and I think both of those guys are better run-stuffers than Redding. But Redding brings more to the table as a potential pass-rusher than either one of them. He kind of reminds me a poor man's
Trevor Pryce
.
Two years ago the Cleveland Browns also traded for Corey Williams, who was a 4-3 lineman with pass-rushing skills, and it didn't work out. Is this a similar risk?
Williamson:
It doesn't matter anymore, but even when the Browns took Williams way back when, I thought they were wasting his talent. I felt that wouldn't work out at all even before it happened. It wasn't a smart move, because that's not what [Williams] does. While Redding once was a good penetrator, and as he's getting older sometimes you'll see these guys move to a 3-4 where they don't have the same quickness. But he still has the size and the savvy with some inside pass-rush ability. It's sort of a natural progression. As he slows down, he can do a little more [holding the line of scrimmage] as oppose to making a ton of plays in the backfield and blowing things up. And they don't have much invested in it, so I thought it was a pretty good move.
Can Redding push Pryce for a starting job at DE this season?
Williamson:
For this second, I would say he's a natural first guy off the bench. Redding can be a big end on running downs and move inside on passing downs. He'll play hard. I'm not a huge believer that Pryce is there for the long haul. His athletic ability and all his dynamic qualities are declining. Pryce had injury problems in the past, too. So who's to say you can count on him? But with both players at their best at this stage of their careers, I would take Pryce. But Redding is awfully good insurance.
March, 18, 2010
3/18/10
1:00
PM ET
»
NFC Stock Watch
:
East
|
West
|
North
|
South
»
AFC
:
East
|
West
|
North
|
South

Falling
Baltimore Ravens defensive line:
Two key free-agent losses in the past week have drastically hurt depth on Baltimore's defensive line.
Justin Bannan
and
Dwan Edwards
signed deals recently with the
Denver Broncos
and
Buffalo Bills
, respectively. The two were key reserves in the rotation with Baltimore's stout unit. Without them, the Ravens are currently looking very thin behind starters
Trevor Pryce
,
Kelly Gregg
and
Haloti Ngata
. Look for Baltimore to replenish its depth via the NFL draft, where there are a lot of quality prospects on the defensive line who can fill the roles Bannan and Edwards left.

Rising
Pittsburgh Steelers special teams:
Pittsburgh went on an unusual signing spree last week in free agency and most of it was aimed at improving special teams. The Steelers' return and coverage teams were below average last season, and it was an under-the-radar reason the team fell to 9-7. Enter receiver
Arnaz Battle
, safety
Will Allen
and receiver
Antwaan Randle El
. This trio should help Pittsburgh's special teams in 2010. Battle and Allen were solid in coverage and Randle El, a former Steeler, may help with punt returns. With a top-five defense and an explosive offense, improving special teams would patch one of Pittsburgh's few glaring weaknesses.
January, 28, 2010
1/28/10
12:30
PM ET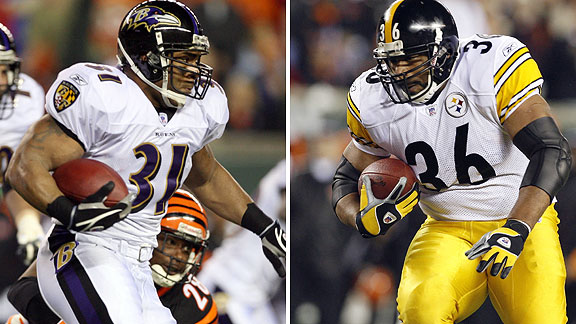 Matthew Emmons/US PresswireRunning backs Jamal Lewis and Jerome Bettis combined to rush for 15,806 yards during the 2000s.
The AFC North earned three Super Bowl titles this past decade, which means there were plenty of great players in the division over that span.
Here is our AFC North all-decade team.
Quarterback:
Ben Roethlisberger
(
Pittsburgh Steelers
)
Analysis:
You can really start and stop this argument with Roethlisberger's two Super Bowls wins in the decade. In terms of starting quarterbacks, Roethlisberger trails only the
New England Patriots
'
Tom Brady
, who won three titles in the decade. Outside of
Carson Palmer
of the
Cincinnati Bengals
, no one was even remotely close for consideration, unless you wanted to reach for quarterbacks who had one or two good seasons in the decade, such as Kordell Stewart,
Joe Flacco
or
Derek Anderson
.
Other considerations:
Palmer (Bengals)
Running backs:
Jamal Lewis
(
Cleveland Browns
/
Baltimore Ravens
) and
Jerome Bettis
(Steelers)
Analysis:
Typical of the AFC North, our all-decade backfield is as physical and heavy duty as it gets. Lewis, who retired after the 2009 season, registered 10,607 total rushing yards as a member of the Browns and Ravens. He had a 2,000-yard season with Baltimore in 2003. Bettis played six seasons (2000-05) in the decade with the Steelers and rushed for 5,199 yards in that span. Both players won Super Bowls and will be considered for the Hall of Fame. Although we don't have a traditional fullback, Bettis is versatile and big enough for the position.
Other considerations:
Willie Parker
(Steelers),
Rudi Johnson
(Bengals)
[+] Enlarge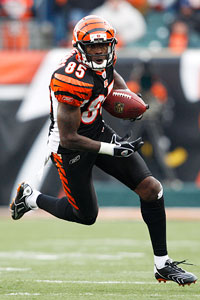 Frank Victores/US PresswireChad Ochocinco is just 48 yards short of reaching 10,000 career receiving yards.
Receivers:
Chad Ochocinco
(Bengals) and
Hines Ward
(Steelers)
Analysis:
We have a good mix at receiver. Ochocinco came to Cincinnati as a raw second-round pick who worked his way to become a six-time Pro Bowler and one of the biggest personalities in the NFL. Ward, a four-time Pro Bowler in the decade, was a former college quarterback who now is one of the toughest and smartest players in the league.
Other considerations:
T.J. Houshmandzadeh
(Bengals),
Derrick Mason
(Ravens)
Tight End:
Todd Heap
(Ravens)
Analysis:
When you look at the total numbers over the past decade, Heap was the clear choice as the top tight end in the division. Heap caught 427 passes over that span and made two Pro Bowls. Pittsburgh's
Heath Miller
, who has 244 receptions, is two years younger and may eventually match Heap's production. But Heap has the better numbers to date. Former Browns tight end
Kellen Winslow
Jr. also put up impressive numbers in just three full seasons with Cleveland.
Other considerations:
Miller (Steelers), Winslow Jr. (Browns)
Offensive line:
OT
Jonathan Ogden
(Ravens), OT
Willie Anderson
(Bengals/Ravens), G
Eric Steinbach
(Browns/Bengals), G
Alan Faneca
(Steelers), C
Jeff Hartings
(Steelers)
Analysis:
Besides leaving off three-time Pro Bowler
Joe Thomas
, putting the offensive line together was easier than I thought. Anderson of the Bengals got the edge over Thomas for two reasons: He's a natural right tackle and played nine years last decade at a high level. Thomas, with just three years, doesn't have the same longevity.
Other considerations:
OT Thomas (Browns), OT
Levi Jones
(Bengals), C
Rich Braham
(Bengals)
Specialists:
K
Matt Stover
(Ravens), P
Chris Gardocki
(Steelers/Browns), KR
Josh Cribbs
(Browns), LS
Ryan Pontbriand
(Browns)
Analysis:
Stover made the Pro Bowl in 2000, and his 93.3 field goal percentage in 2006 led the NFL. He's been consistent for a very long time, which is all you ask from kickers. Gardocki and
Dave Zastudil
is a toss up. But Gardocki led the NFL in punts two years in a row (2000 and 2001) as well as punting yards in 2000. Zastudil cannot boast those claims. Cribbs was a no-brainer, and teammate Pontbriand made two Pro Bowls as Cleveland's long-snapper.
Other considerations:
K
Phil Dawson
(Browns), K
Jeff Reed
(Steelers), P Zastudil (Ravens/Browns),
B.J. Sams
(Ravens)
Defense line:
Casey Hampton
(Steelers),
Aaron Smith
(Steelers),
Justin Smith
(Bengals)
Analysis:
It's only fair that the AFC North all-decade defense runs a 3-4 scheme. Since 2001, Hampton has embodied what a 3-4 nose tackle looks like and plays like. He has five Pro Bowls in the decade, including this past season. Aaron Smith also is a prototype for 3-4 defensive ends. He's always put personal numbers aside so other defenders in Pittsburgh could flourish. Justin Smith of Cincinnati never quite lived up to his lofty draft status. But he was a consistent player for the Bengals.
Other considerations:
DT
Kelly Gregg
(Ravens), DE
Kimo von Oelhoffen
(Steelers), DE
Trevor Pryce
(Ravens)
[+] Enlarge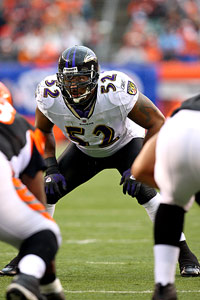 Tom Szczerbowski/US PresswireRay Lewis was the AP Defensive Player of the Year in 2000 and 2003.
Linebackers:
ILB
Ray Lewis
(Ravens), ILB
James Farrior
(Steelers), OLB
Joey Porter
(Steelers), OLB
Terrell Suggs
(Ravens)
Analysis:
You can win a lot of games with this group. You have intelligence and physicality in the middle, and plenty of pass-rush ability on the outside. Lewis, a future Hall of Famer, is the captain and emotional leader of the all-decade defense. Farrior also has the smarts to keep everyone in line, while Suggs and Porter can fly around and wreak havoc on the quarterback. There were several very good candidates at outside linebacker. But Porter and Suggs were dominant forces in the AFC North for a longer period.
Other considerations:
OLB
James Harrison
(Steelers), OLB
Adalius Thomas
(Ravens)
Defensive backs:
CB
Chris McAlister
(Ravens), CB
Ike Taylor
(Steelers), S
Troy Polamalu
(Steelers), S
Ed Reed
(Ravens)
Analysis:
Polamalu and Reed are two of the all-time great safeties, so there is no debate there. Also, fans may recently remember the aging and injured McAlister who was cut by the Ravens last year. But at one point "C-Mac" was the most physically dominant cornerback in the division. Taylor won two Super Bowls with the Steelers and is the best of what's left at cornerback. I also considered
Anthony Henry
, who played in Cleveland for four years during the decade and had one stellar season when he led the NFL with 10 interceptions in 2001.
Other considerations:
CB Henry (Browns), S
Rod Woodson
(Ravens)
May, 10, 2009
5/10/09
2:05
PM ET
Posted by ESPN.com's James Walker
OWINGS MILLS, Md. -- The Baltimore Ravens completed their 2009 full-squad minicamp Sunday.
There were plenty of story lines to discuss throughout the weekend. Here are some final notes and observations:
Veteran receiver Derrick Mason is not sure if he will be ready by training camp. Mason had shoulder surgery this offseason to repair his labrum and scapula. He participated in some drills early in minicamp but took it light for a majority of the weekend.
"I guarantee I'll be ready by the first game, that's all I can say," Mason said. "Everything else, we will play it by ear."
The Ravens plan to sign at least one of their three tryout receivers, and don't be surprised if that player is Kelley Washington. In a battle between Washington, Tab Perry and Jerry Porter, Washington made the most plays throughout and showed energy and enthusiasm, which is important when trying to impress a coaching staff. Plus, Washington has the ability to help Baltimore on special teams.
The competition between kickers Steve Hauschka and Graham Gano remains nip-and-tuck. Both kickers made and missed kicks this weekend, so neither player separated themselves as the early favorite. On a windy afternoon Sunday, Hauschka missed a simulated game-winner short and to the left. It appears both kickers have good legs but still have some work to do.
"Both those guys, it's going to be a heck of a battle," Ravens head coach John Harbaugh said. "They looked good. They were able to make field goals, in at least a practice-pressure situation. That's the bottom line."
If I had to pick a player who surprised me the most this weekend, I would have to say inside linebacker Tavares Gooden. The Ravens didn't see much from the former third-round pick in 2008 because of injuries. But Gooden looked really active and athletic this weekend. He also flies to the football, which is important with Baltimore's defense. Receiver Marcus Smith also is a potential sleeper who flashed some ability this weekend.
Sorry, Ravens fans. I'm getting a lot of e-mail requests for Michael Oher and Jared Gaither performance updates, which I understand because they are the first-round pick and starting left tackle, respectively. But as I mentioned last week, linemen are the most difficult players to evaluate in non-contact drills. Both players looked in solid shape. But other than that, it wouldn't be accurate to gauge how either player is blocking without pads. That's just a personal preference. Gaither missed Sunday's final practice with migraines. Oher said he did benefit from his reps with the first team.
"I learned a lot," Oher said Sunday. "I am very comfortable at right tackle. I learned that you have to have your technique down in the NFL."
Many "30 and over" veterans also received the day off from Sunday. Players such as linebacker Ray Lewis, safety Ed Reed and defensive end Trevor Pryce didn't participate in the final session. New center Matt Birk, who is 32, practiced anyway.
January, 3, 2009
1/03/09
1:43
PM ET
Posted by ESPN.com's James Walker
OWINGS MILLS, Md. -- The good news keeps coming for the Baltimore Ravens.

Pryce
Defensive end Trevor Pryce, a 12-year veteran, said he is definitely returning for a 13th season with Baltimore (11-5) regardless of the outcome of Sunday's wild-card game against the Miami Dolphins (11-5).
"It never crossed my mind," Pryce said this week. "Believe me, when I'm ready to retire, you will know."
Pryce has been an important player this season for Baltimore's second-ranked defense. He recorded 27 tackles and is third on the team with 4.5 sacks.
The 33-year old spent his first nine years with the Denver Broncos before signing with the Ravens as a free agent in 2006. He's totaled 19.5 sacks since joining Baltimore.
"Playing here for [defensive coordinator] Rex [Ryan] has been a real blessing," Pryce said. "They've added years to my career. It's just what they thought of me as a player. I kind of lost my confidence in my last year or so in Denver. But [the Ravens] re-instilled that and I enjoy coming to work every day."
Pryce says his body feels great at this stage of his career. He is signed with Baltimore through the 2010 season, but he wouldn't speculate beyond next year.
"I have to look 365 days at a time," Pryce said.
December, 25, 2008
12/25/08
12:00
PM ET
Posted by ESPN.com's Tim Graham, James Walker and Pat Yasinskas
The debate over who should be the NFL's coach of the year begins with three rookies who assumed control of woebegone teams and brought them back to relevancy.

Atlanta Falcons coach Mike Smith, Miami Dolphins coach Tony Sparano and Baltimore Ravens coach John Harbaugh have been sideline miracle workers. The Falcons already have clinched a playoff berth. On Sunday, the Dolphins can claim the AFC East, and the Ravens can clinch the final wild-card berth.

ESPN.com bloggers Pat Yasinskas, Tim Graham and James Walker discuss whom is more deserving of the award, breaking down the debate into the three significant issues: team infrastructure, personnel at their disposal and obliterating expectations.

Which coach had to deal with the most daunting organizational strife?
Tim Graham: The Dolphins blew themselves up at the start of the year. Bill Parcells arrived late in 2007 and didn't see much he liked from a team about to miss the playoffs a seventh straight season. The team was going through the motions of a 1-15 campaign that was even more ridiculously bad than the record indicated. So the Dolphins started from scratch. Parcells fired the general manager, the head coach and got rid of all the captains.
Tony Sparano became the fifth head coach in the past five years, taking over a team that hadn't recorded double-digit wins since the glorious Jay Fiedler era. Dolphins owner Wayne Huizenga, meanwhile, was unloading a good portion of the team, creating a widespread uneasiness at the Davie, Fla., headquarters even in the offices outside of the football operations department.
A good time was not being had by all.
Pat Yasinskas: Sorry fellas, but this one's not even a contest. Yeah, the Ravens and Dolphins had their problems. But let's face it, at the end of last year, the Falcons were the most dysfunctional franchise in the history of football. Their franchise quarterback, Michael Vick, had just gone off to jail.
Their coach, Bobby Petrino, had walked out on them for a more talented roster at the University of Arkansas. The city, which never truly embraced the Falcons, now turned its back on them completely. Even Rich McKay, the team's general manager, president and perhaps only lingering thread of sanity, got pushed out of the football side and into the business side of things. Then owner Arthur Blank did the most daring thing of all and hired Mike Smith, who had never been a head coach before, and Thomas Dimitroff, who had never been a general manager before. It looked as if it was going to be a classic case of the blind leading the blind.

James Walker: Let me add this, Pat and Tim. Much is being made of Miami's 1-15 record last year, but keep in mind which team that victory came against. Yes, it was the Baltimore Ravens. That was a rock-bottom moment, not only for the season but I think for the 12-year history of the franchise.

Baltimore's biggest issue moving forward was where it would go from there. The Ravens' situation was unique in that they had to consider what type of transition to make.

Was Baltimore in need of a complete overhaul or just retooling? Sometimes, that's harder to accomplish in the NFL than what the Dolphins and Falcons did by completely starting over. Those two teams at least knew their direction early on.

The Ravens had to tread a more delicate path in bringing in some new coaches such as Harbaugh and offensive coordinator Cam Cameron, while keeping others such as defensive coordinator Rex Ryan. They brought in some new players to help certain spots and trusted others to bounce back, either from injury or poor performance.

Baltimore also traded down in the draft to land more picks and first-round quarterback Joe Flacco, who was a bigger unknown than Matt Ryan or Jake Long. So there were certainly some issues with the Ravens. It just happened that Baltimore general manager Ozzie Newsome pushed most of the right buttons.
---
TG:
Excellent points, James. You make an intriguing case for the Ravens in this area that I didn't think could be made compared to the Falcons or Dolphins. Mediocrity sometimes is harder to overcome than wretchedness, and the Ravens seemed stuck in neutral.
But let me remind everybody that Cameron was the Dolphins' head coach last year and ran their offense. He also had a huge say in personnel, which included the ill-fated addition of quarterback Trent Green and drafting return specialist Ted Ginn with the ninth overall pick. Cameron has returned to genius status with the Ravens. I think that speaks not to some sort of professional rebirth as much as it does that the infrastructure that was in place. There already was decent talent on the roster and good football people in the front office to lean on. The Dolphins didn't have an Ozzie Newsome.
As for the Falcons, do you mean to tell me, Pat, that overcoming all those travails you outlined are a big deal? Puh-lease. Teams handle that sort of turmoil every year, don't they? OK, maybe not.
PY: All right, I'm going to move on with how the Falcons began to rebuild their infrastructure and this brings up what seems like a very subtle point, but, as much as anything aside from drafting Matt Ryan and signing Michael Turner, it has been a key for the dramatic turnaround. Quite simply, Mike Smith put together an all-star team as a coaching staff.
He got former head coach Mike Mularkey to be the offensive coordinator, quarterback teacher Bill Musgrave to work with Matt Ryan (before the Falcons even knew they had Ryan) and kept defensive backs coach Emmitt Thomas on staff. That was hugely important because Thomas was the guy who coached the team when Petrino left and the players trusted him. Smith completed the roster by getting veteran position coaches such as Paul Boudreau, who has taken very ordinary talent on the offensive line and kept Ryan standing upright and opened all sorts of holes for Turner.
It was kind of the same with Dimitroff, who knew a lot about evaluating players, but had never negotiated a contract. People like to say McKay is completely out of the football end of things and assume there's a rift between him and the guy who filled his general manager duties. But that's just not the case. McKay's one of the smartest people in the NFL and it makes some sense to at least let him keep a hand in the football side. McKay's the one who did Ryan's contract and he has been guiding Dimitroff and his staff on other contracts. From what was a totally dysfunctional organization, the Falcons have patched together one that now works very smoothly with good people in every spot.
JW: The Ravens, more than anything, needed a culture change. I think that should d
efinitely be considered when it comes time to vote.

Harbaugh had to come in and quickly tear down the relaxed, country-club atmosphere that Brian Billick left behind. The training camps were harder. The practices were more up tempo, and when you have a lot of strong-minded veterans that were there before the head coach, that can become dicey.

But the leaders in Baltimore's locker room bought into Harbaugh's message early and everyone else fell in line. Once that happened, it was no longer Billick's team. Winning early also helped, but this situation had the potential to be a major challenge that Harbaugh defused early on.

I don't think either Smith or Sparano faced the same issues, because those rosters were gutted and infused with youthful players who were easier to mold.
---
Which coach coped with the worst personnel entering the season?
PY: I remember standing at Falcons training camp and thinking, "This is not an NFL team." I looked out and saw Keith Brooking, John Abraham and Lawyer Milloy as the only big names, and they're all closing in on the end of their careers. The cupboard appeared to be absolutely bare.
I know everyone likes to think the Michael Vick thing is what left the Falcons so short-handed. It really wasn't. When Smith and Dimitroff came in, one of the first things they did was to gut the roster. They unloaded big names such as DeAngelo Hall, Alge Crumpler and Warrick Dunn, so a bad roster suddenly looked even worse. Back on that day in training camp, I played a little game and asked myself how many Falcons could start for another team? My answer was brief -- Abraham and fullback Ovie Mughelli. That's it.
JW: The Ravens had good personnel, but much of it was aging. Baltimore entered the season with seven starters with at least 10 years of experience, and many of those key players were coming off injuries the year before.
So although Harbaugh had veterans such as Ray Lewis, Samari Rolle and Trevor Pryce, the big unknown was how would they hold up for a 16-game season. The Ravens have had injuries this year but they've been fortunate for the most part with their older players, and it's one of the reasons they are having a winning season.
Even though Miami beat Baltimore last year, I would still say the Dolphins' personnel was considered the thinnest coming in. Would you agree, Tim?
TG: Oh, the Dolphins looked thinner than Manute Bol in pinstripes. What strikes me most when reflecting on Miami's training camp was the dearth of significant names on either side of scrimmage. A casual NFL fan couldn't name five guys on their roster, and the most well-known players came with serious question marks.
Ronnie Brown was returning from season-ending knee surgery. His backfield mate, Ricky Williams, is 31 years old and a known head case. Joey Porter was viewed as the NFL's most egregious free-agency error of 2007. Even Chad Pennington, once he arrived, was considered a washout just clinging to a career. Before leading target Greg Camarillo suffered a knee injury in Week 12, Miami's game-day receiving corps consisted of only one player who had been drafted, Ted Ginn. And he's considered a bust by most Dolfans.
---
PY: With such poor personnel, Smith and Dimitroff knew they had to work their tails off to rebuild the roster. It looked as if it might take a couple of years for them to assemble a roster capable of even challenging for the playoffs. Obviously, they've moved far ahead of schedule and that's because they were lucky and good as they went about the process. The first piece of the puzzle was signing Turner. He was viewed as the biggest prize in free agency, so why would he want to go to a team like the Falcons?
After four seasons of playing in the shadows of LaDainian Tomlinson in San Diego, Turner was looking for a place where he could be "the guy." The Falcons told him they'd give him 20 or 30 carries a game. They had him show up at an Arena Football League game and the crowd went nuts. If that didn't make Turner feel welcome enough, the Falcons wouldn't let him leave the building without signing a contract.
As good as Ryan has turned out, it was still a gamble to take any quarterback with the third overall pick and start him right away. But Dimitroff did an enormous amount of homework on Ryan and firmly believed he was exactly whom the Falcons needed to be their new quarterback and face of the franchise. Dimitroff's draft preparation didn't stop there. He traded back into the first round to get left tackle Sam Baker to protect Ryan's blindside, got a defensive quarterback in middle linebacker Curtis Lofton in the second and a third receiver and return man in Harry Douglas in the third. Those four rookies plus defensive back Chevis Jackson each have played huge roles in the turnaround.
JW: Pat and Tim, let me end this with a quick story that relates to both of your teams.

I live in Cleveland and attended the rookie orientation at the Hall of Fame in Canton, Ohio for both of these teams. I was working on a story this summer and picked the brains of about a half-dozen rookies that day such as Long, Chad Henne, Ryan and Baker, and I got the sense early that these were respectful, mature players that appreciated the opportunity to play in the NFL. So I'm not surprised Atlanta and Miami have young talent playing beyond their years.

But what was funny was the number of players that were brought in. The orientation was for rookies only, but I remember thinking the Dolphins and Falcons brought their entire 53-man rosters to Canton. There were at least 15 rookies and undrafted free agents coming off the bus from each team, and it could have been closer to 20 players.

Obviously some rookies and rookie free agents never made it past training camp, but it illustrates the point you two were making about gutting the rosters. In that respect, Miami and Atlanta definitely had a farther starting point than the Ravens.
---
Which coach prompted the lowest expectations?
JW: Without a doubt, all three teams and coaches came in with question marks. Most experts picked the Dolphins, Falcons and Ravens to finish either third or last in their respective divisions at the beginning of the season. But in terms of coaches, Harbaugh was the biggest unknown.

Two years ago Harbaugh was a longtime special teams coach for the Philadelphia Eagles. He was promoted to secondary coach under Philadelphia's Andy Reid for one year before impressing the Ravens enough to lead their team.

There were certainly doubters locally and nationally. The biggest question was can a coach that spent most of his career running special teams handle all the strong personalities as the leader of the Ravens? But Harbaugh had the charisma and intensity to pull it off and was very smart to put together an A-list staff of assistants to back him.

As far as the team, no one knew what to expect from Baltimore. Were the Ravens a five-win team of 2007 or the 13-win team of '06? Maybe they were somewhere in between?

With decent quarterback play, I felt this team could win seven or eight games this year. My prediction was higher than most, but the Ravens have far exceeded even my expectations.
PY: If the expectations in Detroit this year were what they were in Atlanta, Matt Millen would still have a job and Rod Marinelli would be viewed as a decent coach. Seriously, after what happened to the Falcons last year, there were no expectations in Atlanta. Three or four wins and less than three major off-field controversies would have been considered a nice season. People were hoping the Braves went deep enough into the playoffs that there wouldn't be much gap before the Hawks started playing some preseason games because, as far as Falcons fans were concerned, there was going to be no reason to watch the Falcons.
In large part, I think that turned out to be a good thing. The incredibly low expectations allowed the Falcons to decide to start Ryan from Day One because fans wouldn't have the lofty expectations for him that they usually do for a first-round quarterback. Ryan didn't have to start the season under a microscope and that gave him a chance to get comfortable in a hurry. Even at midseason, Atlanta fans still were looking at the Falcons with guarded optimism. It has only been in recent weeks that people have started to even think about the playoffs.
TG: James, I have to disagree with you that Harbaugh was the most unknown of the new coaches. People at least knew him by his last name, his father being a well-known college coach and his brother playing NFL quarterback before embarking on a coaching career of his own. People still think the name of the new Dolphins coach is Tony Soprano.
As for expectations, no sane individual ever would have predicted Miami would finish with double-digit wins or be in position to make the playoffs in Week 17. But that was no more unfathomable than what's transpired in Atlanta.
But here's where Sparano will be taken for granted when it comes time for people to consider coach-of-the-year honors. Parcells, with his mere presence, inflated expectations. Fans weren't bold enough to consider an AFC title, but seven or eight wins was within the realm of possibility. And when people judge Miami's turnaround, the first person they will give credit to is Parcells.
JW: Tony Sparano had the catchy name, he was a Parcells guy, and he came from "America's Team," the Dallas Cowboys. By the time he was hired in Miami, he was on the radar of sports fans. Harbaugh's hiring had people looking through media guides to double-check his pedigree.
We'll just have to agree to disagree, Tim.
But speaking of taking things for granted, let's not overlook the strength of schedule the Ravens had coming into the season. Baltimore had the fifth-toughest schedule in the league that included non-division opponents such as the Tennessee Titans (13-2), Indianapolis Colts (11-4) and the entire NFC East division.
Although some things changed during the course of a season, Atlanta entered the year with the No. 21-rated schedule and Miami's was No. 23.
Baltimore is in control of its playoff chances this week, in part because it went 3-1 against the NFC East, which is a mark the Dolphins and Falcons probably couldn't match if given the chance. Also, if head-to-head meetings have anything to do with coach of the year voting, Harbaugh and the Ravens did go into Miami and beat the Dolphins by two touchdowns in Week 7.
PY: James and Tim, I think we can all agree none of these three guys were household names in comparison to some of the veteran head coaches. But Harbaugh did have the bloodlines of his father and brother and was well-known as one of the league's top special-teams coaches. Sparano wasn't an unknown because the assistants in Dallas are as well known as head coaches most places. Smith was easily the least known of the trio of new coaches.
He'd been a coordinator in Jacksonville, where media attention is minimal, and he spent a bunch of years coaching in some small stops through the college ranks. The only area where Smith stood out was the fact he was tremendously ordinary. Even his name is ordinary.
I remember at the NFL owners' meeting last spring, ESPN's Michael Smith and I had breakfast with Smith. They were joking about having the same names. I remember thinking, "My television colleague is the more famous of these two." With apologies to Michael Smith, it's no longer that way. Mike Smith has become famous because he is the Coach of the Year.
TG: Mike Smith sounds like the name people use when they check into motels that charge by the hour, and I wondered if his coaching career would be measured in the same increments given the circumstances he was headed into.
But when you look at the turnaround of each club, the Dolphins have been the most dramatic. Sparano has overseen one of the biggest one-season improvements in NFL history. No one-victory team has won 10 games the next season, and the Dolphins could finish with 11 and a playoff berth, another unprecedented feat.
The Falcons' and Ravens' turnarounds have been remarkable, but the Dolphins' has been historic.