February, 2, 2011
2/02/11
2:23
PM ET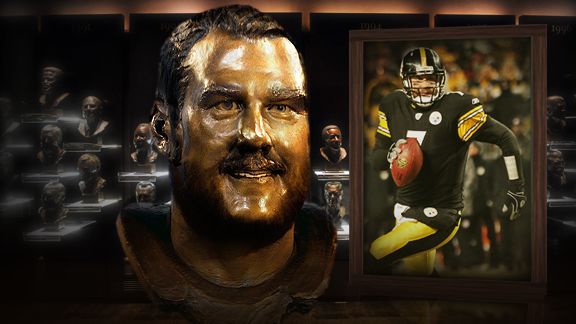 ESPN.com IllustrationBen Roethlisberger can bolster his HOF credentials with a third Super Bowl victory.
ARLINGTON, Texas -- When it comes to the Hall of Fame, three or more championships is the magic number for NFL quarterbacks.
It paved the road to Canton for
Dallas Cowboys
great
Troy Aikman
, whose three Super Bowl wins in the 1990s marked one of the NFL's most recent dynasties.
Joe Montana
of the
San Francisco 49ers
and
Pittsburgh Steelers
quarterback Terry Bradshaw became legends with four titles. In today's group, quarterback
Tom Brady
of the
New England Patriots
is a lock for the Hall of Fame after winning three championships.
Could three rings do the same for Pittsburgh Steelers quarterback
Ben Roethlisberger
?
Just seven seasons in, it's officially time to open the Hall of Fame discussion for Pittsburgh's franchise quarterback. At 28, Roethlisberger has a chance to go 3-0 in Super Bowls on Sunday when the Steelers play the
Green Bay Packers
at Cowboys Stadium.
With the exception of Brady, who is still playing, every starting quarterback who's won at least three Super Bowls has been inducted into the Hall of Fame. Although not as conventional a player as Brady, Roethlisberger has a chance to put his name in that elite category Sunday.
ESPN.com's AFC North blog surveyed Hall of Fame voters during Super Bowl week to get a feel for Roethlisberger's candidacy and where it would stand if he leads Pittsburgh to a third championship.
"If you ask me if Roethlisberger deserves to be in the Hall of Fame, I would say without a doubt," said veteran NFL writer John McClain of the Houston Chronicle. "To me, Ben doesn't have to win a third ring. But if Ben wins [Sunday], that's all that matters for a quarterback. I can't imagine there would be any hesitation."
Opinions varied from those who will eventually make the final decision.
"There's too much of a rush to judgment, not only with the Hall of Fame but with the whole world where everything that's the latest becomes the greatest," explained longtime Hall of Fame voter Ira Miller. "But the first question I always ask is, 'Can you write the history of the game without this player?' Then the second thing is, let's put him in perspective among the quarterbacks of his era.
"Is Ben the best quarterback of his era? No. Is he the second best? No. Is he the third? Maybe. He's had a nice career so far. Maybe he will win two more Super Bowls, but we don't know that."
There's no question Roethlisberger will present an interesting case for the Hall of Fame committee when he becomes eligible five years after he retires. He's a quarterback who's put up less-than-gaudy numbers in the high-flying age of fantasy football.
Roethlisberger has never led the NFL in passing yards or touchdowns. He admits he probably will never win an MVP award. But Roethlisberger also has never had a losing season and has been to four AFC title games and three Super Bowls.
Roethlisberger's playoff record is 10-2, which is a
higher winning percentage
than both Brady (14-5) and
Peyton Manning
(9-10), who are considered Hall of Fame locks from today's group of quarterbacks.
In fact, the trio's dominance has been astounding. In the past eight Super Bowls, the AFC has been represented by either Brady, Manning or Roethlisberger. No one else has had a chance to even compete in the big game. In contrast, the NFC has been represented by eight teams and eight different quarterbacks over the same span (
Brad Johnson
,
Jake Delhomme
,
Donovan McNabb
,
Matt Hasselbeck
,
Rex Grossman
,
Eli Manning
,
Kurt Warner
and
Drew Brees
).
"It drives [Steelers] Coach [Mike] Tomlin crazy, because he wants me to put myself in that category," Roethlisberger said of joining Brady and Peyton Manning. "But, I don't know, I guess I like being the hunter, not the hunted."
The biggest case against Roethlisberger's Hall of Fame candidacy appears to be longevity. Seven seasons present an unfinished résumé.
"When I'm looking at Hall of Fame guys, I'm looking at whether he's one of the best at his position over an extended period of time and does he have longevity," said former receiver
James Lofton
, who played 16 seasons and was inducted in the Hall of Fame in 2003. "It's obviously a great start, but Ben has a lot of football left to play. I think he could play a minimum of 12 years."
Although there are exceptions -- such as Gale Sayers, Dwight Stephenson and Doak Walker -- most enshrinees have had long careers that spanned at least a decade. But Roethlisberger is winning big right away, which has prompted this early discussion.
"If Roethlisberger gets his third ring, he's on pace, just like in the case of Troy Aikman," Hall of Fame voter and ESPN.com senior writer John Clayton said. "He's obviously a difference-maker. At the same time, he's not there yet. He's still 28 and longevity is very important."
Roethlisberger's recent off-the-field issues bring up another interesting debate. He has been accused of sexual assault twice in the past two years, and although never convicted of a crime, Roethlisberger was suspended four games this season for violating the NFL's personal conduct policy.
Several voters brought up the case of former Giants linebacker
Lawrence Taylor
, who has repeatedly run into legal issues but was a first-ballot Hall of Famer as one of the greatest linebackers of all time.
"Remember, our bylaws say only what happens on the field counts," McClain said.
But voters on the committee are human, after all, and it may weigh in the back of some people's minds.
"The Roethlisberger situation is a bit tricky," said Hall of Fame voter Joe Reedy of the Cincinnati Enquirer. "Yes, he could have three rings, but he wasn't great in Super Bowl XL. (Roethlisberger was 9-for-21 for 123 yards and threw two picks.) And even though the off-field stuff is not supposed to enter into the conversation, it definitely is going to be the white elephant in the room."
Roethlisberger chose to wear jersey No. 7 because one of his favorite players growing up was
Denver Broncos
Hall of Fame quarterback
John Elway
. It's fitting because Elway, in many ways, was Roethlisberger before Roethlisberger.
Elway never had the prettiest or most conventional style of quarterbacking. In terms of numbers, his career passer rating was a modest 79.9. But Elway was one of the most clutch players ever and managed to win two Super Bowls and five AFC title games.
Although his book is unfinished, Roethlisberger is building a similar case for the Hall of Fame and can add another storied chapter Sunday against Green Bay.
"I think Ben Roethlisberger is well on his way to having a Hall of Fame career. If he plays a leading role in winning this Super Bowl, he's that much closer," said Hall of Fame voter and
ESPN.com NFC West blogger
Mike Sando. "But I think the legacy is still pending and there's a reason we wait. There's a reason we don't vote players in right after they retire, let alone while they're still playing. I think this will be best judged when he's finished playing and we've had five years to figure it out.
"So far, though, so good."
June, 15, 2009
6/15/09
11:43
AM ET
| | |
| --- | --- |
| | |
| | Getty Images |
| | Arguably the biggest decision facing the new regime in Cleveland this offseason is whether to name Derek Anderson or Brady Quinn the starting quarterback. |
Posted by ESPN.com's James Walker
On Friday the AFC North blog opened the hottest football debate currently going in Cleveland this summer.
Who should be the starting quarterback of the Browns: Derek Anderson or Brady Quinn?
Cleveland's fan base has argued about this for nearly two years. But in the end, new coach Eric Mangini will make the final decision before the Browns take the field against the Minnesota Vikings in the season opener Sept. 13.
For more on Cleveland's quarterback dilemma, we recruited Scouts Inc.'s Matt Williamson to take an in-depth look at each quarterback along with a final say on the topic:
Derek Anderson

Scouts Inc.'s analysis: Anderson is a very impressive thrower. He's a big body in the pocket and he can see the whole field. He has a big, big arm and can make all the tough throws, even in bad weather. Anderson is built to do that. But my problem with him is he has no feet. He's a statue, and he can't improvise.
If everything is perfect, I think he can be deadly. But in this league, rarely is everything perfect. If the pocket breaks down, you need to move left or right and he can't do that. He can't tuck the ball and run, and I'm not sure how much he can deal with the spotlight and pressure. When he took over and did well in 2007, he had zero expectations. But when he had to take over with expectations [the following year], he didn't do as well. But Anderson can throw it. When everything is right, he's the quarterback you want.
-- Matt Williamson
Reader's take: Big Al from New Jersey writes: I pick Anderson. He is a great QB and was let down by his team dropping balls and lack of protection ... And Derek didn't get [29 TDs] the year before because he gets rattled in the pocket. He has a great arm, is very intelligent, and is an all-around better QB than Quinn. Being a Pittsburgh Steelers fan I hope they start Quinn over Anderson.
Brady Quinn

Scouts Inc.'s analysis: He's a strong kid and he has a great body. He's athletic, far more athletic than Anderson. He's not a liability at all to tuck the ball and get eight yards if everybody is playing off in zone coverage. His pocket awareness still needs work.

Brady Quinn
#10 QB
Cleveland Browns


2008 STATS
YDS
COMP%
TD
INT
RAT
518
50.6
2
2
66.6
But I think he's going to be fine in that regard, because he's a student of the game, he's light on his feet and can move within the pocket. I think his arm is average. But the thing that bugs me about him -- and I'm not sure if it was the coaches telling him to do this -- is he is conservative to a fault. He would never let the deep ball go. I don't know if he has the confidence to do that. I don't know why he doesn't throw it deep, but he hasn't. Now Mangini comes to town, who is even more conservative, so I think their vertical game could be nonexistent with Quinn. --
Matt Williamson
Reader's take: Josh Curtis from Idaho Falls, Idaho, writes: Having been raised a Dallas Cowboys fan, I judge every QB to what Troy Aikman was able to do. He may not have won many games for the Boys, but he didn't lose any either. He's the ultimate game manager. Between Quinn and Anderson, I think that Quinn fits that mold better. He is mobile, accurate and he puts in the necessary time to be great. Mangini already has experienced what happens when your QB has a huge arm but is inaccurate (see Brett Favre the second half of last season). Quinn fits Mangini's expectations, and he will be the starter.
AFC North final say
James Walker: When the Browns take the field against Minnesota on Sept. 13, Brady Quinn will be the quarterback under center. After watching minicamp practices and organized team activities this offseason, I'm convinced the safe, efficient offense Eric Mangini wants to run in Cleveland this year plays well to Quinn's strengths while highlighting many of Anderson's weaknesses. It doesn't mean one quarterback is better than the other. That's really hard to determine at this point, because Quinn hasn't played enough NFL games and both quarterbacks have vastly different skills. But for Cleveland's ball-control system, Quinn seems the more natural fit, and that will play a huge role in the former Notre Dame quarterback winning the starting job this year.
Feel free to leave your thoughts on this topic in the division mailbag or in the comments section below. Also, the AFC North blog will have an exclusive, one-on-one interview with Quinn on his thoughts about the upcoming season Wednesday.