February, 18, 2014
Feb 18
8:00
AM ET
Steel City wake-up: morning links
Steelers wide receiver
Antonio Brown
made the rounds Monday at ESPN's campus in Bristol, Conn., and his response to one of the many questions he was asked should please coach Mike Tomlin.
Brown
Brown caught 101 passes for a team-record 1,499 yards last season, emerging as the Steelers' No. 1 receiver following the departure of
Mike Wallace
. He made the Pro Bowl as a wide receiver
and
a punt returner and when asked what he has to do to take the next step and become a superstar, Brown referenced numbers in a sense.
Just not ones from an individual standpoint.
"First off I've got to help us win. If you're not winning games I'm not doing my job," Brown said on ESPN's "NFL Live." "So whatever it takes as far as helping the team win and making sure I'm on my game and bringing young guys along with my leadership role that's going to be key for 2014."
Who starts opposite Brown next season is one of the bigger questions facing the Steelers.
Emmanuel Sanders
, who filled that role last season, will be an unrestricted free agent on March 11, and it looks increasingly like the fourth-year veteran will sign elsewhere.
When asked about the importance of the Steelers re-signing Sanders, Brown said, "It's going to be key, and if that's not the case we've got to have guys step up,
Markus Wheaton
and other guys in that locker room have to step up and allow us an opportunity to still excel in the passing game."
The Steelers met with free-agent safety
Louis Delmas
Monday at their practice facility, and he is an intriguing name given their need to get younger in the secondary and Delmas' body of work in Detroit as well as his reputation as a big hitter.
Delmas, a second-round draft pick in 2009, started all five seasons he was in Detroit but his knees are already a concern -- something that could be a red flag to the Steelers. Delmas started all 16 games last season, but according to ESPN.com Lions reporter Michael Rothstein his knee issues were such that Delmas rarely practiced during the regular season.
Here is what Rothstein
wrote about Delmas
after the Lions released him last week in what appeared to be a cost-cutting move.
Steelers.com's Bob Labriola talked to former Steelers offensive lineman Tunch Ilkin about new offensive line coach Mike Munchak. Ilkin, now a color analyst for Steelers' radio broadcasts, remembers Munchak from their playing days, and he had nothing but
good things to say
about one of the newest members of Tomlin's staff.
Around the AFC North…
ESPN.com Ravens reporter Jamison Hensley looks at the last six months for running back Ray Rice, which have been eventful for mostly the wrong reasons.
ESPN.com Browns reporter Pat McManamon writes about the optimism surrounding Cleveland following the promotion of Ray Farmer to general manager.
ESPN.com Bengals reporter Coley Harvey says the team is unlikely to use a franchise tag on one of its impending free agents after tagging defensive end Michael Johnson last year.
January, 13, 2014
Jan 13
2:55
PM ET
PITTSBURGH --
Kelvin Beachum
started 11 of the
Pittsburgh Steelers
' final 12 games at left tackle -- he missed a game because of a knee injury -- and strengthened his grip on the position as the season progressed.
Not that Beachum would engage in any talk about his future at the all-important position when he cleaned out his locker a couple of weeks ago.
[+] Enlarge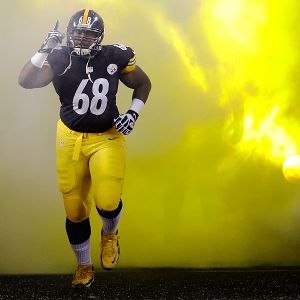 AP Photo/Gene J. PuskarKelvin Beachum starts the offseason as the presumptive starter at left tackle.
Beachum gave his standard replay -- "ask the organization" -- when the subject was broached multiple times in multiple ways.
He did explain why he refuses to address his future at left tackle.
"I don't know what their plan is," the second-year man said. "All I can do is continue to prepare, look at film, grow from it. I learned a lot playing left tackle. All I can do is continue learning and continue getting better."
Such sensibilities may stem from Beachum getting taken near the end of the 2012 NFL draft. The seventh-round pick knows nothing is guaranteed in the NFL, particularly for those who enter the league in the manner that he did.
Beachum's stock answer to all left tackle questions also speaks to the singular focus he applies to his job -- whether it is learning every position along the offensive line and filling in where needed or doing everything he can to protect quarterback
Ben Roethlisberger
's blind side.
Beachum takes the latter seriously enough that he has sought out advice from a number of former Steelers offensive linemen, including
Tunch Ilkin
,
Kendall Simmons
and
Marvel Smith
.
Beachum talked with Simmons at a Steelers event last season in Pittsburgh. He met with Smith, who was the Steelers' left tackle for much of the last decade before back issues cut short his career, when the team played in Oakland last October.
Ilkin, the color analyst for Steelers' radio broadcasts, is a regular at the team's practice facility, and he is often seen chatting up Beachum.
"Anybody that's willing to help me become a better player I'm willing to take their advice and put it in my tool box," Beachum said.
That willingness to soak up advice from those who have played before him is one reason why Beachum will enter offseason workouts and practices as the starting left tackle.
"He's got a big offseason and training camp [ahead of him]," Steelers coach Mike Tomlin said, "but he's in pretty decent position from that regard."
That is all that Tomlin would concede when it comes to Beachum's hold on left tackle.
"I will not allow him to have an opportunity to exhale or seek comfort in regards to that," Tomlin said.
Not that Beachum needs any reminders that he has to keep working and keep getting better.
The 6-foot-3, 306-pounder, who is not a prototypical left tackle, said he wants to add strength during the offseason without compromising his athleticism. He plans to work out in Pittsburgh with defensive end
Cameron Heyward
among others in advance of the Steelers' offseason workouts.
Beachum's emergence at left tackle should allow the Steelers to use their first-round pick in the 2014 draft on another position. Even if the Steelers don't draft a left tackle at some point Beachum will face competition from
Mike Adams
.
Adams faltered at left tackle last season but the 2012 second-round pick steadied himself after his demotion and contributed as an extra tight end. Adams also played well when he started in place of Beachum against the Dolphins last month.
Adams will have a new position coach this year and he won't have to overcome an offseason stabbing, something that had to set him back last year. His presence -- as well as the investment the Steelers made in Adams -- won't allow Beachum to get too comfortable at left tackle.
Whatever challenges Beachum has to fend off won't faze him considering the path he has taken from the 248
th
pick of the 2012 draft to the job of Steelers left tackle.
"I embraced and enjoyed the challenge," Beachum said, "and we'll see what the organization has in store for me moving forward."