August, 29, 2014
8/29/14
4:00
PM ET
CINCINNATI -- In addition to
terminating the contract
of veteran running back BenJarvus Green-Ellis on Friday, the
Cincinnati Bengals
also waived three other players.
Quarterback
Tyler Wilson
, defensive tackle LaKendrick Ross and linebacker
Brandon Joiner
were released as the Bengals made their first few cuts from the current 75-man roster. By 4 p.m. Saturday, all 32 NFL teams have to get down to 53 players on their active rosters. Wilson, Ross and Joiner could qualify for the practice squad, but until all the other cuts are made, it's unclear exactly how the practice squad will shake out.
Cincinnati's roster now sits at 71.
Wilson was signed during the preseason following No. 2 quarterback
Jason Campbell
's elbow injury during the preseason opener at Kansas City. Wilson has since appeared in two games. He played in the Week 2 preseason game against the Jets and got extensive second-half action in Thursday night's preseason finale against the Colts. He was 3-of-5 for 73 yards. The bulk of his yards came on a 50-yard touchdown pass to
Cobi Hamilton
, another roster-bubble player who was one of Wilson's receivers when the two played college ball at Arkansas.
Hamilton will learn his fate Saturday.
As for Ross, the Bengals are cutting ties for now with a 6-foot-5, 360-pound player who has raw athletic skills. He was too unpolished to make the Bengals' 53-man roster, or any team's 53-man roster. Before impressing coaches at a private workout before training camp, Ross had played only one year of high school football and one year of college football at a small school in Lynchburg, Virginia.
Ross had one tackle Thursday and appeared on 23 defensive plays.
Joiner played 29 defensive snaps and was part of 15 special teams plays in the Bengals' 35-7 win.
In addition to these four, the Bengals also cut
several others earlier this week
, including backup quarterback
Matt Scott
, kicker
Quinn Sharp
and linebacker J.K. Schaffer. Per the rules of the waived/injured designation, Schaffer and fellow hurt cornerback
Lavelle Westbrooks
were able to rejoin the team on its injured reserve Thursday. Both cleared waivers without being claimed.
August, 28, 2014
8/28/14
4:00
PM ET
CINCINNATI -- In no particular order, here are six
Cincinnati Bengals
you'll want to pay attention to during Thursday night's preseason game against the Indianapolis Colts (7 p.m. ET).
[+] Enlarge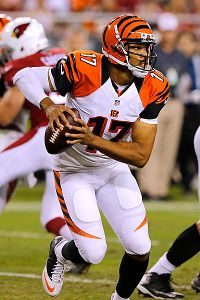 AP Photo/Rick ScuteriJason Campbell is expected to get a lot of action in the Bengals' last preseason game.
QB Jason Campbell.
Expect a heavy dose of the Bengals backup quarterbacks Thursday night as Cincinnati attempts to fulfill it's primary preseason objective: staying healthy. Of course, there have been injuries this preseason, and Campbell is among those who have gotten hurt. Still, the plan for the Bengals is to get to opening weekend with a fully healthy
Andy Dalton
. So don't be surprised if he's only in for one series with other starters. Campbell, who missed the Week 2 game against the Jets because of an elbow injury, will look to get extended action in his final tune-up before the regular season. The veteran is 13-for-29 for 130 yards in two games this preseason. He also has two touchdowns and two interceptions.
QB Tyler Wilson.
Just like Campbell, the emphasis for Wilson will be to eliminate turnovers. The Bengals offense did an admirable job of that Sunday at Arizona. They didn't have a single interception or fumble. They retained possession, all while battling horrid field position all night. Wilson hasn't played since the Week 2 loss to the Jets after suffering a concussion late in that game. Now that he's been healthy enough to practice, look for extended action from Wilson, assuming he has been cleared to play. Not all of the players on concussion protocol this preseason have made it on the field. Offensive tackle
Andre Smith
still hasn't played despite practicing the past two weeks.
RB James Wilder Jr
. With a battered and bruised running back group, the Bengals probably will turn to Wilder much earlier than they have at other points this preseason. Look for the undrafted rookie free agent to get heavy action in the second half as Cincinnati tries to save second-round draft pick
Jeremy Hill
's legs. He'll probably see extensive action in the first and second halves as the Bengals try to ease starter
Giovani Bernard
through a very non-taxing evening. Remember, the goal is to keep everyone healthy, particularly the starters. Since that is the case, Wilder ought to see significant action since
Cedric Peerman
,
Rex Burkhead
and BenJarvus Green-Ellis may be missing in action. All three were held out of Tuesday's practice, the only one the Bengals had this short week.
DT Christo Bilukidi.
While I'm still not sure Bilukidi will end up earning a spot on the 53-man roster later this week, he's still a player worth paying attention to. Coaches have liked some of what they've seen out of the backup defensive lineman. He has helped contribute to the Bengals' pass rush when he has been in the games, even coming away with one sack through the first three preseason contests. He has three total tackles in his appearances. On Sunday, Bilukidi was on the field for 23 plays, one of the higher snap counts of the team's reserve linemen. This will be his last chance to prove where he belongs: on the 53-man roster, on the practice squad, or released for another team to grab.
DE Sam Montgomery.
Like Bilukidi, Montgomery has spent the preseason lining up both at tackle and end as the team tries to test out places it could use him if he makes the team. Also like Bilukidi, I'm not high on Montgomery making the final roster, but he does have tools that could be useful for the Bengals' pass rush. A lineman who has stand-up end ability, Montgomery could give Cincinnati's defense an added dimension from its standard rushes.
Dontay Moch
also has some of that same playing style and ability. It will be interesting to see how both fare when the roster gets set Saturday.
LB Sean Porter.
One of the more impressive players on the back of the depth chart, Porter has caught the coaches' attention now that he's had a chance to play. Placed on injured reserve all last year, the former Texas A&M standout is just now getting an opportunity to show what he can do. The fourth-round 2013 draft pick filled in for
Vontaze Burfict
in practices last week when the starting weakside linebacker was out sick. He also capped Sunday night's 19-13 win with a final-play interception. He could be a special-teams addition to this year's 53.
August, 15, 2014
8/15/14
9:15
AM ET
CINCINNATI -- In no particular order, the following are five
Cincinnati Bengals
you'll want to pay attention to on the offensive side of the ball during Saturday night's preseason home opener against the
New York Jets
(7 ET).
Be on the lookout for five defensive players to watch in the Bengals' second preseason game, coming soon.
Scott
1. QB Matt Scott.
One week after dominating the headlines in the Bengals'
Week 1 preseason loss
at Kansas City, Scott has a chance to turn more heads this weekend when he likely receives more playing time. With No. 2 backup
Jason Campbell
still nursing an elbow bruise, the Bengals will turn to Scott a little earlier than they did last week. Against the Chiefs, Scott jogged onto the field midway through the third quarter after Campbell's throwing arm was struck by a defender's helmet. Scott went on to pass for 66 yards and two touchdowns, and rush for a game-high 68 yards. It was what he considered the combination of a pre-game sinus infection, high humidity and exhaustion that turned him into an unexpected Internet star last week. On multiple occasions during a fourth-quarter drive, he vomited a la Willie Beamen, the fictional quarterback in the movie "Any Given Sunday." The
clip made its rounds on the Web
in the days that followed. Scott, who will be playing through a sore shoulder, hopes he'll be remembered more for his play this week.
2. QB Tyler Wilson.
Since Scott does have a minor injury that could affect his throwing, the Bengals might have to turn to Wilson a little earlier than perhaps they would have anticipated, too. Starter
Andy Dalton
probably won't go any deeper than the two first-quarter series before Scott enters the game. From there, Scott probably won't make it all the way to the fourth quarter. Whenever Wilson does come in, watch for how well he connects with the existing receivers still in the game. If
Cobi Hamilton
is still playing, the two could be a good combination to watch. Hamilton was one of Wilson's top targets in college when they both played at Arkansas. Otherwise, Wilson will be intriguing to watch because he's playing after only one week of practices with the Bengals, and he's playing for his professional career.
Burkhead
3. RB Rex Burkhead.
You may be noticing a trend here. We're focusing on reserve players in this week's "Bengals to watch," primarily because we are arriving at that point in camp when players down on the depth chart are truly fighting for roster spots. Burkhead is among those running backs involved in arguably the team's most interesting position battle. He's gotten his share of touches with the second-team offense in recent weeks and probably will see some opportunities with a mix of that group Saturday night. Be on the lookout for how often Burkhead carries the ball in what could be a ground-and-pound kind of preseason contest. The Jets have already said they expect a physical game. With the Bengals in a bit of a quarterback quandary, there are compelling reasons for them to give New York the physical showdown it is anticipating.
4. WR Dane Sanzenbacher.
The position battle at receiver is another one to keep an eye on. Much like running back where the first two positions appear set, the top three spots are squared away on the Bengals' depth chart at receiver. Sanzenbacher is among a group of wideouts trying to crack the bottom portion of the pass-catching roster. With his versatility and wealth of playmaking opportunities both on offense and special teams, he will have his share of chances to prove he belongs in these next three games. After having a few long punt and kick returns in last week's game and catching a 26-yard touchdown pass that ended when he dove for a pylon, Sanzenbacher made a strong case for being included on the 53-man roster. Watch to see if he impresses Saturday.
5. H-back Ryan Hewitt.
This will be the second straight week we've listed Hewitt among the Bengals to watch, and with good reason. Earlier this week, coach Marvin Lewis lauded the undrafted rookie free agent for how well he has played throughout this camp. Hewitt has brought his own measure of versatility to the backfield by being used as a blocker, flanking off the line as a tight end and catching passes. It certainly appears he has won the position battle over
Orson Charles
, the former tight end who was converted to H-back last preseason. Hewitt caught two passes last week. Look for how much he gets involved in the passing game this week.
August, 14, 2014
8/14/14
9:30
AM ET
One of the toughest balancing acts for a coaching staff at an NFL training camp is determining how much contact will be allowed in practices -- and how hard the contact can be.
As the
Cincinnati Bengals
wind down their training camp portion of the preseason Thursday, we can safely say the team had as good a mix of hitting and non-live activity as you're probably going to find in the league these days.
They never did formally tackle live in practices, but some defenders made just enough contact with various offensive skill players -- primarily rookies and young free agents -- that it caught some attention. It was common for linebacker
Vontaze Burfict
to give rookie running back
James Wilder Jr
. a firm thud on a screen across the middle of the field. Burfict did the same thing to the since-released
Jeremy Johnson
when he'd catch passes in his area.
On Wednesday, safety
George Iloka
got in on the popping action, delivering a couple of hard forearms to first-year receiver
Colin Lockett
. Like some of Burfict's hits, those came in a practice that saw the Bengals wearing only shoulder pads and helmets. One of the forearms to Lockett's back came after players all took their pads off in favor of finishing the practice in only their jerseys and helmets.
"We're not playing against the Bengals, they're not on our schedule, but some things happen in practice," defensive coordinator Paul Guenther said. "You can't tell a dog not to eat red meat."
Still, Bengals coaches hope their defensive dogs know that for now, they only want them nibbling on the offensive prey that are in their way. When they suit up Saturday and the following Sunday and the Thursday after that, then they can deliver whatever hard blows they want to deal.
"We've just got to take care of our guys and continue to be aggressive," Guenther added.
So considering how bad some of the collisions were, should Guenther and his assistants rein in their players?
No.
Again, the group wasn't out to maliciously hurt anyone during this camp. They were primarily out to test the toughness of some of the newest members of the team. If Burfict could hit Wilder or one of the young receivers like Lockett hard enough and they could bounce right up, a message was sent to the locker room that the struck player could match the toughness the rest of the team believed it had.
Not to mention, sometimes, the hitters were just following orders.
"Sometimes I'll tell a guy that if I don't think practice is going the way we want it, to get some stuff going," Guenther said. "It gets everybody into the practice a little bit."
That means there will be no reining in of defenders going on in practices any time soon. Besides, before too long they'll be into the regular-season mode of practicing, meaning their in-practice contact will soon decrease dramatically.
Wilson will play:
Bengals coach Marvin Lewis said during his news conference Wednesday that backup quarterback
Tyler Wilson
will end up playing at some point Saturday against the Jets, despite having less than a week of practices.
Wilson was signed last Saturday after brief stints with Oakland and Tennessee. He's excited for this opportunity, and hopes that by the end of camp he can prove he belongs on an NFL roster.
It's tough right now seeing him on the Bengals' roster in three weeks. He's currently the No. 4 quarterback on a team that signed him in response to No. 2 quarterback
Jason Campbell
's elbow injury that occurred a week ago Thursday. The former Arkansas standout has at least one familiar face in the Bengals' locker room:
Cobi Hamilton
was his go-to receiver in college.
"When you've been sitting on the street, you learn fast," Lewis said of Wilson.
The coach didn't say how much he might use Wilson this weekend. But with backup
Matt Scott
working through a sore shoulder and starter
Andy Dalton
likely limited to 15-25 early snaps, Wilson could see his fair share of action.
"He's been able to learn things to go out and operate," Lewis said. "He handled the verbiage and the terminology well and the adjustments he needed to make. He did a good job."
August, 9, 2014
8/09/14
2:10
PM ET
CINCINNATI -- There are about to be five players in the
Cincinnati Bengals
' quarterback room.
The team announced Saturday afternoon that it signed first-year quarterback
Tyler Wilson
, affirming a move coach Marvin Lewis alluded to in a news conference about an hour before the announcement. The move was made to help the Bengals account for the hit it will take with backup
Jason Campbell
expected to miss some practice time because of an injury he suffered in Thursday's preseason opener at Kansas City.
Waived by the Titans on Thursday, Wilson will be part of his third organization since entering the league in 2013. He also spent time on the
Oakland Raiders
' roster. In college at Arkansas, he had 52 career touchdowns and had two 3,000-yard passing seasons. With the Bengals, he's expected to strictly serve as an arm to help the Bengals' offense get meaningful practice and preseason game reps behind starter
Andy Dalton
for as long as Campbell is out, which might not be long.

Campbell
"Jason will rest [Saturday]," Lewis said before the mid-afternoon practice. "But he should be fine to get back to work next week. We don't have to rush him if he's still sore."
Lewis said Campbell has a bruise on his throwing elbow. Campbell received it when a Chiefs defensive lineman's helmet made contact with his right arm on his follow-through.
Campbell, wearing a black arm sleeve Saturday morning when he spoke with reporters, wasn't sure exactly when he would be ready to play again. Still, he's optimistic he will be in uniform next Saturday when the Bengals host the Jets in their second preseason game.
"We're taking it one day at a time. I know the doctors; that's their analogy," Campbell said. "But at the same time, everybody's body works different. So we'll see how fast the week goes. But I look forward to getting back out there."
For now, third-string quarterback
Matt Scott
-- who earned his share of respect around the locker room for his performance at Kansas City -- 7 for 11 and 66 yards passing with one touchdown and a game-high 68 yards rushing -- appears as if he will slide into the No. 2 spot. Rookie quarterback
AJ McCarron
still hasn't been cleared off the non-football injury list and has yet to practice. It's possible he could get listed on the physically unable to perform list this season so the Bengals can rest his sore shoulder and retain a roster spot that can be used for keeping a player at another position. As part of the PUP list, McCarron wouldn't count against the 53-man regular-season roster limit.
Campbell's injury came on top of a performance that he wasn't completely proud of. Along with his two touchdown passes, Campbell also was intercepted twice. The pickoffs "take away from all the good plays that you had," Campbell said.
Offensive coordinator Hue Jackson said he's not panicking over Campbell's struggles, but he does know one thing: "He can't throw interceptions anymore."
April, 26, 2013
4/26/13
10:15
AM ET
In the hours leading up to the start of the NFL draft, the reports varied from the
Cleveland Browns
drafting West Virginia's
Geno Smith
in the first round to the team trading for
New England Patriots
backup quarterback
Ryan Mallett
. The Browns ultimately passed on Smith on Thursday night, and they reportedly have
no interest in acquiring Mallett
.
Will the Browns be able to avoid taking a quarterback on the second day of the draft? Cleveland only has a third-round pick, the 68th overall, because it used a second-rounder on wide receiver
Josh Gordon
in last year's supplemental draft.
Three quarterbacks -- West Virginia's Geno Smith, USC's
Matt Barkley
and Syracuse's
Ryan Nassib
-- are all expected to go in the second round Friday night. That would leave the likes of NC State's
Mike Glennon
, Arkansas'
Tyler Wilson
, Oklahoma's
Landry Jones
and Tennessee's
Tyler Bray
sitting there when the Browns are on the clock again.
With these choices, I wouldn't take a quarterback in the third round and I don't see the Browns doing so either. The one quarterback who intrigued me for the Browns was Florida State's
EJ Manuel
because he brought a different element than
Brandon Weeden
and
Jason Campbell
. But the Browns never had a decision to make with Manuel, a second- or third-round talent who was surprisingly taken by the
Buffalo Bills
at No. 16.
The best decision for the Browns is to remain patient and let Weeden have a second year to prove himself. He didn't live up to expectations of being a first-round pick, but he was far from a bust. Weeden threw for 3,385 yards, which was more than
Robert Griffin III
,
Russell Wilson
and
Ryan Tannehill
.
If Weeden fails to establish himself, there's always Louisville's Teddy Bridgewater and Texas A&M's Johnny Manziel next year.