February, 24, 2011
2/24/11
3:48
PM ET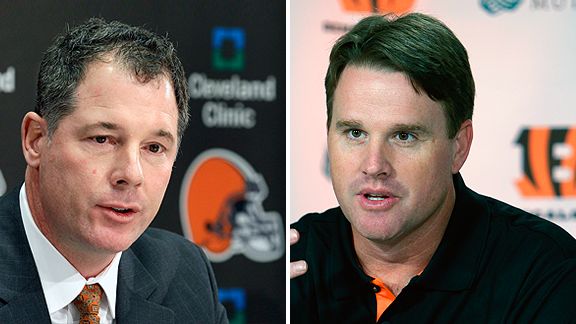 AP PhotoPat Shurmur, left, and Jay Gruden are two of the new faces in the AFC North.
The offseason has just begun, but the coaching carousel has been spinning for all four teams in the AFC North.
Often the struggling teams make significant coaching changes, and that was the case with the
Cincinnati Bengals
(4-12) and
Cleveland Browns
(5-11). But playoff teams like the
Baltimore Ravens
(12-4) and even the Super Bowl runner-up
Pittsburgh Steelers
(12-4) also experienced some turnover on their staff.
Here is a look at each change and what it means for the division:

Cleveland Browns
In:
Head coach Pat Shurmur, defensive coordinator Dick Jauron and a new staff.
Out:
Former head coach Eric Mangini, former defensive coordinator Rob Ryan and former offensive coordinator Brian Daboll.
What happened?
Mangini entered this past season on the hot seat and went 5-11 for the second consecutive year. There were a lot of philosophical differences between Mangini and Browns president Mike Holmgren. So when the team wasn't winning, it made for an easy decision to go in a different direction. Enter Shurmur, who was a surprise hire for Cleveland. Shurmur has no prior head-coaching experience and wasn't on the radar of other teams. The Browns have pretty much cleaned house and hired a new staff, which includes Jauron and veteran defensive assistant Ray Rhodes.
Analysis:
Last year, Holmgren was dumbfounded by some of the things the Browns were doing, particularly on offense. But Holmgren and Shurmur share many of the same views, which will give Holmgren more say in what goes on, and I think being on the same page is important for any team. The Browns are one of the few teams this year that will change both their offense
and
defense. Cleveland will go to a West Coast offense under Shurmur, who did not hire an offensive coordinator and will call the plays. The Browns also will switch to a 4-3 defense, which is something they haven't run since 2004. Shurmur is taking on a lot of responsibility as a rookie head coach and de facto offensive coordinator, which raises some concerns. Cleveland hopes veteran coaches like Jauron and Rhodes will take care of the defense, giving Shurmur one less thing to worry about. In terms of personnel, the Browns have a lot of work to do. They need better receivers on offense if they plan to pass more and playmakers at defensive end to run a 4-3 scheme.

Cincinnati Bengals
In:
Offensive coordinator Jay Gruden, receivers coach James Urban.
Out:
Former offensive coordinator Bob Bratkowski, former receivers coach Mike Sheppard.
What happened?
Changes were inevitable for Cincinnati's coaching staff this season. There was a lot of unrest among players internally who didn't like the scheme on offense. The Bengals entered the season with playoff aspirations but had an abysmal four-win campaign. Quarterback
Carson Palmer
was so unhappy that he demanded a trade after the season. Receivers
Terrell Owens
publicly criticized the coaching staff several times and starting tailback
Cedric Benson
said he was not returning if Bratkowski was still the offensive coordinator. Bratkowski was let go and later hired by the
Atlanta Falcons
, and Sheppard went to the
Jacksonville Jaguars
. Gruden, a former UFL head coach and the brother of former NFL coach Jon Gruden, was hired as offensive coordinator, and Urban was hired as receivers coach from the
Philadelphia Eagles
.
Analysis:
Cincinnati will be the second team in the division implementing a West Coast offense. Gruden also says he wants to make sure Cincinnati has a power running game, which is needed in this division. When the Bengals were at their best in 2009, they ran the football effectively and played tough defense. Cincinnati went away from that last year and had an awful season. How Gruden's offense translates from the UFL to the NFL remains to be seen. Cincinnati also has to handle a lot of personnel issues. Will Palmer retire? If so, who will be the new quarterback? Should the team trade
Chad Ochocinco
? Will Benson return? Cincinnati will have a very busy offseason trying to figure out these questions before putting together its new offense.
February, 18, 2011
2/18/11
11:00
AM ET
Here is one out of leftfield.
The UFL's Hartford Colonials are "interested" in former
Cleveland Browns
head coach Eric Mangini to replace another former Browns coach, Chris Palmer. Palmer recently became offensive coordinator of the
Tennessee Titans
.

Mangini
"He is one of the people we would hope to talk to," Colonials owner Bill Mayer said of Mangini this week. "What comes out of that, I don't know. I've been looking at our Facebook site, and it certainly has generated a lot of conversation. He's a Connecticut native and he's had experience. Whether we end up doing anything with him or not, we haven't sat down yet, so it's not at all clear whether this timing would work for him.
"That doesn't mean we're in negotiations or that he's going to be the next coach, but he's certainly on the list."
Don't look for this to happen, folks.
Mangini still has two years left on his contract with the Browns and will make millions of dollars from it. Therefore, I doubt we will see Mangini on the sidelines this upcoming season, especially if it's not in the NFL. The only reason this is news is because a UFL owner publicly threw out the bait in the event Mangini would be interested.
Mangini has already participated in television analysis and discussed a consultant job with the
Miami Dolphins
since being let go by Cleveland in January. He can stay active in football in various ways, while still getting the rest of his money from the Browns without dabbling in the minor leagues.
October, 24, 2010
10/24/10
7:04
PM ET


Here are some thoughts on the
Baltimore Ravens
'
37-34
overtime win against the
Buffalo Bills
:
What it means:
The Ravens go into their bye week 5-2. Although the record is impressive, the Ravens have plenty of room to improve after recently losing to the
New England Patriots
and barely escaping against the Buffalo Bills.
What I liked:
Ravens safety
Ed Reed
was stellar in his 2010 debut from hip surgery. He recorded four tackles and two interceptions against Buffalo. Reed decided late to suit up, and the Ravens were grateful that he did. Linebacker
Ray Lewis
also had a huge forced fumble in overtime. Other than that, Baltimore didn't earn many style points Sunday. The Ravens won't be happy with their overall performance, but it's always better going into the bye with a win.
What I didn't like:
On paper, there is no reason Buffalo should have been able to nearly pull off the huge upset on the road. The Ravens fell behind by two touchdowns early and it was a battle the rest of the game. Baltimore's pass defense was shredded by career backup quarterback
Ryan Fitzpatrick
, who threw for 374 yards and four touchdowns. There was talk of whether the Bills could beat a UFL team this week, which surely inspired Buffalo to show some pride and give its best effort. With the way Baltimore played Sunday, it probably would have lost to 30 other NFL teams on Sunday. Fortunately, the Ravens played the winless Bills (0-6)
What's next:
The Ravens will have two weeks to rest and get better after the bye week. They will host the
Miami Dolphins
on November 7 in what should be another tough game against the AFC East. So far, Baltimore is 2-1 against the AFC East this season.
October, 22, 2010
10/22/10
4:00
PM ET
»
NFC Final Word
:
East
|
West
|
North
|
South
»
AFC
:
East
|
West
|
North
|
South
Five nuggets of knowledge about Week 7: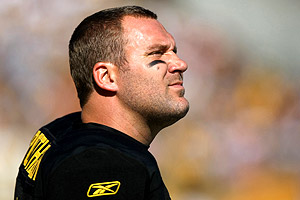 Jason Bridge/US PresswireSteelers QB Ben Roethlisberger will get his first exposure to a road crowd this season in Miami.
Ben Roethlisberger hits the road:
The
Pittsburgh Steelers
' franchise quarterback, coming off a four-game suspension for violating the NFL's personal conduct policy,
made his 2010 debut
in Week 6 in the comfort of his home stadium. Roethlisberger described the ovation he received from Steeler Nation at Heinz Field as "amazing." But he will get the opposite treatment on the road, starting Sunday against the
Miami Dolphins
. Will Roethlisberger get heckled and, if so, how will he handle it? Will it affect his play? Roethlisberger has to hear the criticism for an extended period, because the Steelers will be away from home the next three weeks and don't return to Heinz Field until Nov. 14 against the
New England Patriots
.
Upset linebacker:
Steelers Pro Bowl linebacker
James Harrison
was so disgruntled by his $75,000 fine this week that he was excused from practice Wednesday and briefly contemplated retirement. Now he's back and vows
not to change
his aggressive playing style despite increased scrutiny by the NFL on big hits. We will see how much or how little Harrison adjusts Sunday against Miami. Any big hit the league deems illegal could cost him a lot of money, as the NFL already set the bar for Harrison this week at $75,000. Or he could be suspended. The Week 6 big hits by Harrison gave
Cleveland Browns
receivers
Josh Cribbs
and
Mohamed Massaquoi
concussions.
Bye-week blues:
For many teams, the bye week is an opportunity to regroup and then play their best football. But that hasn't been the case recently for the
Cincinnati Bengals
. During the Marvin Lewis era, Cincinnati is only 2-4-1 in games following the bye. The Bengals have several issues that need to be addressed heading into Sunday's important game against the
Atlanta Falcons
. Cincinnati cannot afford to
fall to 2-4
in a deep AFC.
Quarterback dilemma:
Browns rookie quarterback
Colt McCoy
will get his
second career start Sunday
, against the
New Orleans Saints
. Coming off a relatively good debut against Pittsburgh, McCoy could make it tough on Browns coach Eric Mangini with another good performance. The plan was not to play the third-round pick at all this season. But a pair of severe ankle sprains to
Jake Delhomme
and
Seneca Wallace
forced McCoy into action last week. If McCoy pulls off the major upset and beats the Saints, the job is his. Otherwise, the Browns will have to evaluate their quarterback situation during the bye.
Finish strong:
The
Baltimore Ravens
are
disappointed in their
overtime loss to the New England Patriots. But the Ravens have a golden opportunity to head into the bye week 5-2 with a win Sunday against the lowly
Buffalo Bills
(0-5). There is some pressure at home on Baltimore, as it cannot have a letdown against arguably the NFL's worst team. There is already conversation this week of whether
the Bills could beat an UFL team
, which is embarrassing, but also could inspire Buffalo to bring its best effort at M&T Bank Stadium.
October, 22, 2010
10/22/10
12:00
PM ET
Overtime ruined our picks once again last week. The
Baltimore Ravens
were close to cementing a perfect week until they allowed the
New England Patriots
to overcome a 10-point deficit in the fourth quarter.
So the quest for another perfect week continues. Here are the AFC North blog picks for Week 7 (all times are ET):


Cleveland Browns (1-5) at New Orleans Saints (4-2), Sunday at 1 p.m.
Skinny:
This week the
Browns talked
so much about
James Harrison
that I question their focus on the reigning Super Bowl champs. Cleveland goes 1-6 into its bye week.
Pick:
Saints, 28-13


Buffalo Bills (0-5) at Baltimore Ravens (4-2), Sunday at 1 p.m.
Skinny:
Tim Graham of the AFC East blog
wonders if a UFL team
can beat the Bills. That's enough confirmation for me.
Pick:
Ravens, 30-7


Pittsburgh Steelers (4-1) at Miami Dolphins (3-2), Sunday at 1 p.m.
Skinny:
The test gets tougher for Pittsburgh quarterback
Ben Roethlisberger
. But the Steelers make enough plays to leave Miami with a win.
Pick:
Steelers, 21-14


Cincinnati Bengals (2-3) at Atlanta Falcons (4-2), Sunday at 1 p.m.
Skinny:
I expect Cincinnati's best effort because this is
an important game
. But I'm still not sure the Bengals fixed all their issues.
Pick:
Falcons, 24-21
Last week:
1-1
Overall:
11-6
Comment:
At least two games are in the bag this week.
June, 22, 2009
6/22/09
9:09
AM ET
Posted by ESPN.com's James Walker
Here are the most interesting stories Monday in the AFC North:
Morning take: As Anquan Boldin and the Arizona Cardinals also found out, most teams have smartened up on the going rate for receivers. I've said for a long time that offenses should be built from the inside out, and thus receivers are final link in the chain -- not the most important. It appears the days of getting a first- and third-round pick for that position could be nearing an end.
The Cincinnati Bengals have a new motto for this season: "Fight back!"
Morning take: And I saw a lot of fighting at last week's three-day minicamp. Sure, it was amongst teammates. But it could help make the Bengals a tougher team in the long run.
Former Baltimore Ravens return specialist B.J. Sams was taken last week in the UFL draft by San Francisco.
Morning take: Sams was an exciting returner in Baltimore until breaking his leg in 2007. Let's see if he's able to jumpstart his career again outside of the NFL.
Morning take: First-rounder Evander "Ziggy" Hood and third-rounder Kraig Urbik are those two players, and no one expects any issues with them in the next six weeks.