AFC North:

University of Notre Dame
March, 16, 2010
3/16/10
2:30
PM ET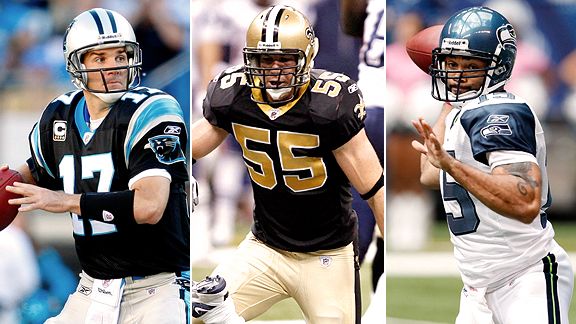 US PresswireThe new front-office regime in Cleveland has been very busy this offseason in both free agency and the trade market, acquiring veterans such as Jake Delhomme, Scott Fujita and Seneca Wallace.
It's hard to keep score with the
Cleveland Browns
these days. So far they have been the biggest whirlwind in free agency this offseason.
The Browns got rid of their top two quarterbacks and added two more. They signed a veteran linebacker (
Scott Fujita
), tight end (
Benjamin Watson
) and right tackle (
Tony Pashos
). They also traded
Corey Williams
and
Kamerion Wimbley
for draft picks and added another fullback to the roster from the
Denver Broncos
(
Peyton Hillis
).
Yes, the Browns are making a ton of changes. But are they getting better?
It's still early. But despite a large flurry of transactions, there is nothing the Browns have done to this point in free agency to make you believe they'll climb out of the basement and to the top of the AFC North in 2010.
The division champion
Cincinnati Bengals
,
Baltimore Ravens
and
Pittsburgh Steelers
all finished with winning records last season. And if the season started today, most would pick the aforementioned trio ahead of Cleveland, which was 5-11 last season.
"Anything we do, we've done it thoughtfully, hopefully," Browns president Mike Holmgren said this week of their busy free-agency period. "We've done it together. We've done it to make the team better in our opinion and however that manifests itself."
QB dilemma
Is the quarterback combination of
Jake Delhomme
and
Seneca Wallace
truly an upgrade over
Brady Quinn
and
Derek Anderson
? That is one of the biggest questions in Cleveland this week.
Quinn and Anderson had their chances in Cleveland and it didn't work out. So a change of scenery was needed for both players, especially with a new regime coming to town in Holmgren and general manager Tom Heckert.
But, to put it bluntly, the acquisitions last week of Delhomme and Wallace were anticlimactic.
Intriguing names such as
Kevin Kolb
and
Donovan McNabb
were being thrown around almost daily in Cleveland. The Browns burned up the phone lines to see what was available around the league but ended up with a 35-year-old starter (Delhomme) and a career backup (Wallace).
Cleveland's success next season will depend on whether Delhomme has anything left in the tank. He is coming off his worst year in 2009, when he threw for 2,015 yards, just eight touchdowns and 18 interceptions. Delhomme also had a meager 59.4 quarterback rating, but the Browns are confident he can bounce back.
"Over time, he's been a proven winner. He's been a consistent winner," Cleveland coach Eric Mangini said. "His completion percentage over the years, that's been consistent as well. I don't think it's uncommon for a guy to have a bad year, but when you look at his body of work last year ... there were a lot of good throws on that tape too."
Delhomme adds a winning mentality and plenty of playoff experience, and that's something the Browns need in their locker room. Six years ago, Delhomme led the
Carolina Panthers
to the Super Bowl.
Cleveland's best hope is to get another good year or two out of Delhomme, while the Browns eventually find and groom their franchise quarterback of the future. Either way, Holmgren was convinced Quinn and Anderson weren't the answer and drastic changes had to be made.
"I think we all came to the conclusion that we couldn't go into the season the same way we went into last season," Holmgren said of his quarterbacks. "That's very difficult for everybody. Derek's situation, there was a time element there because of his roster bonus. We didn't have that to deal with Brady. That factored in, certainly, in our decision for Derek to go first. We knew we were going to make changes at quarterback and add some people to the pile certainly."
The draft is key
Despite the current hoopla with free agency, Cleveland will make its biggest impact this year in the draft.
[+] Enlarge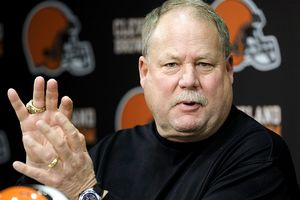 AP Photo/Tony DejakMike Holmgren will have 12 draft picks he can use to help rebuild the Browns.
The Browns will be major players with 12 total picks at their disposal. Recent trades of Wimbley and Williams added third- and fifth-round picks in this year's draft, respectively.
Cleveland's top pick is No. 7 overall, where positions like safety, cornerback and receiver are all possibilities. Following the recent trades, you can now add the quarterback position as well, with Oklahoma's
Sam Bradford
and Notre Dame's
Jimmy Clausen
being possible candidates.
"We will probably look at the quarterbacks, yes," Holmgren admitted.
Despite not making any splashy additions, Cleveland did patch some holes in free agency. Pashos likely will start at right tackle for the Browns next season. Fujita gives the team toughness at inside linebacker, and Watson is a much-needed receiving threat at tight end.
Holmgren knew about the large cleanup job ahead of him when he became president of the Browns. After studying the roster he inherited, it's clear Holmgren didn't like how most of it was constructed based on the team's already-busy offseason.
"We've done what we thought was best for the Cleveland Browns," Holmgren explained. "Hopefully moving forward, it doesn't get so frantic in years to come. [But] we're doing what we think we have to do."
February, 24, 2010
2/24/10
2:00
PM ET
»
NFC Busts/Gems
:
East
|
West
|
North
|
South
»
AFC
:
East
|
West
|
North
|
South
»
Draft Watch
:
Biggest needs
(2/17) |
Busts/gems
(2/24) |
Schemes, themes
(3/3) |
Recent history
(3/10) |
Needs revisited
(3/17) |
Under-the-radar needs
(3/26) |
History in that spot
(3/31) |
Draft approach
(4/7) |
Decision-makers
(4/14) |
Dream scenario/Plan B
(4/21)
Each Wednesday leading up to the NFL draft (April 22-24), the ESPN.com blog network will take a division-by-division look at key aspects of the draft. Today's topic: Busts and late-round gems.

Baltimore Ravens
Busts:
The Ravens have one of the most consistent front offices in the NFL, so you have to look all the way back to 2005 to really find an underperforming first-round pick in
Mark Clayton
. The receiver has shown flashes with several big games in Baltimore. But Clayton never developed the consistency to become a No. 1 receiver. In the second round, linebacker
Dan Cody
was another miss in 2005. His career never got off the ground, because he couldn't shake the injury bug. Also, it's too early to determine the status of 2009 second-round pick
Paul Kruger
. But the linebacker/defensive end was mostly a non-factor in his rookie season.
Gems:
Baltimore has several contributing players that were found in the late and middle rounds. Most recently, 2009 third-round cornerback
Lardarius Webb
looks like a potential starter and has the ability to return kicks. Pro Bowl fullback
Le'Ron McClain
was another great, under-the-radar pick in the fourth round in 2007. Starting left tackle
Jared Gaither
was found in the supplemental draft in 2007 and started 26 games the past two seasons. Other key contributors include starting safety
Dawan Landry
and punter
Sam Koch
, who were fifth- and sixth-round picks in 2006, respectively.

Cincinnati Bengals
Busts:
It's well-documented that Cincinnati doesn't put nearly the same resources into scouting as most teams, and it shows in its list of draft busts. Eight players the Bengals selected in the first three rounds since 2004 are no longer with the team. Several -- such as first-rounders
Chris Perry
and
David Pollack
and second-rounders
Odell Thurman
and Kenny Irons -- are out of the NFL. Most recently, the career of 2009 No. 6 overall pick
Andre Smith
got off to a poor start. But he has time to turn things around. Receiver
Jerome Simpson
, who was a second-round pick in 2008, is running out of chances and may not make the 53-man roster next fall. It's difficult to maintain a steady level of success when you're missing this often in the first and second rounds.
Gems:
Seventh-round pick
Chinedum Ndukwe
was not highly touted out of Notre Dame but continued to make plays for the Bengals until coaches had no choice but to play him. Defensive tackle
Domata Peko
was a fourth-round pick in 2006 who developed into one of Cincinnati's most important players. Last year's sixth-round pick, tailback
Bernard Scott
, showed flashes as a rookie.

Cleveland Browns
Busts:
The Browns are on their third regime in three years. With that kind of turnover, you can expect a lot of misses in the draft as the team continues to switch philosophies. The Phil Savage-Romeo Crennel era began in 2005 with receiver
Braylon Edwards
and safety
Brodney Pool
. Edwards didn't live up to expectations and was traded to the
New York Jets
last season. Pool likely will be let go to free agency. It has been three years, and we still don't know exactly what to make of 2007 first-round pick
Brady Quinn
. The new regime led by Mike Holmgren doesn't seem too impressed, as the team continues to explore its options at quarterback. Receiver
Brian Robiskie
and linebacker
David Veikune
, both second-round picks in 2009, also need to step up for Cleveland in 2010.
Gems:
Starting fullback
Lawrence Vickers
, a sixth-round pick in 2006, was another great find. He paved the way for
Jamal Lewis
to have back-to-back 1,000-yard seasons in 2007 and 2008. Vickers also helped tailback
Jerome Harrison
(862 rushing yards), another late gem, put up career highs last season. Most recently, 2009 fourth-round pick
Kaluka Maiava
may turn out to be a decent linebacker from the middle rounds.

Pittsburgh Steelers
Busts:
Similar to the Ravens, the Steelers do not make a lot of mistakes at the top of the draft. Six of Pittsburgh's past seven first-round picks are starters. That includes quarterback
Ben Roethlisberger
, safety
Troy Polamalu
, receiver
Santonio Holmes
and tailback
Rashard Mendenhall
. Pittsburgh has had some issues in the second round. In 2008, the Steelers were hoping
Limas Sweed
could be the big receiver they were looking for, but that hasn't panned out. In 2004, second-round cornerback
Ricardo Colclough
had zero starts in four years before being released.
Gems:
Last year's third-round pick
Mike Wallace
already is a significant addition to Pittsburgh's offense. His deep speed was needed, and he had 39 receptions for 756 yards and six touchdowns as a rookie. Pittsburgh also has been fortunate to find starting offensive linemen late in the draft. Offensive tackle
Willie Colon
and guard
Chris Kemoeatu
were taken in the fourth and sixth rounds, respectively.
Dennis Dixon
, who was taken in the fifth round in 2008, also could develop into a solid backup quarterback.