January, 6, 2012
1/06/12
1:30
PM ET
»
Wild-Card Final Word
:
Bengals-Texans
|
Lions-Saints
|
Falcons-Giants
|
Steelers-Broncos
Three nuggets of knowledge about Saturday's Bengals-Texans wild-card game:
Ending playoff droughts:
While the Texans are in the playoffs for the first time in their 10-season existence, the Bengals have endured a much longer wait. Cincinnati has the longest active NFL streak without a playoff victory, going 20 years, according to ESPN Stats & Information. The Bengals' last postseason victory came in the 1990 wild-card playoffs against Houston -- and that's the Oilers, not the Texans. On Saturday, Cincinnati will look to end that drought, which has spanned 7,768 days. Bengals coach Marvin Lewis is trying to end his own losing streak in the postseason. If he falls to the Texans, Lewis would become the first head coach to lose his first three playoff games since Wade Phillips dropped his first four before earning a postseason win in 2009.
[+] Enlarge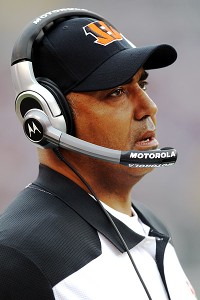 Mitch Stringer/US PresswireMarvin Lewis is aiming to avoid seeing his personal playoff losing streak hit three games.
Making the tackle
: If the Bengals can stop the Texans and the NFL's second-ranked running attack, they have a good shot at winning. To do so, Cincinnati has to fix a run defense that has crumbled down the stretch. In the first 10 games of the season, Cincinnati allowed 88.6 yards rushing per game. In the past six, the Bengals have given up 131.5. The run defense bottomed out in the regular-season finale when it got lit up by the Ravens'
Ray Rice
for 191 yards on the ground. The problem comes down to tackling, or the lack thereof. According to ESPN S&I, the Bengals are allowing 1.9 yards after contact per rush, seventh worst in the NFL. With running backs
Arian Foster
and
Ben Tate
, the Texans lead the league with 1,133 yards after contact this season.
Avoiding the swat team
: Elias Sports Bureau confirms that this marks the first postseason game since the 1970 merger to have rookie quarterbacks starting for both teams (
Andy Dalton
for Cincinnati and
T.J. Yates
for Houston). Dalton rarely has to worry about getting knocked down. The Bengals allowed the fourth-fewest sacks in the NFL this season. His biggest concern is having his passes knocked down. Dalton had the most passes batted or defended this season (79), including eight against the Texans on Dec. 11, according to ESPN S&I. That's not unusual for Houston, which led all defenses in defending passes (94).
November, 27, 2010
11/27/10
9:00
AM ET
I hope everyone is enjoying their holiday weekend.
Now let's dig into the mailbag.

Theo from Raleigh, N.C.,
writes: I hate to beat the proverbial "Steelers being targeted" dead horse here. But do you think
Ben Roethlisberger
's public opinion of him had anything to do with
Richard Seymour
only getting a fine?
James Walker:
Theo, I've seen the argument that if
Tom Brady
or
Peyton Manning
were hit in the face, it would have been a bigger deal. Although I agree the penalty could have been stiffer, I don't believe Roethlisberger's reputation had anything to do with the ruling.
---
Peter from St Andrews, Scotland,
writes: I was wondering what you think was supposed to happen on the Antwaan Randle-El/Roethlisberger flea-flicker last week.
Walker:
Interesting question, Peter. The play never had time to develop and wasn't well-executed so I can't say for sure. But I think Roethlisberger ran out as one option. Maybe the Steelers will come back to that play this season.
---
Patrick Charles from Columbus, Ohio,
writes: Who is the fastest player in the AFC North?
Walker:
Steelers receiver
Mike Wallace
is the fastest player I've seen, Patrick. Wallace is probably top five in the league. But we will never know for certain unless the NFL decides to hold a competition like it did back in the day.
---

Matthew Falkler from Daytona Beach, Florida,
writes: What is your take on the argument between
Baltimore Ravens
quarterback
Joe Flacco
and receiver
Derrick Mason
?
Walker:
Sideline blowups happen, Matthew. I'm actually surprised it took this long for the Ravens, because there are a lot of vocal players on offense this year who want the football. I think winning helps a ton and is part of the reason nothing boiled over until Week 11. But if the Ravens ever have a significant losing streak this season, you would probably hear more bickering from players who feel they could do more to help the team.
---
Marcus from Baltimore
writes: Do you think the Ravens and Steelers will make the playoffs?
Walker:
Yes, Marcus, I believe this division gets two playoff teams. One wild card likely will be the loser of Dec. 5 matchup between Baltimore and Pittsburgh. The winner of that game obviously has the inside track to win the AFC North.
---
Patrick Ryan from San Antonio, Texas,
writes: This year pretty much solidifies that
Ed Reed
is better than
Troy Polamalu
.
Walker:
You didn't get the memo, Patrick? The correct answer is "Troy Reed" on all matters relating to Ed Reed vs. Troy Polamalu.
---
E.J. from Pomona, CA,
writes: Who has the better commercials:
Ray Lewis
or Troy Polamalu?
Walker:
"Ray Polamalu." Just kidding, E.J. I like Polamalu's commercials better.
---

Josh from Cleveland
writes: The Browns are obviously a lot better than the record shows. So will we see a playoff or even a Super Bowl Browns team next season?
Walker:
Sloooow down on the Super Bowl talk with Cleveland, Josh. Browns fans tend to get overexcited when they see signs of progress. I take things one year at a time, and this year the Browns aren't going to the playoffs. Their best-case scenario is to try to get seven or eight wins and build in the offseason.
---
Joe Marzano from West Middlesex, Pa.,
writes: Do you think Browns coach Eric Mangini is safe this year, no matter the record?
Walker:
Browns president Mike Holmgren hasn't made his decision, Joe. So it's still to be determined. The record won't be everything, but it will be a factor. Mangini can't lose the rest of his games, go 3-13, and keep his post. The Browns have to finish strong and show improvement over last year's 5-11 record.
---

Bryan Roberts from Philadelphia
writes: With the recent firing of Brad Childress in Minnesota and Wade Phillips in Dallas, when will Mike Brown fire Bengals coach Marvin Lewis?
Walker:
Don't look for it, Bryan. Lewis is in his last year and only has five games remaining on his contract. The Bengals are expected to let him coach out the season and probably won't renew his deal.
---
Dave from Cincinnati
writes: The Bengals have so many needs to be addressed in the upcoming draft. What position should their first pick be on?
Walker:
This really depends on what direction the team takes in the offseason, Dave. Do the Bengals keep quarterback
Carson Palmer
, for instance? If so, then quarterback is not the biggest need, although Cincinnati may want to draft one in the second or third round to mold for the future. If the Bengals release Palmer, it would make sense to use their first-round pick on a quarterback. But one need that's going to be there regardless is an elite pass-rusher. This could come at outside linebacker (move
Rey Maualuga
inside) or a defensive end. Cincinnati needs to improve that part of the defense in the early rounds.
Comments and complaints department
Here are some comments and complaints this week from our AFC North community.
Rick from Pittsburgh
writes: Every time you put up a "look back" blog such as the
Cincinnati fans comments about them being awesome
, it's probably my favorite reading material ever now that they are terrible this season.
Cupp from Hebron, Ohio,
writes: It's been 21 years as a Bengals fan and only three winning seasons. Mike Brown has no idea what he is doing. If they expand the season to 18 games, I will most likely not be a fan of the NFL anymore and just stick to the Buckeyes. Why would I want to see the BUNGALS lose more games next season.
Walker:
Rick, everyone liked that post except Bengals fans, who voiced their displeasure in our division inbox. But when we did the same blogs last year when everyone was ripping the Bengals and they won the division, Cincy fans loved it. You can't have it both ways. Cupp, stay strong in your fandom and support your team. Two more games also would be a chance to collect two more wins.
---
Noelle from Los Angeles
writes: What needs to be clearly defined is what is "roughing" the passer? These football players are not unnecessarily hitting or using violence against the quarterbacks. They are simply doing their jobs as football players and tackling the passer. NFL speak your ground: Let's hear how you define these terms.
Walker:
I agree, Noelle. In talking to players throughout the division, I'm not sure there is universal clarity on the subject. Some hits are harder than others, but many of them are being flagged. It's clear the NFL wants to protect its quarterbacks. But how far they're going is what's being questioned.
---
Pconti from Colorado
(by way of Akron, OH) writes: What do you think about starting the Cleveland Clowns movement? Fans can wear clown outfits to the games until they are over .500.
Walker:
Pconti, you would be wearing that suit for the rest of the year, because the Browns probably won't finish 8-8 this season.
AFC North Homer of the Week
We saved this special comment for a while and now it's time to unveil it. Keep in mind, this was written last month by one of our favorite bloggers in our AFC North community.
Zach aka Sportsfan2305 from Columbus, OH,
writes: CHALLLENGE FOR JW. I feel special that I was one of your posters on
"Remember the offseason" Bengals edition
. However, you gotta admit, with the weak first-half schedule there was no reason why the Bengals SHOULDN'T have started off hot and then sputtered against the tougher second-half opponents. Therefore, I have a wager to make you my friend: If the Bengals finish 10-6 or better I would like a retraction that, while I was a bit outspoken with my comment, it wasn't necessarily a homer comment. If they do not then I will never challenge your ruling again and will change my user name to "JW is a Sports Genius" for the entire offseason. What do you think?
Walker:
Zach, not only was your offseason comment a homer statement, but you're officially our "Homer of the Week." Wear it proud.
If you have any questions, comments or complaints, feel free to send them to our
division inbox
or
AFC North Twitter.
December, 5, 2008
12/05/08
10:00
AM ET
| | |
| --- | --- |
| | |
| | Chris Morrison-US PRESSWIRE and Rick Stewart/Getty Images |
| | Tony Romo and Ben Roethlisberger meet in a highly anticipated game Sunday with playoff implications for both teams. |
Posted by ESPN.com's Matt Mosley and James Walker
In advance of the Cowboys-Steelers game Sunday at Heinz Field, NFC Beast blogger Matt Mosley and AFC North blogger James Walker agreed to discuss what this December showdown means to the league and the world in general. The Cowboys (8-4) could take a major step toward solidifying an NFC wild-card spot, while the Steelers (9-3) are fighting for a second consecutive division title and a first-round bye.

Mosley and Walker are both en route to Pittsburgh to cover what should be the best game of the weekend. Please enjoy the following discussion:

Both quarterbacks are banged up, but how will each fare in this marquee matchup?

James Walker: Ben Roethlisberger had a minor tweak to his right knee at the end of practice Wednesday, but the Steelers are saying it's no big deal. The larger concern in such a big game is Roethlisberger's shoulder, which has been an issue all season. The injury has gradually taken the deep-passing game out of Pittsburgh's offense. In the past three games, Roethlisberger's longest completion is just 37 yards. Most of his throws of late have been underneath to receiver Hines Ward and tight end Heath Miller.

Matt Mosley: Tony Romo is planning to play without a splint on his right pinkie for the first time in a month. At first, he felt some pain when he had to drive the ball on deep out patterns, but he's pretty comfortable at this point. He went back to his favorite target, Jason Witten, last Thursday against the Seahawks. And contrary to what No. 81 might say, Witten's the most important piece of the passing game. But since we brought him up, it's a great sign that Terrell Owens has made a significant impact in the past two wins. The Steelers will use press coverage and have a safety over the top in order to slow down T.O. The Cowboys will counter with some pre-snap motion, and this could also be a breakout game for Roy Williams. With Marion Barber (toe) banged up, the Cowboys might have to lean heavily on their passing game.

Scouts Inc.: Cowboys-Steelers
Matt Williamson runs down the best 20 players in the Cowboys-Steelers showdown.
How will the Cowboys' eighth-ranked offense attack Pittsburgh's top defense and vice versa?

MM
: If Barber can go, the Cowboys will try to feed him the ball early in the game. But the Steelers do a great job taking away the run. The Cowboys have a left guard (
Montrae Holland
) who's inexperienced in this offense playing next to a false start waiting to happen (
Flozell Adams
). The Steelers will exploit those matchups every chance they get. The Cowboys won't say it publicly, but they feel like they can make plays downfield against the Steelers' secondary. Romo does an excellent job sliding away from pressure, and he should have plenty of opportunities. When Romo came back, the Cowboys started playing at a faster tempo. They will try to keep the Steelers guessing. Look for third-receiver
Patrick Crayton
to have a nice game. Teams tend to forget about him on the backside and this is the type of game where he could end up with 80 yards and a touchdown. The Steelers will try to confuse Romo with a lot of different looks. I've watched all 11 players line up in a two-point stance before. They'll bring pressure from everywhere. It's up to Romo to quickly identify where the pressure's coming from and go through his reads at a rapid rate. Since that's one of his strengths, it shouldn't be a major problem.
JW
: Steelers
defensive coordinator
Dick LeBeau
is very good at taking away what opponents do best, which gets teams out of their comfort zones. Last week, Pittsburgh took
Randy Moss
(four catches, 45 yards) out of New England's offense and quarterback
Matt Cassel
looked lost without his best weapon playing well. I expect the Steelers to do the same to
Owens
, who could be matched up most of the game with cornerback
Ike Taylor
along with help over the top from the safeties,
Ryan Clark
and
Troy Polamalu
. But what's intriguing this week is
Dallas
has so many other offensive weapons that it could still pose problems for Pittsburgh. It will be an interesting chess match indeed.
Will the weather and muddy conditions at Heinz Field play a factor in this game?

JW
: Pittsburgh is accustomed to playing on this surface, so it will be more of an issue for Dallas. The forecast is expected to be in the high 20s with a 40 percent chance of snow, so that's an advantage for the Steelers, particularly defensively. I've heard so many players around the league complain about Heinz Field this time of year and I think it gets in the head of some teams. Yet I've never once heard a Steelers player complain about playing in the mud. I expect the running games to be very important Sunday. Barber's injury status is huge in this game.
MM: Wade Phillips had his team practice indoors with a DJ when it was 70 degrees outside Monday. He did make the Cowboys practice in "the elements" when temperatures were in the low 50s. He coached in the inclement weather in Buffalo, and he's indicated this week that too much is made of the awful conditions at Heinz Field. Phillips thinks the mud would slow down both defenses, but as James pointed out, the Steelers are used to playing in the Heinz soup. The Steelers put down a new surface, but the fact that high school and college teams play on the field makes for a dicey situation. Romo played in poor weather at Eastern Illinois and he spent a lot of winters in Wisconsin. I don't think the cold weather will faze him. I think Phillips is underestimating how cold it will be Sunday evening -- and it might come back to bite his team.

Which team has more at stake in terms of playoff implications?

MM: The Cowboys have much more at stake in this game, but it's certainly not a must-win situation. The Cowboys will host the Giants and Ravens in consecutive weeks after the Steelers game. If they lose to the Steelers, they can beat the Ravens and then finish on the road in Philadelphia against a team that will likely be out of the playoff picture. If the Cowboys beat the Steelers, it could serve as the impetus for a strong December and push toward the playoffs. The Cowboys have much more to gain here than the Steelers, but I wouldn't dare go out on a limb and pick them to win.

JW: Dallas is more in danger of not making the playoffs, so it's hard to argue that this game isn't more important for the Cowboys. But the Steelers also have a golden opportunity here. They have back-to-back road games against the Baltimore Ravens and Tennessee Titans, who have a combined record of 19-5, and there is no promise that the Steelers will win either of those contests. So it's very important for Pittsburgh to take care of business at home. A win Sunday combined with losses by New England and the Miami Dolphins and the Steelers are in. There's no point for them to leave anything to chance in the final weeks of the regular season.

Prediction and score?

JW: Dallas struggles in December and has looked ordinary on the road with a 3-3 mark. Meanwhile, Pittsburgh thrives this time of year and is 15-5 in December since 2004. So the Steelers will win this game 24-20. Unless Owens has a huge performance, the Cowboys won't score many points. Romo should face a lot of pressure Sunday, and a turnover or two is all Pittsburgh needs to win at home.

MM: I'm shocked that "Big Game" James has the two teams combining for 44 points. I think the Steelers will win, 17-10. The Cowboys have plenty of weapons on offense, but they haven't seen a defense like this. Even Arizona's front completely baffled the Cowboys for most of the game, and the Steelers are a lot better than that defense. But if Barber's able to bang away at the Steelers' defense, you never know what could happen. Again, keep your eye on Patrick Crayton in this one. He'll be the unsung hero for the Cowboys if they pull off the upset. And though Phillips hates that we keep bringing it up, the Steelers have an advantage in the mud.