January, 29, 2012
1/29/12
10:00
AM ET
The AFC North dominated the top of ESPN's Any Era team, which was unveiled last week. Ravens linebacker
Ray Lewis
topped the list and was followed by Steelers safety
Troy Polamalu
and Steelers quarterback
Ben Roethlisberger
.
Now, it's your turn. The AFC North blog wants to know which player tops your Any Era team. Here's what the Hall of Fame players are saying about the top three:
Jim Brown on Ray Lewis: "Ray Lewis embodies everything that a player should have and more because not only does he fulfill his role, but he helps everybody else on the team. He has a great heart, and his mental toughness is as good as it gets. You don't want to have a physical tough guy without him being mentally tough and having heart, which means he can hang in there and give up a certain part of himself that other people are afraid to give up."

Warren Moon on Troy Polamalu: "Troy Polamalu is a throwback player. Tough, hard-nosed, does whatever is asked, throws his body around. He throws it around so much that he gets hurt and knocks himself out with concussions. But when he gets hurt, they have to hide his helmet to keep him off the field. He will give you everything he's got. He is one of the nicest guys off the field and he turns into the Tasmanian Devil on it."

Dwight Stephenson on Ben Roethlisberger: "Love him or hate him, Big Ben is one of the toughest, gutsiest players in all of the NFL. Last year he breaks his nose and it is sitting under his left eye socket. The trainer bends it back straight, throws some tape on it, he plays a couple of plays with a mask on, doesn't like the mask, rips it off and goes back in and plays."
ESPN.com is also giving you a chance to
rank the top 20 players
on the Any Era team.
June, 21, 2011
6/21/11
1:25
PM ET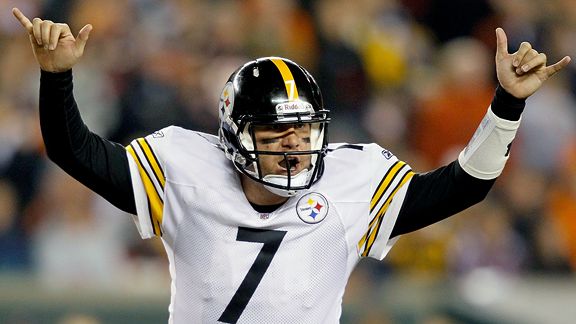 Matthew Stockman/Getty ImagesA third Super Bowl title would ensure Ben Roethlisberger's place in Canton.
In February
we explained
that three Super Bowls victories for starting quarterbacks leads to automatic enshrinement into the Hall of Fame.
The only quarterbacks in that class are
Joe Montana
, Terry Bradshaw,
Troy Aikman
and
Tom Brady
. Three are in Canton and one -- Brady -- will be a first-ballot Hall of Famer five years after he retires.
Ben Roethlisberger
of the
Pittsburgh Steelers
nearly joined that elite group but came up one scoring drive short in Super Bowl XLV, losing 31-25 to the
Green Bay Packers
. Now he's stuck at two rings.
So what does this mean for Roethlisberger's Hall of Fame chances? It means he still has some winning to do.
And "winning" is the key word for Roethlisberger, because that will be the biggest part of his NFL legacy. Despite playing quarterback, Roethlisberger will never be a numbers guy. He plays for a defensive-oriented team in Pittsburgh, which wants to be efficient on offense. Roethlisberger has thrown for 4,000 yards just once in seven seasons.
Roethlisberger's career numbers will not match other top quarterbacks of his era such as Brady,
Peyton Manning
and
Drew Brees
. Those three have thrown anywhere from 13,000 to 32,000 yards more than Roethlisberger, and it will be impossible for Roethlisberger to catch up.
Roethlisberger will have to take the Bradshaw and Aikman route to Canton. Neither had eye-popping numbers, but they were winners and extremely effective in big games.
Roethlisberger's 10-3 record in the
postseason speaks volumes
. His .769 winning percentage in the playoffs surpasses both Brady (.737) and Manning (.473). Roethlisberger also compares favorably with Hall of Fame inductees of the past 10 years in key areas such as passer rating (92.5), completion percentage (63.1) and yards per attempt (8.0).
Some thoughts on this chart:
Because of his unconventional, backyard style, Roethlisberger does not get nearly enough credit for his accuracy. But Roethlisberger is very efficient and currently has a better completion percentage than five of the six Hall of Famers we listed.

Roethlisberger also faces the stigma of being perceived as a "game manager," particularly early in his career. But his yards per attempt debunk that myth. Roethlisberger isn't afraid to take chances and throws one of the best deep balls in the NFL. His 8.0 yards per attempt is higher than Hall of Famers Dan Marino (7.3) and Warren Moon (7.2), for example, and both were renown gunslingers. Roethlisberger also averaged 8.2 yards per attempt or more in five of his seven seasons.

Longevity is key. Each Hall of Fame quarterback listed played at least 11 seasons in the NFL, and several played 16 or more seasons. Roethlisberger, who has seven years of experience, still has a long way to go.

Compared with current elite quarterbacks, Roethlisberger has a higher career passer rating (92.5) than Brees (91.7) but not Brady (95.2) or Manning (94.9).
Roethlisberger, 29, is in the prime of his career. Barring injury, there is nothing to suggest he cannot play at a high level for the next 3-5 years.
But these next several seasons will be crucial for Roethlisberger. If he retired today, Roethlisberger probably wouldn't get into the Hall of Fame, because he doesn't have the gaudy numbers or the longevity.
But with each deep run through the postseason, Roethlisberger gets one step closer to football immortality. If Roethlisberger is able to add a third championship along the way, his legend would be bronzed in Canton.
AFC NORTH SCOREBOARD
Sunday, 12/21
Monday, 12/22