AFC North:

Week 7 Injury Replacements
October, 21, 2013
10/21/13
8:45
PM ET
CINCINNATI -- They were trying to avoid saying it to reporters inside their open locker room Monday afternoon, but the
Cincinnati Bengals
all knew what the immediate future had in store for their recently hobbled teammate.
To them, it was a heart-breaking turn of events.
[+] Enlarge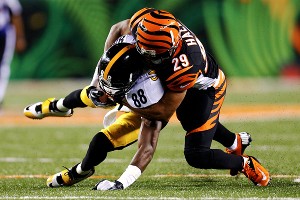 Kirk Irwin/Getty ImagesThe Bengals feel confident in their depth in the secondary despite the season-ending injury to star cornerback Leon Hall.
"I know me and T-New [
Terence Newman
] were looking at each other and we were like literally, tears were coming down our eyes," Bengals cornerback
Adam Jones
said, reflecting on the moment he saw an injured
Leon Hall
return to the Bengals' sideline in the first quarter of Sunday's game at Detroit.
That's part of the reason there was little surprise Monday evening when
sources told ESPN's Chris Mortensen
what everyone within the Bengals' inner chain had immediately known, but hoped to be proved wrong: that Hall, the team's veteran cornerback, was done for the year, being placed on injured reserve with an Achilles tear. A spot on the 53-man roster will now open up, bringing with it speculation and the gossipy rumor mill that is the NFL.
Sometime early Tuesday, we should know the Bengals' plans for replacing the injured star.
Coach Marvin Lewis was adamant during his news conference Monday afternoon that he didn't think the Bengals needed to go out and get a new cornerback. He felt content with the secondary players he already had.
"We don't have to look for anybody," Lewis said. "We have a couple of guys that have to step up and play now. They've been sitting here on scholarship for a bit, now it's time for them to go.
"We're not going to get anybody off the street that's going to outplay anyone here in the building."
Jones echoed those sentiments.
"This is a tough defense to pick up with all the calls you got to make and telling the [defensive] end this, and knowing you got this. It's a pretty complicated defense to pick up just right off the street," Jones said. "We've got all the tools that we need here instead of going and picking up somebody off the streets. These guys, they've been here for two years, they know the defense, they're hungry to play. It's our time for them to step up."
One off-the-street player who does know something about defensive coordinator Mike Zimmer's defense is
Shaun Prater
. He spent part of last season with the team before going on IR and eventually getting waived earlier this summer. The
Philadelphia Eagles
ended up picking him up off waivers, but they, too, released him.
That release came Monday.
In addition to Prater, 36-year-old
Antoine Winfield
is available and has reportedly been fielding interest in recent days from likely playoff-contending teams. The Ohio native signed with Seattle in the offseason, but was released during training camp. It appeared he was going to simply retire, but it seems that he may be entertaining thoughts of making a
Chris Crocker
-type of comeback.
Crocker, the 33-year-old veteran cornerback who was preparing for retirement this offseason, was brought back by the Bengals earlier this season as they tried to shore up depth at the position after Hall suffered a hamstring injury that kept him out two weeks. Crocker has appeared in every game since he arrived, and even had extended minutes Sunday in the wake of Hall's early departure with the Achilles injury.
"He's a piece of the puzzle," defensive backs coach Mark Carrier said about Crocker.
Perhaps the piece the Bengals are most optimistic about is second-year corner
Dre Kirkpatrick
. The former University of Alabama standout has played in a limited capacity this season as he's tried to overcome his own injuries, as well as his lacking NFL experience. Since his two pass interference penalties in the Bengals' preseason game at Dallas two months ago, Kirkpatrick has grown, Jones said. Even this past weekend, when Kirkpatrick entered the game to face arguably the league's best receiver, he held his own.
"Dre, he's there, really," Jones said. "He played good this week when he had to come in in the fire. The one catch Calvin [Johnson] caught, he had perfect coverage on him. He came in and played nickel real good for his first time coming in. As long as he's playing with confidence, he'll be all right."
Carrier has seen Kirkpatrick's practice efforts improve.
"It's amazing, and he'll be the first one to tell you that when he's healthy, he can go out there and play," Carrier said. "Everyone's time comes and he knew his time was coming soon."
Hall was one of the first players who sat down and talked to Kirkpatrick after the preseason performance that Kirkpatrick still says leaves a "sour, bitter feeling" in his mouth. Carrier said Hall told the young corner about his tough outings during the years when he first came into the league.
"He said you can learn from it and get better from it and I think Dre did," Carrier said.
In addition to Kirkpatrick -- who, like Crocker, could play slot receivers like he did some Sunday -- the Bengals also have depth with defensive backs
Taylor Mays
,
Brandon Ghee
and
Chris Lewis-Harris
. They are confident that if needed, any one of them could come in and provide even more talent and bodies at that position.
"It's hard to see Leon go down, but you know, the rest of the guys, we've got to step up and play," Jones said. "So we'll be all right, man."
October, 20, 2013
10/20/13
9:20
PM ET
DETROIT -- When
Cincinnati Bengals
cornerback
Terence Newman
made it back to the sideline after the Lions' first-quarter touchdown Sunday, he was given some of the hardest news he's heard all season.
"I lost it," Newman said.
He didn't say much about what exactly his losing it entailed. He didn't have to.
Newman had been told one of his teammates, a veteran player who he has come to know quite well and grow even fonder of, had just gone down with an injury whose severity is not yet immediately known. That player, seven-year vet
Leon Hall
, was dealing once again with
an Achilles injury
. For that reason, there was very little reason for Newman to try to hold it together.
"It's just tough," Newman said of Hall's injury following Cincinnati's
27-24 win
. "He's one of the best in the league, you know? So to have one of the best corners in the league go down? It's tough. Especially when he's your brother. We all spend a lot of time together.
"It just sucks."
That, it does.
Hall's injury leaves the Bengals wondering what's next? Where do they turn from here? Who will pick up the mantle and take over where Hall left off?
Right now, the easy answer is for Cincinnati to look at its bench. After all, that's what the Bengals were forced to do Sunday when they had three quarters to play and couldn't snap their fingers, miraculously summoning someone off the street to add to their depth. In fact, when it comes to depth, from a talent and numbers standpoint, cornerback actually is one of the team's deepest positions. It's so deep that coach Marvin Lewis is quick to point out that he has a team full of "defensive backs."
What Lewis means is that he has safeties and cornerbacks who are so versatile that they can play either position. Players like
Chris Crocker
and
Taylor Mays
have performed multiple duties in their opportunities this season, and probably will even more now that Hall is hurt for what could be a long period of time.
"You can't replace somebody like Leon," safety
Reggie Nelson
said. "But somebody has to step up. One of our young dudes has to step up. That's something that [defensive coordinator Mike Zimmer] and those guys are going to have to look at and see who can go to battle for us."
In the event the Bengals don't make any external moves, they won't have far to turn when attempting to set their 46-man active roster ahead of next week's showdown against the Jets. In addition to having Crocker, potentially Mays and
Adam Jones
and
Dre Kirkpatrick
at cornerback, the Bengals also have
Brandon Ghee
and
Chris Lewis-Harris
who can be moved around for added depth. While Crocker is most likely to take on Hall's slot coverage duties, Jones and Kirkpatrick have filled in at times this season, as well. Ghee and Lewis-Harris were among the inactives this week, but could have that status changed next week, if need be.
Hall's injury is his second of the season, coming two weeks after he returned from a hamstring injury that kept him out of two games. It's also his second potentially major ailment in three years. During November of the 2011 season, he tore his left Achilles and was lost for the remainder of the year. Sources told ESPN's Bob Holtzman that it is believed Hall ruptured his right Achilles this time.