March, 29, 2011
3/29/11
11:00
AM ET
When healthy,
Cleveland Browns
receiver and former Pro Bowl kick returner
Josh Cribbs
is one of the most dynamic players in the AFC North division.
But the league's recent ruling
to move kickoffs to the 35-yard line will increase touchbacks and take away Cribbs' biggest contribution to the team.
Now the Browns are forced to find ways to get Cribbs more involved next season. Here are three suggestions:
1. Short passes and screens in the West Coast offense
[+] Enlarge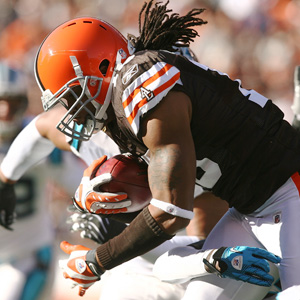 Matt Sullivan/Getty ImagesThe Browns' new staff needs to find more ways to incorporate Josh Cribbs into the offense.
Analysis:
One of the biggest criticisms of former head coach Eric Mangini and former offensive coordinator Brian Daboll was their lack of creativity in using Cribbs. Outside of the Wildcat formation, which we will get to later, Cleveland didn't find enough ways to put the ball in Cribbs' hands. Rookie head coach Pat Shurmur will install a West Coast offense in Cleveland this season, which should provide more chances for Cribbs. Shorter timing routes are a staple in the West Coast offense. Slants and screens are two ways to quickly get Cribbs the ball and provide opportunities for him to break tackles in the open field.
2. Smart, selective use of the Wildcat
Analysis:
The Browns had a nice find in 2009 with using Cribbs in the Wildcat. But Cleveland eventually made it too big a part of its offense and defenses became more accustomed to shutting it down. The formation can still be effective if used more selectively. Injuries hurt Cribbs last season, but he can be very effective moving the chains when healthy. If the play calling also improves, Cleveland likely will get better results with Cribbs in this formation in 2011.
3. More opportunities in the slot
Analysis:
Cleveland's receiving corps is not very deep or talented. That is why the Browns should give Cribbs more plays in the slot next season. Quick outs, bubble screens and reverses are just three easy options Cleveland would have with Cribbs from the slot. Each would allow him to make his yards running after the catch, which is his best asset. Cribbs is not a polished receiver. But Shurmur and his staff will have a chance to coach around his weaknesses and utilize his strengths.
November, 6, 2010
11/06/10
9:00
AM ET
Here are the most interesting stories Saturday in the AFC North: Morning take: Miami hasn't run much Wildcat this year, and it could be risky against Baltimore. It's hard to fool the veteran Ravens defense with misdirection.
Morning take: Belichick may have an agenda to get under Cleveland's skin a little to insist Browns president Mike Holmgren is running the show and not the coaching staff.
Morning take: Gresham is catching the ball well, but I'd like to see him challenge defenses vertically more often. It's up to Bengals offensive coordinator Bob Bratkowski to put Gresham in those positions.
Morning take: Reed said he's ready to get back on track. The Steelers likely will need clutch kicking from Reed in the second half of the season.
October, 15, 2010
10/15/10
4:00
PM ET
»
NFC Final Word
:
East
|
West
|
North
|
South
»
AFC
:
East
|
West
|
North
|
South
Five nuggets of knowledge about Week 6:
[+] Enlarge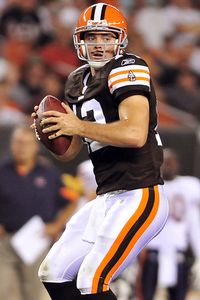 Jason Miller/US PresswireColt McCoy makes his rookie debut against a Steelers team that's ranked fourth in the league in total defense.
Rookie magic?
Cleveland Browns
rookie quarterback
Colt McCoy
will face a
stiff test
in his NFL debut Sunday against the
Pittsburgh Steelers
. The Steelers are fourth in total defense and very aggressive, forcing three turnovers per game. But rookie quarterbacks in McCoy's class have had success this year. For example,
Sam Bradford
of the
St. Louis Rams
already has two wins under his belt, and last week
Max Hall
of the
Arizona Cardinals
upset the defending Super Bowl champion
New Orleans Saints
in his NFL debut. McCoy will try to follow in those footsteps and pull off an upset against the Steelers, the No. 1 team in
ESPN.com's Power Rankings.
"I'm proud to say that Sam and I are close, I know Max a little bit," McCoy said this week. "It's awesome to see a rookie quarterback go out there and do good things because the NFL is tough. It doesn't matter who you are playing, everybody is good. We are playing the best of the best, the best there is, so you have got to understand that. Obviously to see those guys do it, that will give you a little bit of confidence going out there."
Cleveland's Wildcat:
The Browns will try to take the pressure off McCoy in his first start by mixing in the Wildcat offense with
Josh Cribbs
. Cleveland hasn't used the formation much this season, but it was very successful in the Browns' previous meeting against Pittsburgh last December. Cribbs led the Browns with 87 rushing yards on eight carries from the Wildcat formation to lead them to a 13-6 upset victory. The Steelers struggled against the formation and have to prove they can stop it. Whether it's on offense or in the return game, Cribbs has performed well against Pittsburgh.
Protecting Ben Roethlisberger:
The last time these two teams played, the Browns also threw the kitchen sink at Pittsburgh and recorded eight sacks. The Steelers were in a late-season funk and the offense was baffled by the Browns. This year offensive line play has been much improved. But blocking for Roethlisberger, who is coming off a four-game suspension, is much different from blocking for
Charlie Batch
. Roethlisberger holds the ball longer than most quarterbacks and improvises to make big plays. Sometimes that can lead to sacks. Pittsburgh's offensive line will have to hold its blocks a little longer with Roethlisberger under center.
Budding rivalry:
Although the two teams are in different divisions, there is a growing rivalry between the
New England Patriots
and
Baltimore Ravens
. This is the fourth time the two have played since 2007 and a 33-14 playoff romp by the Ravens over the Patriots last January certainly adds intensity and a revenge factor to Sunday's game. The teams are a combined 7-2 and firmly in the AFC playoff picture.
Ball control:
Will Baltimore be able to run the ball and control the line of scrimmage against the Patriots again? In last year's playoff win, the Ravens were too physical for New England and ran the football 52 times for 234 yards. The Patriots' defense had to hear all offseason how it was manhandled by Baltimore. Rest assured, the Ravens still believe they're the more physical team and will try to establish that Sunday. Baltimore, led by Pro Bowl tailback
Ray Rice
, rushed for 233 yards in last week's win over the
Denver Broncos
.
October, 13, 2010
10/13/10
7:00
PM ET
Here are the latest happenings Wednesday evening in the AFC North:
September, 25, 2010
9/25/10
9:00
AM ET
Here are the most interesting stories Saturday in the AFC North: Morning take: Cribbs had a big touchdown catch last week, but I was surprised how little Cleveland used its Wildcat package. Cribbs is the team's most dynamic player and putting the ball in his hands is always a good idea.
Morning take: I'm looking forward to seeing what "Mt. Cody" has to offer. He was impressive in the preseason and should be another nice addition to an already stout Ravens defense.
Morning take: That may be a stretch (Cedric Benson). But Scott does bring some big-play ability that could help the Bengals' offense.
Morning take: Brown's big kickoff return was Pittsburgh's only touchdown in last week's win over the Tennessee Titans. He's another example of a player doing a little extra to help the Steelers win without Ben Roethlisberger.
August, 25, 2010
8/25/10
1:00
PM ET
A team-by-team look at the most indispensable players (non-quarterbacks) in the division.
The NFL, perhaps more than any professional sport, is a league filled with replaceable players. By sheer numbers, fielding 22 players on offense and defense makes it difficult for a single cog to be above the team, especially for non-quarterbacks.
But there are several players vital to AFC North teams. Here are four difference-makers in the division: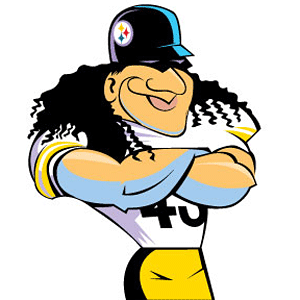 Chris Morris for ESPN.comTroy Polamalu helps take the Pittsburgh defense to another level when he's on the field.
PITTSBURGH STEELERS: TROY POLAMALU
To define Polamalu's importance, look no further than last season. Pittsburgh missed the playoffs in 2009, mostly because its defense was unable to hold leads in the fourth quarter without its star safety in the lineup.
Polamalu missed 11 games with a left knee injury, and it appeared the other 10 defenders were overcompensating for Polamalu's absence by blowing routine assignments. Polamalu provides a calming influence, and his greatness can be measured by his teammates playing at a higher level when he's in the game.
Steelers defensive coordinator and 2010 Hall of Famer Dick LeBeau recently said he
cannot find a weakness
with Polamalu. He's athletic, smart, instinctive and excels against the pass and the run.
Pittsburgh's defense without Polamalu is good (No. 5 in 2009), but with Polamalu, it might be the best in the NFL.
CLEVELAND BROWNS: JOSH CRIBBS
Where would the Browns be without Cribbs?
For starters, you probably can erase two or three wins from last year's 5-11 record. Cribbs also might have saved Browns head coach Eric Mangini's job.
Cribbs was one of the few bright spots for Cleveland last season. He made the Pro Bowl as a kick returner, but his ability to run the Wildcat also added a new wrinkle to the Browns' struggling offense, which finished last in the NFL in 2009.
The Browns plan to expand Cribbs' role, both in the Wildcat and as a receiver. The more the team is able to get the ball in his hands, the better.
Despite Cleveland adding pieces in the draft and free agency, Cribbs remains the Browns' most-feared player. He's also a locker-room leader and, perhaps, the new face of Cleveland sports now that LeBron James signed with the Miami Heat.
BALTIMORE RAVENS: RAY LEWIS
Lewis, 35, is no longer the Ravens' best player. That distinction could be shared by
Ray Rice
,
Ed Reed
and
Haloti Ngata
. But Lewis' leadership still makes him Baltimore's most indispensable player.
Lewis remains the heart and soul of a team many feel is a Super Bowl contender this year. Physically, the Ravens are stacked with talent at nearly every position. But there's no one in the locker room who can replace Lewis' role as the motivational leader.
On the field, Lewis made his 11th Pro Bowl last season, recording 134 tackles and three sacks. Backups
Dannell Ellerbe
or
Tavares Gooden
would be significant drop-offs if Lewis were injured. On the other hand, the Ravens have plenty of quality replacements ready for Rice, Reed and Ngata. Even
Joe Flacco
has a capable backup in veteran quarterback
Marc Bulger
.
CINCINNATI BENGALS: CEDRIC BENSON
Cincinnati is a team better defined by the sum of its parts. But if I had to pick the most important non-quarterback, it would be Benson.
The Bengals have two very good cornerbacks:
Leon Hall
and
Johnathan Joseph
. They have plenty of receivers, including two who have put up Hall of Fame-caliber numbers in
Chad Ochocinco
and
Terrell Owens
. But Benson is the workhorse who makes it all work. Benson opens things up for the passing game, which was inconsistent last season, and he moves the chains to help keep the defense off the field.
Second-year tailback
Bernard Scott
will help Benson carry the load this year. He showed positive flashes as a rookie, but the former sixth-round pick remains unproven. With Cincinnati expected to pass more, Benson might not match his career-best 1,251 rushing yards from last season. But that doesn't make him any less important.
August, 11, 2010
8/11/10
1:00
PM ET
ESPN.com NFL Power Ranking
(pre-camp): 28
BEREA, Ohio -- With three teams in the division coming off winning seasons, the
Cleveland Browns
have a long way to go to climb out of the AFC North basement
That's why Cleveland's ownership put together the high-profile pairing of president Mike Holmgren and general manager Tom Heckert. The new front office has reshaped the roster through the draft and free agency in hopes of starting to close the gap with its rivals and improving on last year's 5-11 record.
With so many new faces, Cleveland remains a team in transition. The Browns must come together quickly in training camp to be competitive in 2010.
THREE HOT ISSUES
[+] Enlarge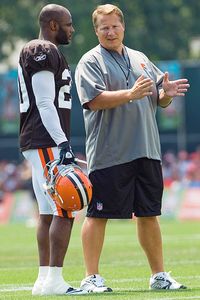 Jason Miller/US PresswireThe heat is on Eric Mangini heading into his second season in Cleveland.
1. Will Eric Mangini win in Year 2?
This is a critical year for Mangini, who begins the season on the hot seat. Holmgren, a longtime head coach, knows that it takes more than one season to implement a program and was fair in giving Mangini a second year. A four-game winning streak to end last season also helped.
But Mangini must keep that momentum going in what should be a very competitive year in the AFC North. He doesn't have the same level of talent to work with as other coaches in the division. But Mangini is optimistic about 2010.
"I feel really good about the progress we've made, the strides we've made," Mangini said. "The second year is different. Guys understand expectations. There are so many things that you don't have to cover because they get it and they become teachers to people who are new, and that helps a lot."
2. Is quarterback Jake Delhomme the answer?
Despite his pedigree, the Delhomme signing has not instilled much confidence with Browns fans.
Delhomme is coming off the worst year of his career (eight TD passes, 18 interceptions) and was benched and eventually released by the
Carolina Panthers
.
But if Delhomme isn't the answer, the team will turn to backup
Seneca Wallace
, who is a longtime Holmgren protégé. Rookie third-round draft pick
Colt McCoy
is regarded as the quarterback of the future but isn't expected to start this season.
[+] Enlarge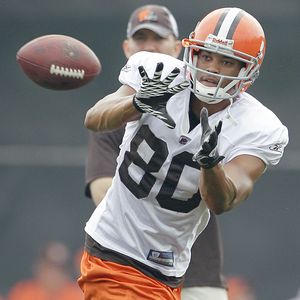 AP Photo/Amy SancettaThe Browns are counting on players like Brian Robiskie to step up and contribute.
3. Will young players step up?
When you have a rebuilding team, young players must step forward. Cleveland has a lot of first- and second-year players who are unproven but expected to be major contributors.
Players such as second-year receivers
Brian Robiskie
and
Mohamed Massaquoi
and rookies
Joe Haden
,
T.J. Ward
, a free safety, and
Montario Hardesty
, a running back, are expected to fill major roles. These players will learn on the job as Cleveland's coaching staff tries to minimize their mistakes.
Haden, a cornerback, will have the biggest spotlight because he was taken No. 7 overall this year and is the first draft pick of the Holmgren and Heckert era. Haden struggled some in minicamp but is starting to look more comfortable. He still must get to the point where he's thinking less and relying more on his football instincts. So far, Haden has been a step late on too many plays.
"It's getting better and better every day," Haden said. "[Tuesday's] practice was better than [Monday's] practice. … now I feel like I'm about at 90 percent of knowing of exactly what's going on, so when I get that next 10, it's going to be full go."
BIGGEST SURPRISE
With so much attention put on Delhomme this season, I thought the best quarterback in camp this week was Wallace. He made some very nice throws, particularly on the run, while leading the second-team offense.
But unless Wallace lights it up in the preseason, do not expect another quarterback controversy in Cleveland. The Browns are paying Delhomme $7 million this season to be the starter.
Despite being a backup, Wallace will play in another capacity as the team's Wildcat quarterback, which we will get to later.
BIGGEST DISAPPOINTMENT
This was supposed to be a breakthrough camp for Hardesty. Instead, his first training camp never got off the ground because of a knee injury.
Hardesty was competing with incumbent
Jerome Harrison
for the starting tailback job, and after a solid spring, many considered him the early favorite. But the second-round pick has missed every full-squad practice of training camp thus far and has fallen behind.
According to Mangini, Hardesty may not return until sometime next week at the earliest.
OBSERVATION DECK
[+] Enlarge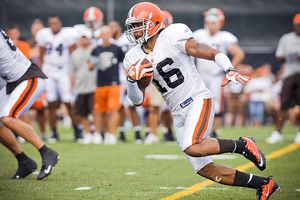 Jason Miller/US PresswireJosh Cribbs should be more involved in the offense as a part of Cleveland's Wildcat package.
Something that jumps out right away is Cleveland's lack of team speed. The Browns look slow and not as athletic as the other two teams I watched in training camp (Pittsburgh Steelers, Cincinnati Bengals). That could be a problem. Cleveland has plenty of thumpers, so size isn't an issue. But the Browns appear more built to win a 13-7 game in inclement weather in December than a 35-30 shootout in September.

The "Flash and Cyclone" package has been successful in training camp. Josh Cribbs and Wallace are arguably the most versatile players on the team and appear to be developing solid chemistry in Cleveland's version of the Wildcat. Both players are elusive and dangerous with the football.

I'm still not sold on Cleveland's receiving corps. Massaquoi has made some plays, but certainly not enough to be a dominant No. 1 receiver. The same goes for Robiskie, who is a projected starter. The Browns are throwing to the tight ends and running backs a lot in this camp, and a reason may be the lack of depth at receiver.

Ward is having a solid training camp. He continues to show up around the football, which is what you want from a starting safety. The rookie second-round pick still makes mistakes in pass coverage, but Ward usually shows good effort and practices hard. He is known as a big hitter.

Keep an eye on running back Peyton Hillis. He was the forgotten player in the Brady Quinn trade this offseason with the Denver Broncos. But Hillis is showing good toughness running between the tackles. He runs solid routes and has soft hands as a receiver out of the backfield. Hillis could be an underrated acquisition who works out well for Cleveland.

Another sleeper on this team could be second-year tight end Evan Moore. Although his run blocking needs work, Moore is probably the best receiving tight end on the roster. With starting tight end Ben Watson and Robert Royal able to do the dirty work, Moore could be a nice change of pace to give the tight-end position some big-play ability.

A weakness in Cleveland's defense could be its outside linebackers dropping in pass coverage. Matt Roth and Marcus Benard, in particular, do not look comfortable shadowing running backs. Hillis and Harrison beat Cleveland's outside linebackers repeatedly on passing routes in camp this week.

It's been difficult to get a firm read on McCoy. He has played a majority of camp with the third-team offense, which consists of many players who will not make the team. Inconsistent in camp, McCoy looks like a typical rookie quarterback. Preseason games probably will be a better gauge of where the third-round pick stands.
February, 15, 2010
2/15/10
4:00
PM ET
As the
Cincinnati Bengals
begin to get new receiver
Matt Jones
acclimated to their offense, it's possible that Jones also can add his own dimension to the team.

Jones
How about trying Jones in the Wildcat?
Jones was drafted in the first round by the
Jacksonville Jaguars
in 2005 as a converted college quarterback from the University of Arkansas. He's a good athlete, although rust could be an issue after missing all of last season.
Can Jones still handle the football like a quarterback? Can he still throw downfield?
These are all questions Cincinnati's coaching staff will have to find out in the coming months.
But this much we know: The Bengals could use some added wrinkles offensively.
Cincinnati ran the football very well last season but became predictable and stale down the stretch, as the team lost four of its final five games. A potential Wildcat package involving Jones -- even if used in moderation -- could provide the Bengals' offense an interesting change of pace.
December, 5, 2009
12/05/09
10:00
AM ET
Here are the most interesting stories in the AFC North:
Morning take: Arians essentially is repeating similar statements he made in training camp. NFL coaches often are strict in their philosophies, and the Wildcat just isn't something Arians believes in.
Morning take: It's no secret that winning with the Bengals is not easy. I've said all along that Lewis should be graded on a curve. At 8-3 he's done a tremendous job this year.
Morning take: Before the season I would have said no chance. Now, with the team struggling at 1-10, I don't think you can rule it out. Either way it should be an interesting offseason in Cleveland.
Morning take: Baltimore has to clean up its penalties and pressure the quarterback. But if the Ravens can do those things, they have a good shot.
November, 27, 2009
11/27/09
4:00
PM ET
»
NFC Final Word
:
East
|
West
|
North
|
South
»
AFC
:
East
|
West
|
North
|
South
Five nuggets of knowledge about Week 12:
[+] Enlarge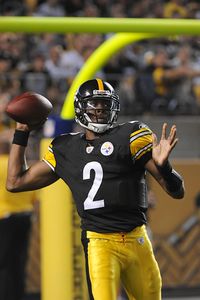 George Gojkovich/Getty ImagesDennis Dixon will be making his first career start for the Steelers.
Replacing Big Ben:
Pittsburgh Steelers
second-year quarterback
Dennis Dixon
will make his first career start Sunday night against the
Baltimore Ravens
. Dixon has thrown just one career pass in two years, but was thrown into action after
Ben Roethlisberger
(concussion) was pulled from the starting lineup Saturday morning. This puts a lot of emphasis on the running game and tailback
Rashard Mendenhall
. The Ravens have only allowed four touchdowns in the past three games and are playing some of their best defense of the season.
Covering kickoffs:
The Steelers finally made moves to boost their fledgling kickoff coverage by signing cornerback
Corey Ivy
and linebacker
Rocky Boiman
. Both players could make an impact Sunday on a unit that's allowed four returns for a touchdown this season and two in the past two weeks. Both players are veterans and have a wealth of special teams' experience. Pittsburgh head coach Mike Tomlin also added he will not be afraid to use more starters on his kickoff team as well.
Where is the Suggs package?
In the midst of Baltimore's recent struggles in the red zone, perhaps the biggest offensive mystery is the disappearance of the "Suggs package." Baltimore's variation of the Wildcat offense, led by backup
Troy Smith
, worked very well last year as a changeup to its power running game. It was also used as a form of protection for then-rookie quarterback
Joe Flacco
. But since Flacco's development in Year 2, the Ravens have virtually moved away from the innovative package and stuck to their conventional offense. Now that Baltimore is struggling to score touchdowns, it may be time for the team to dig back into its bag of tricks.
Quinn tries to do it again:
Was last week's performance for
Cleveland Browns
quarterback
Brady Quinn
the start of something special or merely a farce? We will find out this week when Quinn and the Browns take on the first-place
Cincinnati Bengals
. Quinn had a career-best performance in a loss to the
Detroit Lions
, throwing for 304 yards and four touchdowns. He did a lot of nice things, but it came against a Lions defense that has allowed more than 29 points per game. Cincinnati's defense is a much stiffer test.
Bengals need to make statement:
With their long history of losing, it was evident after last week's 20-17 loss to the lowly
Oakland Raiders
that the Bengals (7-3) are still learning how to be winners. This is the best team Cincinnati has had in a while. Yet, the Bengals are not good enough to completely sleepwalk against an inferior opponent and still pull out a win on the road. Cincinnati needs to make a statement against Cleveland, another inferior opponent, that it will no longer play down to its competition in order to be taken seriously as a title contender. The Browns, who lost in overtime, almost upset the Bengals earlier this season in Cleveland.
November, 4, 2009
11/04/09
1:00
PM ET
»
NFC
:
D. Jackson
(PHI) |
S. Jackson
(STL) |
P. Harvin
(MIN) |
D. Williams
(CAR)
»
AFC
:
R. Brown
(MIA) |
D. Sproles
(SD) |
J. Cribbs
(CLE) |
C. Johnson
(TEN)
Posted by ESPN.com's James Walker
A look at the players opposing teams hate to see with the ball in their hands in the open field.
Despite a 1-7 start, the most dangerous open-field player in the AFC North remains
Cleveland Browns
return specialist
Joshua Cribbs
.
| | |
| --- | --- |
| | |
| | Tom Cammett/Diamond Images/Getty Images |
| | Joshua Cribbs' stiff-arm has become one of his signature moves. |
Cribbs is tied with
Percy Harvin
of the
Minnesota Vikings
for the NFL lead in kickoff return yards with 860, which includes a 98-yard return for a touchdown. Cribbs also has 295 yards and a touchdown on punt returns this year, in addition to his many duties on coverage teams, receiver and part-time quarterback in Cleveland's Wildcat package.
The Browns cannot get the ball in Cribbs' hands enough, because he is the most dynamic and versatile player the team has. As an undrafted player out of Kent State, Cribbs has a mixture of fearlessness and old-school toughness that is hard to find.
There are several qualities that make Cribbs very dangerous in the open field. He has great vision for a kick returner, and he's big enough to break through arm tackles and fast enough to pull away from defenders. Cribbs also has a unique ability to remain at top speed while stiff-arming would-be tacklers. Many of his biggest returns have come as a result of this move.
Other players who just missed the cut in the AFC North include Steelers receiver
Santonio Holmes
, who was last season's Super Bowl MVP after catching the game-winning touchdown against the
Arizona Cardinals
. Holmes led the NFL in yards per catch two years ago among players with 25 receptions or more. He continues to make big plays but needs to work on his consistency.
Baltimore Ravens
tailback
Ray Rice
also was in consideration. The second-year tailback is among the league leaders in all-purpose yards and is a star in the making.
January, 1, 2009
1/01/09
12:00
PM ET
Posted by ESPN.com's James Walker
The Miami Dolphins' new offensive formation was all the rage in the NFL.
That is, until the Wildcat was stopped by the Baltimore Ravens.
Baltimore is one of the few teams that shut down Miami's innovative Wildcat offense this season. According to ESPN stat analyst Doug Kern, the Dolphins were 11-3 in games they used the formation.
One of those three losses was in Week 7 during a 27-13 defeat to Baltimore. Miami tried the Wildcat five times for a total of four yards, or 0.8 yards per attempt. The Dolphins continued to add more wrinkles to the formation during the season, so the Ravens will have more options to defend in this weekend's wild-card game.
Dolphins Wildcat offense
Opponent
Uses
Yards
Average
TD
W-L
New England
6
119
19.8
4
Win
San Diego
11
49
4.5
1
Win
Houston
8
84
10.5
1
Loss
Baltimore
5
4
0.8
0
Loss
Buffalo
7
34
4.9
0
Win
Denver
4
-5
-1.3
0
Win
Seattle
7
82
11.7
2
Win
Oakland
10
52
5.2
0
Win
New England
8
25
3.1
0
Loss
St. Louis
3
3
1.0
0
Win
Buffalo
6
5
0.8
0
Win
San Francisco
1
16
16.0
0
Win
Kansas City
4
57
14.3
0
Win
New York Jets
10
55
5.5
0
Win
Total
90
580
6.4
8
11-3
October, 19, 2008
10/19/08
4:15
PM ET


Posted by ESPN.com's James Walker
Apparently, a Raven can tame a Wildcat.
In an interesting battle of two teams fighting to get back to .500, the Baltimore Ravens rode their top-ranked defense to accomplish that feat in a 27-13 road win over the Miami Dolphins.
Opponents had struggled this season stopping Miami's dual-threat "Wildcat" rushing attack of Ronnie Brown and Ricky Williams. But the Ravens (3-3) held both tailbacks to 43 combined yards on the ground and extended their streak to 25 straight games without a 100-yard rusher.
Baltimore broke a three-game losing streak to claim its spot for second place in the AFC North. The Ravens have three of the next four games on the road, but they begin that stretch with a home date against the Oakland Raiders Oct. 26.