May, 9, 2014
May 9
6:25
PM ET
PITTSBURGH --
Ryan Shazier
posed with a No. 50 Steelers jersey presented to him by team president Art Rooney II Friday afternoon.
There was a potential problem and it had nothing to do with the shirt per se that Shazier and Rooney held up as photographers snapped pictures in the Steelers' media room.
The No. 50, however, previously belonged to former Steelers linebacker
Larry Foote
.
[+] Enlarge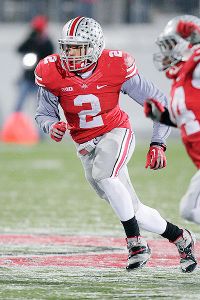 AP Photo/Jay LaPreteRyan Shazier started at Ohio State as a true freshman. Will he impress the Steelers enough this summer to start as a rookie?
Foote played his college ball at Michigan and Shazier is an Ohio State product.
The question, asked in a light vein, of whether he was OK taking a number that had been worn by a Michigan man left Shazier a tad flustered.
But what emerged from his latest stop in what has been a whirlwind since the Steelers made him the 15
th
overall pick of the draft is that Shazier has long been comfortable in whatever he is wearing.
That is especially true of his own skin.
Shazier overcame childhood taunts while growing up in South Florida, and he continues to have the last laugh over those who teased him when Alopecia, a condition in which the immune system attacks hair follicles, robbed him of his hair.
"I was probably the only little kid walking around with a bald head," Shazier said. "It was tough because kids are mean. I just embraced it. I feel like if you didn't like me for who I am, it's a problem with you. I feel like it's my signature now. I love having Alopecia. Having a bald head actually saves me a lot of money."
Shazier will cost the Steelers a few bucks, especially if he comes anywhere close to living up the effusive praise that general manager Kevin Colbert and coach Mike Tomlin lavished on him Thursday night.
Reaction to the Steelers picking Shazier has been mixed at best, and it has little to do with the player who piled up 143 tackles, including 22 ½ for losses, and six sacks in 2013 and is only 21 years old.
Many fans wanted the Steelers to take a cornerback or wide receiver in the first round. When they went in a different direction some wondered why the Steelers didn't try to trade down in the first round and still get Shazier.
There actually is a very good reason why the Steelers stayed where they were: the Cowboys were ready to pick Shazier if he made it past the Steelers.
Cowboys owner Jerry Jones said Shazier, UCLA outside linebacker
Anthony Barr
, Pitt defensive tackle
Aaron Donald
and Notre Dame offensive tackle
Zack Martin
had been targeted by Dallas for its first-round pick.
The Cowboys would have picked between Shazier and Martin but the Steelers did not provide them with that option, and they drafted Martin.
"My dad said that people were hinting to him that the Cowboys were going to draft me with the next pick," Shazier said. "I'm happy that the Steelers drafted me. I can't wait to go to Heinz Field and go out there and play in a Steelers jersey."
The real work for Shazier starts next week when the Steelers hold rookie minicamp.
It will be the first look the Steelers get at Shazier and the rest of the first-year players on the field. And Shazier will be among those who feel utterly lost at times because the 6-foot-1, 237-pounder is learning a new and complex system.
But if Shazier, who played as a true freshman at Ohio State, makes steady progress during offseason practices he will go to training camp with a good chance of winning a starting job.
Such progress will start after his feet touch down and are back firmly planted on the ground.
"It's just amazing to be in a great city like this with the greatest franchise," Shazier said of getting drafted by the Steelers. "The plan is to come here and get a seventh [Super Bowl] trophy."
May, 9, 2014
May 9
10:55
AM ET
The
Dallas Cowboys
selected Notre Dame offensive lineman
Zack Martin
with the No. 16 overall pick, much to the chagrin of
Baltimore Ravens
fans wanting to fill a need on the right side of the line. The only reason why the Cowboys were one spot ahead of the Ravens was because of
a coin flip
at the NFL combine.
Mosley
Did the Ravens lose out on a starting right tackle because of a random twist of fate? Not so, according to the Ravens.
A Ravens official confirmed that the team had Alabama linebacker
C.J. Mosley
rated higher than Martin. So, based on the Ravens' draft board, they still would've taken Mosley over Martin if both were available No. 17. Assistant general manager Eric DeCosta said as much Thursday night, when he indicated Mosley would've been their best player available if they were picking at No. 10.
The Ravens were high on Martin, and they were surprised that he lasted that long in the first round. But the Ravens don't see offensive tackle as pressing of a need as others. There is no panic if they have to start
Rick Wagner
, a fifth-round pick from a year ago, at right tackle.
Their confidence in Wagner doesn't preclude the Ravens from finding a starter on the offensive line in the second or third round. There are some solid prospects who could fall to the Ravens at No. 48 overall: UCLA guard
Xavier Su'a-Filo
, Nevada guard-tackle
Joel Bitonio
, Alabama tackle
Cyrus Kouandjio
and Stanford guard
David Yankey
. If the Ravens take a guard,
Kelechi Osemele
would move from left guard to right tackle.
You can be upset that the Ravens are still looking to upgrade the offensive line heading into the second day of the draft. You just can't be upset at the Cowboys for taking a right tackle away from the Ravens.
May, 7, 2014
May 7
7:00
PM ET
PITTSBURGH -- Given a chance to lobby for a tall wide receiver,
Pittsburgh Steelers
quarterback
Ben Roethlisberger
took a pass.
Roethlisberger
"Anything to help this team," Roethlisberger said on 93.7 The Fan when asked who he thinks the Steelers should draft in the first round. "That's the mindset we all need to be in because 8-8 is not good enough and we need to get back to the playoffs and the Super Bowl. Whatever the higher powers decide can help this team that's what I'm going for."
General manager Kevin Colbert has said the Steelers plan to maximize Roethlisberger's remaining years with the team --
Big Ben said earlier this week
that he feels like he can play five to seven more seasons -- by surrounding him with talent.
One former Steelers great said the best way to do that is to bolster the unit that protects the Steelers' franchise quarterback.
"I think in order for Ben to be successful we have to solidify the offensive line," said Pro Football Hall of Famer
Dermontti Dawson
. "We have to get a big-threat receiver and we have to get a running game back."
The Steelers won't take a running back until the third day of the draft since
Le'Veon Bell
and
LeGarrette Blount
are poised to get the bulk of the carries in 2014. They could take a wide receiver in the first round, though the position is so deep I think the Steelers wait a little later in the draft before addressing it.
Would the Steelers take an offensive tackle with their first-round pick?
The top three tackles in the class -- Auburn's
Greg Robinson
, Texas A&M's
Jake Matthews
and Michigan's
Taylor Lewan
-- are unlikely to slip to No. 15 in the draft. But Notre Dame's
Zack Martin
could be available there, and he may be one of the safer picks in the draft as teams love his temperament and versatility.
ESPN analyst Todd McShay ranks Martin as the ninth-best player in the draft. He also has five tackles among his 16 highest-rated players in the draft (Virginia's
Morgan Moses
is the other one).
It's hard to see the Steelers using the first-round pick on a tackle given how many other needs they have.
But players they weren't expecting to be available in past drafts have slipped to them so nothing can be ruled out here.
May, 6, 2014
May 6
12:45
PM ET
All of ESPN.com's NFL Nation reporters with teams selecting in the first round of the 2014 NFL draft will do their best general manager impersonations in Tuesday's live mock draft. It starts at 1 p.m. and you can follow it by clicking
right here
.

Right now, I want to get your feedback on who the
Baltimore Ravens
should take at No. 17. I'm going under the assumption that Michigan offensive tackle
Taylor Lewan
and North Carolina tight end
Eric Ebron
are going to be drafted before the Ravens are on the clock.
Here are some candidates for the Ravens:
If you don't think any of these candidates will be the newest Raven, you can vote "someone else" in our poll. Also, send me your thoughts on who the Ravens will draft to
my mailbag
. Your comment could be used in a blog Thursday.
April, 29, 2014
Apr 29
3:30
PM ET
The fifth mock drafts are out for ESPN draft experts
Mel Kiper Jr.

and
Todd McShay

, and their first-round picks for the
Baltimore Ravens
have a familiar ring.

Kiper has the Ravens taking North Carolina's
Eric Ebron
, the consensus best tight end in the draft. The Ravens would be thrilled to land a playmaker like Ebron at No. 17. Ebron was Kiper's pick for the Ravens in his first two mock drafts.
McShay stuck with the offensive theme as well, sending Notre Dame offensive lineman
Zack Martin
to the Ravens. This is the second straight mock draft where McShay has linked the Ravens to Martin. The Ravens are looking to upgrade at right tackle, and Martin is considered the fourth-best tackle in this draft.
History of Kiper's picks for Ravens
Mock 1.0: Eric Ebron, TE, North Carolina
Mock 2.0: Eric Ebron, TE, North Carolina
Mock 3.0:
Brandin Cooks
, WR, Oregon State
Mock 4.0:
Calvin Pryor
, S, Louisville
History of McShay's picks for Ravens
Mock 1.0:
Mike Evans
, WR, Texas A&M
Mock 2.0: Eric Ebron, TE, North Carolina
Mock 3.0:
C.J. Mosley
, LB, Alabama
Mock 4.0: Zack Martin, OL, Notre Dame
Mock 5.0: Zack Martin, OL, Notre Dame
April, 10, 2014
Apr 10
12:15
PM ET
The
Baltimore Ravens
have the No. 17 overall pick in the 2014 NFL draft after finishing 8-8 in 2013. Their top needs are offensive line and free safety.
Todd McShay's
fourth 2014 NFL mock draft

is out on ESPN Insider on Thursday, and his choice for the Ravens is a popular one. If you're an Insider, you have access to McShay's top two picks for the Ravens.
April, 3, 2014
Apr 3
3:00
PM ET
The
Baltimore Ravens
' two biggest needs are offensive tackle and free safety. So, what happens if Notre Dame offensive tackle
Zack Martin
and Louisville safety
Calvin Pryor
are both sitting there when the Ravens pick at No. 17?
ESPN draft analyst Mel Kiper Jr. said Martin gets "the slight nod" at No. 17. Kiper has Martin rated as his 20th-best player in the draft and ranks Pryor two spots behind him.
What really stands out for Kiper is Martin's versatility.
"He can play left tackle if [Eugene] Monroe got hurt," Kiper said. "You can immediately pencil him in as a starter at right tackle. He can play guard, too."
Martin solidified himself as a mid-first-round talent with his consistency at Notre Dame and a strong showing at the Senior Bowl. Pryor, however, hurt his stock after the season.
"Pryor didn't test that well but he played very, very well at Louisville," Kiper said. "He was one of [coach] Charlie Strong's favorite players. On performance, he'd be a top-15 pick. His workouts weren't impressive as a first-rounder. But you put it all together, he'll probably be a late one."
The Ravens may face this same scenario when the first round takes place May 8.
April, 3, 2014
Apr 3
12:15
PM ET
The
Baltimore Ravens
have the 17th overall pick in the 2014 NFL draft after finishing 8-8 last season. Their biggest needs are offensive tackle, free safety, running back, tight end and cornerback.
Mel Kiper Jr.'s
latest mock draft

is out on ESPN Insider on Thursday, and his first-round choice for the Ravens makes a lot of sense.
To continue reading this article you must be an Insider
January, 6, 2014
Jan 6
1:00
PM ET
The most-asked question I have received since the
Baltimore Ravens
' season ended is: Who are the Ravens drafting in May?
Kevin Weidl, one of the draft experts at ESPN.com, has a few names for you. His breakdown of all of the draft needs for AFC North teams is
an Insider post
,

which means you'll need a subscription to read the entire piece.
But here are some potential draft targets mentioned by Weidl (along with comment from me):
OFFENSIVE LINEMEN
OT
Taylor Lewan
, Michigan: He isn't at the same level of former Michigan tackle
Jake Long
, but his size, athleticism and mentality makes him a first-round pick.
OT
Zack Martin
, Notre Dame: He possesses great strength but his lack of ideal length could make him better suited for guard.
OT
Morgan Moses
, Virginia: He's a superb pass-protector who allowed two sacks in 506 pass attempts.
G
David Yankey
, Stanford: His athleticism and footwork allows him to pull and open up holes in the running game.
TIGHT ENDS
Eric
Ebron
, North Carolina: He led all ACC tight ends in catches and built a reputation for making impressive catches on the outside and down the seam.
Jace
Amaro
, Texas Tech: The 6-foot-5, 260-pound target set the FBS record with 1,352 receiving yards, the most ever for a tight end.
Austin
Seferian-Jenkins
, Washington: A former college basketball player, he won the John Mackey Award as the nation's top tight end this season.
C.J. Fiedorowicz
, Iowa: A solid three-year starter who has reliable hands and is a fine route-runner.
WIDE RECEIVERS
Mike
Evans
, Texas A&M: A mismatch nightmare at 6-5, 225 pounds, he posted personal highs in receiving yards (1,394) and receiving touchdowns (12).
Kelvin
Benjamin
, Florida State: Raw and athletic, he caught everyone's attention by heading into the BCS National Championship Game with nine touchdowns in his past five games.
Jordan
Matthews
, Vanderbilt: Other than his strength and ability, what stands out is he became the SEC all-time leading receiver without consistent quarterbacking in his career.
Brandin
Cooks
, Oregon State: A smaller playmaker (5-10), he broke Pac-12 records with 128 receptions for 1,730 yards this season.
Jarvis
Landry
, LSU: He recorded 15 touchdown catches and had six games with at least 100 yards receiving over the last two seasons.