March, 7, 2014
Mar 7
11:00
AM ET
»
AFC Free-Agency Primer
:
East
|
West
|
North
|
South
»
NFC
:
East
|
West
|
North
|
South
Key free agents:
DE
Michael Johnson
, OT
Anthony Collins
, S
Taylor Mays
, S
Chris Crocker
, WR/KR/PR
Brandon Tate
, OG
Mike Pollak

Where they stand:
Last week the NFL's franchise/transition tag deadline came and went without the Bengals using either designation for the first time in three years. Johnson, who held the team's franchise tag in 2013, enters free agency with the ability to go anywhere he picks up a quality offer. The Bengals are hoping to extend a strong-enough offer to him, but teams like the Vikings and Falcons could enter the stakes and raise his price tag even higher. Cincinnati is also currently at a standstill with Collins, another big-name free agent who could soon call another city home.
Earlier this week, the Bengals tendered restricted free agents
Andrew Hawkins
,
Vincent Rey
and
Dane Sanzenbacher
. Since they weren't drafted, the Bengals won't be receiving any draft-pick compensation in the event they don't match other offers that those three will receive.
What to expect:
Some teams are always heavy players in free agency. That's not really the case for the Bengals. They'll do what they can to re-sign the 14 free agents they currently have, but outside of that, don't expect much wheeling, dealing and spending. Johnson and Collins will receive the bulk of the Bengals' attention early in the free-agency period, with other players being handed offers in the background. Mays, Tate and Pollak in particular are unrestricted free agents whose fates remain somewhat uncertain. Tate and Pollak have more of a legitimate chance at being re-signed, although Mays could still assist in the team's defensive backfield depth. Don't expect punter
Zoltan Mesko
to be re-signed. The player he replaced in December,
Kevin Huber
, is still rehabbing from a broken jaw but should be fully healthy long before the 2014 season begins.
If the Bengals make any external additions during free agency, they are most likely to do so with fairly cheap veteran players who could assist with immediate depth. Defensive ends, cornerbacks and running backs are among those who could be added.
February, 15, 2014
Feb 15
12:00
PM ET
Here is the latest Steelers' mailbag. Questions I received but didn't answer top the list for next week's mailbag. I appreciate the great questions and, as always, keep them coming. And away we go ...


November, 10, 2013
11/10/13
4:05
PM ET
PITTSBURGH -- A few observations from the
Pittsburgh Steelers
'
23-10 victory
against the Buffalo Bills at Heinz Field:

What it means:
The Steelers kept their season from spiraling out of control by beating up on the Bills in a stadium that had more than a few empty seats. As cathartic as the victory proved to be a week after the Steelers were humiliated in New England, there isn't anything to suggest it is anything more than a Band-Aid. The Bills (3-7) were awful, and the Steelers (3-6) need to string at least three victories together before there can be any talk of them as plausible playoff contenders, as mediocre as the AFC North and the conference is.
Stock watch:
Yes, the Steelers weren't exactly facing Jim Kelly and the K-Gun offense, but the defense needed to play well in the worst way, and it did for the most part during a cold, drab day at Heinz Field. The Steelers used a familiar formula -- stopping the run and not letting a young quarterback beat them -- a week after arguably the worst defensive performance in franchise history.
C.J. Spiller
never got out of neutral, and the Bills were just 3-of-14 on third-down conversions. The Steelers improved to 17-2 against rookie quarterbacks since 2004, the year Dick LeBeau returned for a second stint as the team's defensive coordinator.
Walking wounded:
It wouldn't be a Steelers game without an injury sustained by at least one of the offensive linemen. Left guard
Ramon Foster
left the game with an ankle injury early in the third quarter and did not return to the game. Starting outside linebacker
LaMarr Woodley
(calf) and reserve safety
Shamarko Thomas
(ankle) also left the game with injuries.
Hardly a clinic:
Somewhere
Drew Butler
is laughing.
Zoltan Mesko
, too. The punters ushered out of Pittsburgh by coach Mike Tomlin probably couldn't have done worse than
Mat McBriar
in his first two games with the Steelers. McBriar, signed after Pittsburgh waived Mesko two weeks ago, had punts of 27 and 36 yards in the first quarter and was a major reason the Steelers were unable to flip the field.
No regrets:
The Steelers were reminded that it could be worse when it comes to their punting situation.
Brian Moorman
couldn't beat out Butler in training camp -- Butler was later dumped for Mesko -- and he didn't do much of anything for Buffalo against the Steelers. Moorman nearly kicked a ball into the stands when the Bills were hoping they could down a punt deep inside Steelers territory. He later kicked a low line drive that
Antonio Brown
returned 24 yards and led a 4-yard touchdown run by Le'Veon Bell.
Next up:
The Steelers and their defense face what should be a considerably sterner test next Sunday when the
Detroit Lions
visit Heinz Feld for a 1 p.m. ET game.
Matthew Stafford
is the kind of passer who can carve up the Steelers' secondary if he gets time in the pocket. Lions wide receiver
Calvin Johnson
, meanwhile, is a bigger matchup problem than polka dots and stripes.
November, 4, 2013
11/04/13
4:55
PM ET
FOXBOROUGH, Mass. -- Mike Tomlin was so mad after the
Pittsburgh Steelers
lost at Oakland -- and managed two touchdowns on the same field where the Eagles'
Nick Foles
threw seven scoring passes a week later -- that he fired his punter.
Never mind that
Zoltan Mesko
played his best half of football following the one that apparently sealed his fate in Pittsburgh. Someone had to pay for the Steelers' third consecutive loss in Oakland, and Tomlin takes a hard line when it comes to punters.
Just ask
Drew Butler
.
[+] Enlarge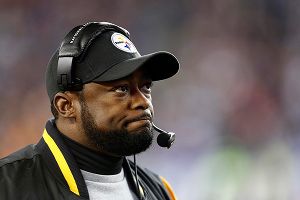 Mark L. Baer/USA TODAY SportsMike Tomlin may want to shake up the roster after the Steelers' 2-6 start but his options are limited.
Mat McBriar
, signed to replace Mesko, may be a little uneasy after his line-drive punt resulted in a 43-yard return by New England's
Julian Edelman
on Sunday. That miscue set up the touchdown that unleashed an avalanche of scoring, which buried the Steelers in New England and pretty much for the rest of the season.
After the Steelers' 55-31 loss to the Patriots Tomlin strongly hinted that changes could be coming. The question is will the seventh-year coach go beyond scapegoating a punter after yet another dispiriting loss?
"You re-evaluate everything, you have to after a performance like that and we will," Tomlin said after the Steelers gave up the most points in a game in franchise history. "That doesn't necessarily mean we will change, or we will change for the sake of changing. But we will look at every aspect of what we are doing and who we are doing it with because we can't have performances like that. Those people that were lacking effort won't be playing. It's just that simple."
Steelers fans probably rolled their eyes when they heard or read that last quote -- and note that tough talk or inferences after the Oakland loss were followed by the release of Mesko.
Truth be told Tomlin is limited in what he can do because of the constraints of a 53-man roster.
The roster size means that in-season changes mainly have to come from within, and Tomlin has at least tried them during the Steelers' first 2-6 start since 2006.
Ziggy Hood
,
Jarvis Jones
,
Cortez Allen
and
Mike Adams
are among the players who have lost their starting jobs. Several players lost their starting job
and
their roster spot, and the Steelers even tried to trade for a left tackle after Adams flopped there.
Levi Brown
didn't make it through one pregame warm-up before sustaining a triceps injury that may have ended his Steelers career before it started.
That is the kind of season it has been for the Steelers, and of the many things for which Tomlin can be criticized an unwillingness to shake things up isn't one of them.
There isn't a whole lot more the seventh-year coach can do at this point, and no, signing street free agents is not the answer, either.
The challenge Tomlin now faces is trying to salvage the season with veterans such as
Brett Keisel
,
Ike Taylor
,
Troy Polamalu
and
Ryan Clark
while also taking a long look at younger players such as Adams, Allen and rookie wide receiver
Markus Wheaton
.
This is certainly not where the Steelers expected to be at the halfway point of the season. But they got a harsh reality check of where they are as a team -- and perhaps an organization -- following a meeting with old nemesis
Tom Brady
.
"It was something in my 12 years that has never happened here," Keisel said of the New England loss. "This is a disgusting test and nobody likes it, and the only thing you can do is dust yourself off and get back to work."
October, 29, 2013
10/29/13
2:15
PM ET
PITTSBURGH -- The Steelers have already made two trades this season, and coach Mike Tomlin hasn't ruled out the team making more moves before the 4 p.m. ET trading deadline today.

Tomlin
"I'm open to it," Tomlin said of the Steelers making a trade. "We'll see."
The Steelers earlier traded for running back
Felix Jones
and left tackle
Levi Brown
, and Tomlin said he is open to evaluating any position as the team tries to bounce back from a 2-5 start.
Tomlin has already made changes in his starting lineup, and the latest one is at right outside linebacker.
Jason Worilds
has moved ahead of rookie
Jarvis Jones
there. Tomlin benched
Mike Adams
after the fourth game of the season and
Kelvin Beachum
has started the past three games at left tackle.
Brown suffered a season-ending shoulder injury before playing a game for the Steelers.
Zoltan Mesko
's future with the team has been a source of speculation, and Tomlin sent mixed signals when it comes to the Steelers' punter.
Inconsistency continues to plague Mesko as he bobbled a snap against the Raiders that resulted in a partially blocked punt and also had a 30-yard kick. But the left-footer also boomed several kicks in the 21-18 loss at Oakland, including one that the Steelers downed at the Raiders 1-yard line.
"Obviously he needs to perform better," Tomlin said. "But along with the obvious negativity in the game I did think he rebounded well and really finished the game strong."
When asked specifically if the Steelers are considering bringing in a replacement for Mesko, Tomlin said, "I'm not opposed to evaluating anyone at any position that's capable of helping us get better."
Teams typically work out free agents and evaluate them in the early part of the week, and Tomlin said, "We're probably going to do some of that this week."
October, 28, 2013
10/28/13
10:00
AM ET
OAKLAND, Calif. – Like the 21-18 loss to the
Oakland Raiders
, the postgame grades for the
Pittsburgh Steelers
aren't pretty:
Quarterback:
Ben Roethlisberger
looked out of sync early, and even a strong second half that included one of his vintage escapes prior to a short touchdown pass to
Emmanuel Sanders
wasn't enough for Big Ben to bring back the Steelers. He threw for 275 and two interceptions, though a late pick was on
Antonio Brown
, who lost control of the ball as he was falling to the ground.
Grade: C
Running backs:
The Steelers averaged 1.8 yards per carry, and
Le'Veon Bell
was held to 24 yards. The backs didn't get a lot of room running behind a line that the Steelers had to patch together because of injuries, but they didn't make any plays either. They didn't have a run longer than 8 yards as the ground game took a step back after a 141-yard performance against the Ravens:
Grade: D+
Receivers:
Brown caught nine balls for 82 yards but he couldn't hang onto a third-down pass that would have been a big gain in the fourth quarter. On the Steelers' next possession, Brown's bobble as he was falling to the grounded ended up as a killer interception by Raiders cornerback
Tracy Porter
. Sanders had a solid game statistically but didn't make enough of an impact. Even the normally sure-handed
Heath Miller
struggled with drops.
Grade: D+
Offensive line:
Injuries knocked starting guards
Ramon Foster
and
David DeCastro
out of the game, but the next-man-up ethos that the Steelers preach didn't translate into the line protecting Roethlisberger or providing many running lines. The Raiders dropped Roethlisberger five times, and he is on pace to get sacked 59 times this season.
Grade: D
Defensive line:
Brett Keisel
played as well as anyone on the Steelers' defense, and his fumble recovery early in the fourth quarter got the Steelers back into the game. The veteran defensive end also registered one of the Steelers' two sacks, but the line did not dominate a Raiders front that is banged up and yielded nine sacks in Oakland's previous game.
Grade: C
Linebackers:
LaMarr Woodley
was the only one who put consistent pressure on
Terrelle Pryor
but he couldn't get the Raiders quarterback on the ground. None of the other linebackers flashed, though
Lawrence Timmons
recorded eight tackles and forced a fumble.
Jason Worilds
and
Jarvis Jones
were nonexistent, and the latter has yet to make a significant impact on the Steelers' defense.
Grade: C-
Secondary:
Troy Polamalu
and
Cortez Allen
came up with interceptions, and Pryor threw for fewer than 100 yards and finished with a passer rating of 25.7. But Polamalu couldn't shed a block on the play of the game, and he didn't get any help from the back end of the defense on Pryor's 93-yard touchdown run that put the Steelers in an early hole.
Grade: C+
Special teams:
The Steelers found a new way to lose as the normally automatic
Shaun Suisham
missed twice – and from inside of 35 yards no less.
Zoltan Mesko
is still too inconsistent, and his bobble of a snap led to a partially blocked punt that set up Oakland's second touchdown. Brown's 44-yard punt return was the lone bright spot on a dismal day.
Grade: F
Coaching:
Mike Tomlin took the blame for the lethargic start, and it ultimately falls on him that the Steelers simply weren't ready to play. The Steelers' clock management was also an issue -- they had to waste a timeout in the final minutes of the game -- and they were way too deliberate while trying to rally from an 18-point fourth-quarter deficit. The Steelers didn't quit on Tomlin, but we all know how this team feels about moral victories:
Grade: D
October, 27, 2013
10/27/13
11:00
PM ET
OAKLAND --
Shaun Suisham
hit the mark on at least one thing before embarking on what had to be the longest plane ride of his life: his culpability in the
Pittsburgh Steelers
' third consecutive loss in Oakland.
"Look it's no secret, the impact my missed field goals had on the game," Suisham said after the Steelers'
21-18 loss
. "I should have been better today and we lost because of it."
The cruel irony for Suisham: the native Canadian is a huge hockey fans and his uncharacteristic misses gave the Steelers a dubious hat trick as they lurch toward the halfway point of the season,
The offense and defense had each lost games earlier this season. Special teams joined those units Sunday in a game that the Raiders seized control of early and then tried to give back to the Steelers in every way imaginable.
Oakland ultimately did not cough up the game because the Steelers' special teams provided the Raiders with just enough cushion to move to 3-4 this season in spite of themselves.
Both of Suisham's missed came inside of 35 yards.
Zoltan Mesko
bobbled a snap that resulted in a partially blocked punt and led to the second of Oakland's three touchdowns. Suisham's onside kick at the end of the game bounced right to
Rashad Jennings
, who earlier had partially blocked the Mesko punt.
The sequence that best summed up the Steelers' dismal special-teams play came near the end of the first half.
Mesko boomed a 30-yard punt that put Oakland in position to add to its 18-point lead. A
Cortez Allen
interception gave the ball right back to the Steelers, and
Ben Roethlisberger
drove to the Raiders' 16-yard line.
But Suisham pushed a 34-yard field goal attempt just right when the Steelers needed points in the worst way.
The Steelers couldn't even claim to be lucky rather than good Sunday on special teams.
Far from it, in fact.
A Mesko punt appeared to bounce off
Jacoby Ford
in the second quarter as the the Raiders wide receiver was falling backward while trying to avoid fielding the ball.
Shamarko Thomas
came up with the loose ball, and his fumble recovery would have given the Steelers the ball at the Raiders' 28-yard line.
Officials, however, ruled that the ball glanced off
Antwon Blake
's finger before it touched Ford and whistled the play dead.
Coach Mike Tomlin challenged the call but it was upheld.
The call, right or not, would have been a moot point had Suisham played anywhere close to the kicker who entered the game 14 of 14 on field goal attempts and made a 47-yarder before his two misses.
"I told him to keep his head up," Steelers wide receiver
Antonio Brown
said. "He's been leading us all year and don't hang his head now. We've got to continue to stand by his back because we know in this league everything is not always going to be perfect."
The Steelers didn't need their special teams to be perfect on Sunday. An average showing by those units probably would have led to the Steelers returning to Pittsburgh with a 3-4 record.
Instead the Steelers are 2-5 with a trip to New England next on the schedule. And the one thing we've learned about this team two months into the season is that it sure can find ways to lose a game.
October, 27, 2013
10/27/13
7:31
PM ET
OAKLAND, Calif. -- A few observations from the
Pittsburgh Steelers
' 21-18 loss to the
Oakland Raiders
at O.co Coliseum.

What it means:
The Steelers' season is back on life support after everyone, as coach Mike Tomlin might say, had their hand in the pile in the team's third consecutive loss in Oakland. The defense allowed a 93-yard touchdown run by
Terrelle Pryor
on the first play from scrimmage. The Steelers' offense managed just 3 yards shorter than Pryor's jaunt, the longest run by a quarterback in NFL history, through the first two quarters. The special teams were simply awful, and Tomlin did not put on a clinic, either, as the Steelers fell to 2-5.
Stock watch:
The good times for kicker
Shaun Suisham
and the Steelers' offensive line lasted exactly one week. Suisham, the reigning AFC Special Teams Player of the Week, missed a pair of field goals from inside of 35 yards after making his first 15 kicks to start the season. The gaffes turned out to be huge after the error-prone Raiders insisted on keeping the Steelers in the game. The offensive line, meanwhile, is all beat up after starting guards
Ramon Foster
and
David DeCastro
left the game with a concussion and ankle injury, respectively, and did not return.
Guy Whimper
, who replaced Foster at left guard in the first half, was also knocked out of the game when he injured his left knee.
Inconsistency still an issue:
Zoltan Mesko
's days in Pittsburgh could be numbered. Mesko bobbled a snap that was partially blocked in the first quarter and set up the Raiders' second touchdown of the season. He managed just a 30-yard punt near the end of the half and received an earful from Tomlin after he walked to the Steelers' sideline. Tomlin said last week that Mesko needed to eliminate the "junior varsity" punts from his game and become more consistent. Mesko was really good at times against the Raiders -- his 56-yard punt in the third quarter pinned the Raiders inside their 1-yard line -- but there was no middle ground for the punter who was already on shaky ground.
Next up:
It doesn't get any easier for the Steelers as they visit
Tom Brady
and the
New England Patriots
next Sunday in Foxborough. Brady rallied the Patriots from a 17-3 halftime deficit in a 27-17 win over the Dolphins on Sunday as New England improved to 6-2. The Steelers haven't been good enough on the road -- or good enough period -- to think they can hand the Patriots their first home loss in five games.
September, 30, 2013
9/30/13
12:45
PM ET
PITTSBURGH -- An examination of four hot issues from the
Pittsburgh Steelers
' 34-27
loss
to the
Minnesota Vikings
.
[+] Enlarge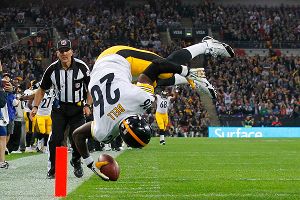 AP Photo/Sang TanRunning back Le'Veon Bell scored two TDs in his NFL debut, a rare bright spot for the 0-4 Steelers.
NFL's worst team?
Forget numbers when assessing how far the Steelers have fallen. Simply listen to quarterback
Ben Roethlisberger
, who said the Steelers might be the worst team in the league after falling to 0-4. Only the presence of the
Jacksonville Jaguars
makes that a slight exaggeration, but the point is well taken. Coach Mike Tomlin drew a line after the loss and said those who are not fully vested in turning the Steelers' season around will not be with the team. "It's that simple," he said. Actually, it isn't. Roster limitations preclude Tomlin from making sweeping changes as much as he would probably like to go that route, especially along the offensive line. Left tackle
Mike Adams
has been a disaster, but any plans to try
Kelvin Beachum
there might be put on hold if left guard
Ramon Foster
's chest injury causes him to miss some games.
Poor tackling:
The Steelers' tackling, as it turned out, was every bit as bad as it looked. Vikings running back
Adrian Peterson
gained 93 of his 140 yards after contact, according the ESPN Stats & Information. Peterson had gained 112 yards after contact in his first three games combined. The Steelers weren't any more successful when they dared Vikings quarterback
Matt Cassel
to beat them. Cassel completed 7 of 10 passes for 77 yards and a touchdown when the Steelers put eight men in the box, according the ESPN Stats & Information. The bye-week practices give the Steelers a chance to get back to basics. Working on their tackling technique will be a top priority this week.
Ugly streak:
Pittsburgh's streak of rushing for fewer than 100 yards has stretched to 10 games, but the ground attack is headed in the right direction.
Le'Veon Bell
asserted himself as the feature back with 57 yards and a pair of touchdowns in his NFL debut. Assuming he stays healthy, the Steelers can ditch the running-back-by-committee approach they had been forced to use.
Jonathan Dwyer
and
Felix Jones
will also factor into the running game moving forward, and
Isaac Redman
looks like the odd man out. Redman, who opened the season as the starter, might not carry the ball again in what will be his final season with the Steelers. He did not dress against the Vikings and will be inactive as long as Bell, Dwyer and Jones stay healthy.
Not so special:
Special teams play, which had been a strength through the first three games, took a step back against the Vikings. The Steelers gave up an average of almost 29 yards on five kickoff returns, and only a penalty on a fair-catch signal brought back a long punt return by the Vikings.
Zoltan Mesko
could be on shaky ground after averaging 35.4 yards on four punts, and the Steelers did not get much out of their return game. One worry they don't have on special teams is
Shaun Suisham
. The veteran kicker is 6-for-6 on field goal attempts this season after making two against the Vikings.
September, 4, 2013
9/04/13
6:50
PM ET
Pittsburgh Steelers
coach Mike Tomlin is a huge supporter of other Pittsburgh sports. So it shouldn't have been a surprise Wednesday when he flashed the "Z" sign the morning after the Pirates clinched the team's first non-losing season since 1992.
Tomlin did it while making rounds in the Steelers locker room before practice. But he directed the sign that has become synonymous with the Pirates' success, if not the rebirth of professional baseball in Pittsburgh, at the Steelers' new punter.
[+] Enlarge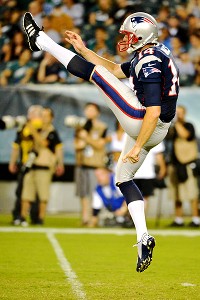 AP Photo/ Jim MahoneyZoltan Mesko has the name to fit in in Pittsburgh. The Steelers hope he has the game to be their punter.
That proved to be fitting, too, since
Zoltan Mesko
arrived in Pittsburgh with Zoltanmania running at a fever pitch.
For those Steelers fans who don't know about Zoltan and the "Z" sign, here is the abridged version: In 2012, Pirates players adopted the sign (press thumbs together with hands going in opposite directions) from the movie "Dude, Where's My Car?" and a character named Zoltan. Players flash it after getting a big hit, and fans have helped turn it into a local phenomenon.
Given his first name, it is not surprising that Mesko knew all about the power of "Z" by the time reporters crowded around his locker early Wednesday afternoon.
"I have heard about it and I welcome it," said Mesko, who signed with the Steelers on Monday. "I'm not going to take it to the next level; that's the Pirates' thing. But I think it's pretty cool."
Mesko is more interested in taking the Steelers' punting game to the next level – or at least stabilizing the position. The Steelers have used five punters since 2008, in large part because
Daniel Sepulveda
, a fourth-round draft pick in 2007, was often injured and never panned out.
Neither
Drew Butler
, the Steelers' punter in 2012, nor
Brian Moorman
impressed during training camp or the preseason. Mesko became available when New England kept undrafted rookie
Ryan Allen
, and the Steelers liked the fact that Mesko is left-footed, has a strong leg and is used to punting in bad weather.
They signed the former Michigan star and released Butler, one of several moves the Steelers have made since the final cut-down last Saturday.
"It's been a bit of a roller coaster, but I'm glad I landed on my feet and I'm glad I landed with such a great organization," said Mesko, who averaged 44.2 yards per punt in three seasons with the Patriots. "I'm excited about the future."
There was speculation that the Patriots released Mesko in part because the former fifth-round pick was due to make $1.3 million this season.
"It was a little bit of a curveball," Mesko said of his release, "but I'm a strong believer in things happening for a reason. I did have a really good camp. I feel really fundamentally sound. What is in the past is in the past. I don't look back at it. I look forward. I'm really glad to be here."
It is probably only a matter of time before the Pirates approach Mesko about some sort of promotion. Throwing out the first pitch before a game at PNC Park makes a lot of sense, no?
"First things first," Mesko said with a smile. "I've got to take care of my job here."
February, 5, 2012
2/05/12
9:53
PM ET

QUARTERBACK
:
Tom Brady
fell
short of his fourth game-winning touchdown drive
in a Super Bowl. He overcame a ragged start to find his groove. He set a Super Bowl record with 16 straight completions, including 15 straight on two touchdown passes. His first touchdown pass, a 4-yarder to
Danny Woodhead
, showed his patience to wait for the running back to break free of the linebacker. Brady's second one, a 12-yarder, was quicker recognition to find tight end
Aaron Hernandez
against the middle linebacker. Brady did get hit on his interception (which turned out to be a long punt) and seemed to hurt his already banged-up left shoulder. He started off the scoring but not the way he intended. His intentional grounding penalty on the Patriots' first play led to a safety, a strange mistake for a quarterback known for such great awareness.
Grade: B-plus
.
OFFENSE
: The Patriots' receivers let Brady down in the fourth quarter with drops from
Wes Welker
,
Deion Branch
and Hernandez. The passing game was limited with tight end
Rob Gronkowski
less than full strength with a high-ankle sprain. He didn't get a catch until three minutes left in the first half. Hernandez picked up the slack with a 12-yard touchdown grab in the third quarter. The offensive line held up quite well against a Giants pass rush that recorded five sacks of Brady in the last Super Bowl matchup. Welker was a hot target in the passing game, although he couldn't pull down a key reception late in the fourth quarter.
Grade: C
.
DEFENSE
: The Patriots' much-maligned defense came up big in the biggest game of the season. Playing both safeties deep to defend against the deep pass, the Patriots made it tough for
Eli Manning
and forced him to throw into tight windows. The New England run defense got pushed around early (70 yards rushing allowed in the first half), but fared better in the second half. The Patriots played more physical after they were sparked by
Patrick Chung
's hit on
Hakeem Nicks
along the sideline. The Patriots then allowed
Ahmad Bradshaw
to score a 6-yard touchdown with 40 seconds left, so they could get the ball back into the hands of Brady.
Grade: B-minus
.
COACHING
: Bill Belichick lost his second straight Super Bowl. The Patriots had a great game plan defensively and were running an efficient offense. But it was questionable to throw on second-and-11 in the fourth quarter — which resulted in an incompletion to Welker and stopped the clock with four minutes left in the game. Then, the challenge on the
Mario Manningham
catch on the Giants' final drive cost the Patriots a timeout. Belichick prides himself on precision and discipline, which is why having 12 men on the field for defense was so surprising. That penalty negated a recovered fumble for the New England defense and led to the Giants' first touchdown (a
Victor Cruz
2-yard catch in the first quarter).
Grade: B
.
SPECIAL
TEAMS
:
Stephen Gostkowski
kicked a 29-yard field goal. The kickoff coverage team allowed a 34-yard return early in the third quarter. The Patriots' return game was virtually non-existent. Punter
Zoltan Mesko
was outplayed by
Steve Weatherford
, averaging 38 yards per punt.
Grade: C
.